Fajita Kebabs
This post may contain affiliate links. Please read my disclosure policy.
Sometimes I just want to eat Mexican food every. single. day. I blame my mother for this since she took us to Puerto Vallarta Mexican Restaurant at least once a week but often it was more than that.
Back then my go to dish was the chicken taco salad. Mainly because I was too "cool" to share a dish with my stinky brother. I've since outgrown my dislike for sharing and almost always order fajitas. You just can't go wrong with fajitas.
Know what else you can't go wrong with? Kebabs. Put food on a stick and it's instantly way cooler. This is a fact of life.
I especially like to serve kebabs at parties or when we have friends over for a casual dinner. The fact that the food is on a stick makes it look like you really tried. It makes you look fancy. But really, you just threw food on a stick and then on the grill and then into their hands. Easy.
I used a simple marinade for the beef. I debated marinating the veggies as well but decided against it. I'm happy with that decision but you go for it if you think you want a little extra flavor in there.
I let the beef marinade for about an hour and cut up the veggies in the meantime. Then I threw it all on skewers. Again: easy.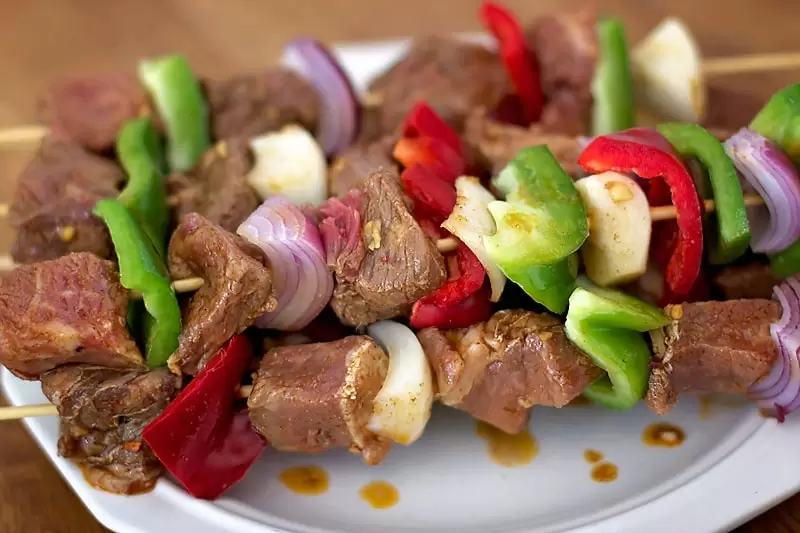 These were grilled for a few minutes on each side and explicit instructions were given to char the edges a little bit. I love the little burnt bits!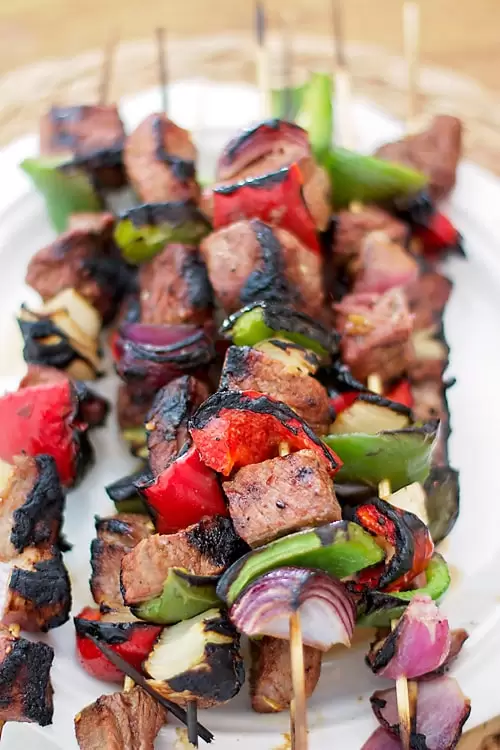 Print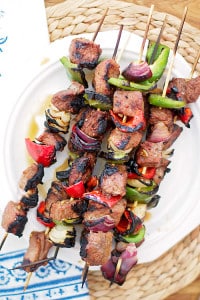 Fajita Kebabs
---
1/2 cup

of olive oil

3 tablespoons

of Worcestershire sauce

1/3 cup

of lime juice

1/2 teaspoon

of Red pepper flakes (optional)

1 tablespoon

of Cumin

3

cloves of Garlic, minced

1 tablespoon

of Chili Powder

1 tablespoon

of sugar

1 teaspoon

of Salt

1/2 teaspoon

freshly ground black pepper

2

pounds of grilling steak (flank steak, strip steak, filet mignon, etc)

2

medium bell peppers

1

medium red onion
---
Instructions
Prepare your marinade by mixing the following ingredients in a large resealable bag: olive oil, Worcestershire sauce, lime juice, red pepper flakes, cumin, garlic, chili powder, sugar, salt & pepper. Stir to make sure it is well combined.
Cut the steak into 1 inch cubes and add them to the bag with the marinade.
Seal the bag, getting as much air out as possible, and let it sit in the refrigerator for at least an hour.
Chop up the peppers and onions into small, 1 inch pieces (or however large you want them for your kebabs).
Once the meat is marinated, put the meat and the veggies onto your kebabs in whatever order you wish. I tried to make them an even amount of meat, onion, and peppers.
Grill the kebabs for 3-4 minutes on each side or as long as needed to cook the steak to your liking.
Enjoy!!
This post may contain affiliate links. Please read my disclosure policy.