Garlic & Sage Cashew Cream Sauce
This post may contain affiliate links. Please read my disclosure policy.
Cashew cream sauce has been my JAM lately. Specifically, this Garlic & Sage Cashew Cream Sauce because garlic= DUH and as the weather has gotten just a tiny bit cooler (read: less crazy humid), my sage plant has EXPLODED. I feel overly guilty when I waste fresh herbs so instead, I've just been putting sage into all the things.
If you've never made Cashew Cream Sauce, it's ridiculously easy. Cashew are soaked for a while. Preferably overnight. Then the cashews and all of the remaining ingredients are blended up together and….it's done! Literally that easy. AND, it's completely vegan and 110% delicious!
As I've mentioned about 100 times lately, I still have a decent amount of zucchini and butternut squash coming out of my garden (although the harvest season is just about coming to an end). So, I've been making full use of my spiralizer. And you know what goes great on top of spiralized veggies!!? You guessed it :) This Garlic & Sage Cashew Cream Sauce.
I've found that the sauce can last quite a while if stored in the fridge. I've used my as late as 10 days later which is great because I rarely use it all in just one meal. Sometimes it takes me a bit to get through all of it but I love knowing that it's in the fridge waiting for me!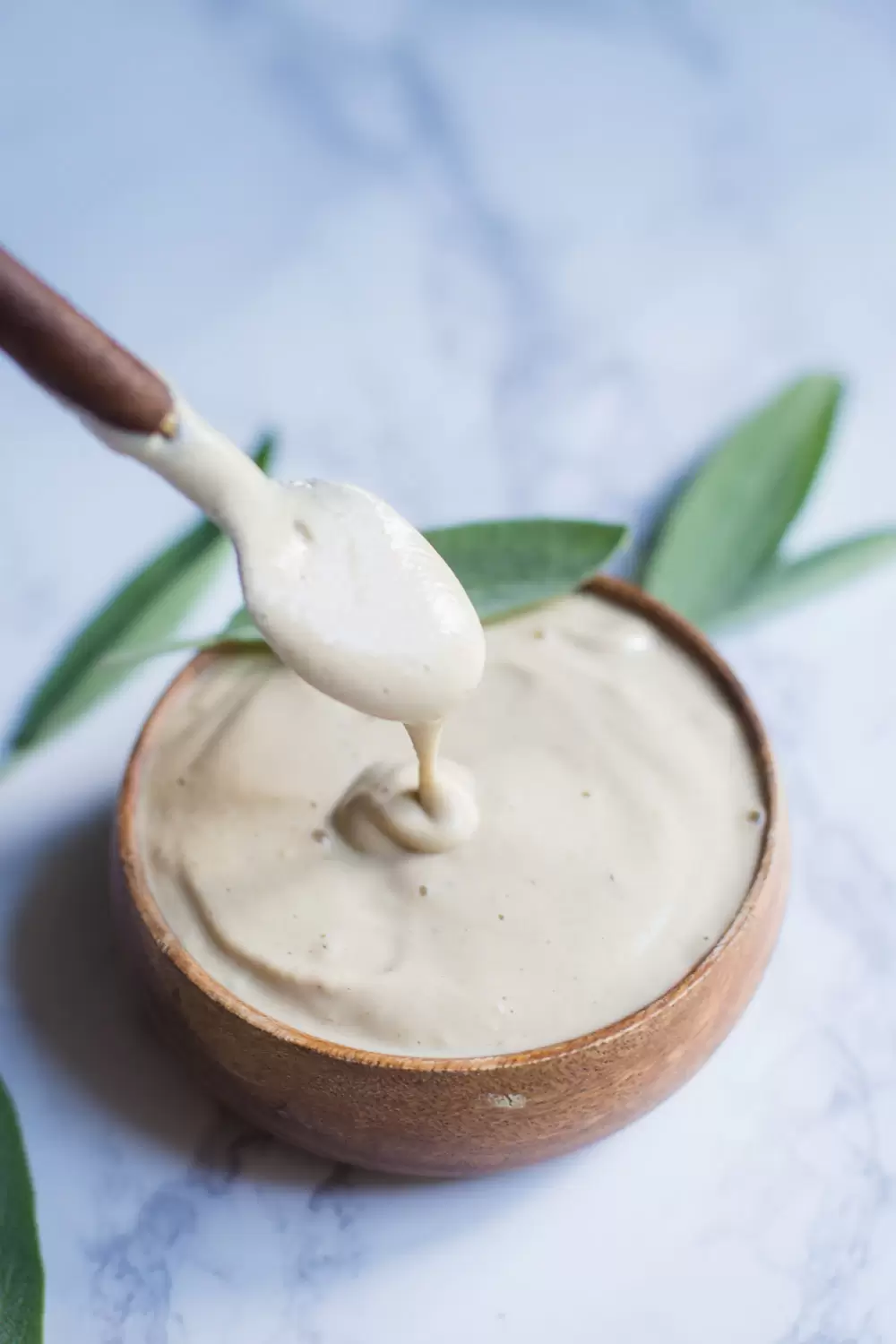 And just for the record, pretty much any fresh herb would work in this sauce if sage isn't your thing. So, have fun with it and try out some different flavor profiles! Unrelated to herbs, I keep thinking that a Sriracha Cashew Cream Sauce would the bomb. OH! That might happen tonight!
Happy Thursday, Friends! I won't be back until next week so I hope that you have a very lovely weekend and get outside to enjoy the last few days of summer! ps- full recipe for the above butternut squash noodles is coming next week! :D
Print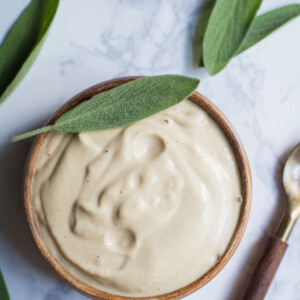 Garlic & Sage Cashew Cream Sauce
---
Author:

Total Time:

5 minutes
1.5 cup

of cashews

1/4 cup

of unflavored almond milk

1/2 cup

of vegetable stock

1/2 teaspoon

of ground sage

2

cloves of garlic

1 tablespoon

of olive oil
salt and pepper to taste!
---
Instructions
Soak the cashews for at least 3 hours but preferably over night. When ready to make the sauce, rinse the cashews thoroughly and drain.
In a blender or food processor, combine all of the ingredients and blend until creamy and smooth. It may take a few minutes of blending to get a nice smooth consistency.
If you want the sauce a bit thinner, simply add in a bit more almond milk or water 1 tablespoon at a time until it reaches your desired consistency.
Serve over top of some good noodles and ENJOY!
This post may contain affiliate links. Please read my disclosure policy.