Happy Halloween!
This post may contain affiliate links. Please read my disclosure policy.
Every year some friends host a big Halloween party where-in they decorate their ENTIRE house and people really go all out with the costumes. They don't skimp on the decorations either. New this year was a cemetery covering their front yard with real tombstones (defects with typos in the stone etc). They also have an actual coffin set up in their living room that houses a different "person" each year. This year it was Pee-Wee Herman. In the dining room, there are IV bags hanging from the ceiling with red colored drinks that can be poured from the tubes. Regretfully, I have no pictures of these things to show you. But, you'll have to trust me when I say that it never fails to be a wonderful party.
One of the many decorations throughout the house
Feeling equal parts of laziness and patriotism this year, I wanted an easy yet iconic costume. I decided on Rosie the Riveter as it's something I've always wanted to dress up as and knew it would be easy. I probably could have found a jumpsuit at a thrift shop if I searched hard enough but after a tiny bit of online research, I found
this Dickies coverall
on Amazon for very cheap with Prime shipping. It was just too easy to pass up. From there all I needed was the red polka dot bandana and some boots (which I borrowed from a friend). I bought
this material at Jo-anns
for the bandana.
I knew I didn't necessarily need the sign to make the outfit work but I ended up with some extra time before the party. I just cut out the side of a cardboard box, used paint I had lying around the house, and printed and cut the letters to be glued on.
One of the most unique costumes from the night was a character from Beetlejuice: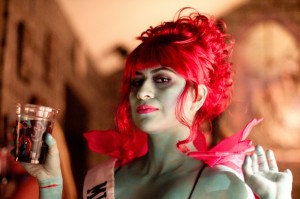 Have a safe Halloween!
This post may contain affiliate links. Please read my disclosure policy.