Hiatus + a Giveaway
Sometimes, life happens. It's wonderful and it's stressful all at the same time. Last weekend was spent traveling to Columbia, SC for a
derby
tournament wherein we won ALL THREE of our games. It was awesome and exhausting and awesome (I know, I'm so great with words today). Many shenanigans were had after our final Win of the weekend.
And then we drove the 6.5 hours back home, slept a little, and it was back to work for me.
Last night I also had my LAST CLASS of grad school!! I can't even put into words how excited this makes me feel. So excited that I want to bake a giant chocolate cake and eat ALL of it. But alas, there's no time (oh, and baking still scares me a little)! Instead, I'll be staying up late to finish my final grad school paper and packing for Florida.
My team is playing in another tournament, the Beach Brawl, this coming weekend in Ft. Lauderdale, Florida. A good chunk of the team is flying up a day early and staying a day late to enjoy a little beach time. And for this, I could not be more excited! I haven't been to a warm beach (warm being the KEY word there) in almost 2 years!! Crazy. The tournament will be prodcast live online so since I know you're ALL very excited about that, I'll post a link for you to watch us. Wish us luck as we take on another 3 teams (Detroit, Tri-City from Ontario, and Ft. Myer).
My main point behind the past 3 paragraphs of rambles is to tell you that I have really no choice but to be on a little hiatus for the next couple weeks. My kitchen will be sitting mostly lonely for the next couple weeks as I travel and prepare for graduation. But after that, I have some exciting things planned for this here corner of the interwebs!! Big things (like that giant chocolate cake, for instance)!
But I'm not leaving you empty handed! Oh, no. I have the great pleasure of teaming up with some lovely ladies for a Giveaway! Today we're giving away an All-Pro Tote from Thirty-One. I have several Thirty-One items (all of which my mother bought me) and I must say that I love ALL of them! These are great products and super adorable. Good luck!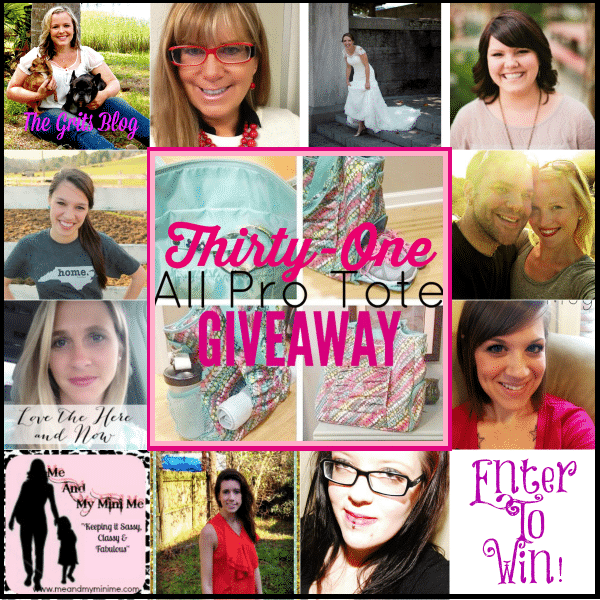 Left to Right:
Thanks to
Julie
we are able to have this awesome Thirty-One All Pro Tote Giveaway!