Honey Pecan "Fried" Chicken
This post may contain affiliate links. Please read my disclosure policy.
One of the main lessons that I've learned through food blogging is that even though things sometimes go nothing like you planned, they can still turn out pretty damn great (and tasty!). Like this chicken, for example. It looks and tastes nothing like I had originally hoped for. And like some other things I've made in the past, it aint the prettiest girl at the dance. But damn is it SO GOOD!
That's what you're REALLY looking for here, right? Tasty food no matter what it looks like? Ok, great. I vow to always deliver delicious food, even if not always the prettiest.
My grandmother makes the BEST fried chicken. My brother and I loved it growing up and always begged her to make it whenever we'd go over to her house.
I've been very tempted lately to ask her for the recipe but that's a slippery slope I'm scared to venture. I thought I'd try instead to make a lighter version of the classic fried chicken. But baked. There were lots of different ideas for breading substitutes but none that sounded better than pecans and corn flakes!
And it's not fried, it's baked. But to not call it fried chicken just makes it lose something (besides tons of grease, and flour, and fat). So, around here, even with the lack of sizzling grease, this here is "fried" chicken! (I added the quotations so that makes it ok, right?).
We're going to start out by coating our drumsticks in some honey goodness.
Honey, paprika, dijon mustard, and garlic powder are mixed in a small bowl until thoroughly combined.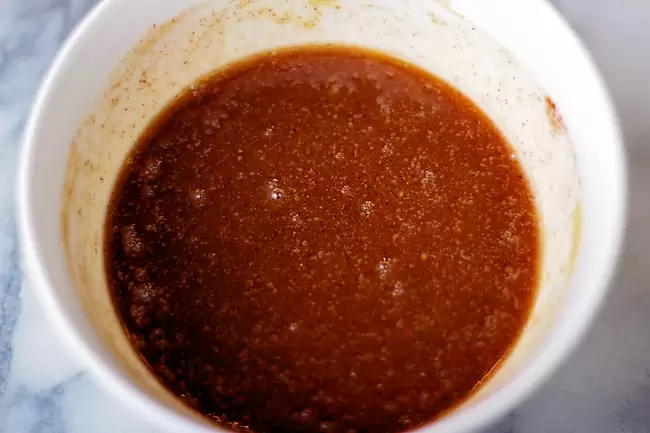 The chicken is then prepared by sprinkling each side with a bit of salt and pepper.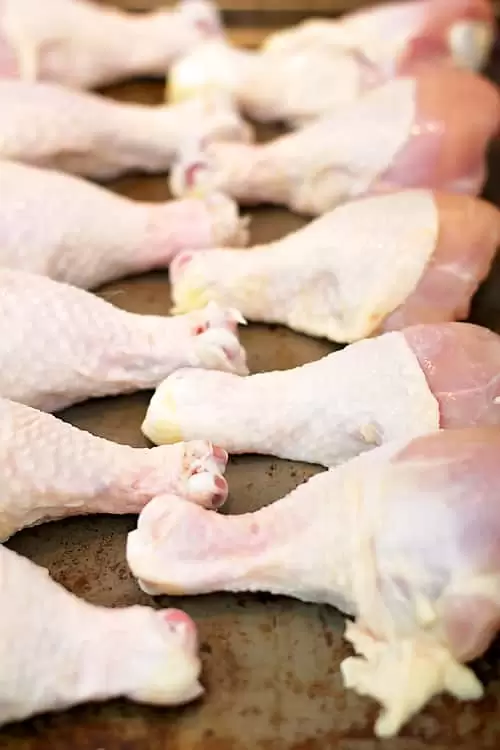 To make things extra easy, we'll go ahead and get our "breading" ready too.
Corn flakes are placed in a baggy and crushed as well as possible. We don't want any large flakes left.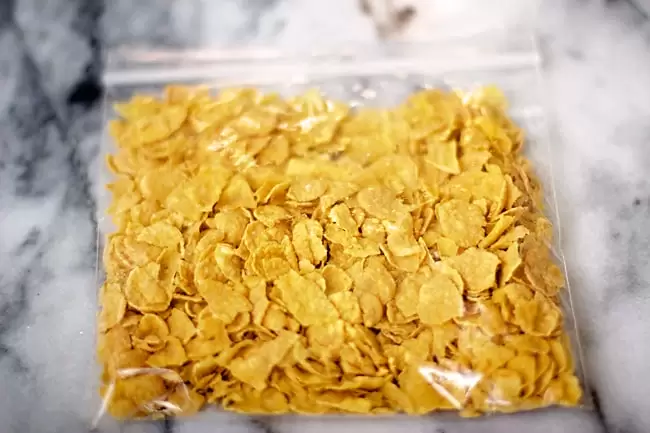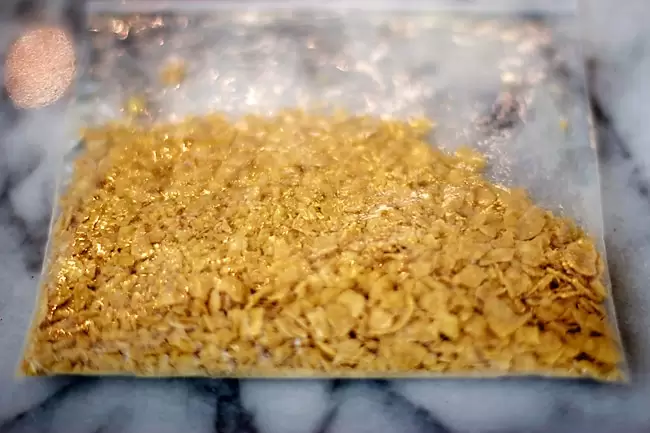 Before being combined with the corn flakes, pecans are placed in a food processor and processed for a brief time. Not too much or they'll turn into a nut butter. And that's not what we want….today.
The 2 ingredients are combined in a shallow dish and the chicken is ready for some love! Side note: only put half of the pecan and corn flake mixture in your dish at first and then add the other half as needed. This prevents the mixture from becoming to inundated with the honey mixture and getting too clumpy.
With a brush, fully coat each chicken stick with the honey mixture and then place them into the pecan mixture.
Evenly coat the drumsticks with the pecan and cornflakes covering as much of the chicken as possible.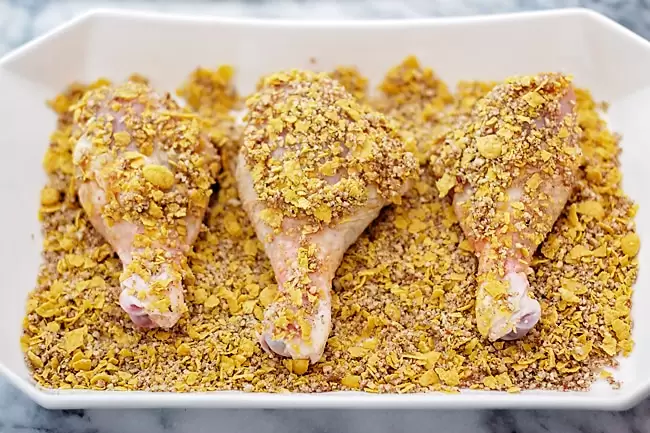 Once covered, place the drumsticks on a greased pan, lightly spray the chicken with cooking spray, and bake for 40 minutes. Cool and ENJOY!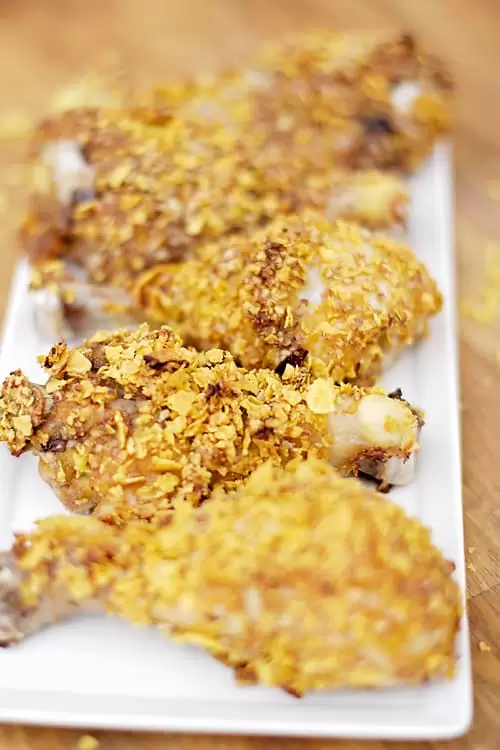 I'm not exaggerating with I say that this chicken is SOOO good. I want to make it again this week. I'm thinking of making it again but with skinless chicken breasts to make it a bit lighter.
Honey Pecan "Fried" Chicken (adapted from my old Cooking Light cookbook)
Ingredients:
10-12 chicken drumsticks (could also use boneless skinless chicken)
Salt and pepper
1/3 cup honey
1/4 teaspoon garlic powder
2 tablespoons dijon mustard
1/2 teaspoon paprika
2 cups corn flakes, finely crushed
1 cup pecans, processed (or finely chopped)
Directions:
Preheat oven to 400° F.
1) In a small bowl, combine honey, garlic powder, mustard, and paprika.
2) Prepare chicken by sprinkling salt and pepper onto each side and then set aside.
3) Prepare coating by placing cornflakes in a baggy and crushing them as well as possible. You don't want any large flakes left. Then prepare the pecans by processing them briefly in a food processor. Combine the 2 ingredients. Place half of the mixture in a shallow bowl and set the other half aside. The remaining corn flack mixture will be added to the dish when it starts to get low.
4) With a brush, coat each drumstick with the honey mixture and then place in the corn flake mixture.
5) Thoroughly cover each drumstick with the corn flake/ pecan mixture and then place them on a greased pan.
6) Lightly coat the drumsticks with cooking spray and bake for 40 minutes.
Let cool for a minute and ENJOY!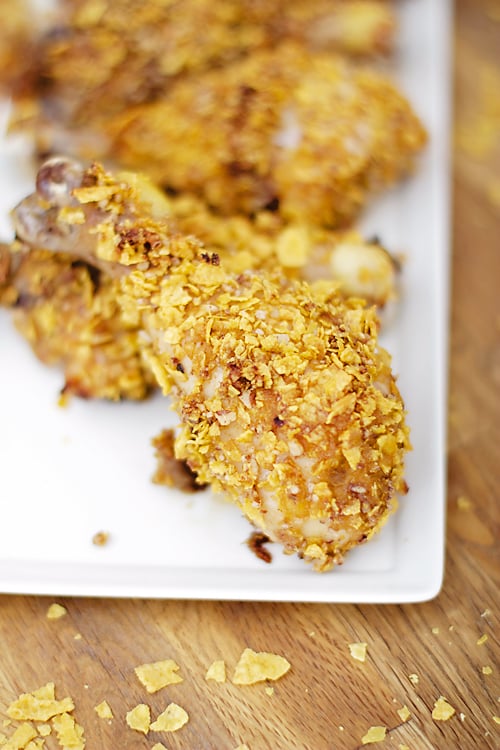 This post may contain affiliate links. Please read my disclosure policy.