Our Place Always Pan Review
This post may contain affiliate links. Please read my disclosure policy.
I've been using Our Place products for for 3 full years now and I've tried every version of the Always Pan. Here's what I think about them:
I purchased my very first Always Pan in October of 2020 after seeing the relentless ads on social media. I was SUPER drawn to the colors and really wanted to see what the hype was all about. SO I bought one on a sale for 20% off and have used it for the past 3 years.
I want to be fully transparent that while I bought my first 2 Our Place products myself, they have since gifted me quite a few of their other items when they've launched new collections or products.
What is the Always Pan?
The Always Pan is a non-stick skillet made by a female and immigrant owned company based in LA.
It's boasted as a "10-in-1 bestselling cookware system that does it all" including:
Braises
Sears
Steams
Strains
Sautes
Fries
Boils
Bakes
Serves
and stores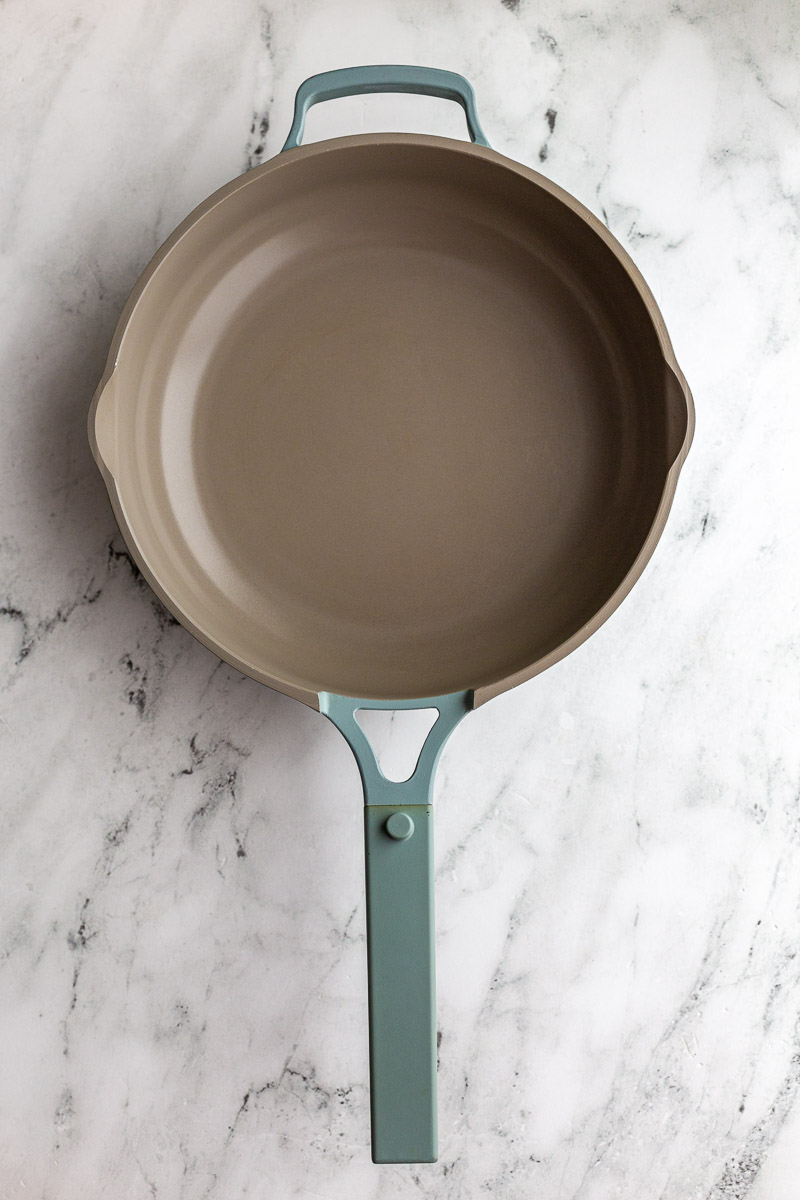 According to their website, the Always Pan 2.0 is:
19.9 in. length, 10.5 in. diameter, 2.8 in. depth, 5.7 in. height with lid
2.6 qt. capacity
Lightweight construction (3 lb. body)
Compatible with all cooktops, including induction
Aluminum body for fast, even heat
The pink skillet pictures above was my first Always Pan (the original model). Since then, they've released a new and improved Always Pan 2.0 (which is now the standard model). Quite a few of my few complaints were solved when they released the 2.0 model.
The main difference that people notice is the 2.0's ability to go in the oven which the original model was unable to do. But we'll talk more about that in a bit.
COST:
The CLASSIC 10.5 inch Always Pan 2.0 is $150. THAT being said, they are OFTEN running deals so I recommend waiting until you see one of those happening.
The LARGE 12.5 inch Always Pan is newer to the site and is essentially identical to the Always Pan 2.0 EXCEPT it's 2 inches LARGER.
The MINI 8.5 inch Always Pan is also a newer release product and is essentially identical to the Always Pan 2.0 EXCEPT it's 2 inches SMALLER.
Differences between the original and 2.0 models:
To a certain degree, this part of my review is a little pointless because the only skillet available for purchase is the 2.0 model. HOWEVER, there are a couple pain-points about the Always Pan that I hear quite often that I think we're largely solved with the updated model.
Oven-safe? Many people will say that the Always Pan is not oven-safe HOWEVER, the 2.0 model IS OVEN SAFE up to 450 degrees. I think many people don't realize this was an improvement made with the new model.
Non-stick durability: Many other reviews that I read stated that their non-stick wore off after about 6 months. I've been using the 2.0 pan since March 2023 (~7 months) and TRULY the non-stick is the same as the first day I bought it. The website boasts that the 2.0 model has a "50% longer lasting ceramic nonstick coating made without potentially toxic materials".
The handle: another complaint is that the handle is uncofortable to hold when lifting up the pot. I fully agree with that for the original BUT the 2.0 model is a more curved handle that makes it much easier to pick up.
My HONEST Review:
If I had written this review a year ago, it would have been a little bit different. However, since the release of their Always Pan 2.0, I am a huge advocate! Here are some thoughts:
I think that the non-stick works better than any other that I have tried and 7 months into my newest model, it hasn't worn off at all that I can notice AND I use it just about every single day (often multiple times in a day!).
They're SO PRETTY! More often than not, I go for function over beauty but I really love it when the 2 get married. AND, that's what you get with the Always Pan. It comes in so many different colors so I feel like there's something for everyone. I'm a huge fan of the pastels as you can imagine. I currently own these 3 colors: Blue Salt (blue), Spice (pink), and Sage (green).
THE SPOON is my least favorite part of everything that comes with the pan. I love that it's made to rest on the handle without getting too hot but I personally just don't love them and hardly use them. But, that might just be a personal preference.
The Steamer basket: I really love this basket and use it at least a few times/ week. I pretty much only saute veggies with it but I love how convenient the basket makes it.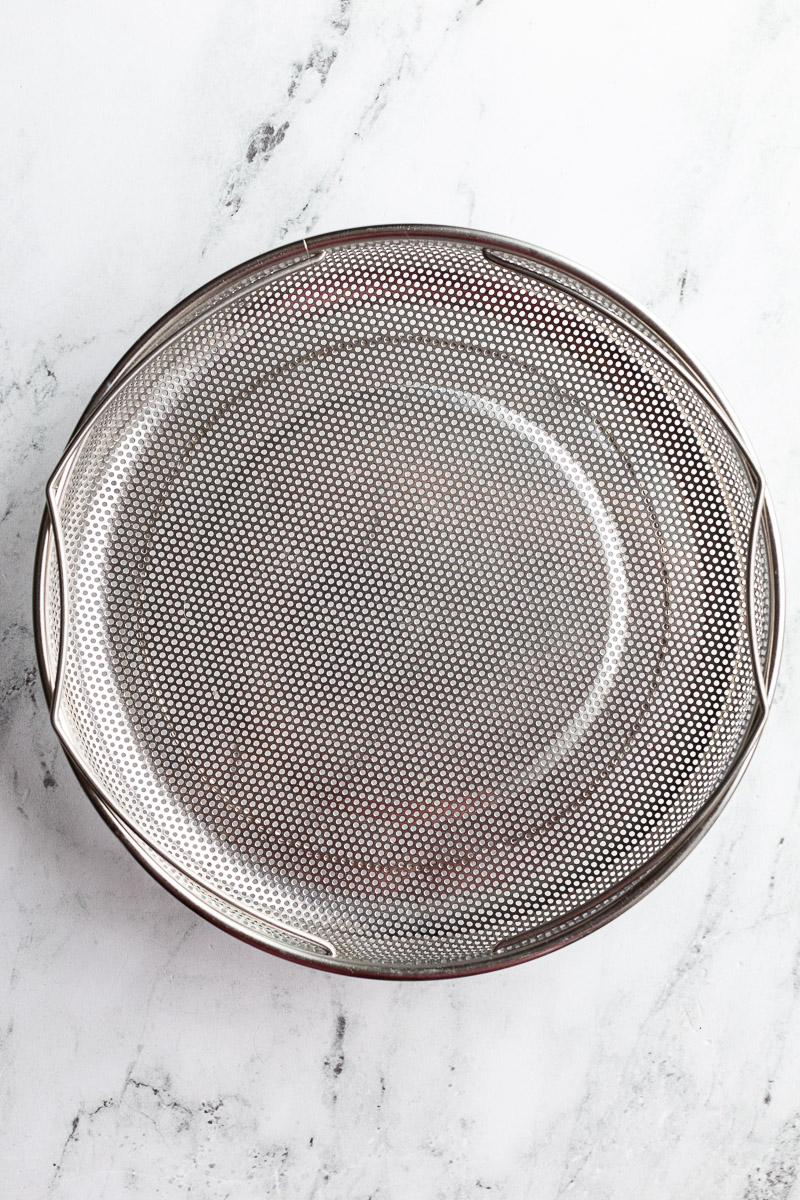 Some cons:
One of the complaints I have heard most often is that the pan wears easily. Here's a picture of my pan after 7 months of pretty heavy use: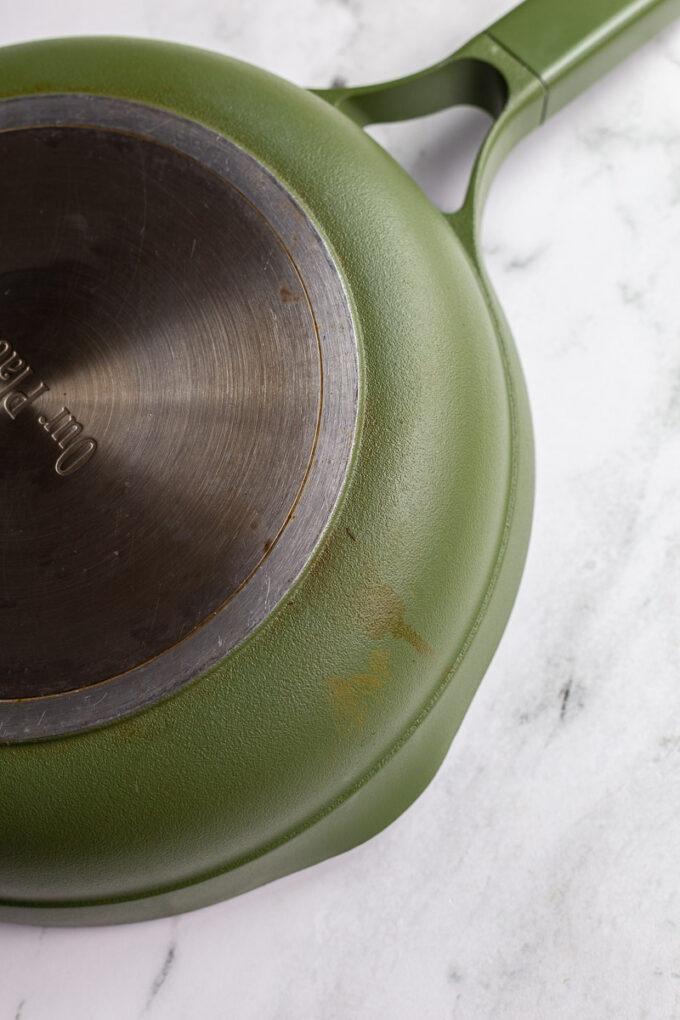 It definitely has some stains on it that are permanent (and this is after I've cared for it properly, never running it through the dish washer but always washing it between uses). THAT BEING SAID, I think that this is very standard for cookware in general. I have several Le Creuset and Staub pans that have similar stains on them.
Another complain I have heard is that the outer coating wears off a little. I have not experienced this at all EXCEPT on the handle and I believe that is mostly because I stack mine. Here's a picture of the tiny bit of paint that has worn off after 7 months of use:
It's kind of hard to see in this photos but the pan has some of the paint rubbed off on the top of the handle. Nowhere else have I seen wear.
I think that is about it for my review today! Let me know what you think: are you an Our Place Always Pan fan??
I have QUITE a few of their other products I plan to review soon including their brand new Wonder Oven AND Dream Cooker as well as their Perfect Pot.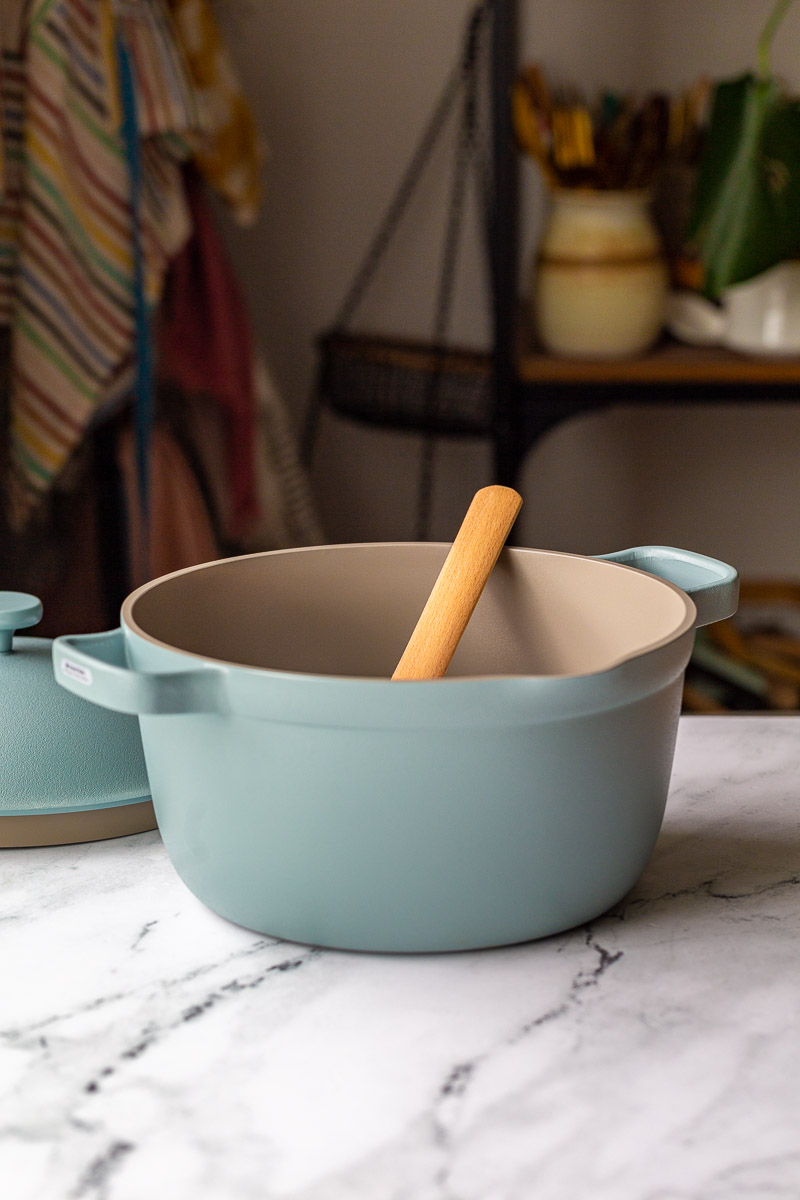 As you can see, I'm a huge fan of their "Blue Salt" color :)
AND once again, this is my honest review. I bought my first 2 Always Pans with my own money and have loved them since. That being said, I do have an affiliate link that gives me a small commission for each sale made through my link.
This post may contain affiliate links. Please read my disclosure policy.