Sheet Pan Thanksgiving Dinner for 2
This post may contain affiliate links. Please read my disclosure policy.
Thank you to Chicago Metallic for sponsoring this post today! I've used their bakeware for YEARS and am so excited to be working with them on this Sheet Pan Thanksgiving Dinner for 2!
I'm so freaking about this recipe! Chicago Metallic approached me with the concept and I instantly fell in love with the idea. While Thanksgiving is traditionally a time to be with all of your extended family, my guess is that there is a large number of people out there that are just cooking for 2. Well my friends, THIS recipe is for you and it's all SO SO GOOD!
The hardest part about this was deciding which of my favorite Thanksgiving dishes to choose. I debated having TWO potato options but in the end, figured that there should be something green on the sheet pan. So, here we are.
I also debated making this a TWO sheet pan meal. Maybe I'll go for that next year and feed 4 :D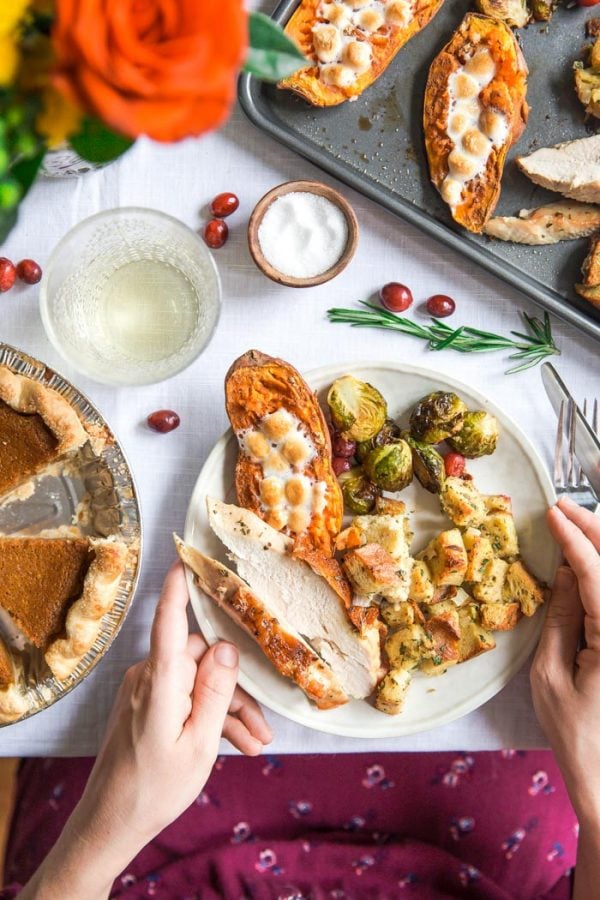 Speaking of which. I say that this sheet pan meal is suited for 2 but here's the deal on that: this is still a LOT of food even though I manage to cram it all on to one sheet pan. My thought: what is Thanksgiving without leftovers. The reality is that this recipe makes 4 full servings so it's either a meal for FOUR or a meal for TWO with leftover for both.
Let's talk for a minute about Chicago Metallic. I have worked with them on a few posts in the past and am so honored to be working with a company that I love so much! 1000% their bakeware is my favorite and that's coming from someone who cooks for work every. single. day. Their baking trays are so amazingly non-stick that I rarely use foil or anything like that. And because of that, they are also SO easy to clean since nothing really gets stuck on.
I have this same tray in several different sizes and I could not live without them.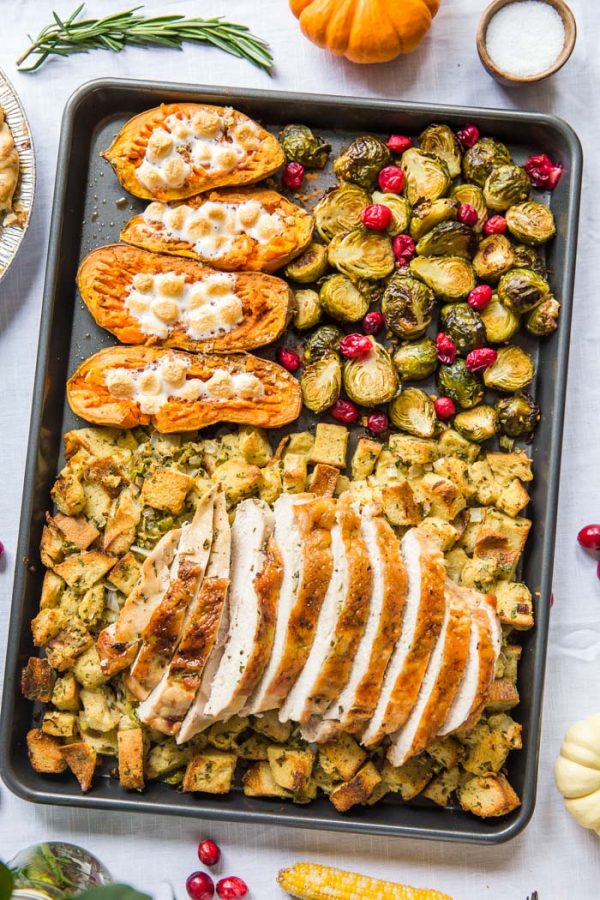 What's included on our Sheet Pan Thanksgiving Dinner for 2
First up: a simple stuffing that gets mixed together in one big bowl and thrown onto the sheet pan without an sautéing or additional prep. SO EASY.
Next we have brussels sprouts because I'm a huge fan of roasted brussels sprouts. I tossed them in a little olive oil, garlic, salt and pepper. Towards the ending of the baking process, we'll also throw on a few fresh cranberries. Simple and SO GOOD.
I struggled with deciding which kind of potatoes to use but in the end it's not Thanksgiving without sweet potato casserole. SO, we're making mini sweet potato casseroles right on our tray by roasting some small sweet potatoes and then towards the end, topping them with cinnamon, brown sugar, and marshmallows. OMG YES!
And finally, the TURKEY! Let's talk about the turkey….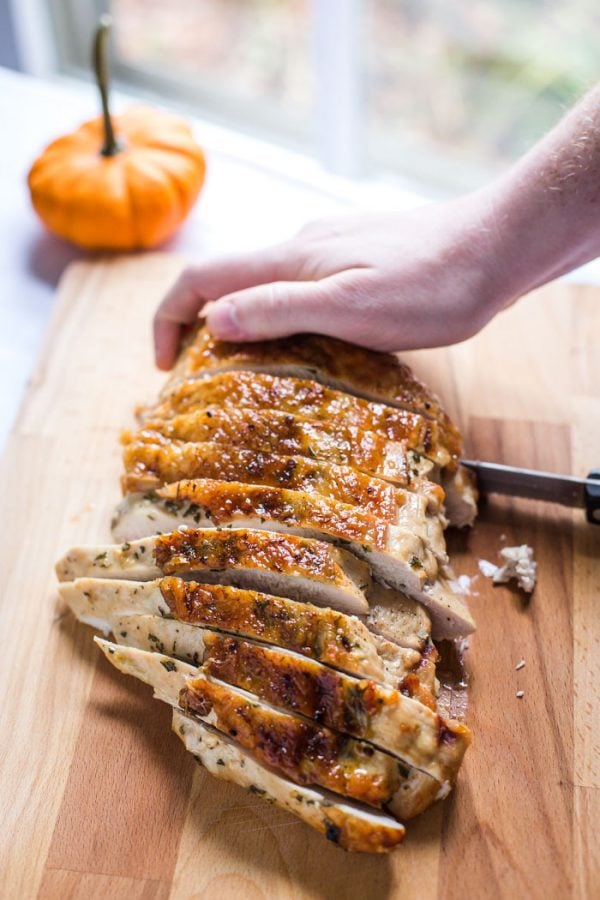 What kind of turkey to buy
I learned the hard way that turkey breast is not the easiest thing to find. I suggest calling around to a few places in your area. A lot of places simply told me "sorry, we don't sell turkey breast". I was finally able to find it at Whole Foods. But don't walk in expecting to find it ready to go. I had to ask a butcher to cut it for me which he gladly did. It took him a bit but in the end, I got my turkey breast.
For this recipe, we're aiming for 2-4 pounds of turkey breast that's boneless but with the skin ON. The butcher asked me what I wanted and prepped it for me as requested.
What I have on my sheet pan is actually ONE breast from a whole turkey and it was right at 3 pounds. Had I bought the breasts from the whole turkey it would have been over 6 pounds which I thought was a little much for just 2 people and one sheet pan.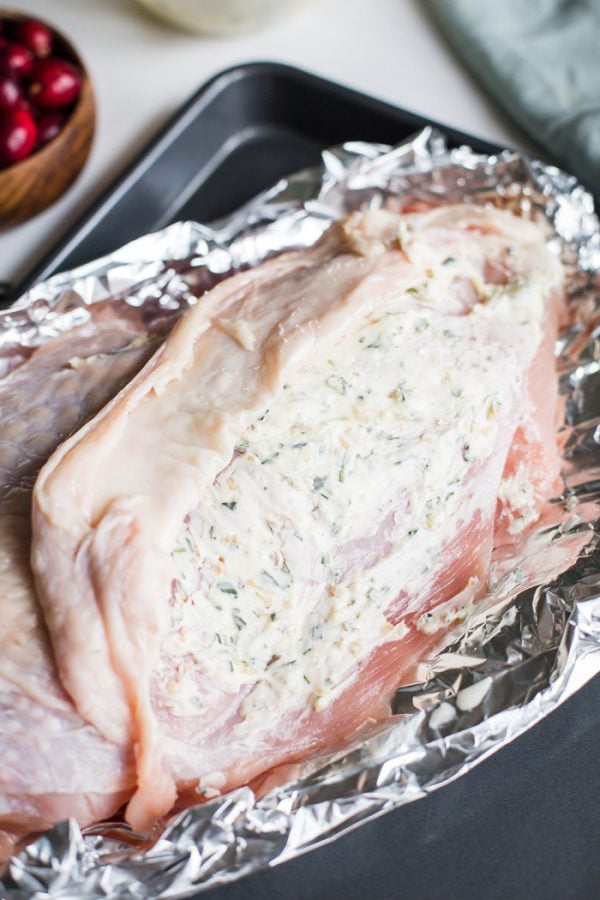 What if I can't find turkey breast?
Since Whole Foods isn't super close to where I live and I wanted to get busy testing this recipe, I first made it was 2 pounds of chicken breast. SO if you can't find turkey breast, then chicken breast is actually a great alternative! Really, any piece of chicken meat would work. the first time I tested this, I used boneless AND skinless chicken and simple rubbed the butter mixture right onto the chicken without any skin.
Another option: turkey drumsticks or thighs. When I went to Whole Foods to get the turkey breast, I saw that they had a lot of drumsticks and thighs already cut and good to go. They both appeared to be skin on AND bone in but that would work just fine if you decide to go that route.
THE MAIN THING TO KNOW if you decide to use a different meat: the cook time will likely vary. Get yourself a meat thermometer test the meat as you go!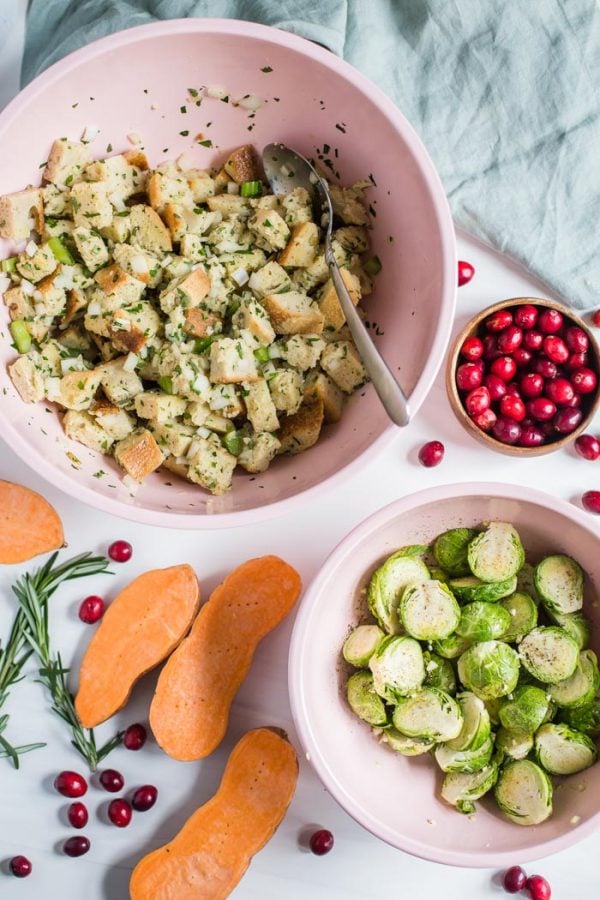 How to Make this Sheet Pan Thanksgiving Dinner for 2
If you want to SEE how to make the recipe, I have a video that you can view down below. So, I'm going to keep this brief (very detailed instructions are in the recipe card below).
We're going to prep the turkey by rubbing a butter and herb mixture underneath the skin. Everyone seems to do this differently but I wanted the turkey to be nice and juicy but the skin nice and crispy.
We'll bake that on our Chicago Metallic sheet pan while we prep the rest of the ingredients. I put my turkey on a foil boat of sorts in order to catch the drippings. I figured this was idea so that, if desired, they can be used to make gravy!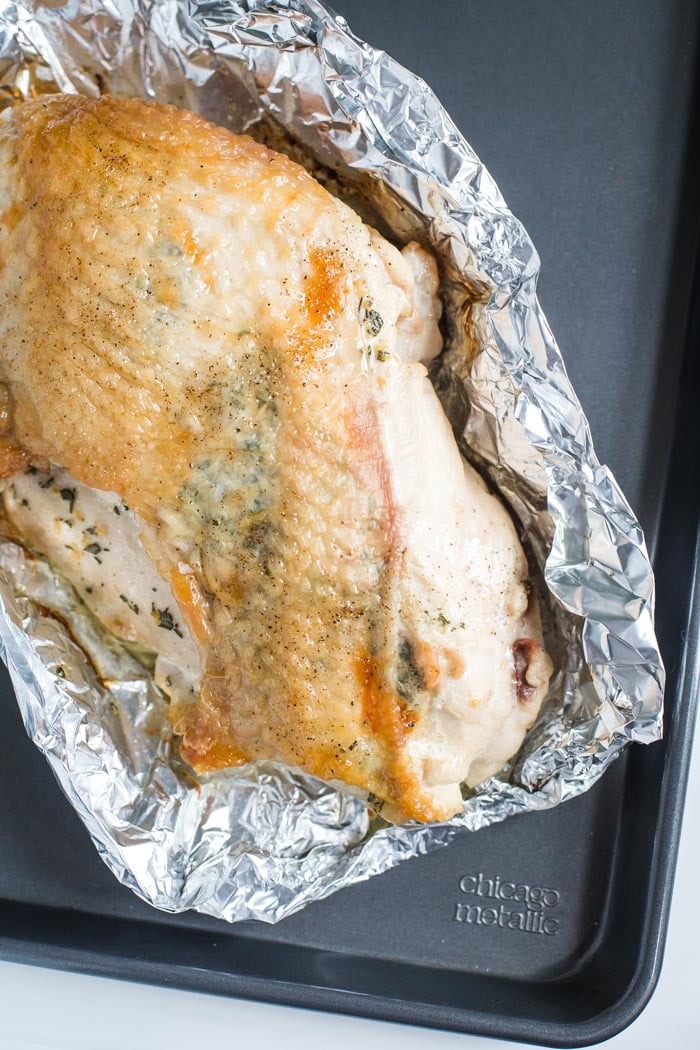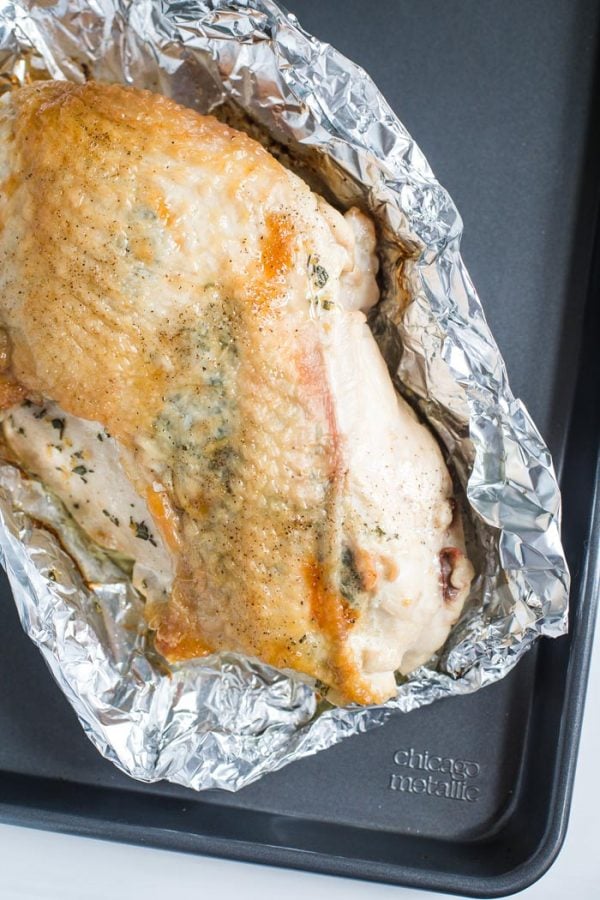 The stuffing is made by simple mixing ALL of the ingredients in a big bowl.
Similarly, the brussels sprouts just need to be trimmed, halved, and tossed with a little olive oil, garlic, and spices.
Once the turkey has cooked for 30 minutes, we'll remove it from the tray and add the stuffing onto one side while the brussels sprouts and sweet potatoes go on the other side. The turkey then gets added back on top of the stuffing and it's all baked for an additional 45 minutes.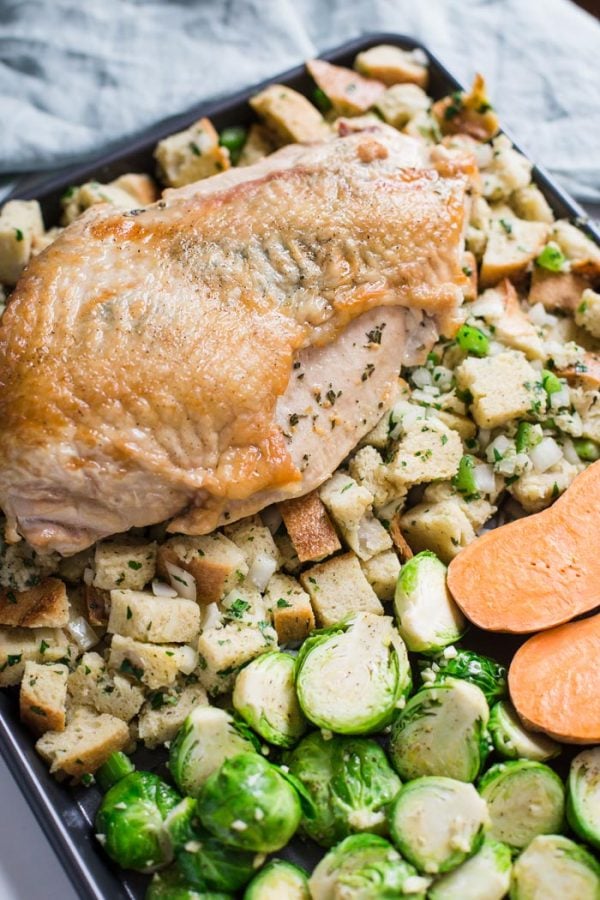 Finally, check the turkey to ensure it's cooked through, remove from tray and tent with foil on a plate. Dress up your brussels sprouts and sweet potatoes and bake for a final 15 minutes.
BAM Thanksgiving Dinner for two! OMG IT'S SO GOOOOOD!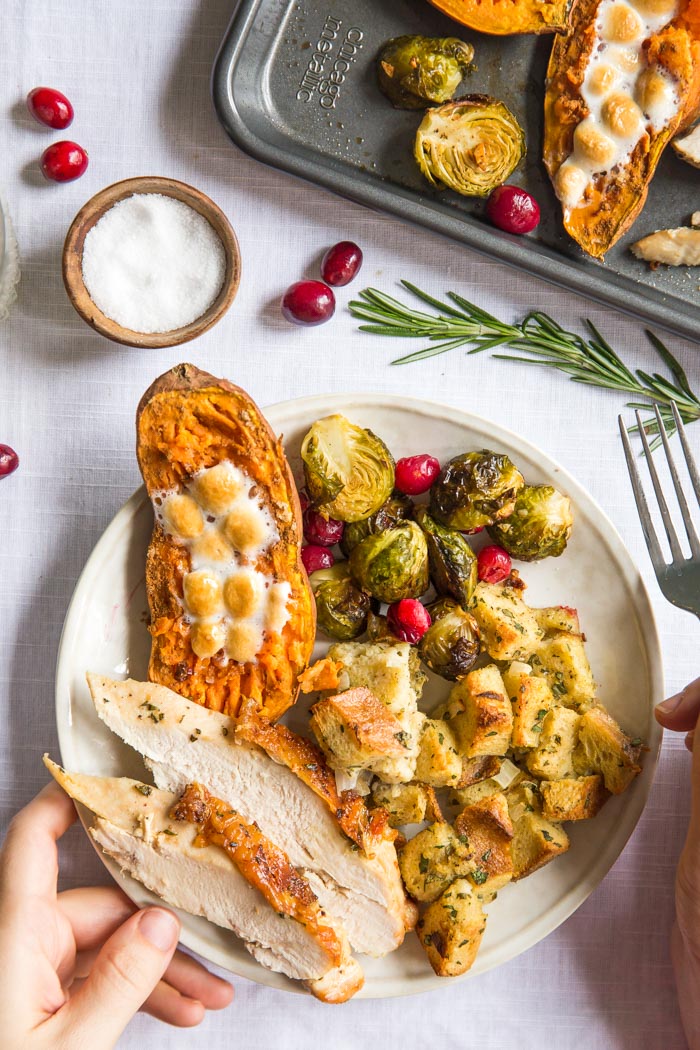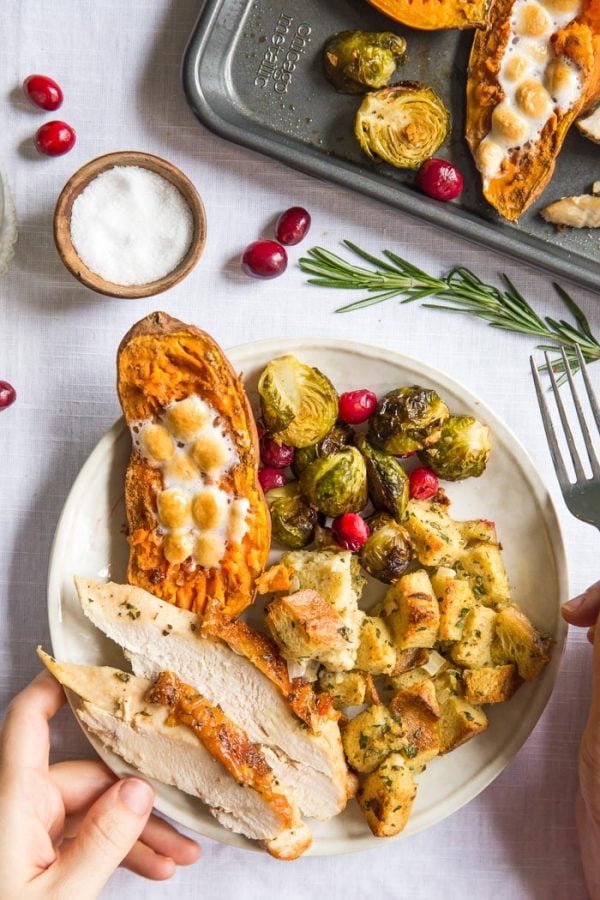 See How to Make this Sheet Pan Thanksgiving Dinner for 2
[adthrive-in-post-video-player video-id="H2HNWxu9″ upload-date="2018-11-15T14:00:00.000Z" name="Sheet Pan Thanksgiving" description="Sheet Pan Thanksgiving Dinner for 2″]
And that's it. PLEASE please share your dinners with me if you end up making this. It would mean a lot to me as I love to see people cooking my recipes. I know you'll love this one!
Print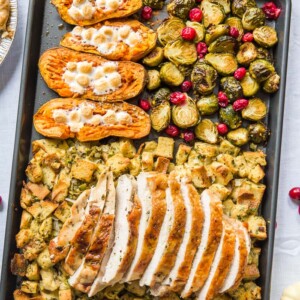 Sheet Pan Thanksgiving Dinner for 2
---
For the Turkey:
2

–

4

pound boneless, skin-on turkey breast (mine was 3 pounds. See notes above about different alternatives such as chicken and turkey leg)

2 tablespoons

unsalted butter, at room temperature

2

clove garlic, finely minced

1 tablespoon

finely chopped fresh rosemary
salt and pepper to taste
For the Stuffing:
1/2

loaf of sourdough bread, cut into

1/2

inch cubes (ends up being about

1/2

pound)

1 cup

of broth

2 tablespoons

of parsley, finely chopped

1 tablespoon

of minced sage (could also use rosemary, thyme etc here)

1 teaspoon

of salt

1 tablespoon

of lemon juice

½ teaspoon

of freshly ground black pepper

2

eggs, beaten

½ teaspoon

of garlic powder

1

celery stalk, finely chopped

½

yellow onion, finely chopped
For the Cranberries:
3/4

pound of fresh brussels sprouts, trimmed and halved

1 1/2 tablespoons

of olive oil
salt and pepper tot taste

2

cloves of garlic, minced

1/4 cup

of fresh cranberries
For the sweet potatoes:
2

small sweet potatoes, halved
oil for brushing
desired amount of brown sugar, cinnamon and marshmallows for topping*
---
Instructions
For the Turkey:
Pre-heat the oven 375 degrees F. Place a piece of foil on a large baking tray (mine is 17×12 inches).
In a small bowl, mix the butter with the garlic, rosemary, and a bit of salt and pepper (I used about 1/4 teaspoon of each).
Dry the turkey as best possible with paper towels. Peel the skin back, drying underneath, and spread the butter mixture all over the inside of the turkey. Place the turkey on the foil and fold the sides of the foil up to create a kind of boat that will prevent most liquid from escaping.**
Place in the pre-heat oven for 30 minutes.
For the Stuffing, Cranberries, and Sweet Potato:
Mix all of the stuffing ingredients in a large bowl and set aside.
In a medium bowl, mix together everything BUT the cranberries (those will not go on until the end). Set aside.
Cut the sweet potatoes in half and lightly brush with olive oil.
To assemble the try:
After the turkey has baked for 30 minutes, remove it from the oven and set the turkey aside. The juices from the turkey can be discarded or used to make gravy. Lightly wipe the tray clean (you mostly just want to make sure there is not an excess of moisture that escaped the foil).
Assemble your tray by arranging the stuffing mixture on one half of the tray. Mine took up just a bit more than half. Put the brussels sprouts on one quarter of the tray and the sweet potatoes in the remaining space. See photos for reference.
Place the turkey on top of the stuffing and bake for 45 minutes. Check towards the end to ensure that the turkey is not getting too browned. If so, you can lightly cover it with foil.
Check the temperature of your turkey as roasting times will vary based on the size. You want the turkey to be at 165 degrees. Remove the turkey to a clean plate and tent with foil.
Toss the cranberries into the brussels sprouts. Using a fork, mash the insides of the potatoes, trying your best to keep the skins intact, and dress up your sweet potatoes with the cinnamon, brown sugar, and marshmallows (if desired). Bake for an additional 10-15 minutes or until the cranberries have begun to burst and the marshmallows are browned.
Slice the turkey and ENJOY!!
Notes
*For the sweet potatoes, I put a nice sprinkle of cinnamon on each, topped with about 1 teaspoon of brown sugar each, and around 6-7 mini marshmallows each. You can certainly use more or less.
**You can use the juices from the turkey to make a gravy if desired!
This post may contain affiliate links. Please read my disclosure policy.