Pumpkin Cheesecake + GBBO wk 4 + LLAMAS!!
This post may contain affiliate links. Please read my disclosure policy.
I have ALL the things to talk about today and ALL the pictures for you. So, sorry in advance if you're only here for help baking a Pumpkin Cheesecake. I'll get to that later.
FIRST. Guys, I met some of my neighbors this weekend and they're pretty awesome. Even better, they have LLAMAS and horses and chickens and a donkey! I officially love my new "neighborhood". (I put that in quotes because the little town we live in does not allow subdivisions to be built and I love that because we moved here to be "in the country"). Meet my neighbors: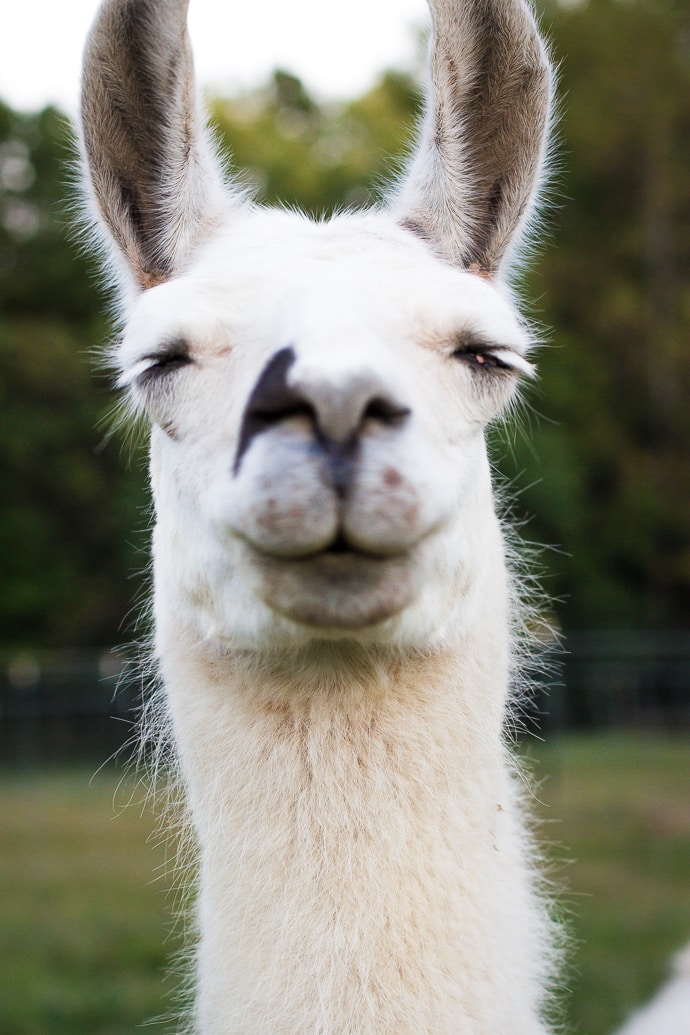 I mean. THAT FACE. I had never met a llama before this past weekend and they were just lovely.
No spitting. But we did get hugs from them wrapping their necks around us.
Did you know that you have to be really careful what you feed llamas because they have no upper teeth and can choke easily? Yea? Somehow I missed that lesson in school.
There's also this cutie that kind of blended into the trees and was rather shy but she still posed for a couple pictures for me:
They horses however, can get all the yummy treats (I've already walked across the street a couple times to give them carrots and apples)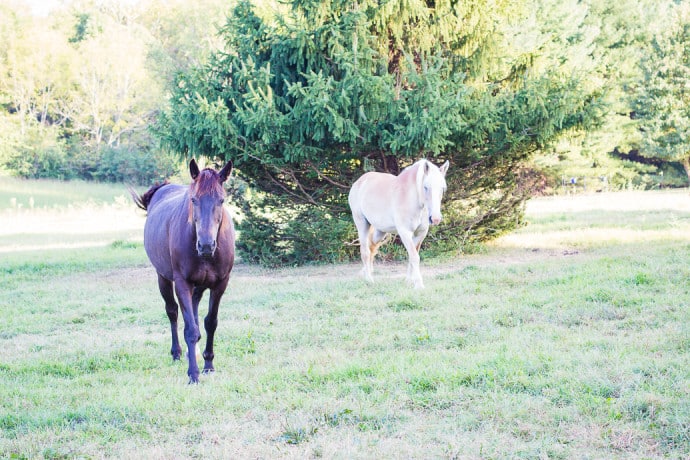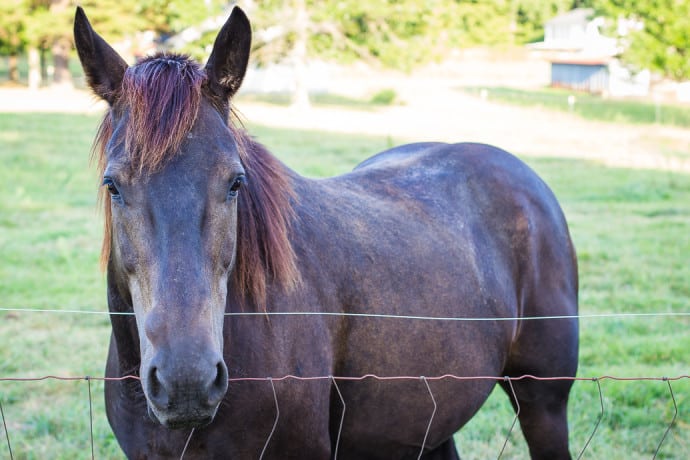 OKAY. One more picture because you have to meet Flow the midget donkey because she's awesome and super sweet.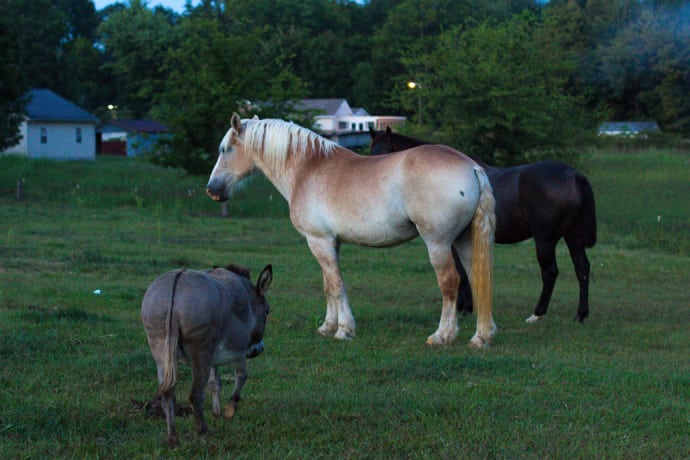 She was a little camera shy.
We met a few of our neighbors at a Labor Day get together yesterday and I am so grateful. We have some pretty awesome neighbors (people and animals alike).
OKAY. Now on the the cheesecake and Week 4 of the Great British Bake Off. I'm about a week and a half behind but I'm consistent and I'm proud of that. Week 4= dessert week. Basically it's all the yummy baked goods that don't fit into another category. The showstopper of Week 4 was a 3 tiered cheesecake. Seeing as I had never baked a cheesecake before (ever!) I decided that I should start with a simple ONE tier. I'm pretty happy with that decision.
In case you didn't know: cheesecake is very easy to make! I expected it to about the complexity level of macaroons but was pleasantly surprised.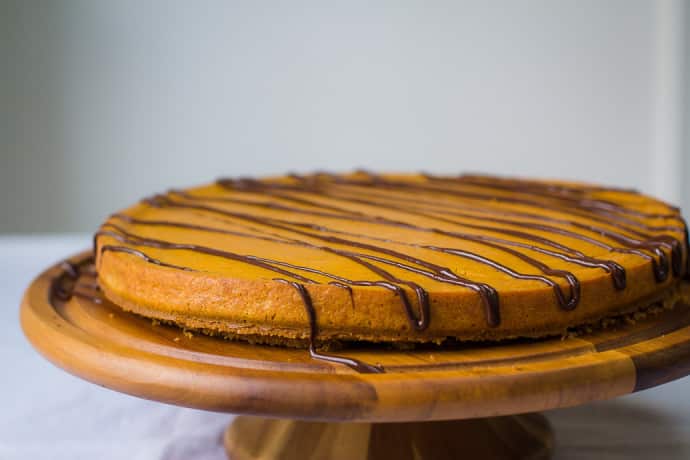 The only springform pan I could find was a 10″ pan so I went with it which resulted in a rather large and thin cheesecake. Size doesn't matter because it still tasted SO so yummy!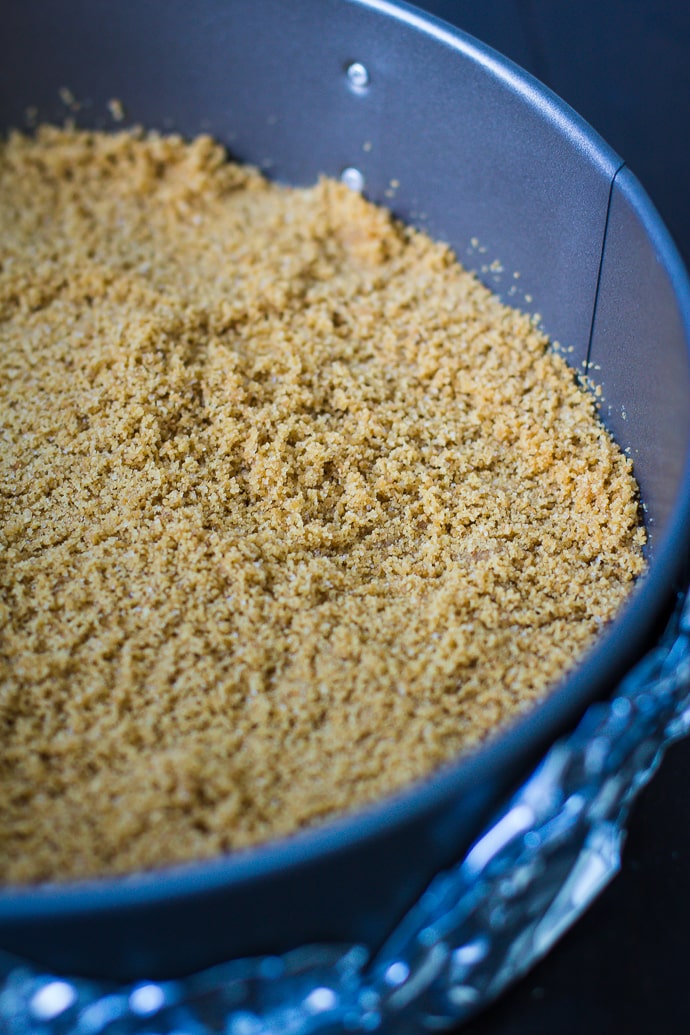 First the crust is made, left to cool, and placed in the fridge while the filling is prepared. I went for a super simple graham cracker crust because they're my favorite (side note: if you're not making your graham cracker crusts at home, you should!!).
The filling is made simply by creaming the cream cheese, adding in the brown sugar and spices, adding in some eggs, and (obviously) a bit of pumpkin puree.
All of that is poured over the crust and baked for a bit.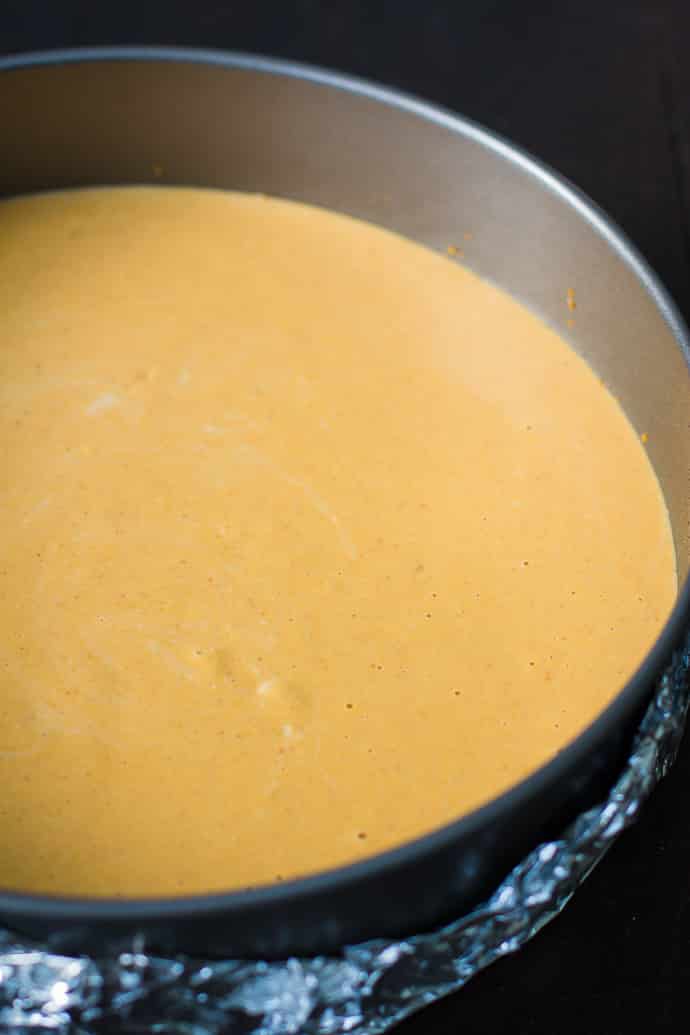 Once baked and cooled, I drizzled the chocolate over it to beautify it a bit and because….chocolate.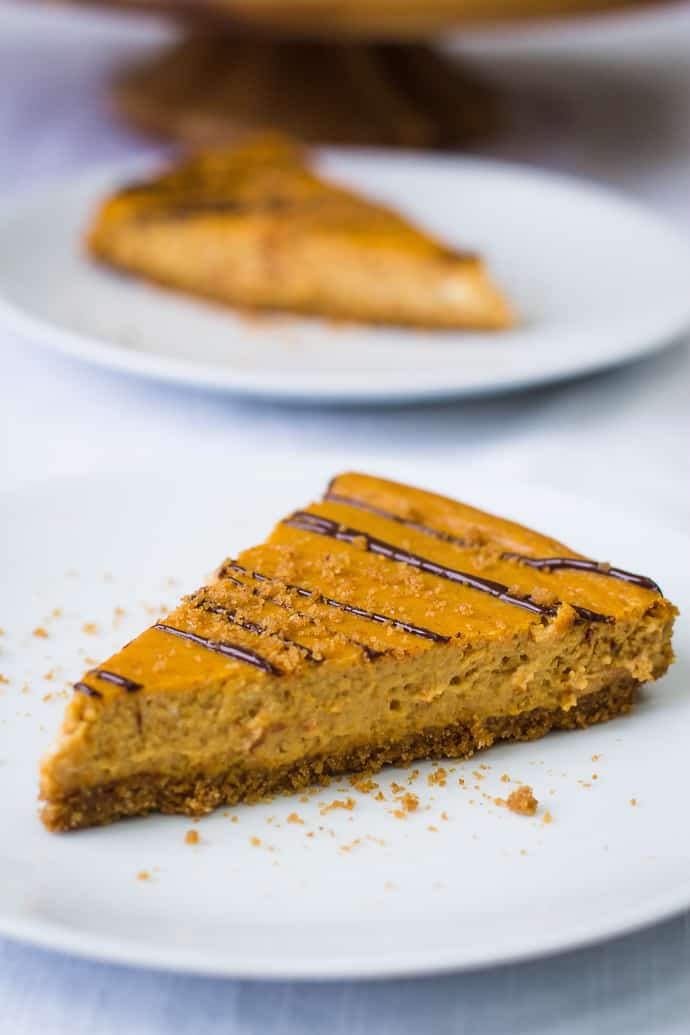 If you've been wanting to try out cheesecake but thought it would be difficult, it's not! Go for it. You'll be SO happy you did, trust me :) I'm really glad that I decided to stick with this whole Bake Off Bake Along challenge. It's encouraged me to try lots of new things and I'm loving it.
Happy baking!!
Recipe adapted slightly from Williams- Sonoma
Print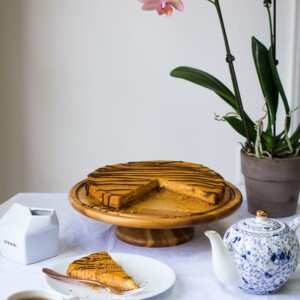 Pumpkin Cheesecake + GBBO wk 4 + LLAMAS!!
---
Total Time:

1 hour 5 minutes

Yield:

1

1

x
For graham cracker crust:
5 ounces

of graham crackers (about

24

square graham crackers), slightly borken

3 tablespoons

of sugar

1/2 teaspoon

ground ginger

1 teaspoon

of ground cinnamon

6 tablespoons

of unsalted butter, melted
For filling:
3/4 cup

firmly packed light brown sugar

1 teaspoon

of ground cinnamon

1/4 teaspoon

of ground allspice

1/4 teaspoon

of ground ginger

1/4 teaspoon

of nutmeg

1

lb. cream cheese (

2

average size cream cheese packages), at room temperature

3

eggs

1 cup

pumpkin puree
optional for topping: 2 ounces of melted chocolate for drizzling
---
Instructions
For the crust:
Pre-heat the oven to 325 degrees F. Spray the inside of a 9-10″ springform pan with cooking spray and wrap the outside of the pan with 2 layers of aluminum foil.
Combine all of the ingredients for the crust in a food processor and blend until fully combined and the graham crackers are finely ground and moist.
Pour the cracker mixture into the spring form pan and press it down into the pan as tightly as possible. It's helpful to use a cup with a flat bottom to press the mixture down into the pan.
Bake for 15-17 minutes until lightly browned. Let cool completely and then place in the fridge while the filling is prepared.
For the filling:
Heat the oven to 350 degrees F.
In a small bowl, mix together the brown sugar and the spices. Set aside.
In the bowl of a stand mixer, cream together the cream cheese on medium speed until it's cream and smooth. You may need to occasionally scape down the sides and stir it by hand.
Gradually add in the brown sugar mixture until it's well mixed in.
Next, add in the eggs one at a time making sure that one egg is fully combined into the cheese mixture before adding in the next egg.
Finally, add in the pumpkin puree and mix together until fully combined.
Scrape the pumpkin cheese mixture over top of the crust and bake for 35-45 minutes (bake time depends on your oven and the size of your pan so watch it).
Once out of the oven, let cool completely before placing it in the fridge.
Optional: once cooled, drizzle with a bit of chocolate before serving.
ENJOY!!!
Prep Time:

25 minutes

Cook Time:

40 minutes
This post may contain affiliate links. Please read my disclosure policy.