Quinoa Pasta Carbonara
This post may contain affiliate links. Please read my disclosure policy.
I always want to start my blog posts in some catchy/ witty way. But, some days I just have nada.
I do have amazement at how YUMMY this pasta is though!! I have quite a few family members who are gluten free for purely health reasons. Meaning: they realllllly want to eat gluten-y things but simply can't without getting sick. SO, this dish is for them (and for everyone who is simply gluten free because).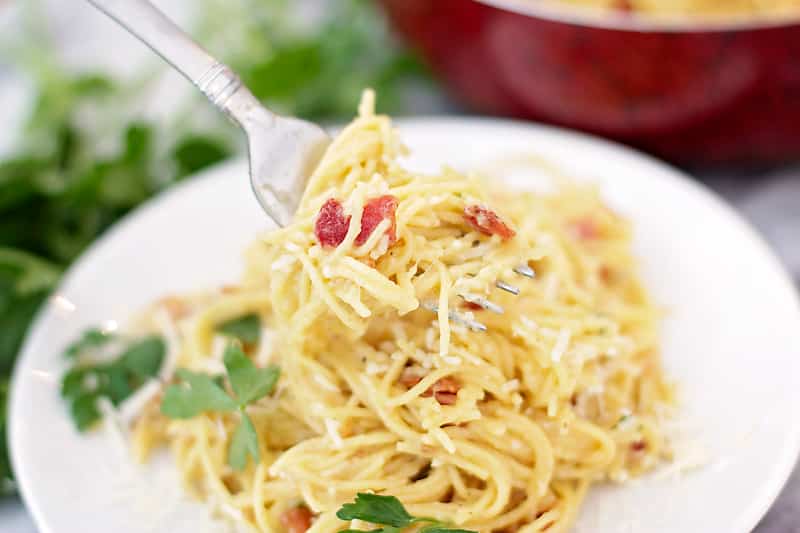 I really wanted this to be a healthy and light dish. But then I got bacon on my mind and it was ALL over.
I picked this pasta
up randomly at Whole Foods. I've been really into quinoa lately and being half Italian, I crave pasta on a daily basis. So, I thought I would give this a try.
The result: I LOVED it! A lot actually.
Although I'm not sure it would totally fool anyone, it does have a very similar taste and texture to traditional pasta. It's quite a bit stickier than pasta but like I said, I was pretty impressed.
Alrighty, let's get to the bacon. This dish comes together quickly (almost too quickly in fact).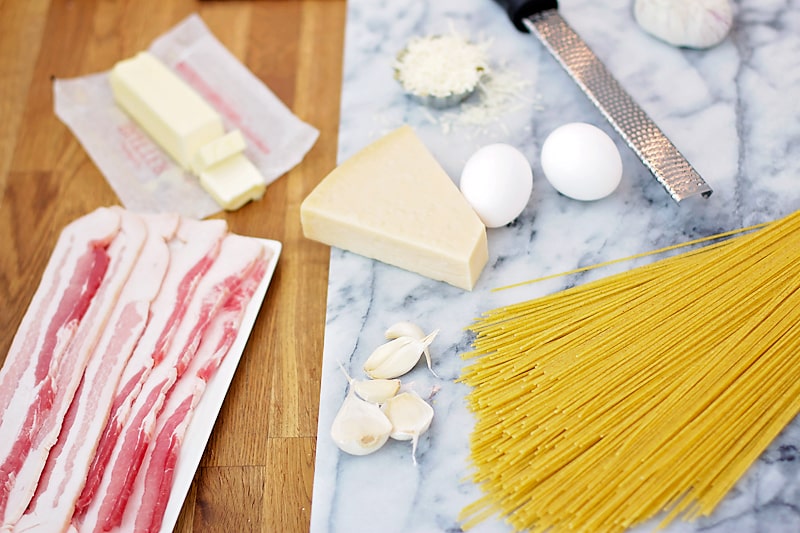 Butter, bacon, and garlic are cooked in a large skillet while the pasta cooks. The pasta is then delightfully added to the pan with the bacon mixture to soak up all the juices.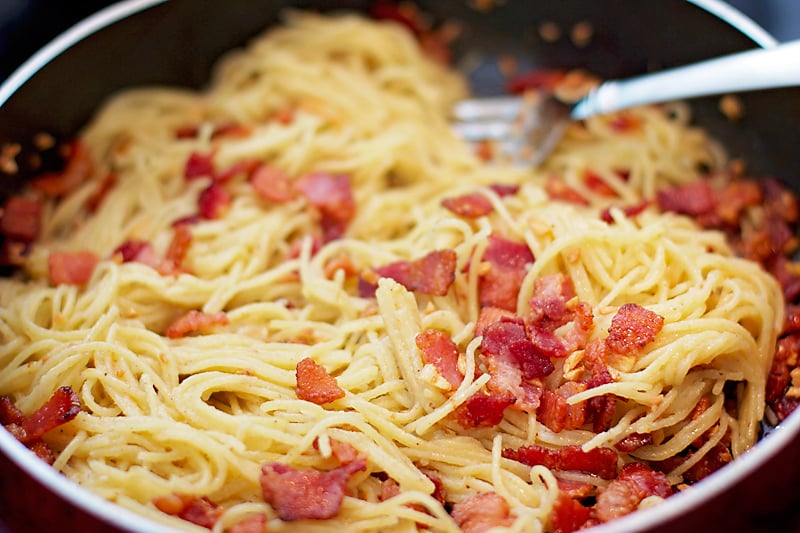 Eggs, water, and CHEESE are added to bring the whole dish together.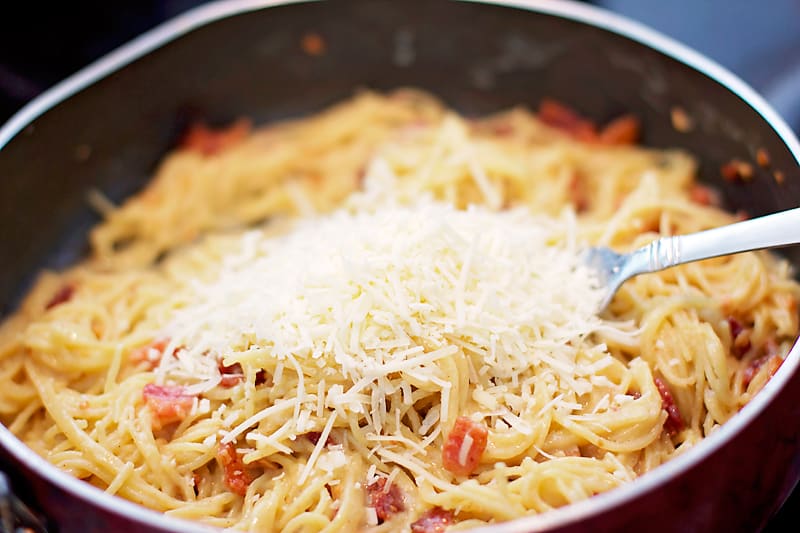 A good stir is given, a bit of fresh parsley is added, and the dish is ready to be devoured!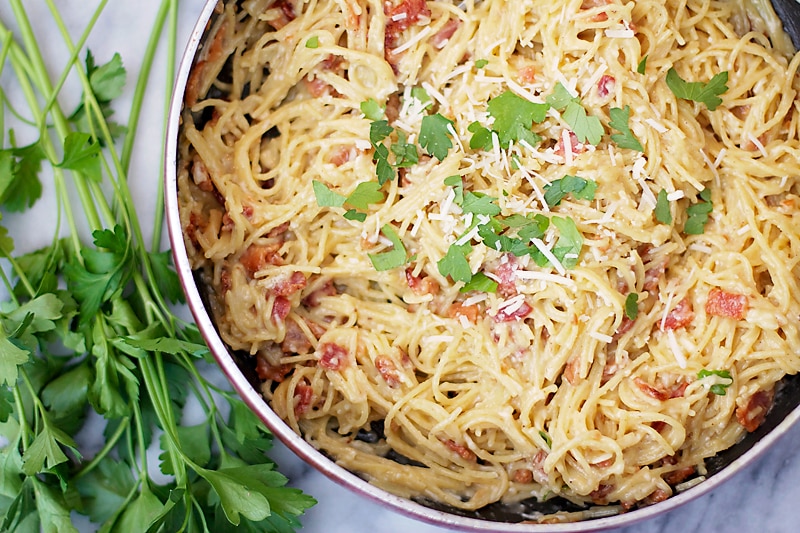 These pictures really just aren't doing the dish justice. This pasta is SO good!
What's your favorite gluten substitute? Any other gluten-free pastas I should try??
Print
Quinoa Pasta Carbonara
---
Total Time:

30 minutes

Yield:

2

1

x
8oz

of Quinoa Pasta

6

–

8

strips of bacon, diced into

1/4

–

1/2

inch pieces

4

cloves of garlic, minced

2

eggs, beaten

1/2 cup

parmesan cheese, shredded

1/2 cup

romano cheese, shredded
---
Instructions
While a large pot of lightly salted water begins to boil for the pasta, put the bacon and butter in a large skillet and cook over medium heat. You could omit the butter but for traditional carbonara just…don't do it. Butter is good.
As soon as the water is ready, cook pasta according to directions on package.
Once the bacon starts to get brown and crispy, add the garlic into the skillet and cook for another few minutes. Remove from heat. (drain some of the fat if desired but reserve at least ~3 tablespoons in the pan).
Beat your eggs and set aside for a bit later.
Saving 1/4 cup of the water from the pasta, drain the rest.
Add the pasta to the pan with the bacon and garlic and toss well so that it is thoroughly mixed together.
Let the 1/4 cup of water cool for a few minutes and then mix it into the beaten eggs.
Add egg mixture to the skillet with the pasta, toss, add cheeses, and toss some more until everything is well mixed together.
Sprinkle with a bit more cheese, some black pepper, and fresh parsley and ENJOY!
Prep Time:

10 minutes

Cook Time:

20 minutes
This post may contain affiliate links. Please read my disclosure policy.