Quinoa Stuffed Acorn Squash
This post may contain affiliate links. Please read my disclosure policy.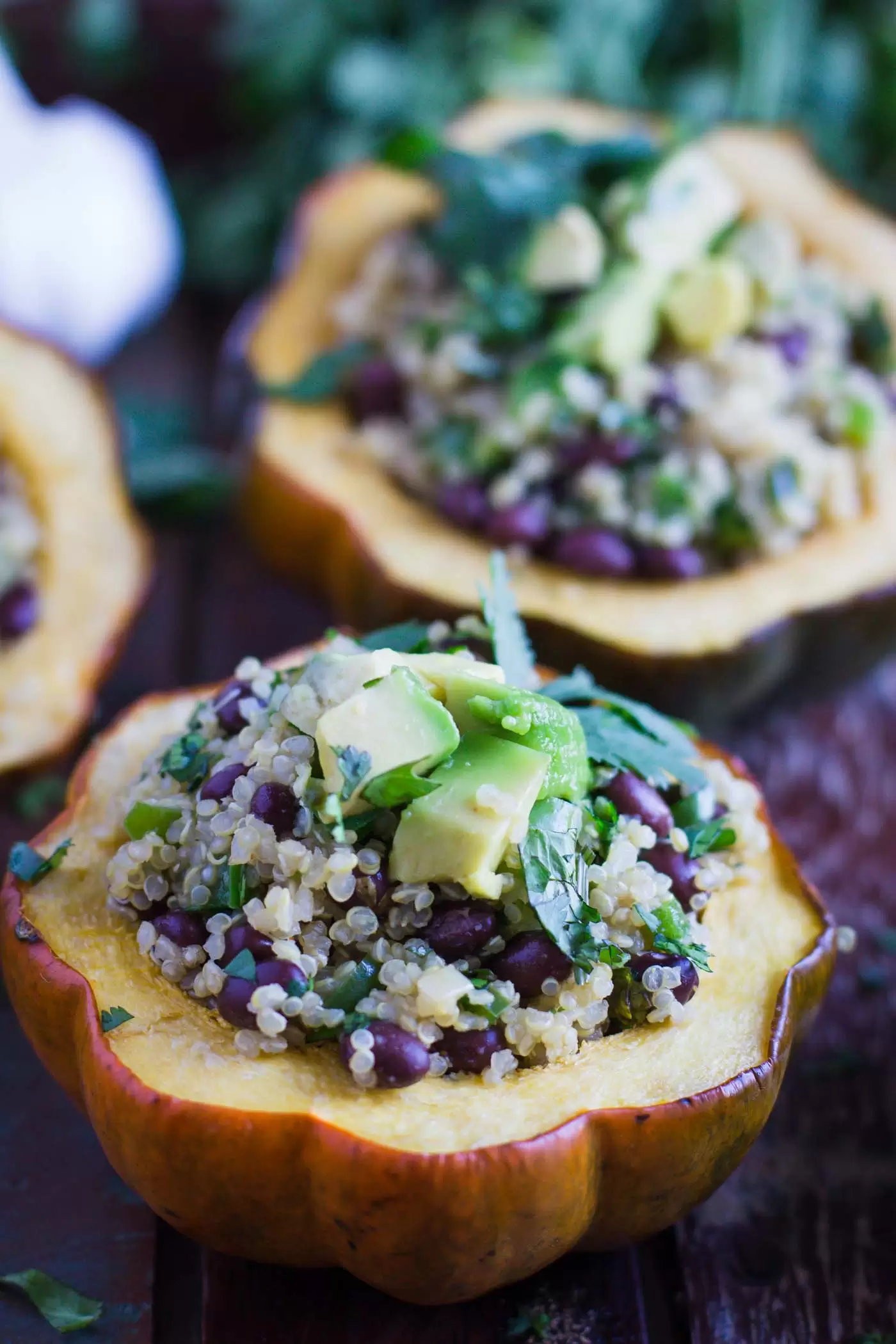 WE MADE IT TO FRIDAY! yay. I've slightly overbooked myself the past couple weeks and so I'm going to do my best to actually relax some this weekend. I say "actually" because I'm bad about setting aside time to rest but then just filling it with various chores that have me rushing around the house and doing anything but resting. SO, here's to a relaxing and restful weekend.
And when I get home today, there will be FOUR FRUIT TREES waiting for me on the front porch. If I could express my excitement over the internet, it would look a little something like this ????????????????‼️‼️????????????????????????????????????.
I can't even begin to explain why the thought of planting fruit trees has me SO ecstatic, but it does. I have, in fact, been talking about planting my very own apple tree for a good 15 years now so I guess that could have something to do with it.
To back track: on Tuesday, I spent my lunch break researching apple trees. It started out casual like, "oh, let me just see how much they cost" and next thing you know I'm on the phone talking to a sweet old lady who's owned a gardening company in Georgia her whole adult life and I'm ordering 3 apples trees and a fig tree. My intention was to just order 2 apple trees but somehow 2 simply didn't seem like enough. I also ended up spending a bit more money to get trees that were more mature and would produce apples as early as next year! (!!!) So, starting today, I'll be the proud owner of a fuji apple tree, a granny smith apple tree, a honeycrisp apple tree, AND an Italian fig tree. The fig tree was an impulse buy.
Needless to say, you'll hear lots more about my fruit tree growing adventures in the near future.
Lets talk about these Quinoa Stuffed Acorn Squash. As I mentioned previously, I was a food stylist on a shoot recently where the company asked that their pictures be styled to look like a "bountiful harvest". In order to achieve such a look, I spent ~$100 on produce all of which I took home with me after the shoot. The next few blog posts that you will see are my desperate attempts to eat 3 weeks worth of fruits and veggies in just ONE week before it all goes bad. That's what this acorn squash recipe is really about.
Quinoa + Black Beans + Cilantro is one of my absolute favorite combos and I do it rather often. Sometimes I eat it just by itself and other times I stuff it into sweet potatoes or tacos OR these acorn squash.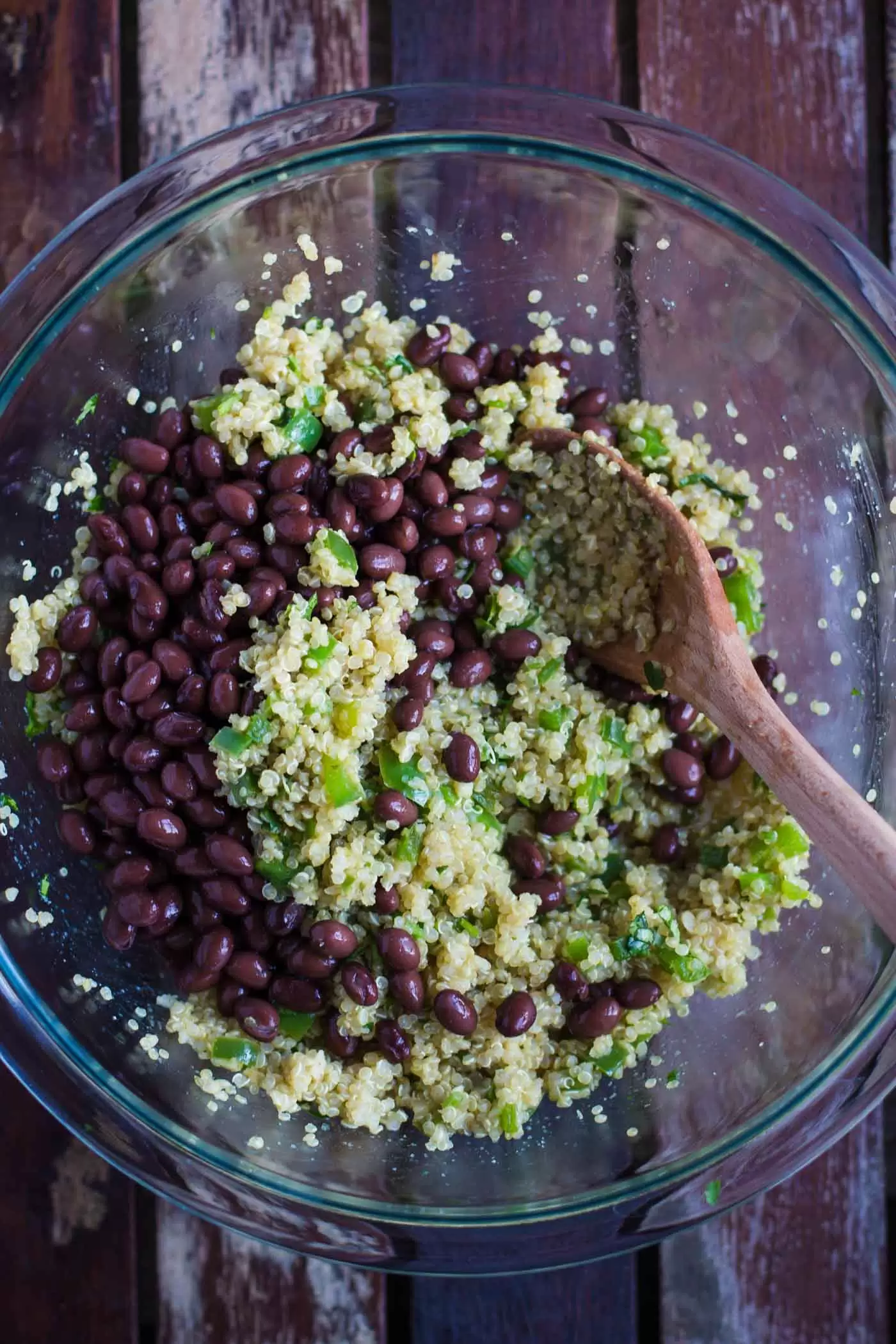 This recipe is surprisingly simple which is a large reason why I love it. It's also very easily adapted. You could add in some ground turkey (or really any other kind of meat), any spices, any other veggies.
These Quinoa Stuffed Acorn Squash are also VERY filling. It kind of feels like comfort food while simultaneously being filled with nutrients and for that, I'm grateful.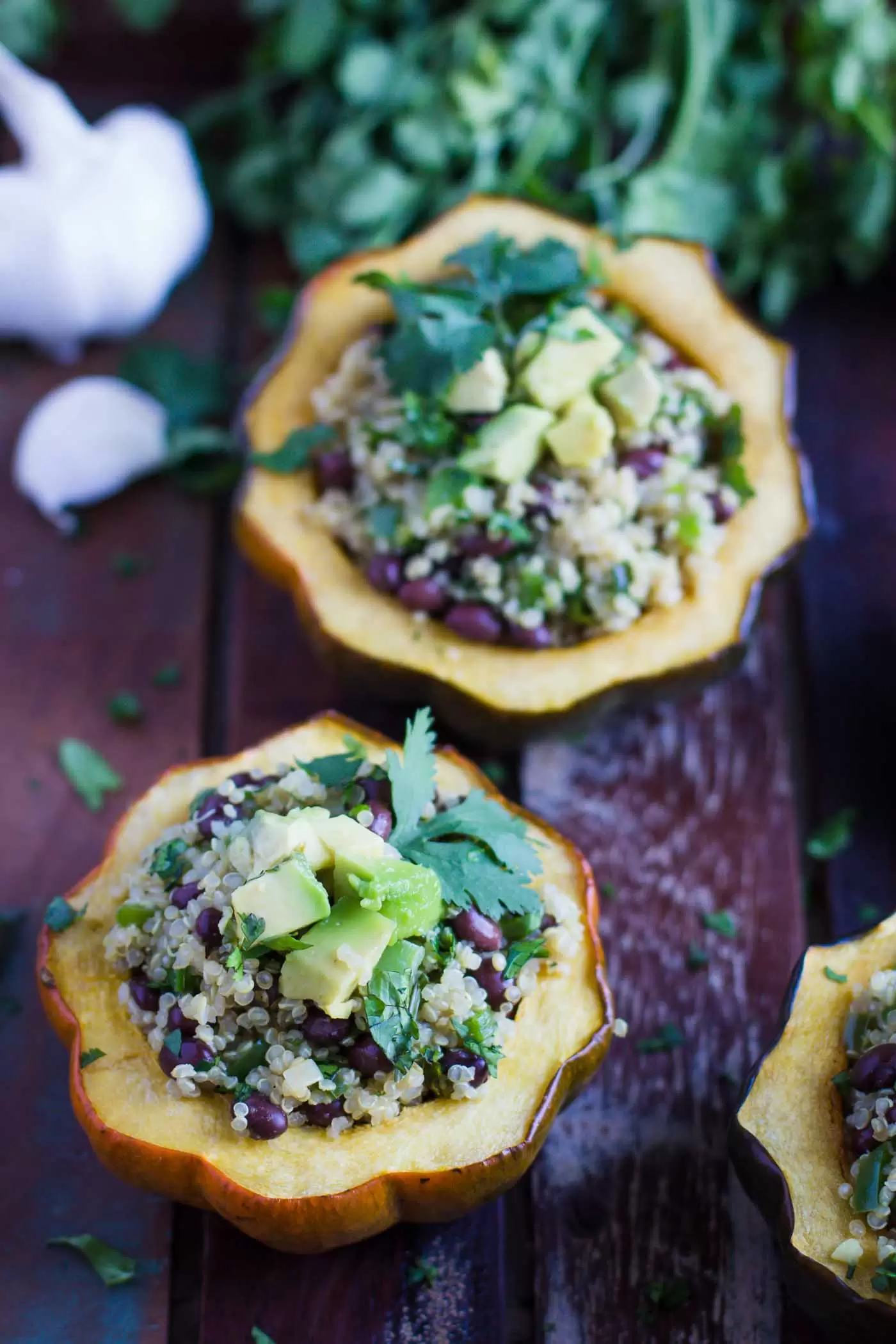 Friends, I hope that you have a marvelous weekend filled with all of the things that bring you joy :)
Print
Quinoa Stuffed Acorn Squash
---
Author:

Total Time:

50 minutes

Yield:

4

1

x
2

acorn squash

1 cup

uncooked quinoa

2 1/4 cups

of veggie broth

1/4 cup

of chopped cilantro

1

green bell pepper, finely diced

1 tablespoon

of oil

2

cloves garlic, minced

1/8 tsp

onion powder

1/8 tsp

cayenne pepper

1/8 tsp

cumin

1

can black beans drained and well rinsed
optional for topping: extra cilantro, diced avocado
---
Instructions
Pre-heat oven to 350 degrees F. Lightly grease a baking tray.
Cut each squash in half (it doesn't matter if you cut down the center of the stem or down the middle, either works just fine. Remove the seeds and lightly spray the flesh of each squash with cooking spray.
Place the squash skin side down, on the baking tray and bake for 30-35 minutes or until the flesh is tender and easily separates from the skin of the squash.
While the squash is baking, cook the quinoa by combining the broth and the quinoa in a medium saucepan. Cook according to directions.
Once the quinoa is done, take off of heat, stir in cilantro and set aside to cool.
In a medium skillet, heat 1 tablespoon of oil over medium heat and add in the diced green pepper. Add in garlic and the spices and stir. Cook for 3 minutes and then remove from heat.
In a large bowl, stir together the quinoa, black beans, and the green pepper mixture until fully combined.
Finish it all off by evenly stuffing each of the acorn squash with the quinoa and black bean mixture. Top with more cilantro and some avocado and ENJOY!!!
Prep Time:

10 minutes

Cook Time:

40 minutes
---
One more thing!!! I'm guest posting over on Helene's blog today and as part of that, I'm doing a giveaway for TWO one-on-one photography lessons. These are perfect if you're wanting to get into photography but don't know where to begin, are havign trouble learning the manual settings on your DSLR, or want some advice on editing photos. I'll answer any questions that you have! Enter below and don't forget to check out my post on Helene in Between!
a Rafflecopter giveaway

This post may contain affiliate links. Please read my disclosure policy.