Roasted Rosemary Red Potatoes
This post may contain affiliate links. Please read my disclosure policy.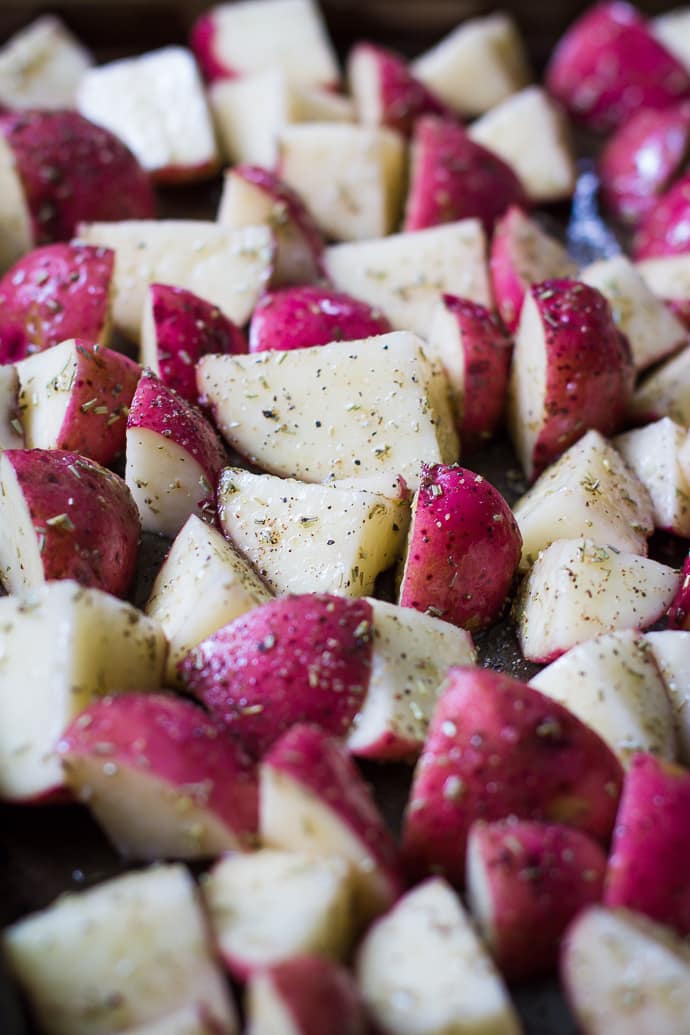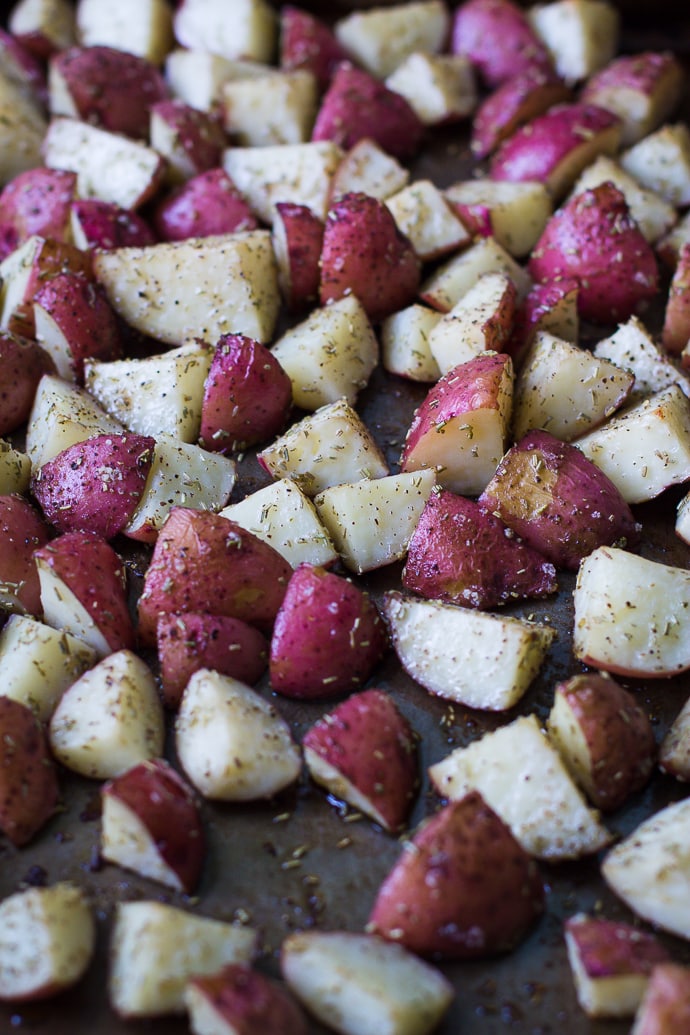 If I could have only one herb in my life, it would be Rosemary. I really really love Rosemary. Like, I often debate naming my first daughter Rosemary because I just love it that much. Maybe it would make a better middle name instead, though? Thyme comes in a close second.
When all else fails, I just throw some rosemary on my food and trust that it will turn out okay. And it pretty much always does. Rosemary chicken, yep! Rosemary veggies, duh. Rosemary bread, yes please!! Moral of the story: rosemary is awesome. You should put it on everything savory.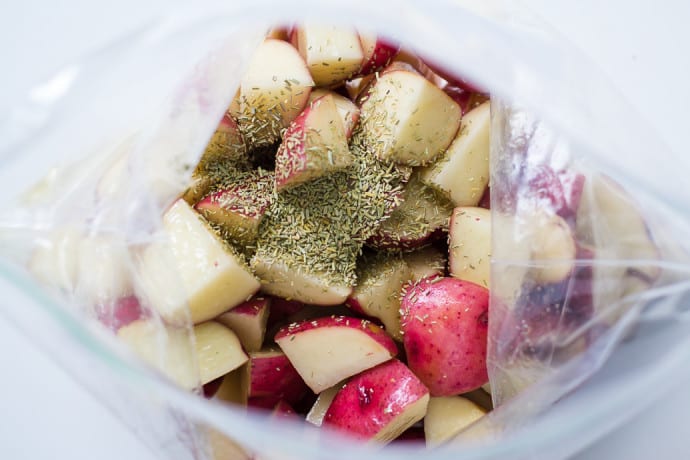 I just planted a bunch of rosemary at my new house but none of it is really ready yet. I love that rosemary is SO easy to grow, turns into a giant bush of fragrant yumminess, and just lasts forever and basically never dies. Those are my favorite kinds of plants: the hard to kill ones.
So, since we have no FRESH rosemary, we'll use some dried rosemary which is almost as equally lovable. Also, easy.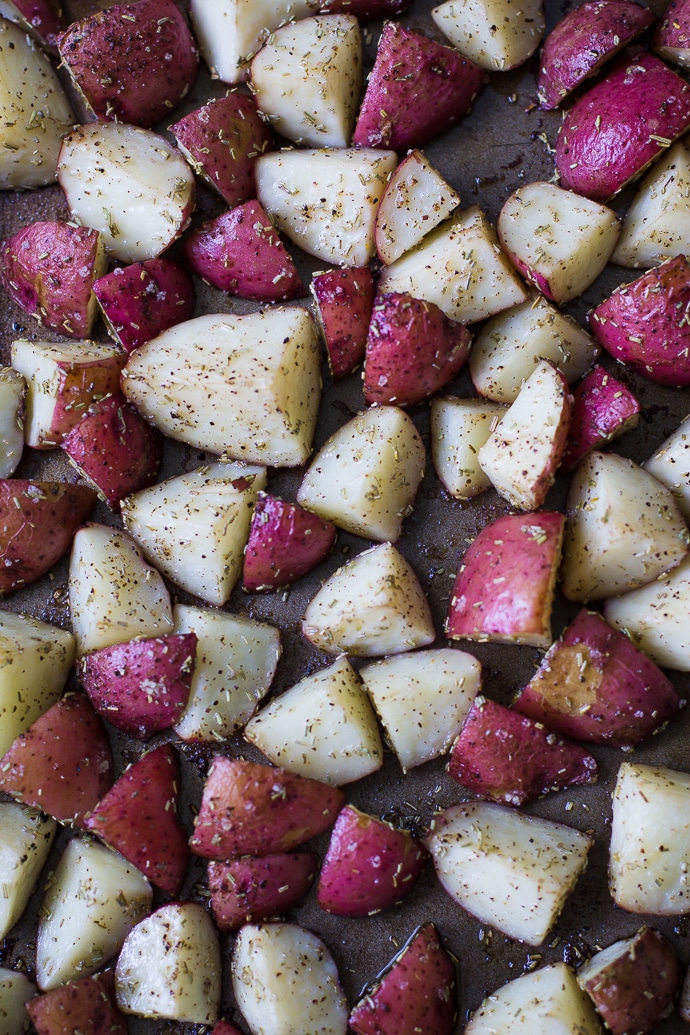 I make these Roasted Rosemary Red Potatoes at least once a week. The past few weeks it's been more like 2 times per week. They're just so easy and make my dinner feel a bit fancier (are red potatoes fancy at all? They feel fancy to me). Out of principle, I almost always use dried, pre-chopped rosemary for this to maximize minimal effort.
Potatoes are chopped up. There's really no rhyme or reason to this and I think I do it differently each time. Sometimes I chop them into small bits kind of like you would for a hash. Other times I chop them pretty big. Like, you can just barely fit it in your mouth and chew comfortably without feeling awkward. <<<<those are the extra lazy dinners.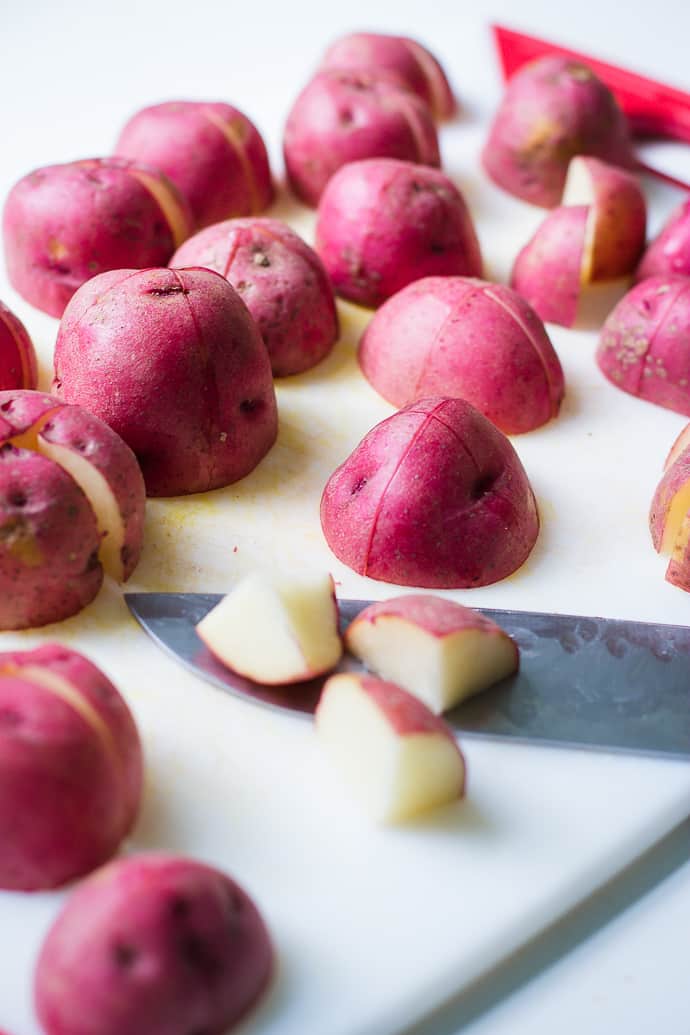 The potatoes are then dumped into a freezer bag. You could also put them in a big bowl. I'm a fan of the baggie method.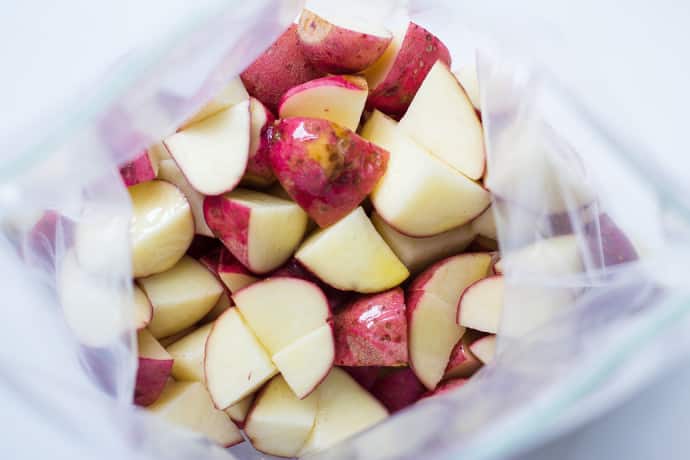 Olive oil is drizzled in. I almost never measure any of this, but I did measure it all a few times. Because I know how much the internet prefers exact measurements. So, ~1/8 cup of olive oil.
Then, rosemary and sea salt are dumped on top.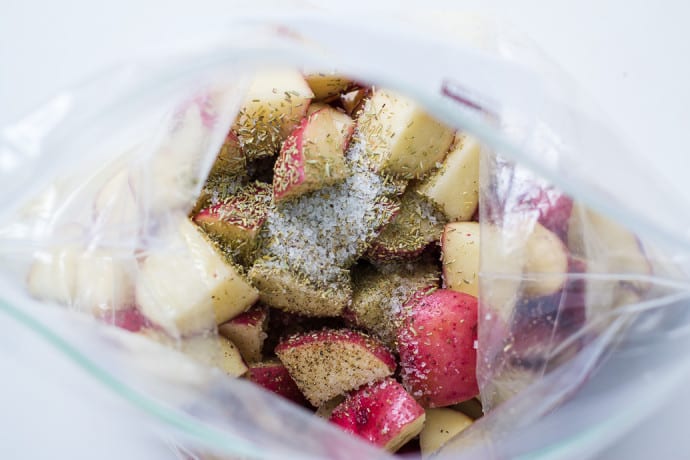 Seal the bag up and give it a good shake and toss until the potatoes are evenly coated with all of the goodness. If you're using the bowl method, just toss the potatoes with some utensils or (if you don't mind getting your hands dirty) just use your hands.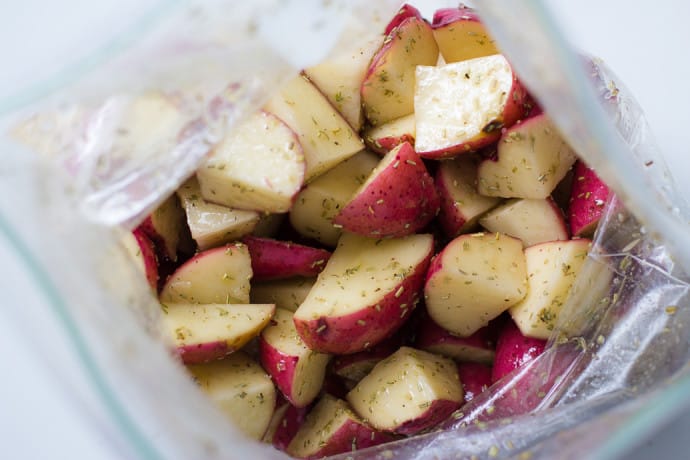 The potatoes are then dumped onto a greased baking sheet before being tossed into the oven for a bit.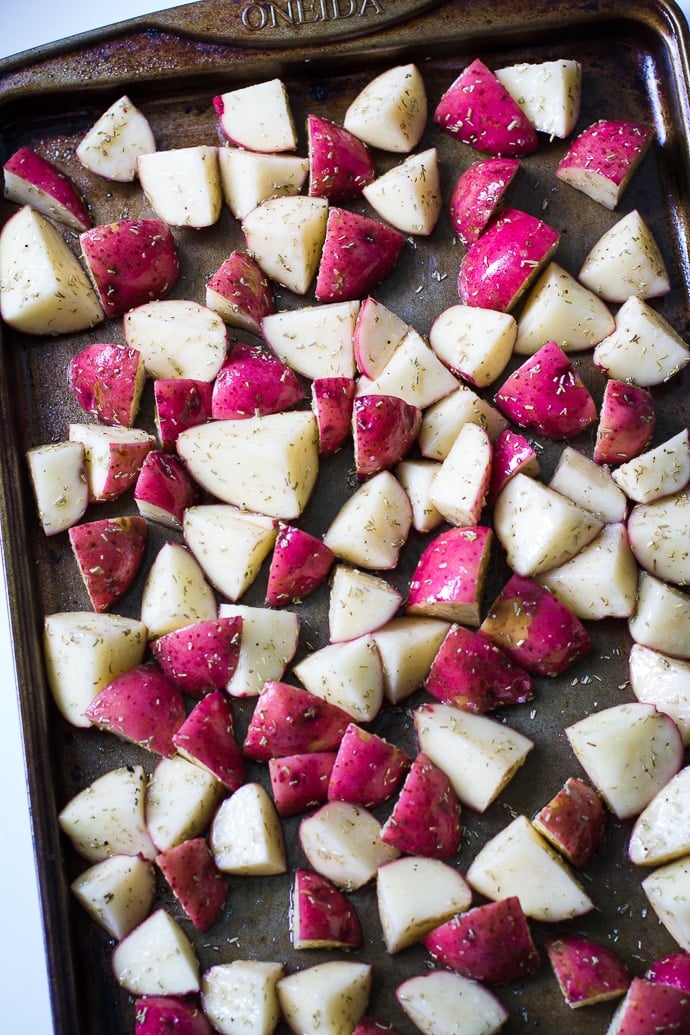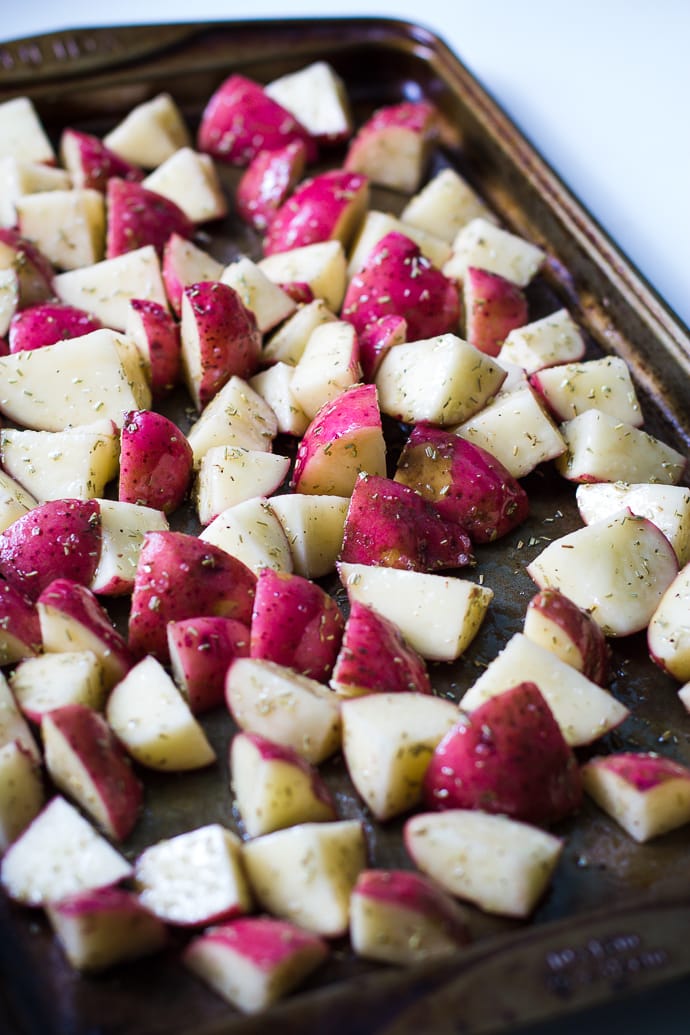 They bake for 25-40 minutes depending on your oven and the size that you chopped the potatoes. The smaller the potato pieces, the less time they need to roast.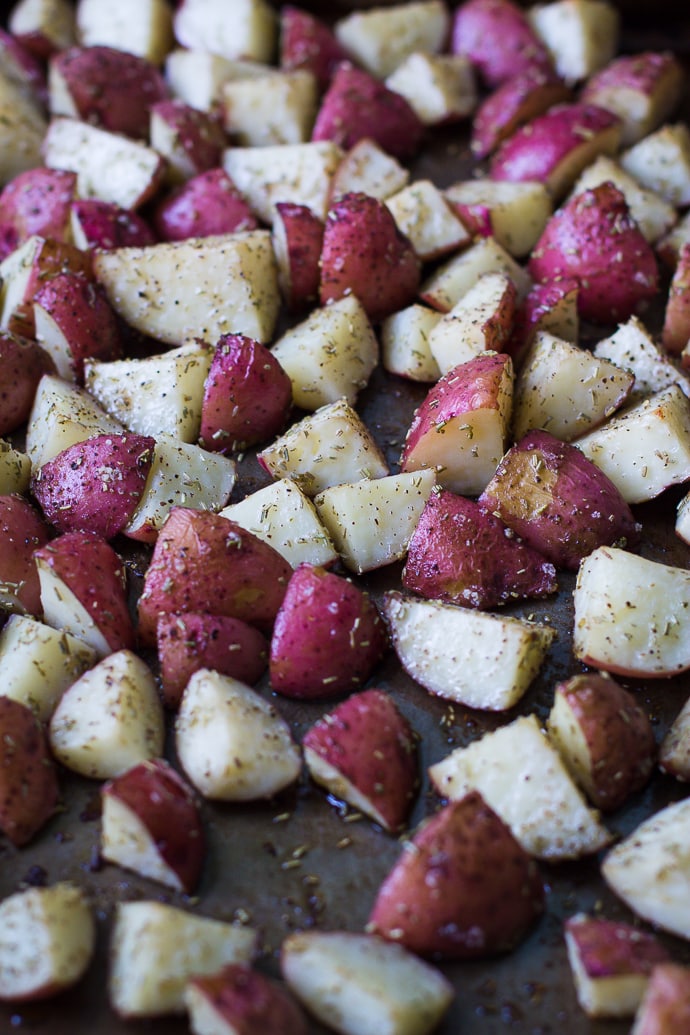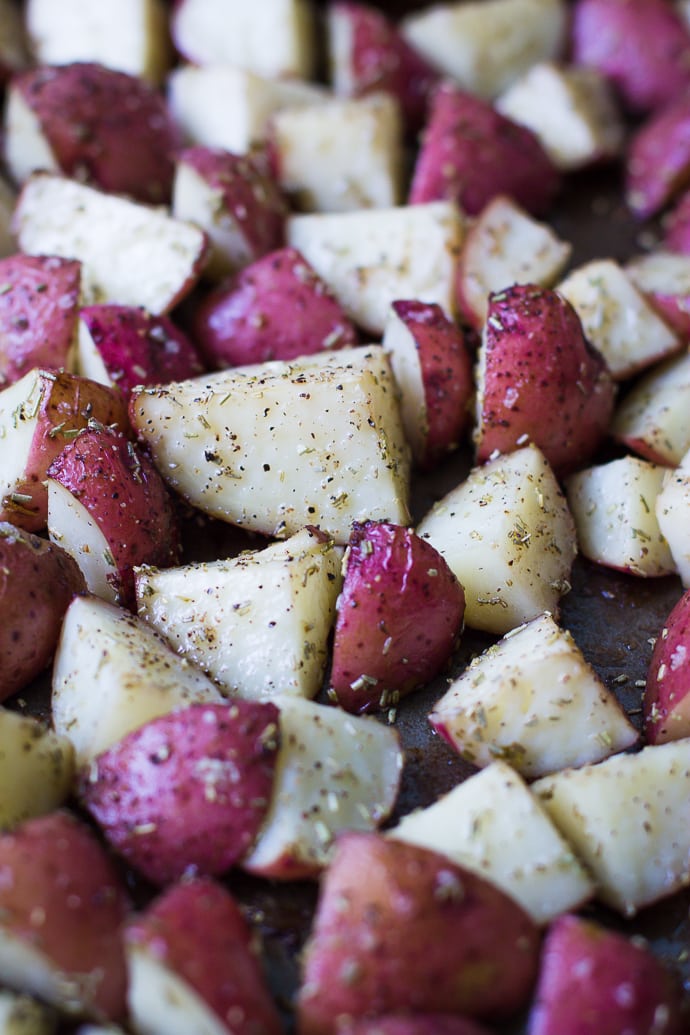 I have another rosemary recipe for you coming later this week. It's a really good one too!! In the meantime, do yourself a favor and stock your house with lots of red potatoes and rosemary and eat these for dinner at least 2 times per week. Like I do.
Print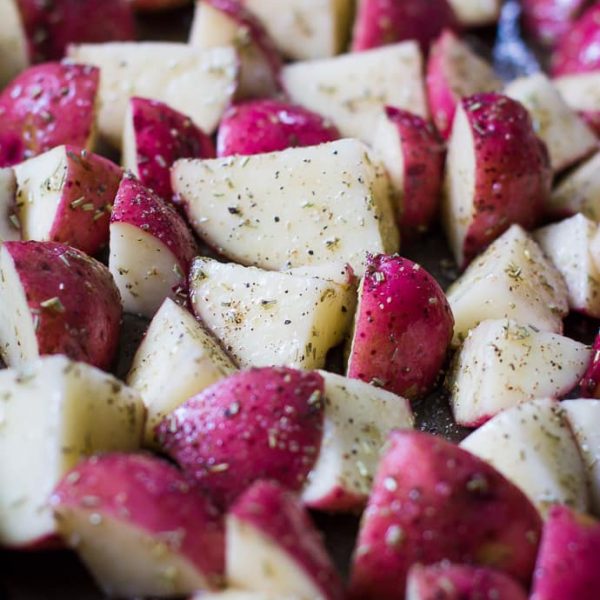 Roasted Rosemary Red Potatoes
---
Total Time:

35 minutes

Yield:

4

1

x
8

small red potatoes, chopped

1/8 cup

of olive oil

1 tablespoon

of dried chopped rosemary

1 teaspoon

of sea salt, plus more if desired
cooking spray
fresh ground black pepper
---
Instructions
Pre-heat the oven to 400 degrees F. Grease a large baking tray or pan.
In a large bowl or large freezer bag, combine the potatoes, olive oil, rosemary, and sea salt. Toss to coat thoroughly.
Pour potatoes onto the baking tray and spread them out so that they are evenly spaced on the baking tray. It's okay if they're touching a bit but it's best if the potatoes are not stacked on top of each other at all.
Ground fresh black pepper evenly over top of the potatoes.
Bake for 25 minutes until golden brown. The potatoes should be tender and a bit soft when a fork is pierced into them. Baking for additional time if they're not quite done yet. Mine typically take about 33 minutes.
Once done, let cool slightly and ENJOY!!
Prep Time:

5 minutes

Cook Time:

30 minutes
Your cook along song for this Monday morning:
This post may contain affiliate links. Please read my disclosure policy.