Slow Cooker Drunken Chicken
This post may contain affiliate links. Please read my disclosure policy.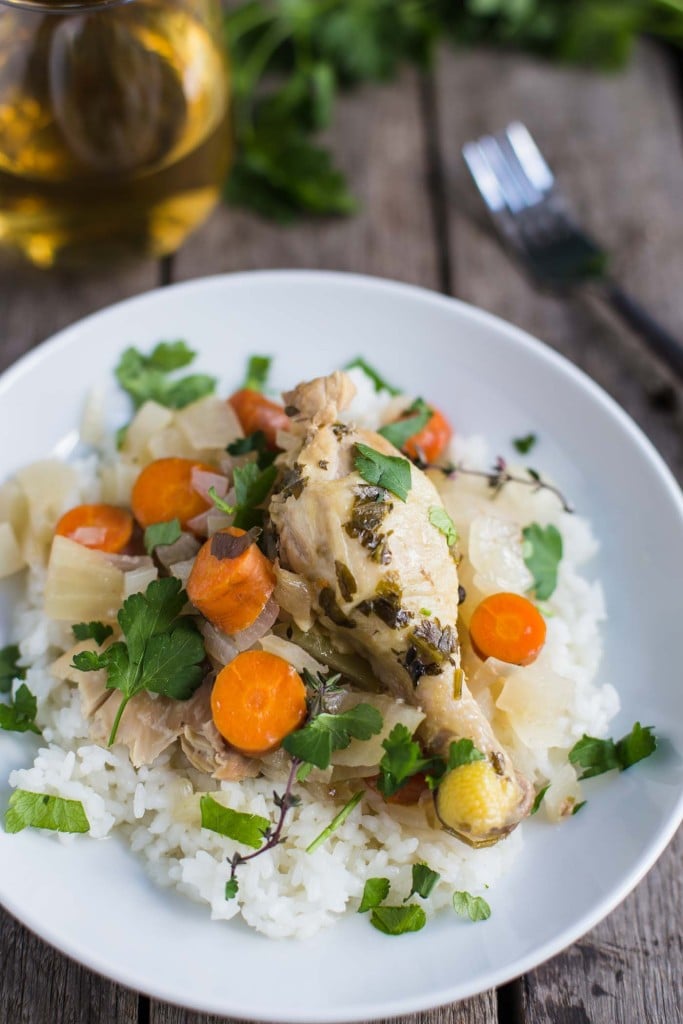 Hello! I'm back from all of the busy birthday celebrations. We went to Gatlinburg this past weekend and rented a cabin and did pretty much nothing but eat lots of food and sit in the hot tub. It was awesome.
I am, however, struggling from the time change. Don't get me wrong, as a food photographer who loves natural light and relies so heavily on the sun to get my work done, Day Light Savings time is basically one of my favorite days of the year. However, waking up to a dark AND overcast sky was a bit challenging this morning. 2 cups of coffee later and I'm not sure that I'm even awake yet.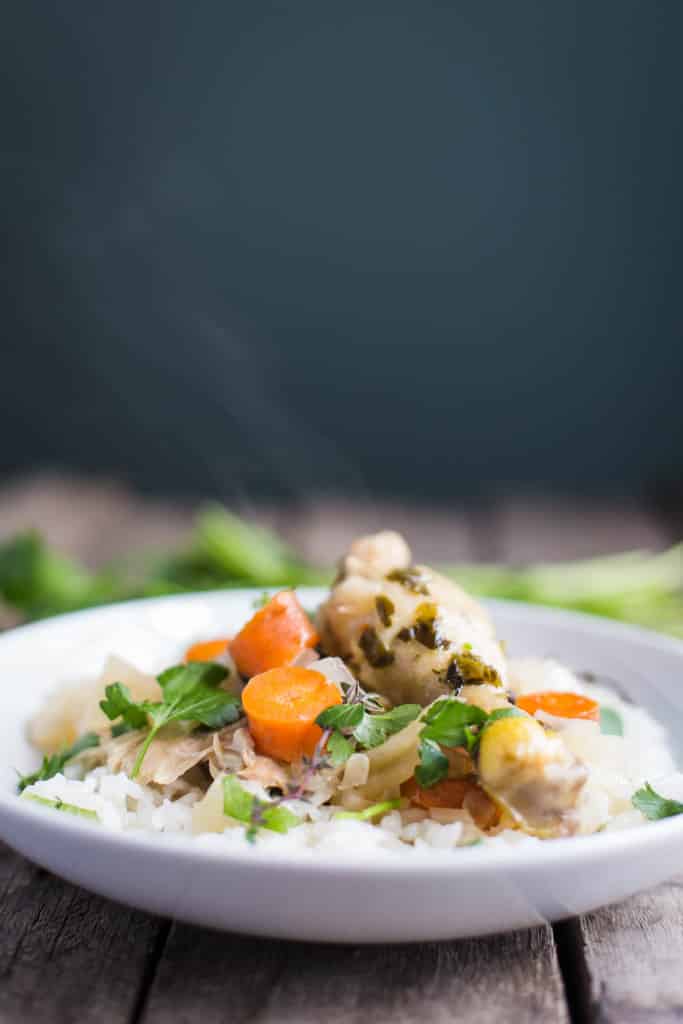 Lets jump right into this Slow Cooker DRUNKEN Chicken, shall we? It's worth diving into. Stephen and I have been struggling with dinner lately. And by that I mean that we've both been so busy that by the time we think "what should we have for dinner!?" it's 8:30pm, we have nothing in the house, and neither of us have the energy to even think about cooking anything. For this reason, I'm trying to do more easy slow cooker meals.
Also, DRUNKEN CHICKEN! I'm a white wine kind of girl and have been super excited to share a white wine recipe with you.
I used a whole chicken for this which I learned how to joint just for this. I typically use nothing but plain ole chicken breast for recipes but I wanted to try something a bit different for this one. If chicken breast is easier for you though, go for it!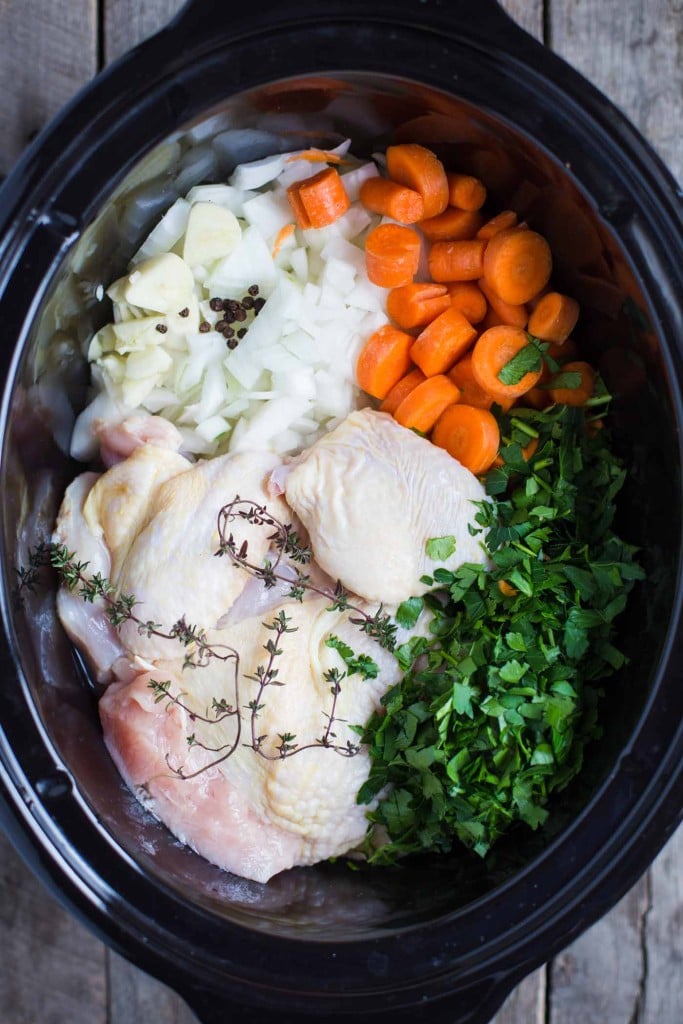 This can be cooked for 8-10 hours on low which is convenient for days that you want to start the slow cooker before heading to work AND it can be cooked for just about 4 hours on high which, depending on when you get home and when you like to eat dinner, can work if you start it as soon as you get home.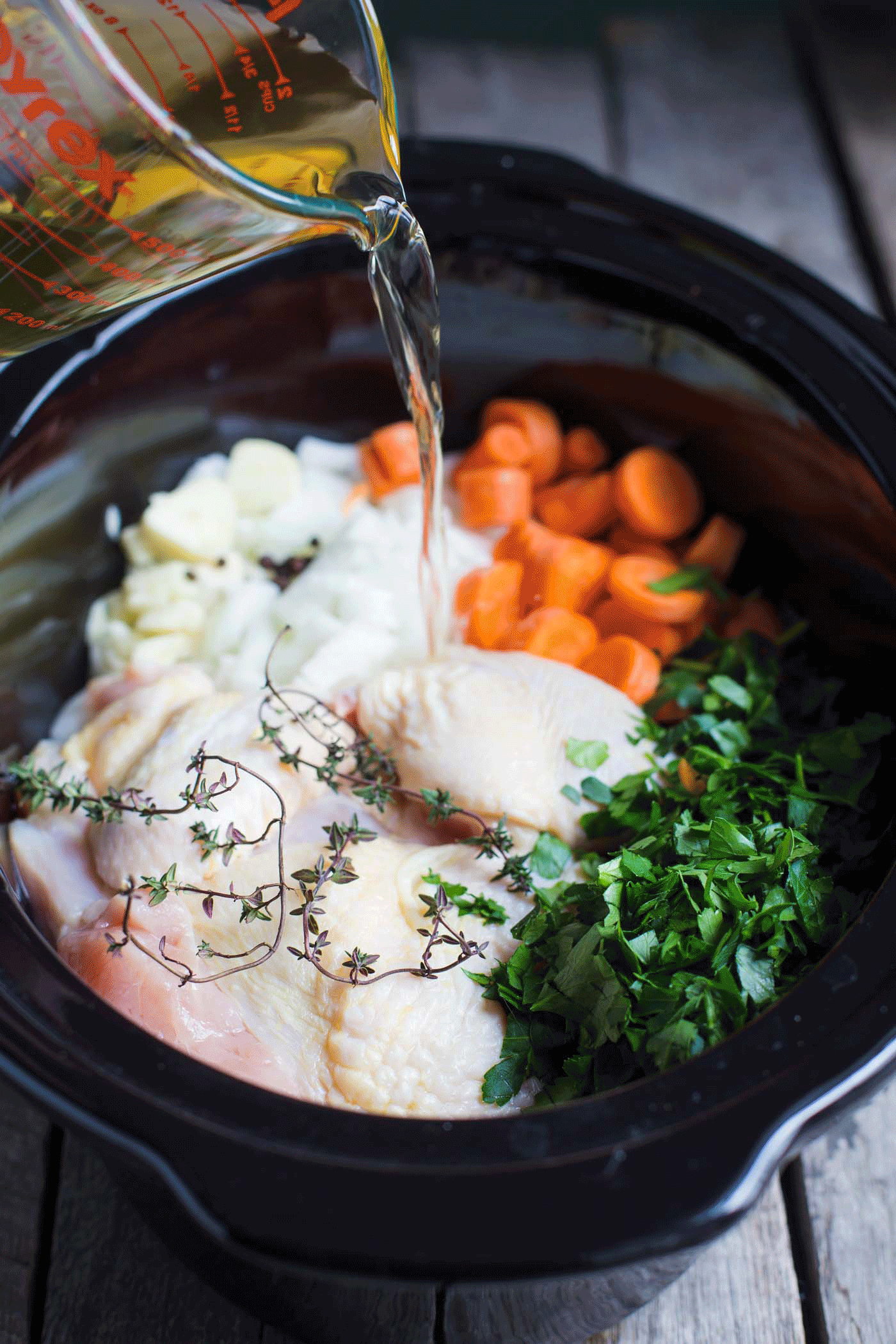 No matter how long you cook it, it'll be DELICIOUS and make you feel a little bit fancy because it was all cooked in a pool on white wine.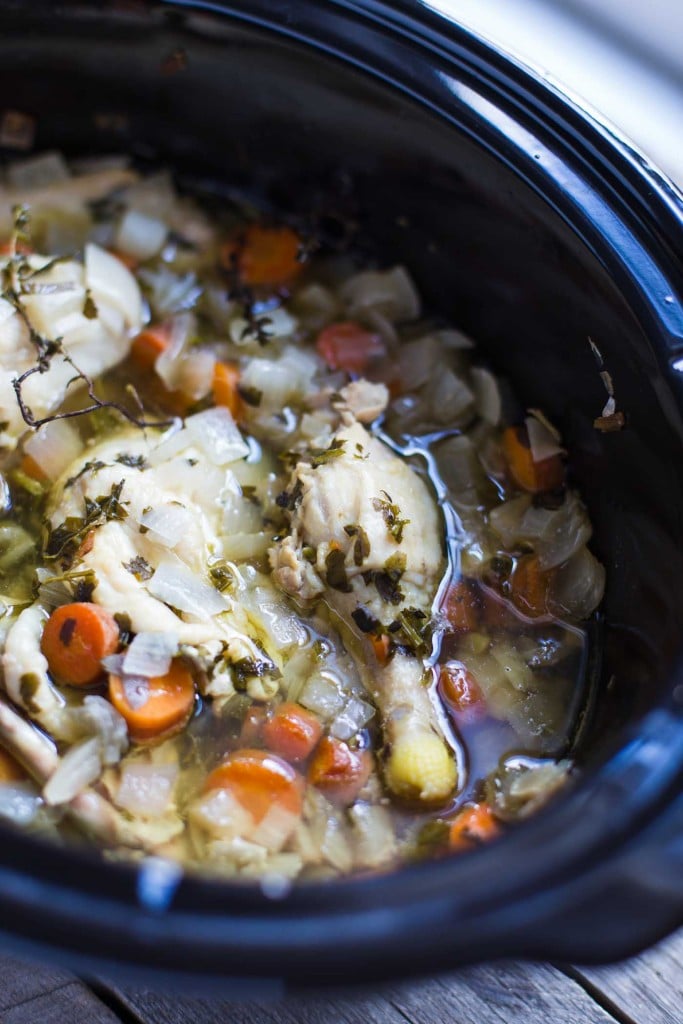 I'm a huge fan :) I served mine over a bit of plain white rice but I think it would also taste SUPER yummy over come couscous. I'll have to try that again soon!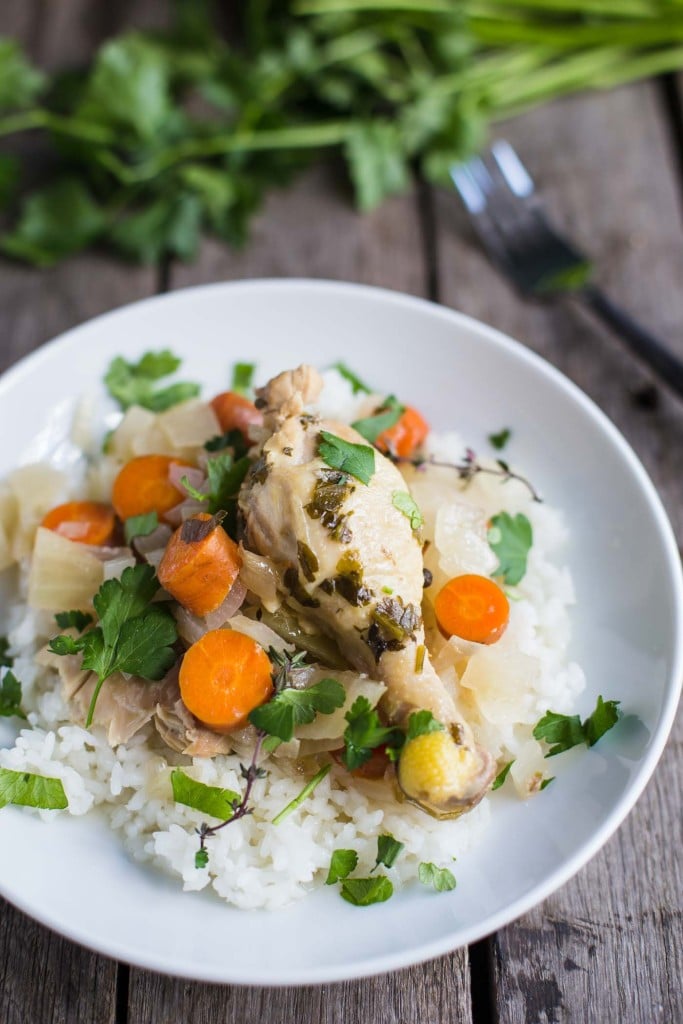 Print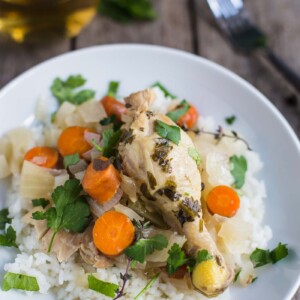 Slow Cooker Drunken Chicken
---
Author:

Total Time:

4 hours 10 minutes

Yield:

4

1

x
1

small chicken, jointed (you could also use

1

pound of boneless, skinless chicken breast)

2

small white onions, chopped

6

carrots, peeled and chopped

1/2 cup

of parsley, chopped (plus extra for topping)

3

cloves of garlic, finely minced

1 1/4 cups

of white wine (I used chardonnay)

3

sprigs of fresh thyme

12

peppercorns
---
Instructions
Soak the chicken in salted water for 1 hour. Remove the chicken from the water and set aside.
Combine the onion, carrots, parsley, and garlic in the slow cooker. Top with the chicken and then pour the white wine over the chicken. Even disperse the thyme and peppercorn over top of the chicken and then cook for on low for 6 hours or on high for 3-4 hours (can cook on low as long as 8 hours).
Serve in a shallow bowl topped with fresh parsley and ENJOY!!
Prep Time:

10 minutes

Cook Time:

4 hours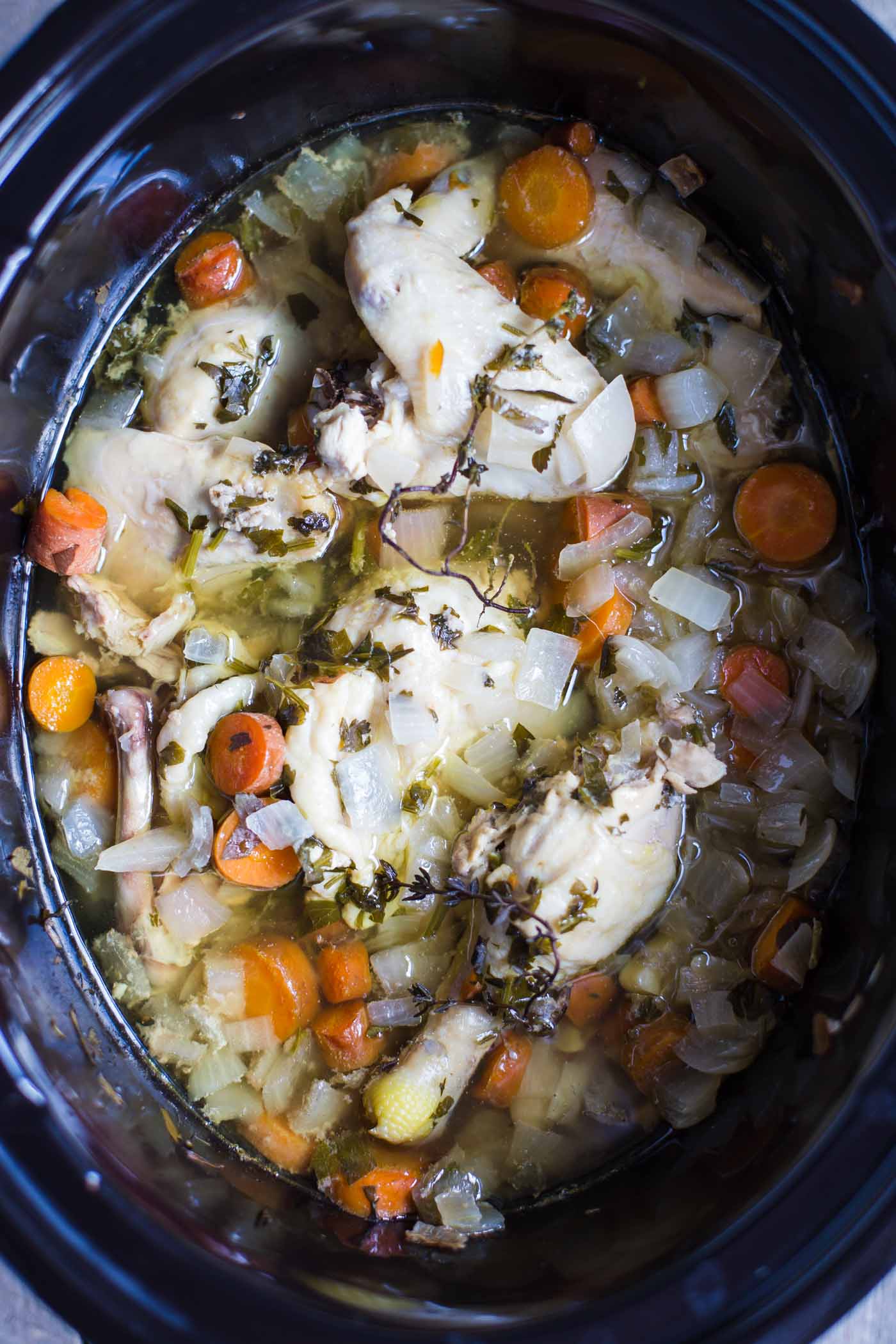 This post may contain affiliate links. Please read my disclosure policy.