Spaghetti Squash Burrito Bowls
This post may contain affiliate links. Please read my disclosure policy.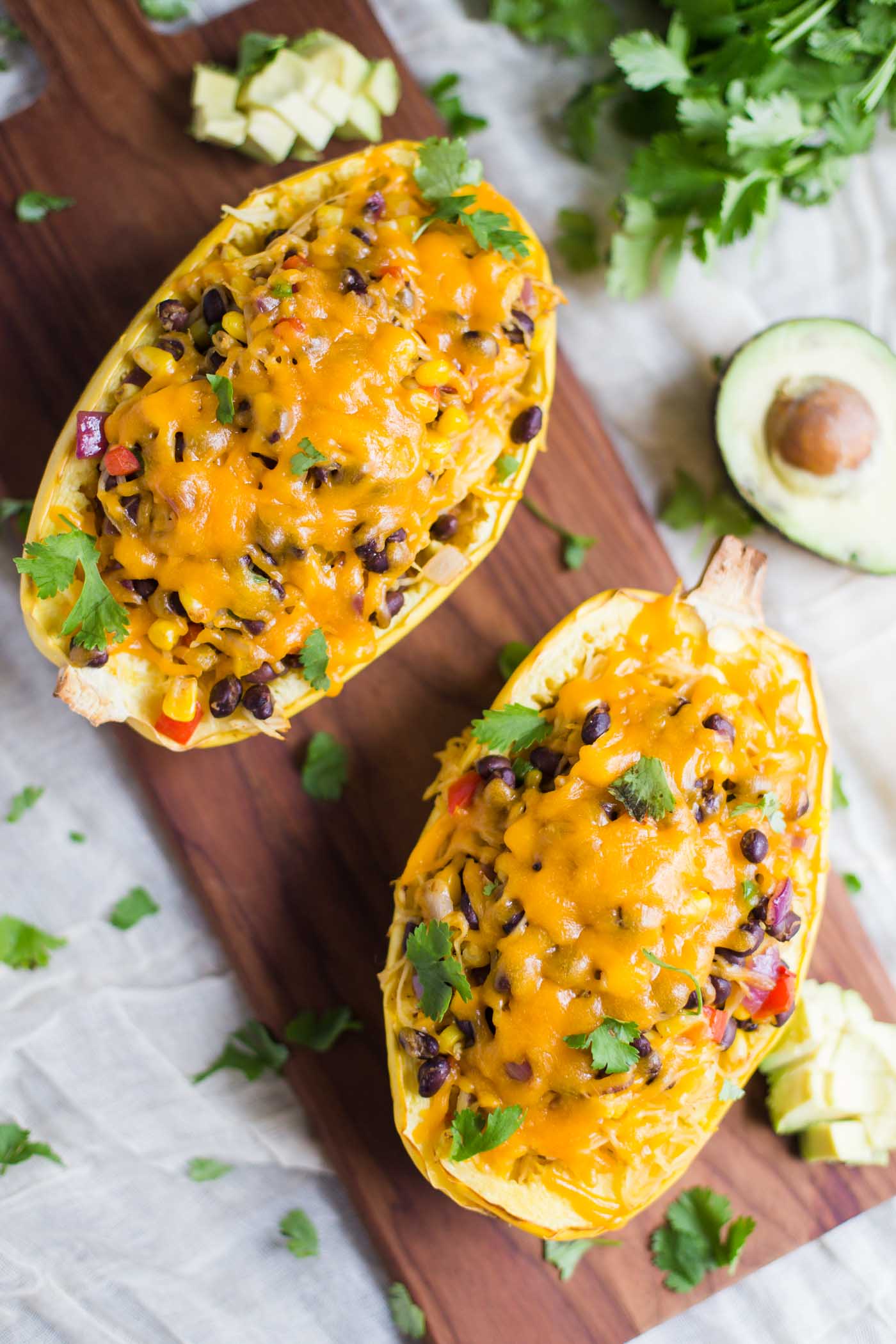 Remember how we moved about 7 months ago? Well, all this time later and we're still not quite settled into our new house. There are still a few packed boxes around and a few areas of the house that have yet to be organized. I'm at the point where I don't quite know where anything is and it's beginning to drive me crazy. I really need to just take a weekend off from other life things and get everything organized.
I also need to get going with my spring garden! I have a very elaborate setup planned this year that includes multiple watermelon plants, pumpkins, an archway that green beans will grow on, 6 feet tall sunflowers, and all the usual things. For the first time ever though, I'm going to try growing EVERYTHING from seed as opposed to buying seedlings at the farmers market. Getting the seeds started is on my to-do list for the weekend so wish me luck. And fingers crossed that everything grows properly. I think I'm going to do monthly blog updates on the garden just as a way to document how it's all progressing.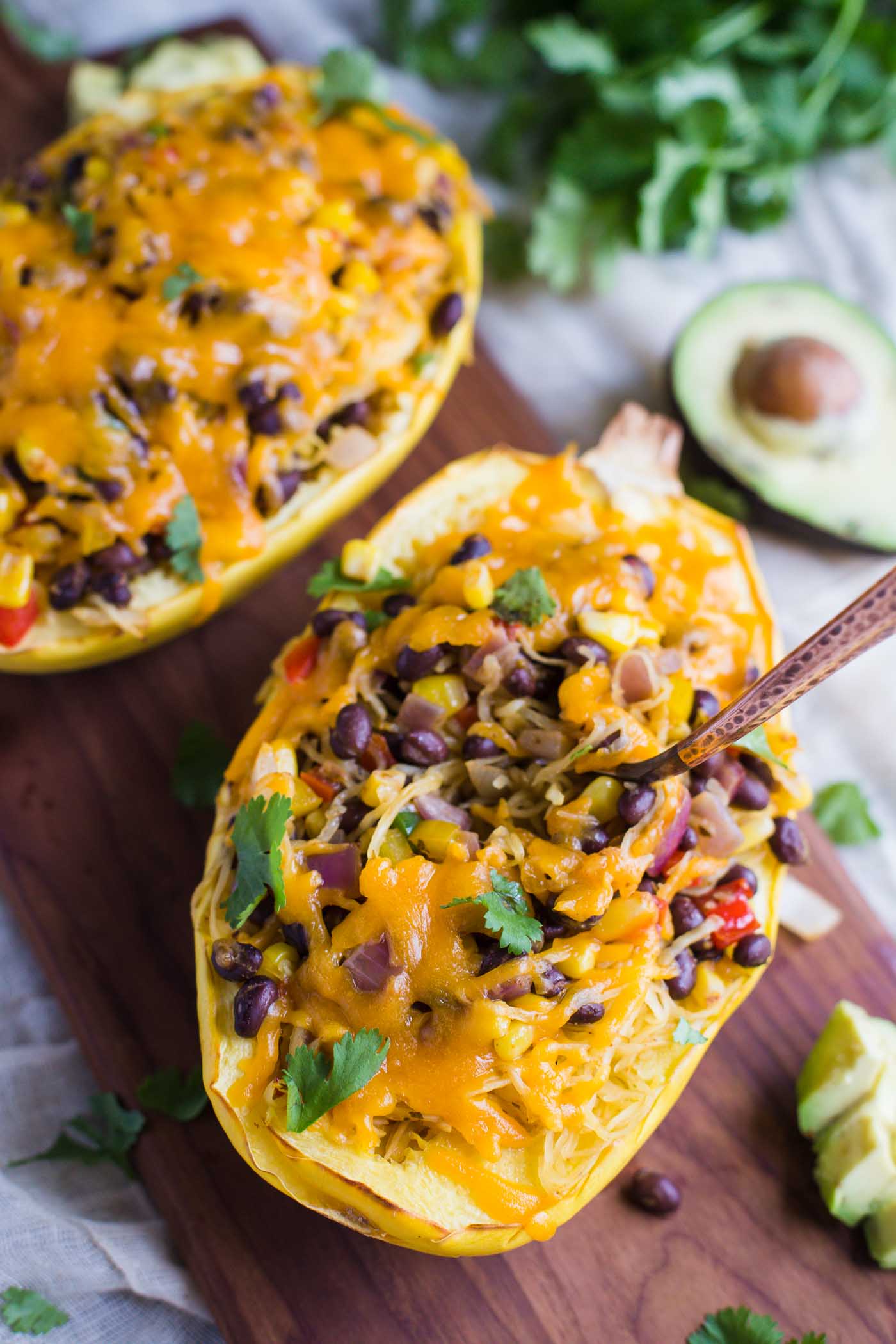 Ironically enough, I don't think that I'm going to grow any spaghetti squash. But maybe? I do have a plethora of squash seeds that I got from the library (the Nashville library is awesome and has a wonderful collections of seeds that you can take for free).
SO, these Spaghetti Squash Burrito Bowls. We're just going to dive face first into these because they're DELICIOUS and so simple and really pretty healthy and nutritious. AND, as things have been going around here, they're completely vegan as long as you use a non dairy cheese. In case you can't tell, I'm a pretty big fan!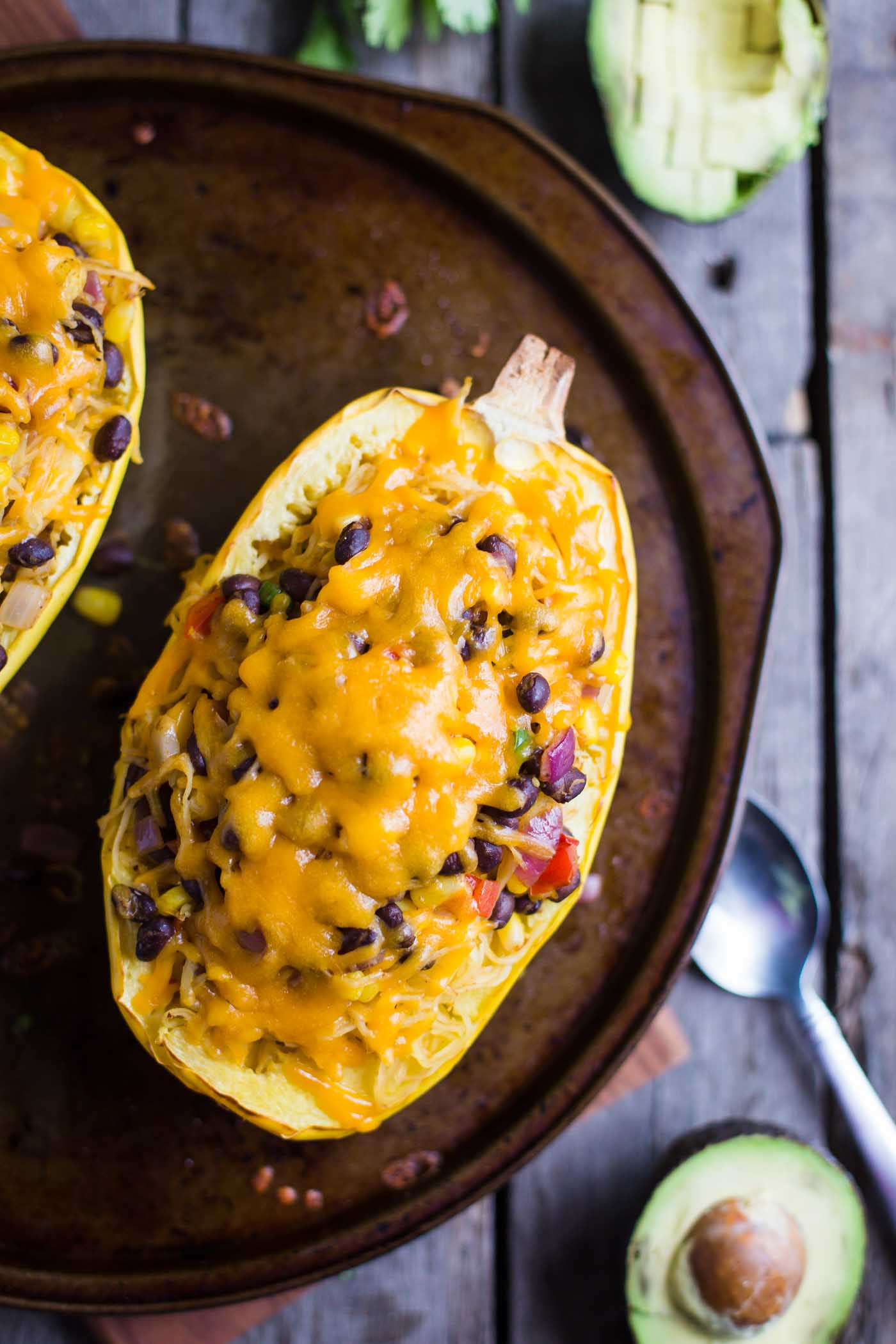 Here's what we do. We bake the spaghetti squash in the usual way that one bakes squash. Towards the end, we'll sauté the veggies, adding a little spice to them for an extra kick of flavor.
OH, and we're using this Avocado Oil!!!(!!)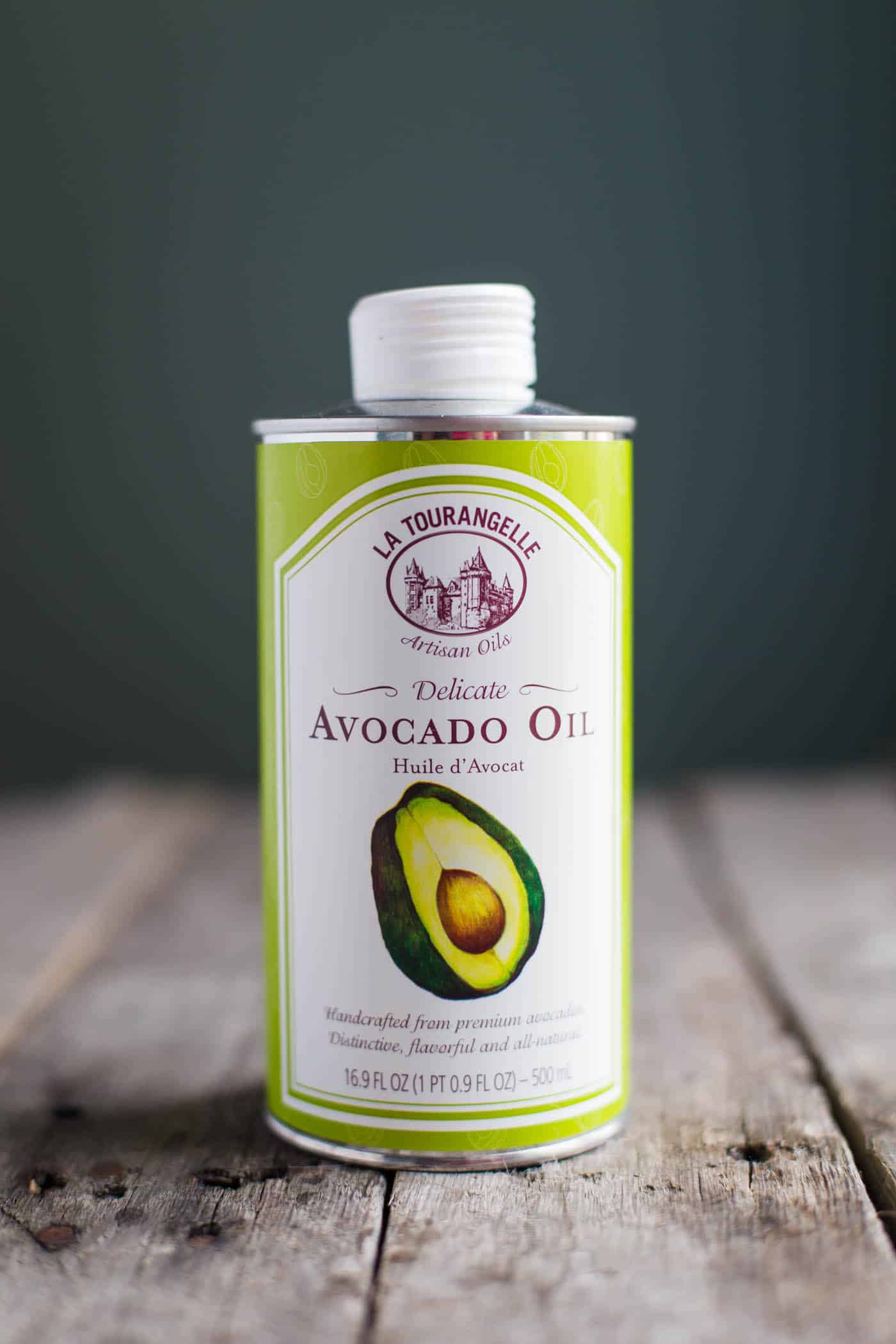 This company is in no way sponsoring this post, giving me free product, or paying me to write this. I just really really love their oils AND have been super into this Avocado Oil lately. If you've never used it, avocado oil is extra cream and actually doesn't have a strong taste to it which I like. I personally will NEVER complain about the taste of olive oil but I do know some people that wouldn't mind if the taste was a bit milder. Avocado oil is a perfect substitute for those people.
Okay, so the veggies are sautéed in a bit of avocado oil.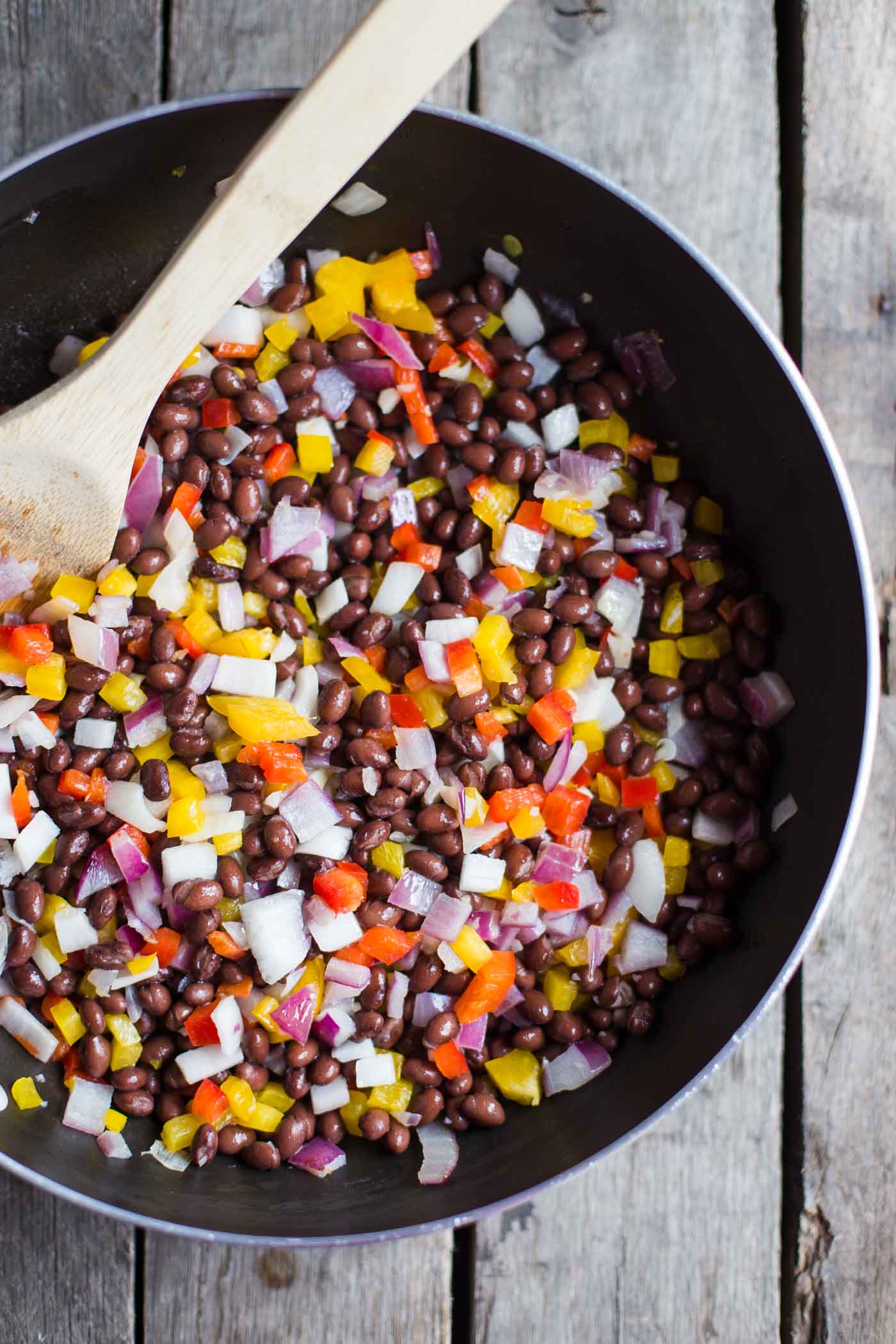 The spices are added in and eventually the corn.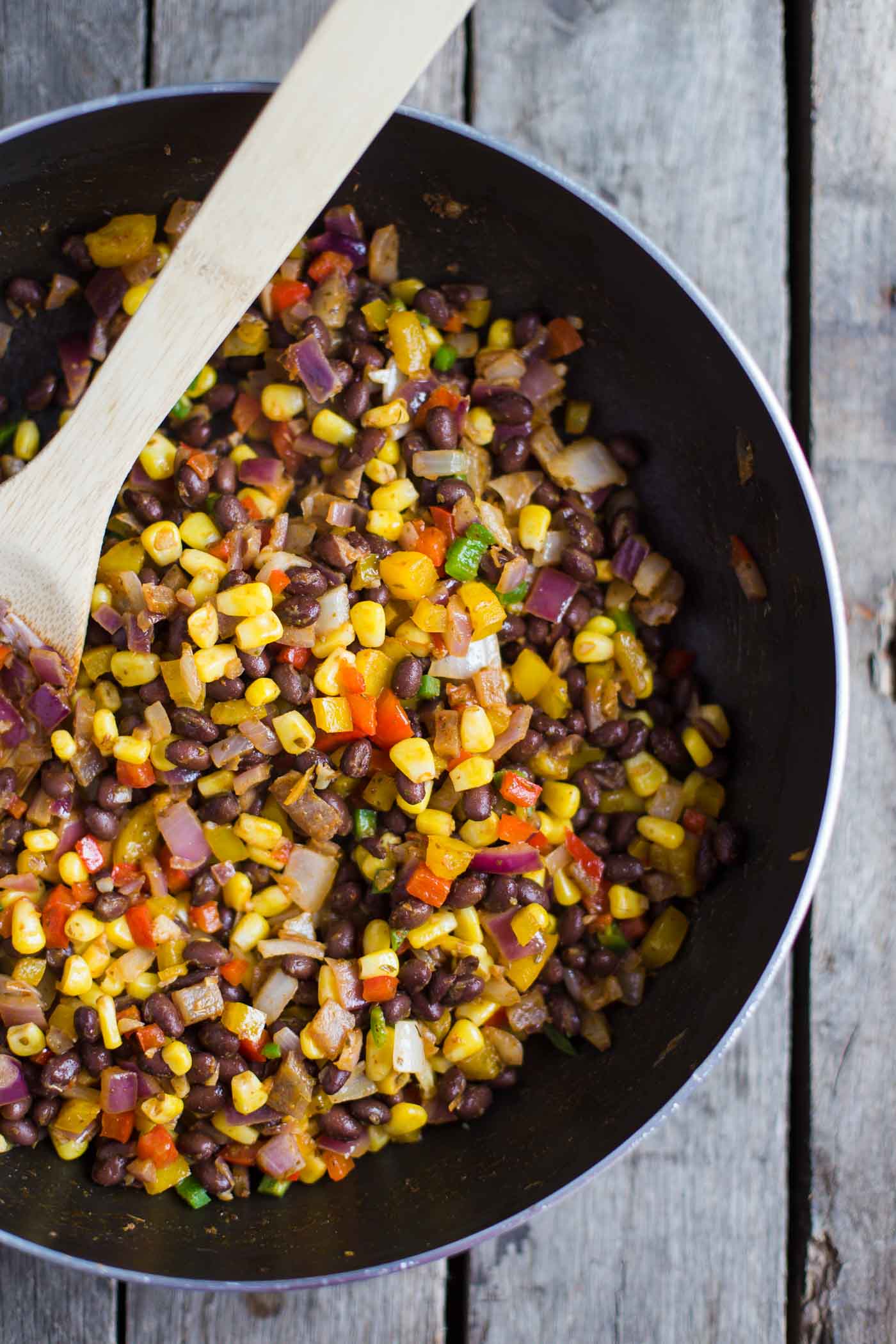 Once the squash is done and very slightly cooled, we remove the flesh from the skin and place it all on a chopping board. This step is not actually necessary but I prefer it. I cut the squash a bit so it's less spaghetti-y and more rice-y. My idea was to simulate Mexican rice.
I tried cutting the squash super small and also leaving it in medium sized strands. Both work great for our burrito bowls.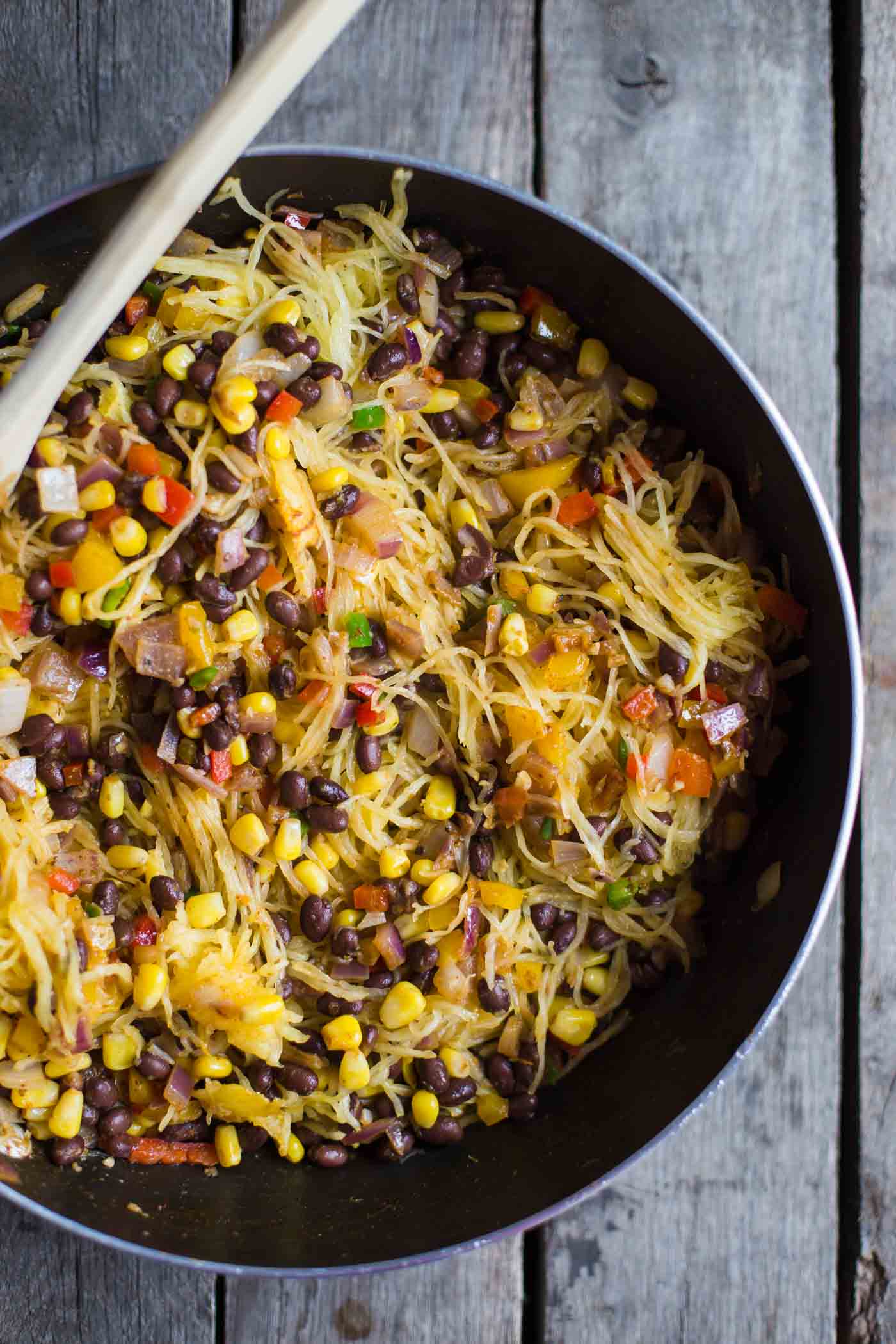 Now we just shove all that vegetable yumminess back into the skin of the spaghetti squash, cover it with a healthy dose of cheddar cheese.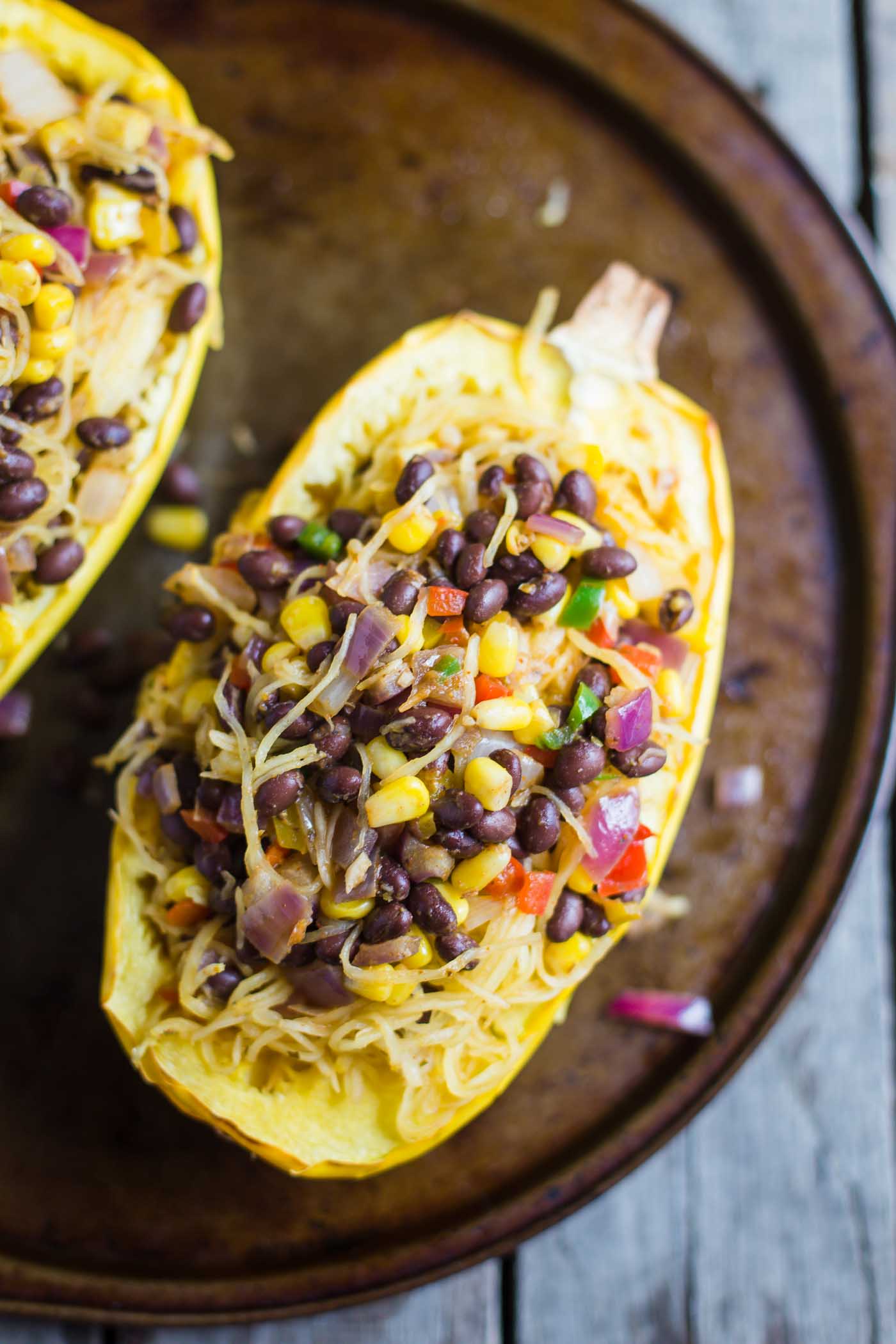 Then place them back in the over for just about 5 minutes (or for how ever long it takes the cheese to get nice and melty).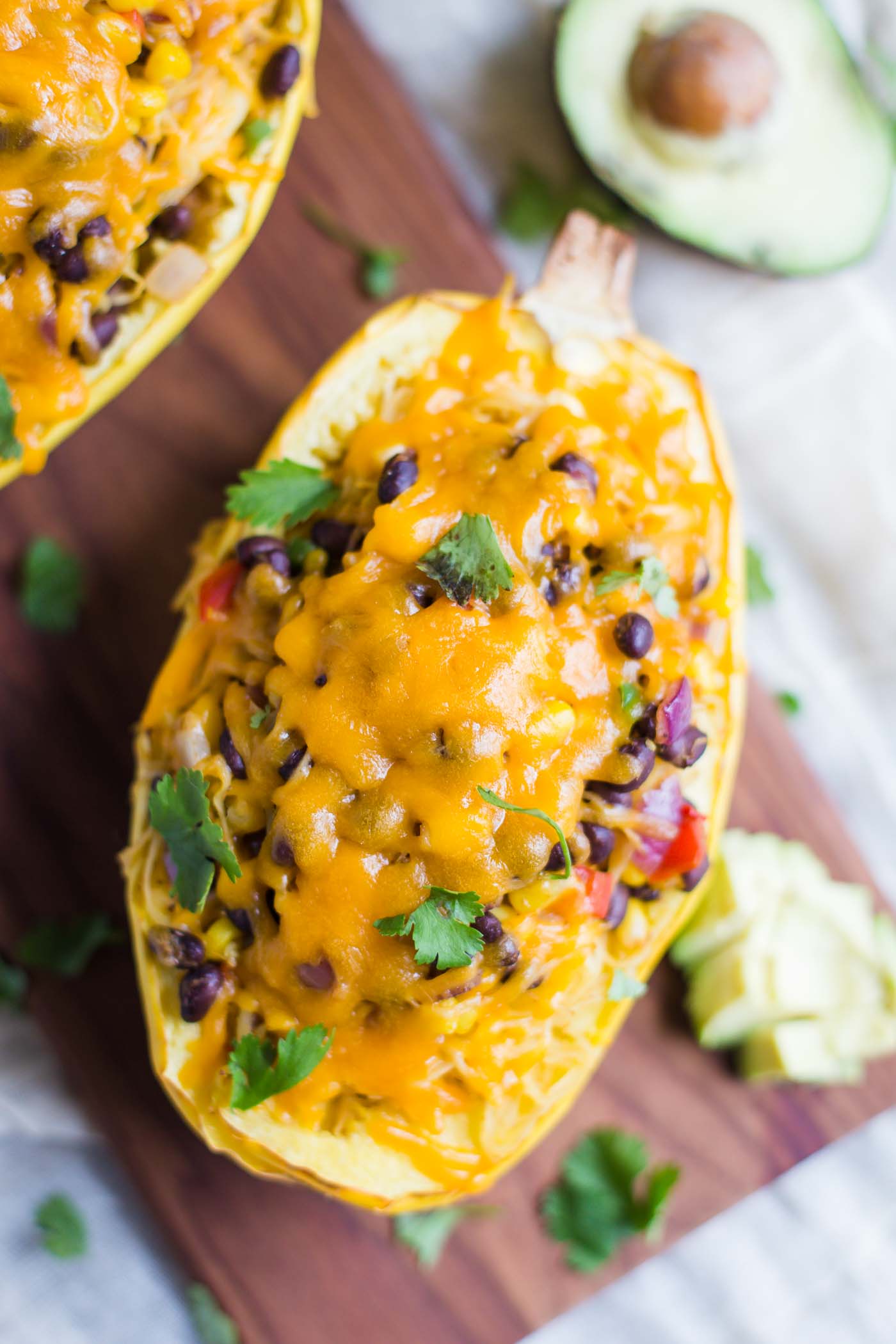 And that's it! Super easy, super tasty, super satisfying!!
Print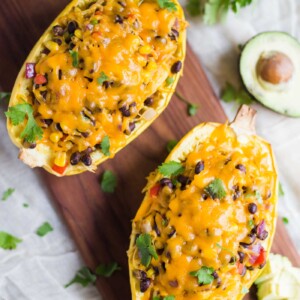 Spaghetti Squash Burrito Bowls
---
Author:

Total Time:

1 hour 5 minutes

Yield:

2

1

x
Description
1 large spaghetti squash 1 can of black beans 1/2 red onion 1 bell pepper (i used half red and half yellow) 1 cup of corn, frozen 1 jalapeno, diced cilantro salsa avocado 1/2 cup of cheese 1 1/2 tbs avocado oil 1 clove of garlic, minced 1 teaspoon chili powder 1 teaspoon dried oregano 1/2 teaspoon of cumin 1/4 teaspoon cayenne pepper, optional 1/2 + 1/8 teaspoon fine sea salt, or to taste
---
1

large spaghetti squash, cut in half long ways and de-seeded
cooking spray

1

can of black beans

1/2

red onion, finely diced

1

bell pepper (i used half red and half yellow), finely chopped

1

jalapeno, diced

1 1/2

tbs avocado oil

1

clove of garlic, minced

1 teaspoon

chili powder

1 teaspoon

dried oregano

1/2 teaspoon

of cumin

1/4 teaspoon

cayenne pepper, optional

1/2

+

1/8 teaspoon

fine sea salt, or to taste

1 cup

of corn, frozen

1/2 cup

of non-dairy "cheddar cheese"
For topping: chopped avocado and cilantro
---
Instructions
Pre-heat the oven to 350 degrees F. Spray a bake sheet with cooking spray, place the squash on it, skin side down, and bake in the oven for 40-45 minutes. You'll know once it's done when you can easily pierce the skin of the squash with a fork.
Once done, take out of the oven and let cool. Leave the oven on.
While the squash is cooling, prepare the filling. In a large skillet over medium heat, warm the avocado oil and add in the onion. Let saute for 5 minutes stirring frequently.
Add in the garlic, black beans, bell pepper, jalapeno, chili powder, oregano, cumin, cayenne, and sea salt. Cook for an additional 5 minutes. Add in the corn and cook until the corn is warmed all the way through. Take off of the heat.
Shred the flesh of the squash away from the skin and place on a cutting board. Set the skins of the squash aside to use in a minute. Chop lightly so that the strands of spaghetti squash are smaller (more closely resembling rice). Mix the spaghetti squash into the black bean mixture.
Re-stuff the skin of the squash with the squash/ black bean mixture. Top with the cheese and place back in the oven for ~5 minutes or until the cheese has fully melted.
Top with avocado and cilantro and ENJOY!
Prep Time:

10 minutes

Cook Time:

55 minutes
***Some of the links above are affiliate links meaning that if you end up buying one of the products, I'll make a teensy profit at no extra cost to you. Don't worry though, I'll put the money to good use like buying tons of new kinds of oil to try :)
This post may contain affiliate links. Please read my disclosure policy.