Spaghetti Squash Noodles w/ Soy Peanut Sauce
This post may contain affiliate links. Please read my disclosure policy.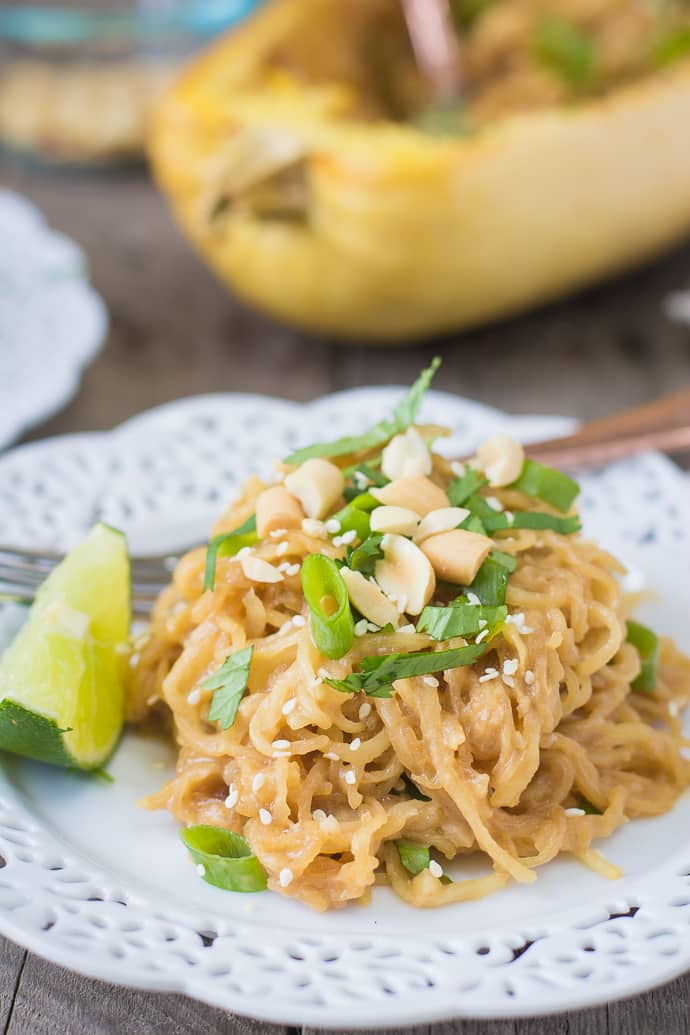 We've been in the new house for over a week now and I'm still knee deep in boxes, paint samples, and packing paper. It's all coming together though and it oddly already feels very homey like we've lived here for years. Our plan is to stay in this house for 10+ years so I'm trying not to be in a hurry to get everything situated and instead just enjoy the process of decorating and making this our home.
Speaking of decorating. It's like all my brain wants to think about! I'm not really very creative when it comes to decorating and pretty much just rely on Pinterest for all my interior designing inspiration. For my last house I went for a very shabby chic, cottage vibe. For this house, I'm really into lots of natural grain woods, white walls (which is a change from my last house where pretty much every single wall was painted with color), and kind of an industrial feel. It's all coming along and I have a feeling I won't be able to refrain from posting some pictures once things are more settled.
And can we take just one second to talk about how expensive furniture is?? Geese Louise. I've gotten crafty with my furniture shopping and learned to completely avoid certain stores (after having a snooty furniture sales woman laugh at me when I told her my budget for a sectional couch). I discovered this awesome store here in Nashville that imports a lot of furniture from India and Indonesia which is all VERY reasonably priced. I bought one piece that's made out of the wood from mango trees! (love !!). Since I don't have the money to buy everything now, I'll have to get pieces here and there. I'm looking forward to it being a bit of a slower process as oppossed to just "hurry up and buy things to fill space".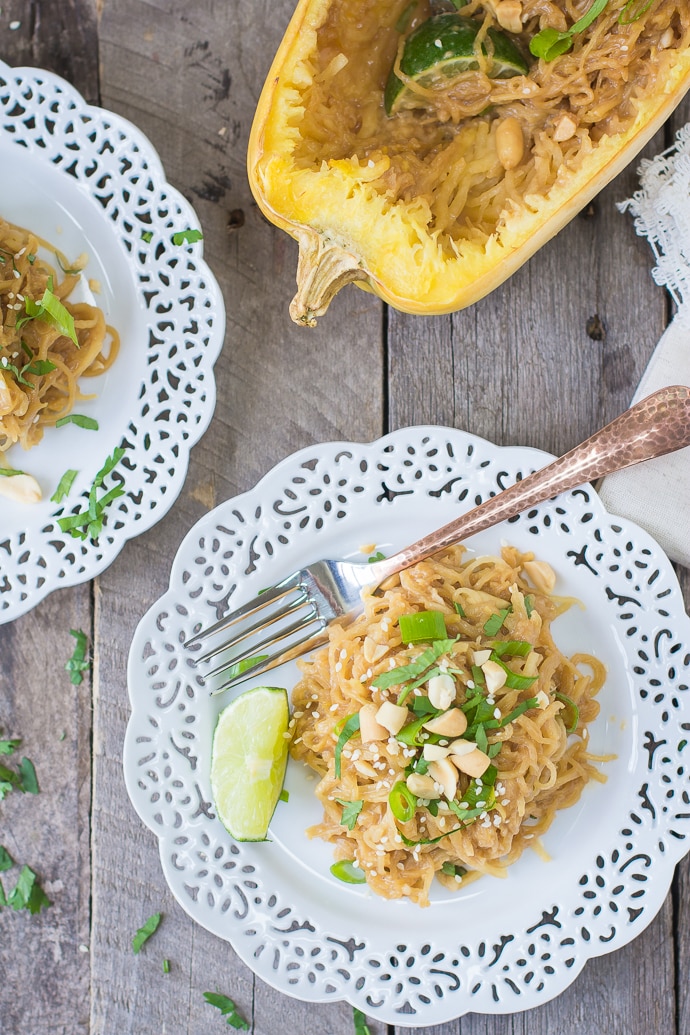 With all of that, welcome to the first recipe from my new home! Because of all the busyness that comes with a move, Stephen and I have been eating out a lot lately…..more than I want to admit! And pretty much none of it was good. I mean, all of it was yummmyyy but we are both now a few pounds heavier. oops. SO, our house is now full of LOTS of veggies and lean meats and (of course) a ridiculous amount of eggs from the chickens.
Speaking of chickens….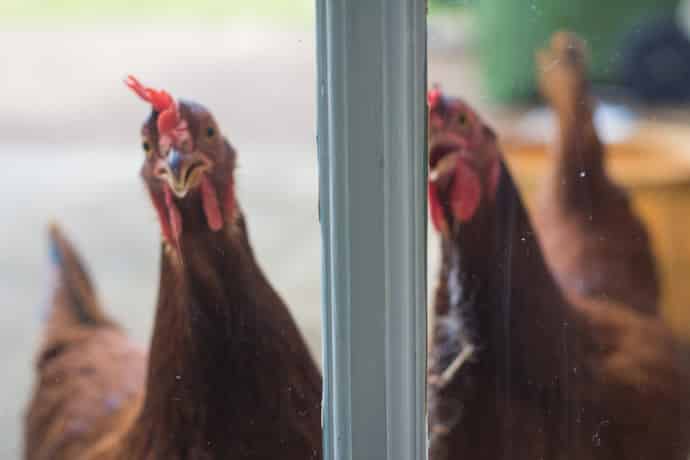 They're loving their new home minus the fact that they no longer have a garden of mine to ravage. There seems to be enough weeds and grass and bugs to keep them happy though. Our living room has an entire wall of glass windows/ doors and the chickens like to gaze inside the windows with intense curiosity. It's my favorite. The dogs, on the other hand, aren't huge fans of the constant pecking at the windows.
OK. back to the healthy eating. I currently have 4 different kinds of squash in my house thanks to the Nashville Farmers' Market. First up, this spaghetti squash!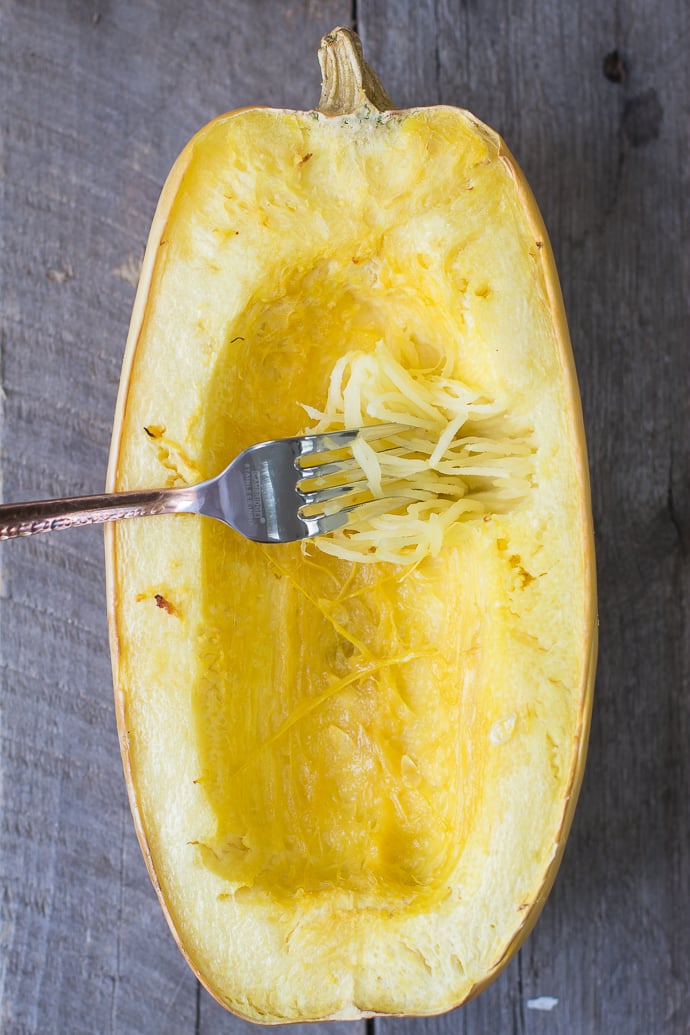 I like to keep spaghetti squash simple and use it as a substitute for pasta dishes that I have made before. This recipe is basically identical to THIS recipe of mine except that I replaced the gluten pasta with spaghetti squash. Easy!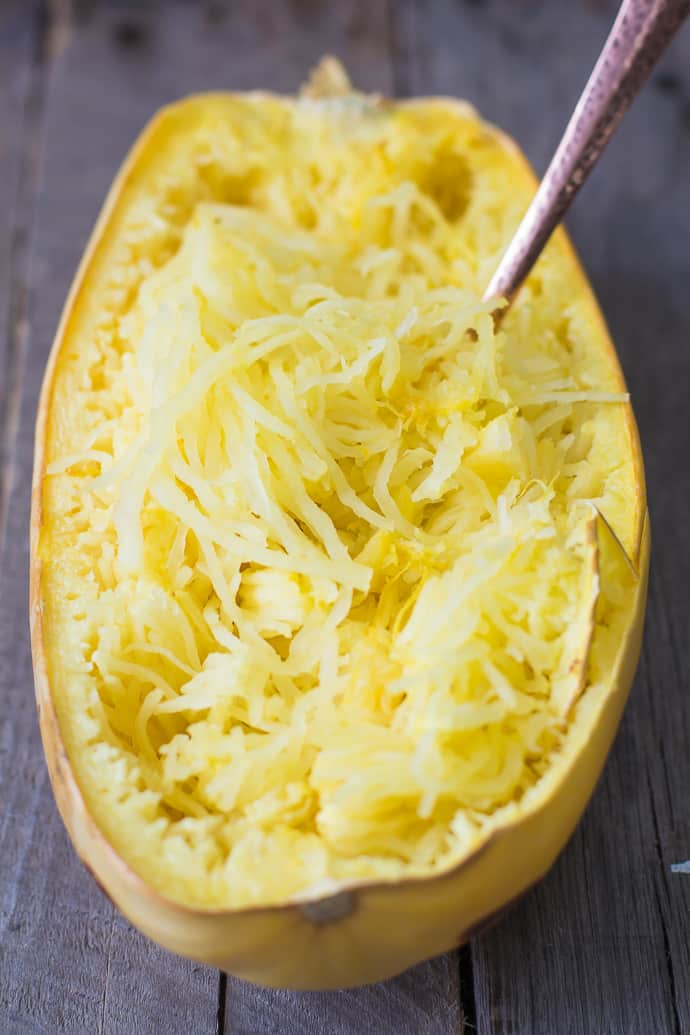 While the squash bakes (in my gas oven!! i've never had a gas oven before!) the sauce is prepared. Once it's all ready, just mix it together. Again: easy.
I then topped mine with green onion, cilantro, chopped peanuts, and sesame seeds.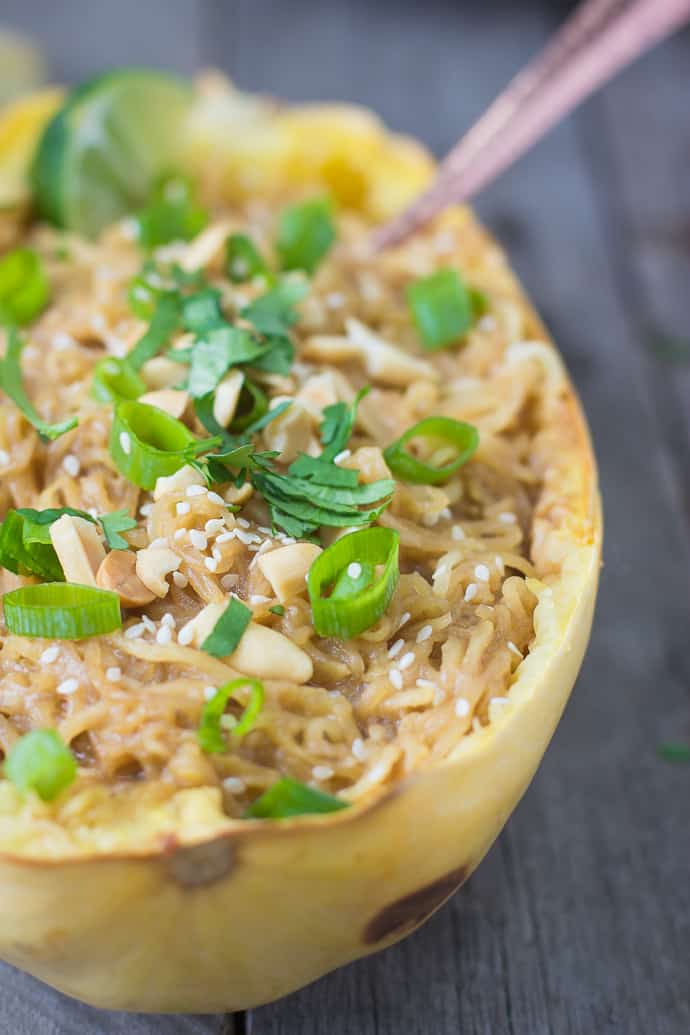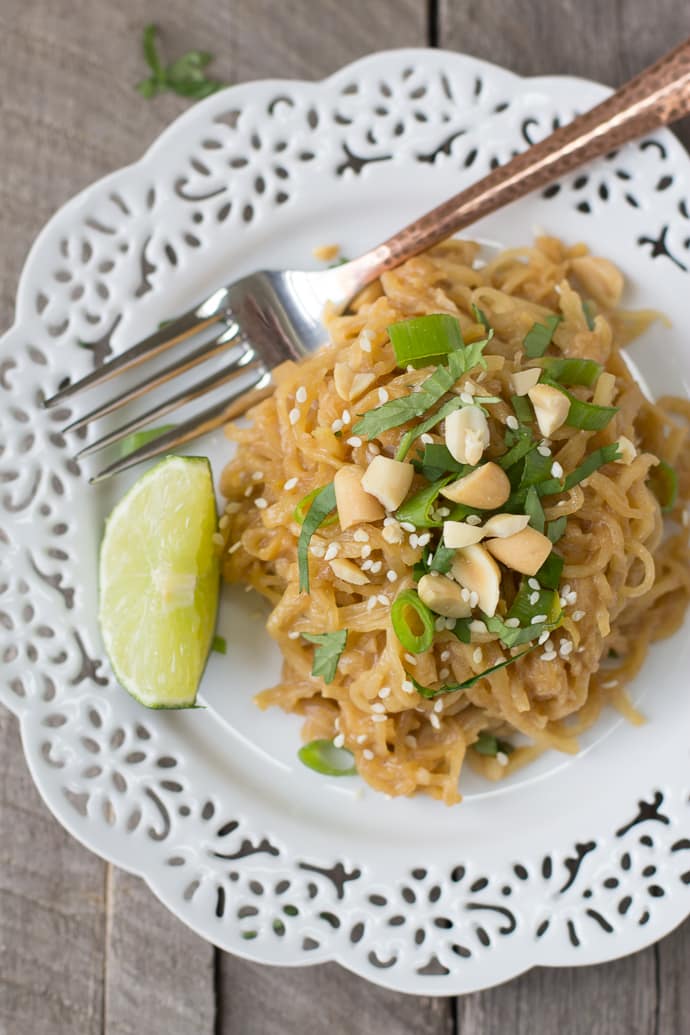 I ended up loving this dish even more than I thought I would! Luckily for me, there's still some leftovers in the fridge.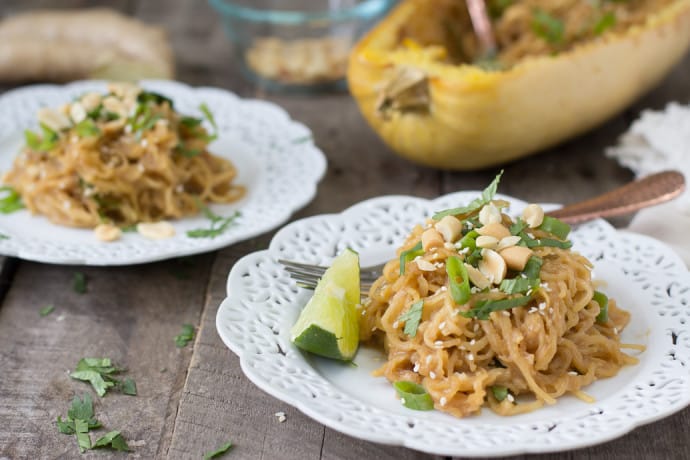 Print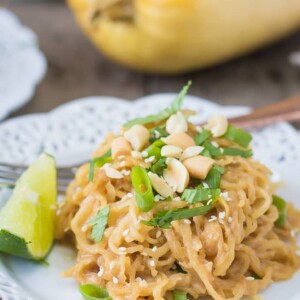 Soy-Peanut Spaghetti Squash Noodles
---
Total Time:

45 minutes

Yield:

8

1

x
1/2

pound of thin pasta

1/2 tablespoon

of toasted sesame oil

1/2 tablespoon

of canola oil

2 tablespoons

of peanut butter

1/2 tablespoon

of rice vinegar

1 1/2 tablespoons

of honey (can be substituted for agave for a vegan dish)

2

–

3

tablespoons of soy sauce. I use closer to 3

2

large garlic coves, minced

1 teaspoon

of ginger, freshly grated
For topping:
1/2 cup

of green onion, chopped

1/2 cup

of fresh cilantro, chopped
handful of peanuts
sprinkle of sesame seeds
fresh lime wedges
---
Instructions
Cut the squash in half long ways (hot dog style) and coat with a thin layer or olive oil.
Place on a baking sheet and roast at 400 degrees F for 40 minutes. You'll know the squash is done when a fork can be easily pressed into the outer skin of the squash.
While the squash roasts, whisk together the oils, peanut butter, vinegar, honey/ agave, soy sauce, garlic, and ginger in a large bowl.
Once the squash is done, let it cool slightly and then use a fork to separate the spaghetti from the skin.
Pour the peanut butter and soy mixture evenly into the squash skins. Toss to coat the spaghetti thoroughly.
Top the spaghetti with green onion, cilantro, peanuts, sesame seeds, and fresh lime.
ENJOY!!
Prep Time:

5 minutes

Cook Time:

40 minutes
This post may contain affiliate links. Please read my disclosure policy.