Tofu Banh Mi Sandwich
This post may contain affiliate links. Please read my disclosure policy.
How about a Tofu Banh Mi Sandwich to celebrate Friday? I'm into it.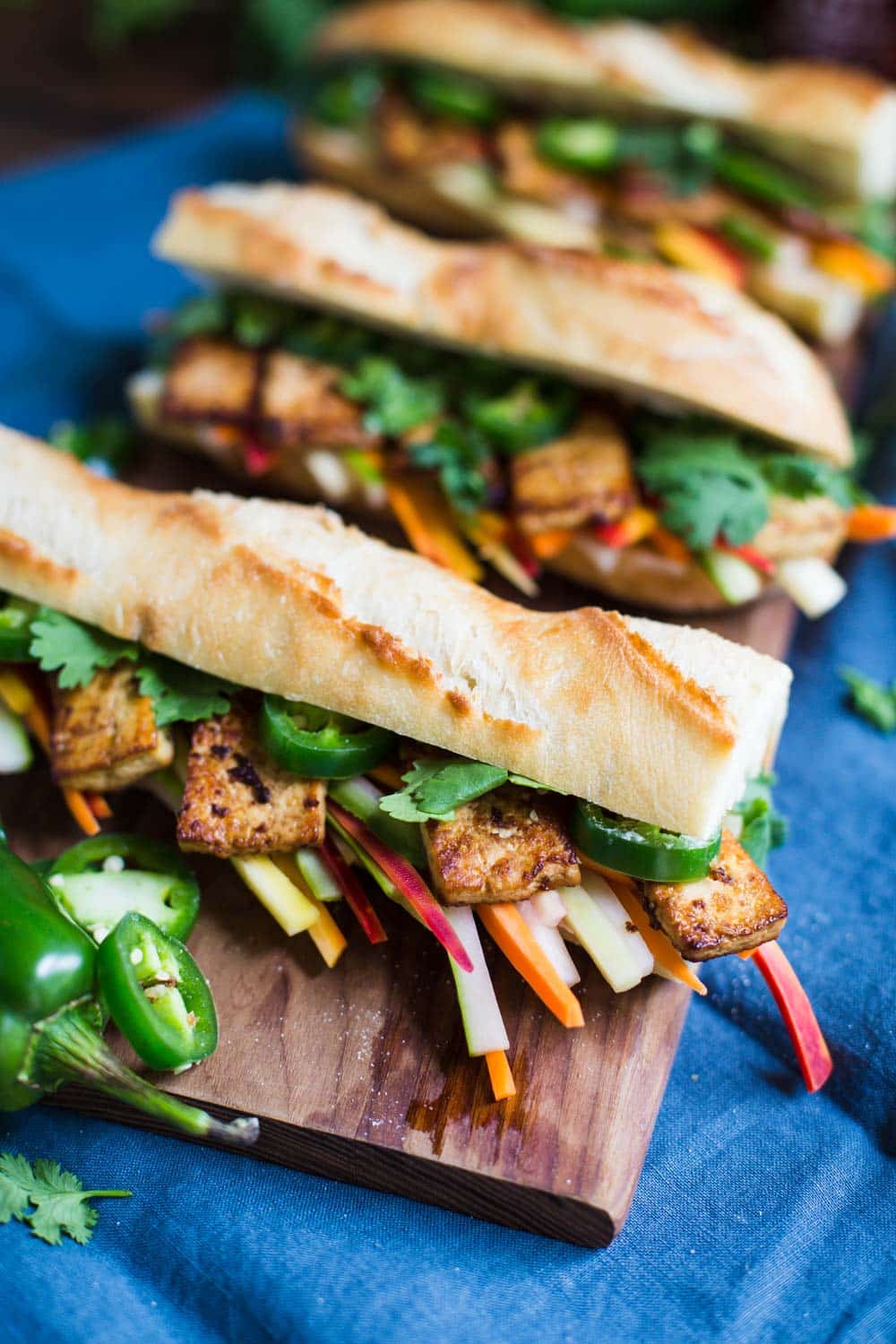 There's a little international market here in Nashville that's famous for their banh mi sandwich. When you first go in, you expect to see some kind of a deli area with someone standing behind the counter waiting to take your order. But, this is not the case. After wandering around the store for a whole convinced we were missing something, we finally figured out that you simply have to ask the guy at the checkout for the sandwich who then radios to the back to make it. <<<<fyi in case you're every in Nashville and looking for a really good banh mi.
I honestly didn't know what a Banh Mi sandwich was until a couple years ago and I must say that I'm pretty into it. Toasty (GOOD) bread, pickled veggies, cilantro & jalapeno, and some deliciously marinated protein (tofu for me, liver pate and pork for Stephen).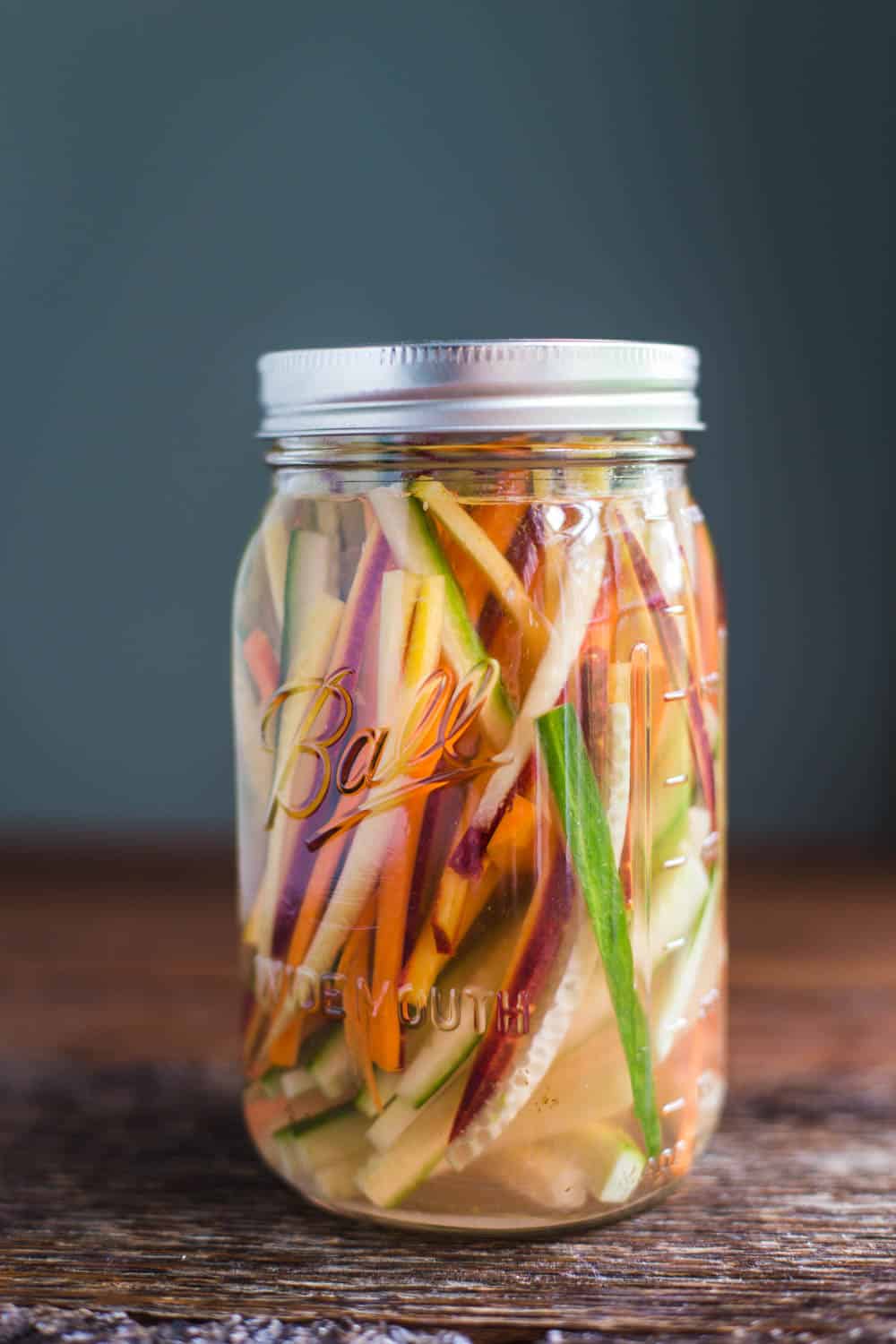 The very first thing that needs to happen is getting those veggies sliced and into a jar of liquid to pickle. Most often, these sandwiches have carrots, cucumber, and daikon in them but I went to 2 different stores and couldn't find daikon. So, I just went with some multi-colored carrots and cucumber instead.
I have an odd fascination (dare I say love?) for pickling veggies. I have 3 cucumber plants grow this summer, 2 of which are pickling varieties, and I plan to make LOTS of dill pickles :)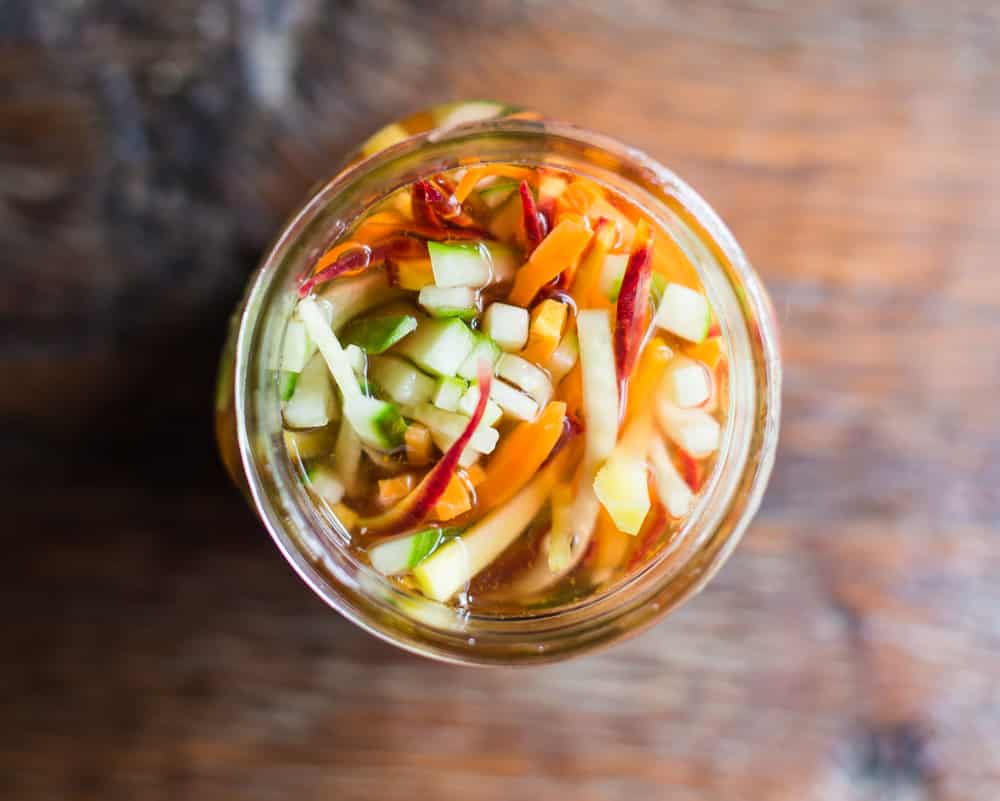 Preferably the vegetables are started the night before but if you start them day of, no biggie. ( I may have done that)
The tofu also needs a good little marinade.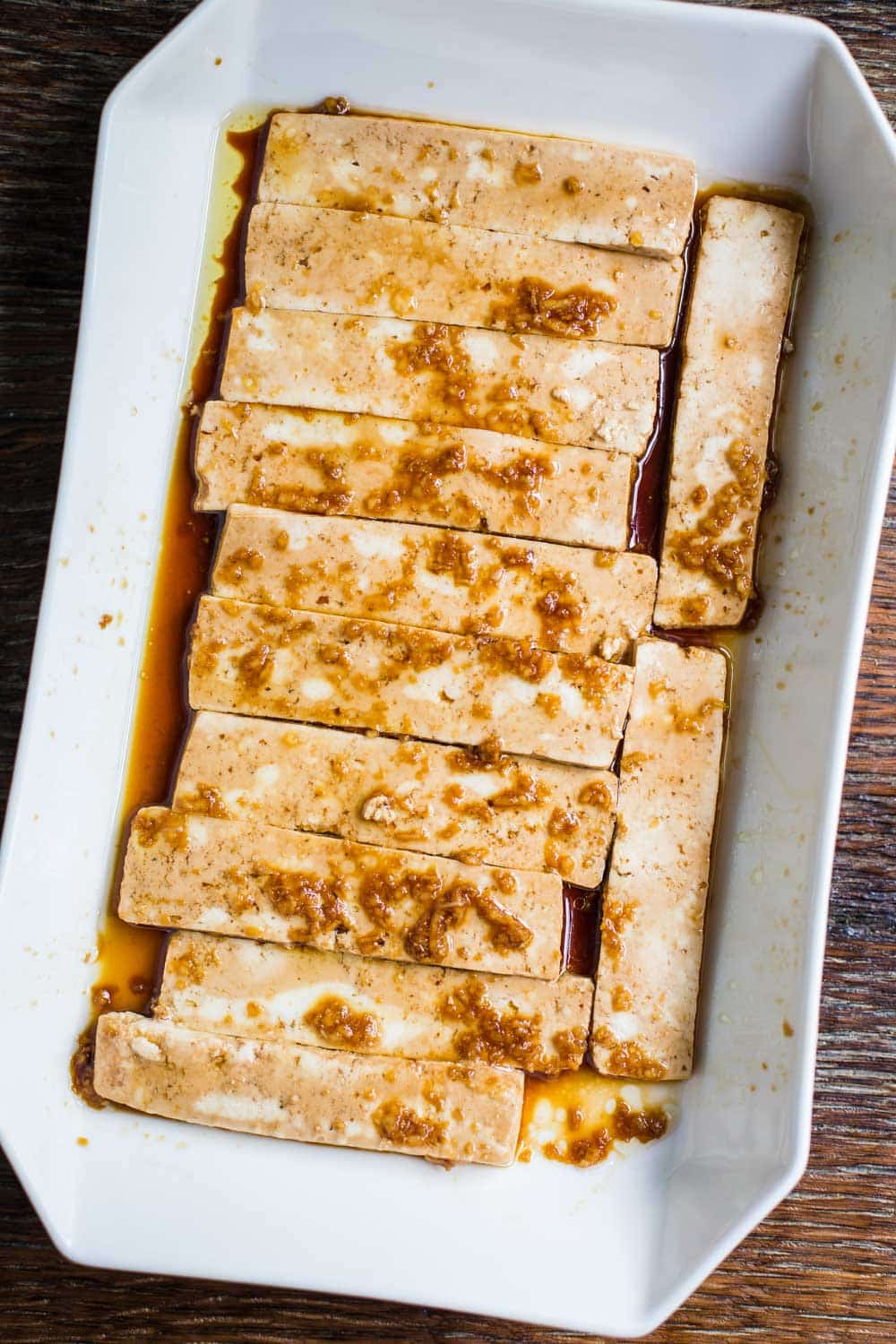 Then it's all assembled between a delicious baguette with some sriracha mayo, jalapeno (but not too much), and a bunch of cilantro.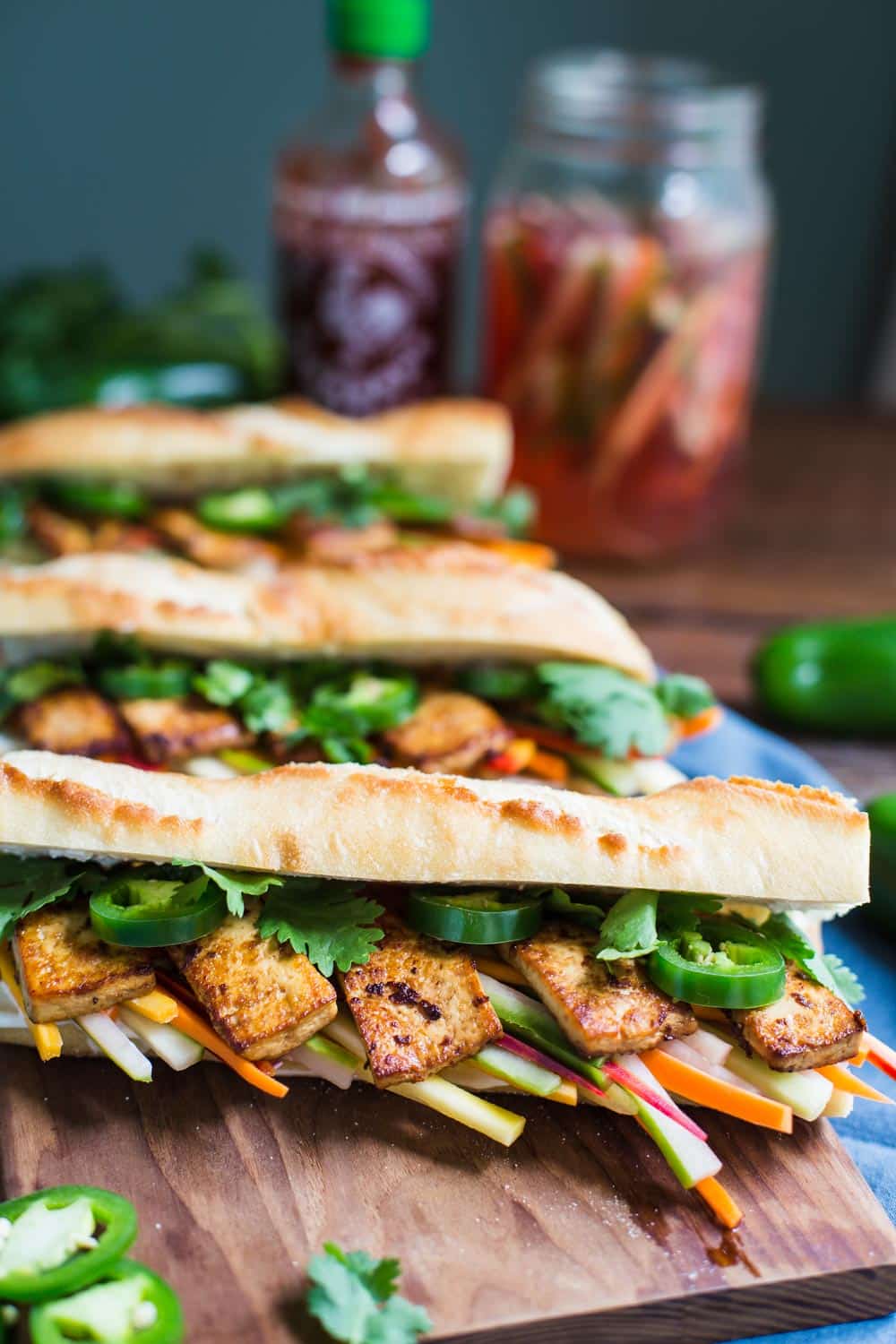 If you've never tried making a Banh Mi sandwich at home, I highly recommend it. Super easy and SO yummmmmy :) Happy weekend, friends!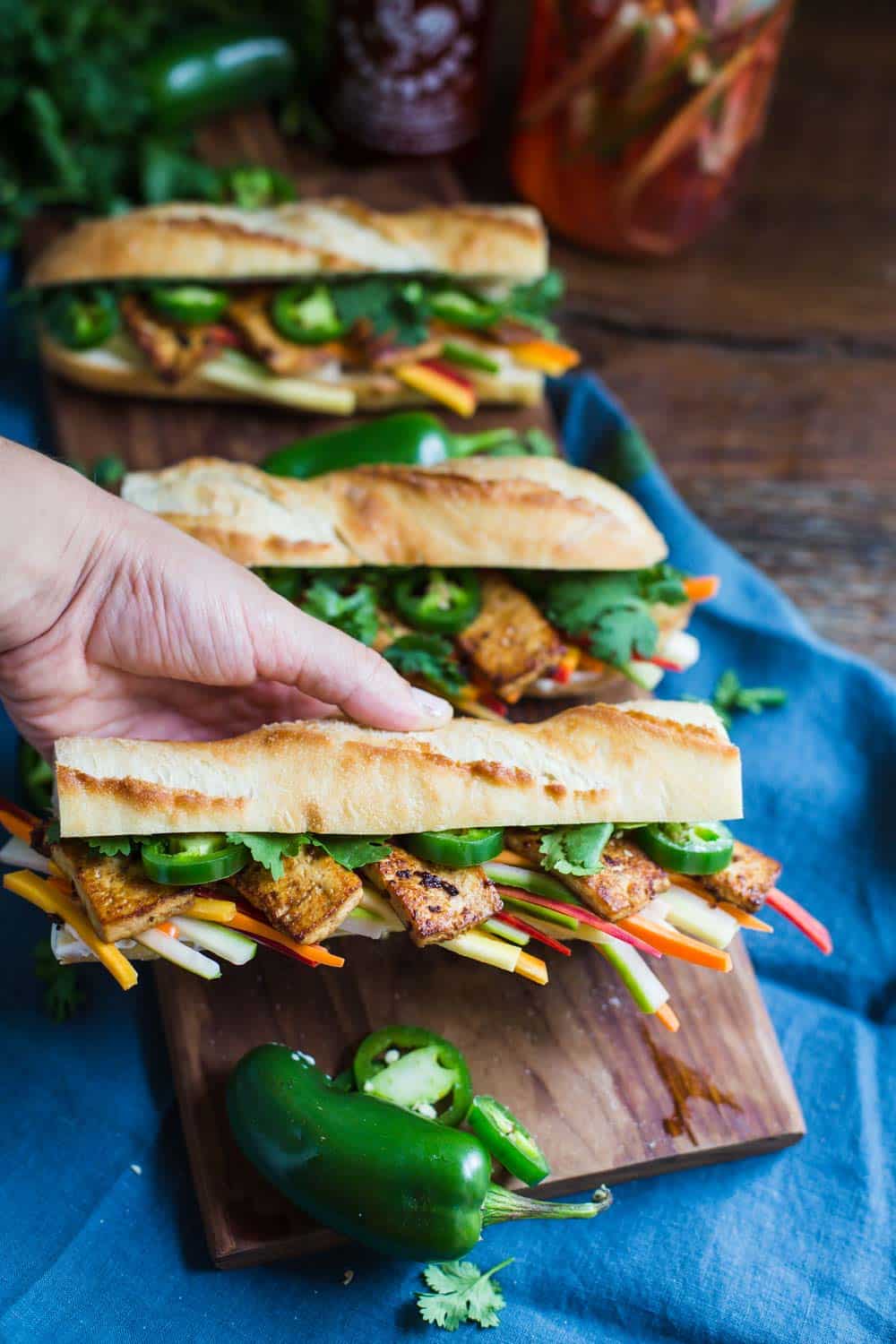 Print
Tofu Banh Mi Sandwich
---
For the pickled veggies:
3

carrots peeled and julienne

1

English cucumber, julienned

1 teaspoon

of salt

1/2 cup

of rice vinegar

1/2 cup

apple cider vinegar

1/2 cup

of water- the rest of the way up with water

2 tablespoons

of sugar
For the tofu:
1

inch of ginger, peeled and finely minced

1

clove of garlic, finely minced

2 tablespoons

of soy sauce

1/2 tablespoon

of sesame oil

1/2

package of extra firm tofu (you want ~

7 ounces

), sliced into 1/4 inch pieces

1 tablespoon

of sesame seeds
For the sandwich:
Handful of cilantro, lightly chopped

1

jalapeno thinly sliced

2 tablespoons

of mayo mixed with 1/2-1 tablespoon of sriracha

2

pieces of fresh French bread (baguette)
---
Instructions
For the pickled veggies:
Ideally, you will make these veggies the day before or even a few days before but it can also be made the day of.
In a large mason jar or other container with a lid, place the carrots and cucumber. Pour in the salt, sugar, vinegars, and water. If your jar isn't filled up all the way, you can add in a bit more vinegar and/ or fill it the rest of the way up with water. Set in the fridge until ready to use.
For the tofu:
Before starting, pat your tofu try and make sure to remove any excess water.
In a shallow dish, whisk together the ginger, garlic, soy sauce, and sesame oil. Place the strips of tofu in and let it marinate for 10 minutes on each side.
Heat the sesame oil in a large skillet over medium heat. Once hot but not burning, add in the tofu and cook for 4-5 minutes on each side until it's a nice golden brown color.
Once done, take off of the heat, sprinkle with the sesame seeds, and set aside.
To assemble the sandwich:
Toast the bread if you wish (I didn't).
Spread the sriracha mayo on each side of the bread.
Top with a hefty portion of the veggies, about 5 slices per sandwich of the tofu, and finish off with a few slices of jalapeno and a bit of the cilantro.
ENJOY!!
This post may contain affiliate links. Please read my disclosure policy.