Vegan Lo Mein Noodles
This post may contain affiliate links. Please read my disclosure policy.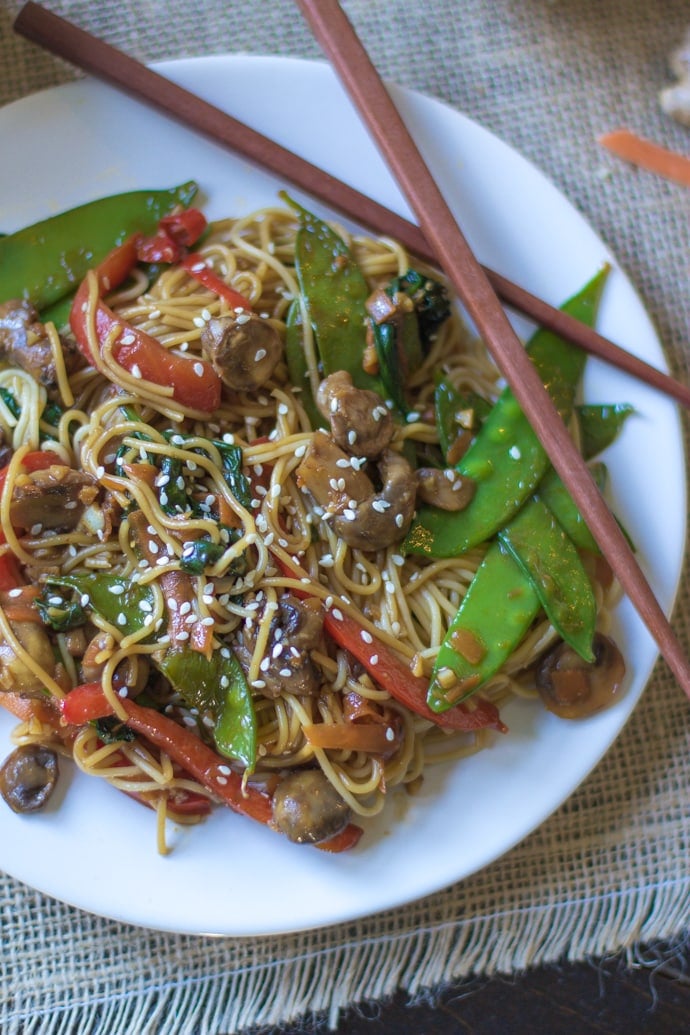 I've come down with a case of the January funk. January kind of sucks anyways but then I always seem to get sick in the middle of it. Last night after work, with the worst sinus pressure in my head, I went home and took a nyquil and slept for 11 hours. I still don't feel great but lots of sleep and a gallon of orange juice always seem to make January bearable.
Comfort noodles loaded with veggies makes it all a little better too. Oh and are these noodles DELICIOUS!! Possibly the best Lo Mein I've ever eaten AND it was super easy to make. <<<<<the best kind of dinner.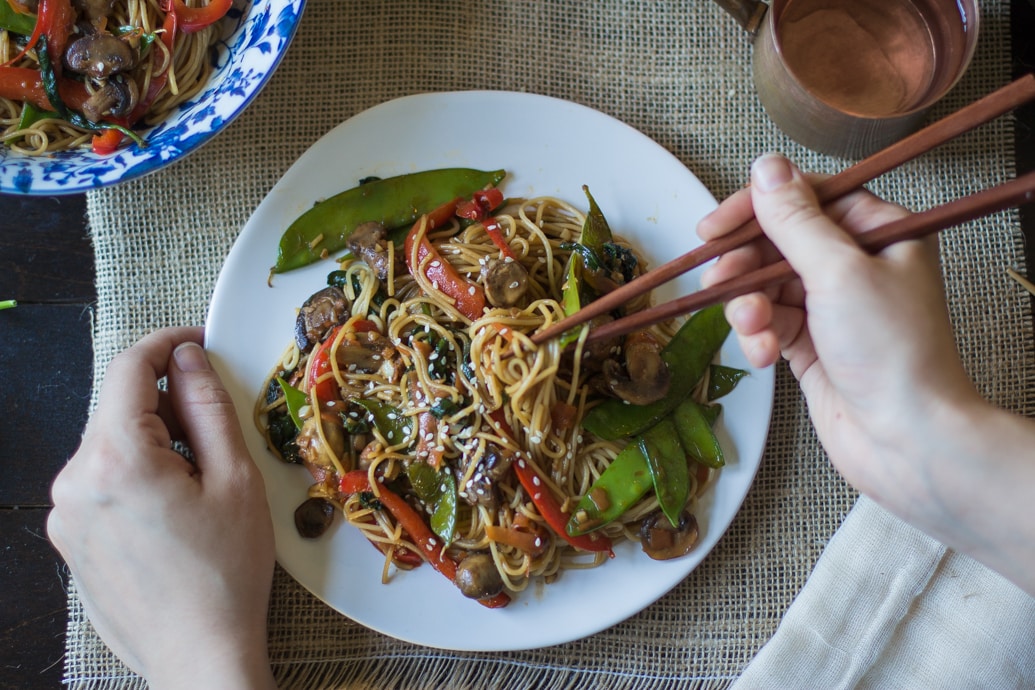 I've had THIS sesame noodles recipe waiting patiently for me on Pinterest for some time now. I liked the idea of noodles covered in soy sauce and oil and sugar but have also had a real craving for veggies lately. And ginger! I'm on a big ginger kick right now and want to eat it in everything. So, that's what I have for you today…
The best Vegan Lo Mein Noodles in the form of a fun little gif that I will never admit how long it took me to put together.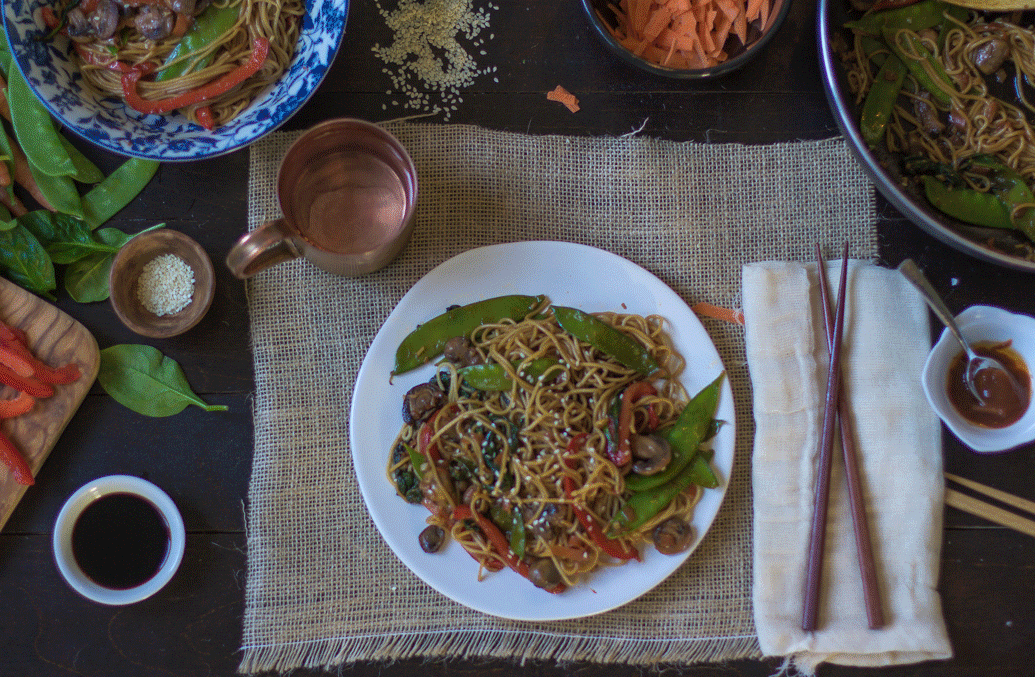 I wish I had a never ending supply of these noodles. Luckily for me (and YOU!), they're pretty easy to throw together.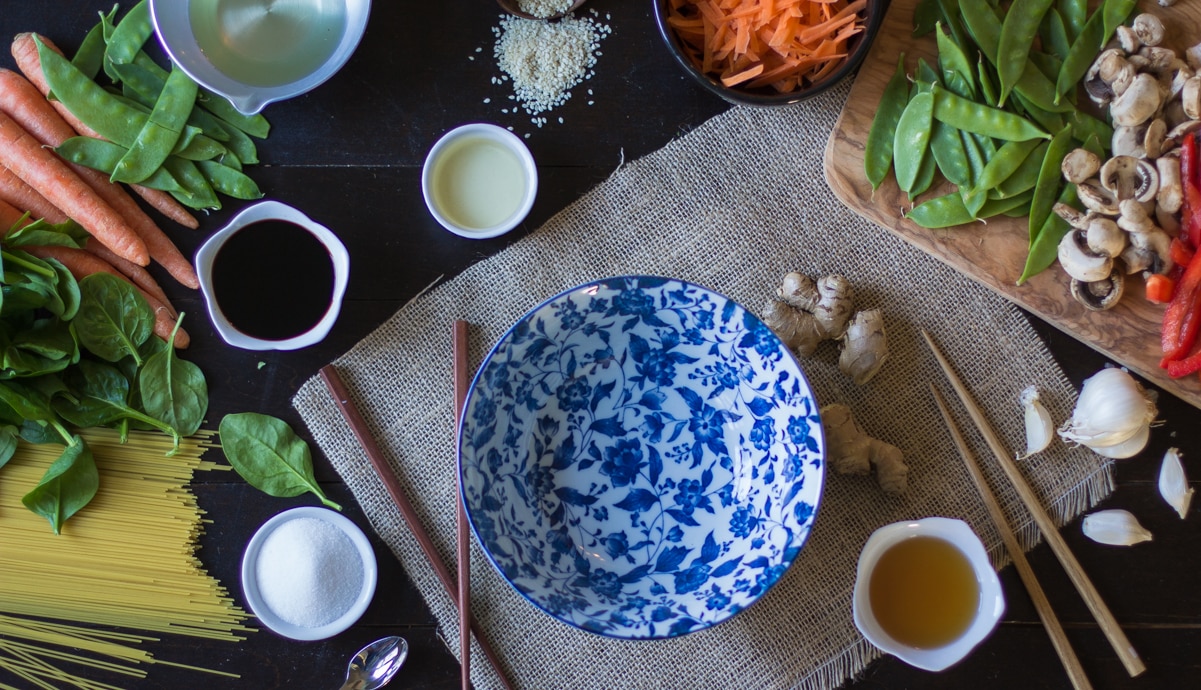 We'll start by making the sauce.
Ginger + Soy Sauce + Rice Vinegar + Toasted Sesame Oil + Canola Oil + an optional squeeze of Sriracha are ALL whisked together in a bowl and left to sit while the noodles and veggies are prepared.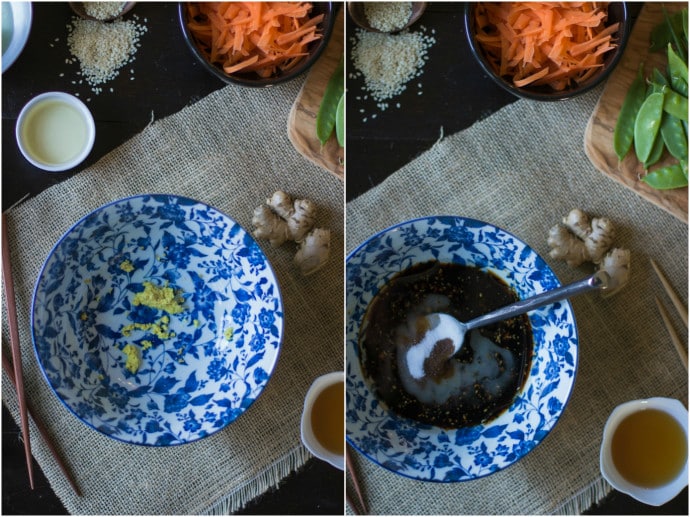 I get all the veggies chopped up before starting anything else because that's how I cook. Also, I'm a slow chopper.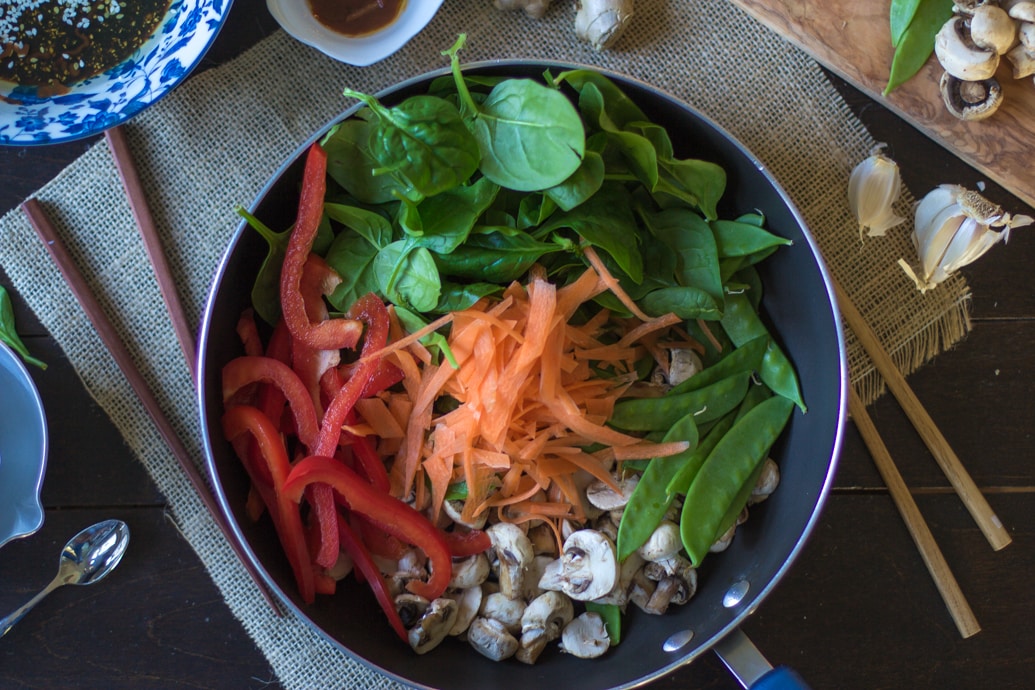 Once the veggies are ready to cook, put em all in a large skillet or wok with some olive oil and begin the sauteing. At this same time, start cooking the noodles.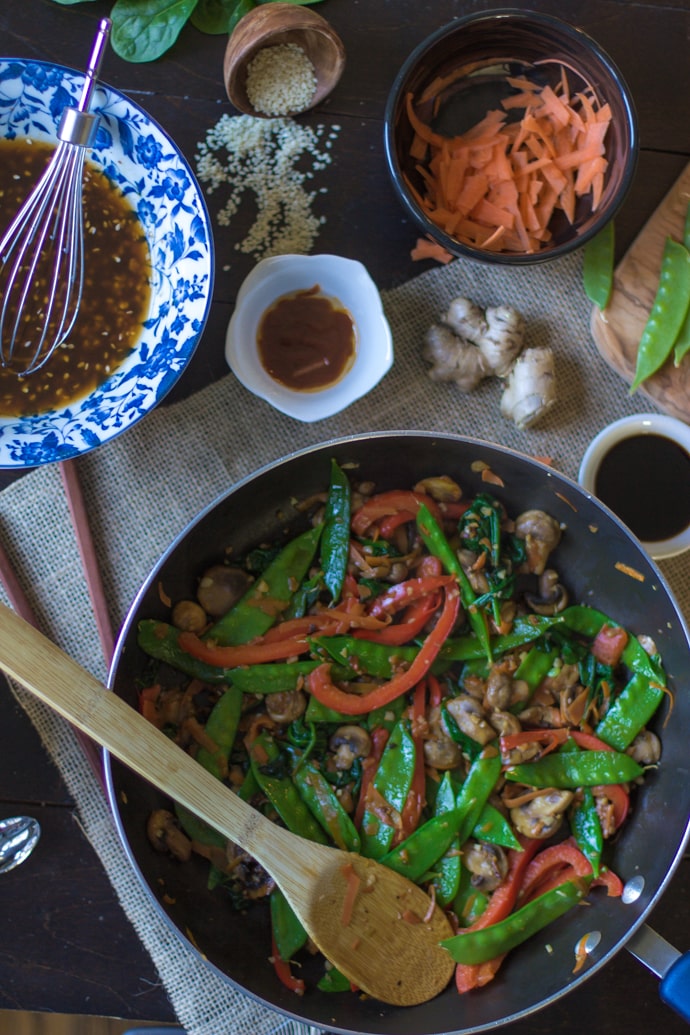 Once the veggies and the pasta are done cooking, all that's left is to combine it all into one pan.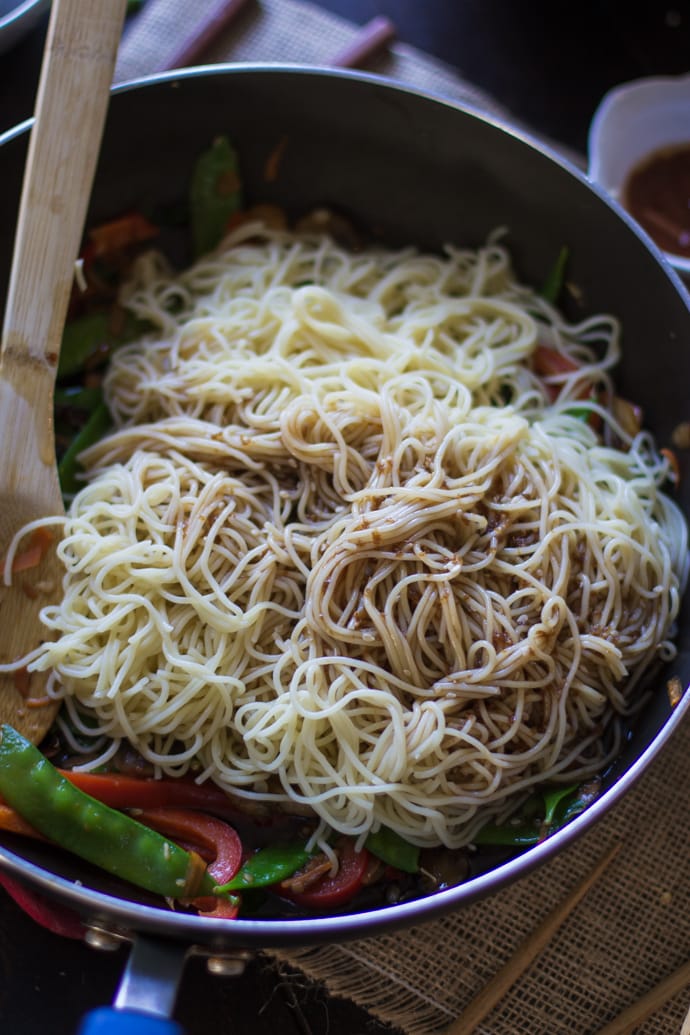 Pour the noodles over the veggies and the sauce over the noodles and give it all a good stir.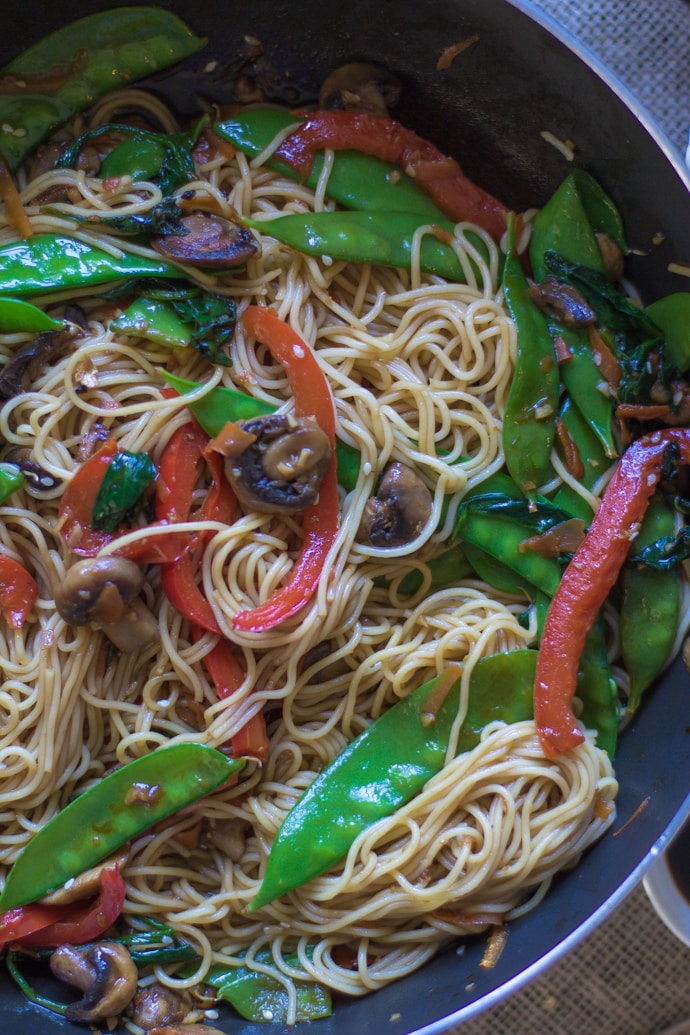 Make sure that the noodles have soaked up most of the sauce and let sit for a minute or two. You want the noodles to turn a brown-ish color from absorbing all that juicy goodness that is the sauce.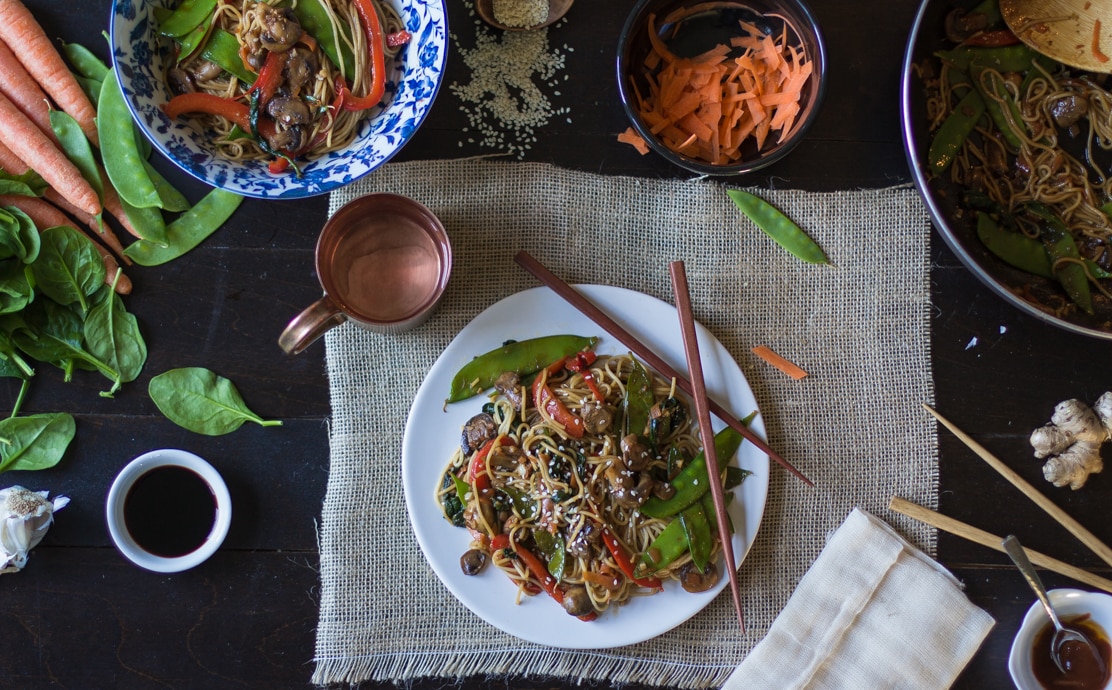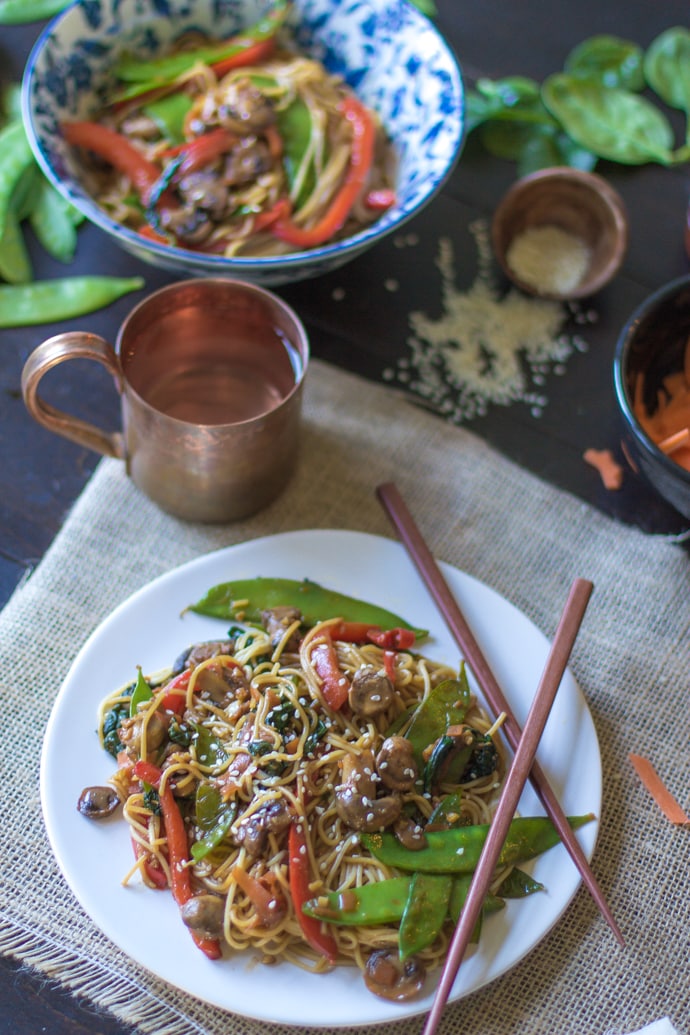 Recipe adapted from the Pioneer Woman.
Print
Vegan Lo Mein Noodles
---
Total Time:

20 minutes

Yield:

6

1

x
12 oz

of thin noodles (I used simple angel hair pasta)

1/4 teaspoon

of grated fresh ginger

1/4 cup

of soy sauce

2 tablespoons

of sugar

2 tablespoons

of rice vinegar

3 tablespoons

of Sesame oil

4 tablespoons

of canola oil

1 teaspoon

of sesame seeds (optional)
teaspoon of sriracha sauce (optional)

4

cloves of garlic, minced

1

bell pepper, sliced into thin strips

2 cups

of mushrooms (I used baby bell), sliced

2

large carrots, shredded and chopped into ~2 inch pieces

1 cup

of snow peas

3

large handfuls of raw spinach

1 tablespoon

of olive oil
---
Instructions
For the sauce:
In a medium bowl, whisk together the ginger, soy sauce, sugar, vinegar, sesame oil, canola oil, and sesame seeds. Set aside.
Put water on to boil for the noodles while the veggies are prepared.
Cook pasta according to directions. Drain once done.
In a large skillet, combine the tablespoon of olive oil and all of the veggies. Saute for 8 minutes over medium heat, stirring frequently. Once the spinach is thoroughly wilted, the veggies are ready. Take off of heat.
Pour the cooked noodles and the sauce into the skillet with the veggies and stir until it's all combined and the noodles have mostly soaked up the sauce. Let sit for a few minutes for the flavors to mold together.
Serve up and ENJOY!
Prep Time:

10 minutes

Cook Time:

10 minutes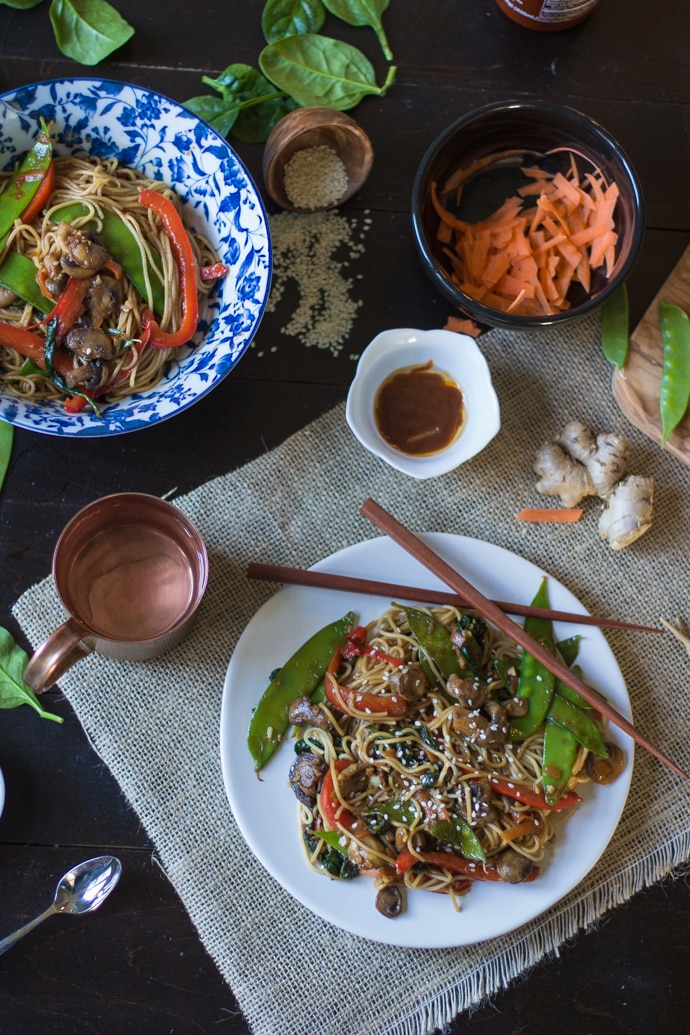 This post may contain affiliate links. Please read my disclosure policy.