Vegan Smoked Tomato Pasta
This post may contain affiliate links. Please read my disclosure policy.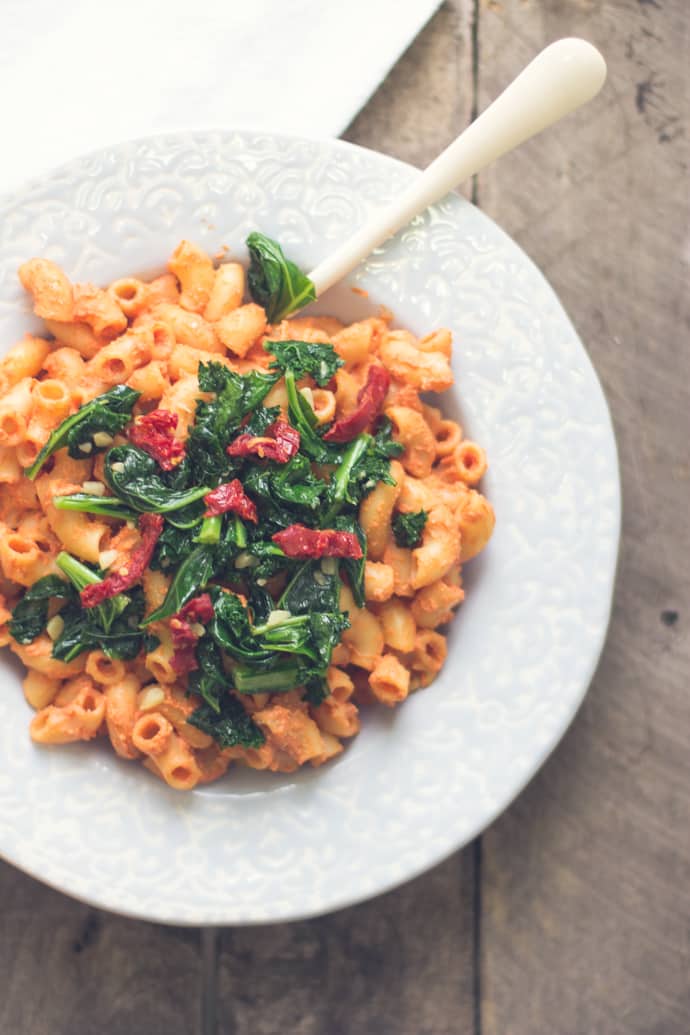 my goal this week has been to *ease* my way into cleaner eating. i'm not all salads and juice bars but i have been drinking a lot more water and replacing my impulsive chocolate eating with fruit. i'm taking small steps here.
as i mentioned earlier this week, i'm also working on my vegan cooking skills. this recipe introduced me to nutritional yeast for the first time which, upon further investigation, i learned is a rather common ingredient in savory vegan cooking. new things!
a derby teammate of mine, Missy, who does the majority of her cooking in the vegan fashion, came over this past weekend to show me one of her staple dishes that she says her kids love: Vegan Smoked Tomato Pasta (name chosen by moi).
one of my favorite parts about this recipe is how incredible easy it is. it's basically just 1) cook pasta and 2) blend a few ingredients together and add to pasta. you know i'm a fan of easy.
ideally, cashews are soaked for a few hours. we only had time to soak ours for a few minutes which resulted in a slightly grainier (less creamy) but still delicious sauce.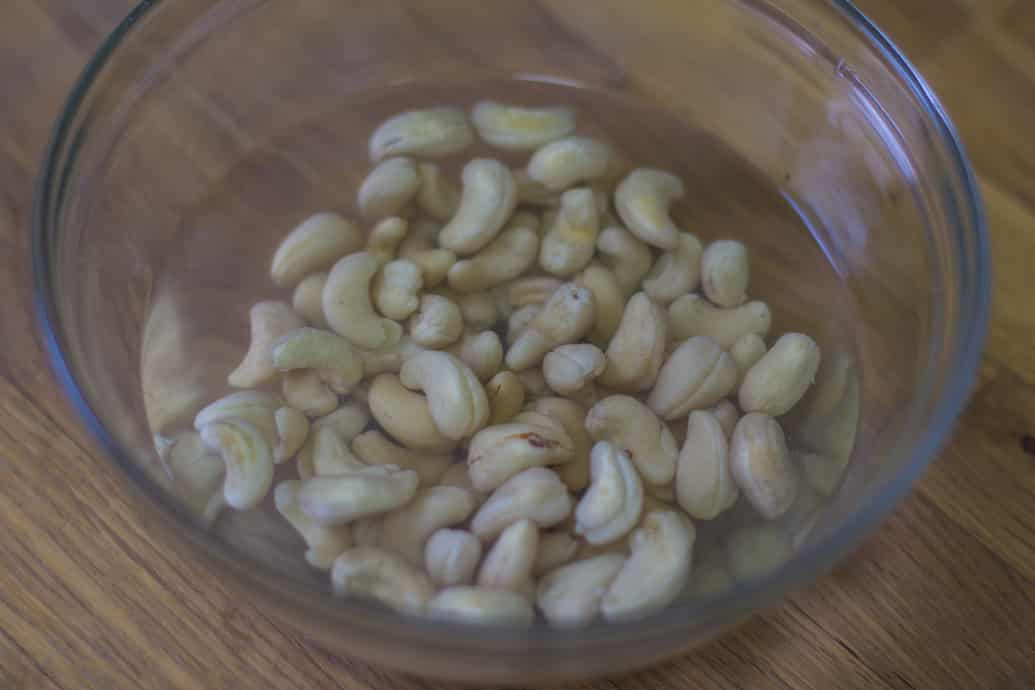 while the pasta water is heating up, the sauce is made.
cashews and 2 1/2 cups of broth are added to a food processor (or blender). Missy uses 2 1/2 cups of water with a broth cube for this.
this is processed for a few minutes and then the remaining sauce ingredients are added in: smoked sun dried tomatoes, tomato sauce, salt, pepper, garlic powder, and nutritional yeast (abbreviated as "nooch" on her hand written recipe for me).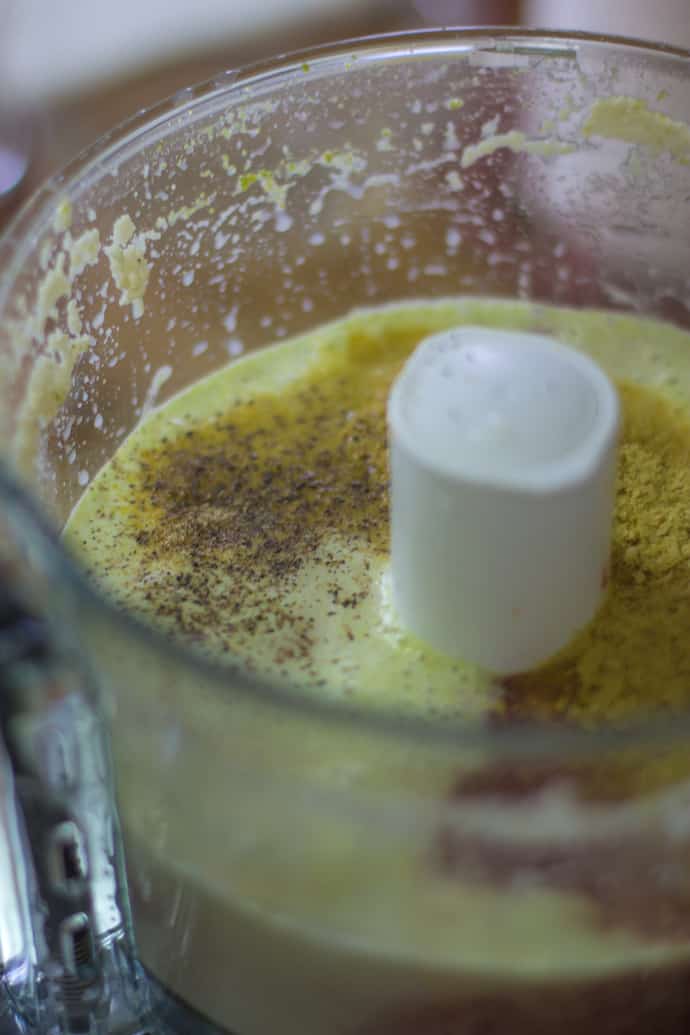 this is blended up for a good few minutes until it's at a good creamy consistency.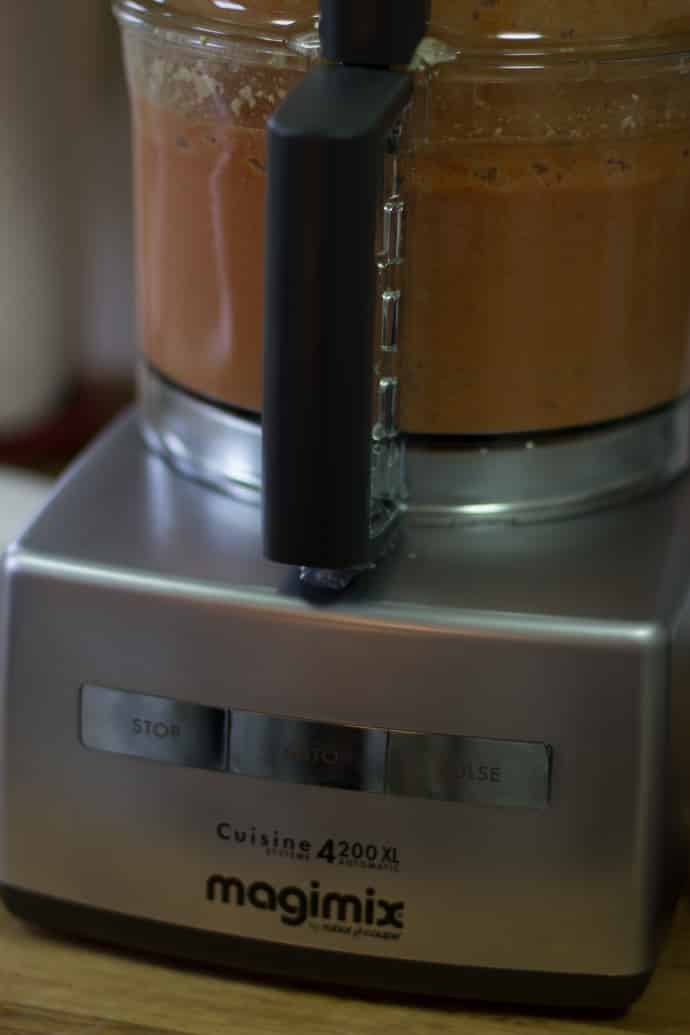 Missy said that the sauce is usually creamy that ours turned out but we decided it was the lack of cashew soaking. either way, once again, it was still SO tasty.
once your sauce is finished….
all that's really left is to add it to your cooked pasta…
stir it all together…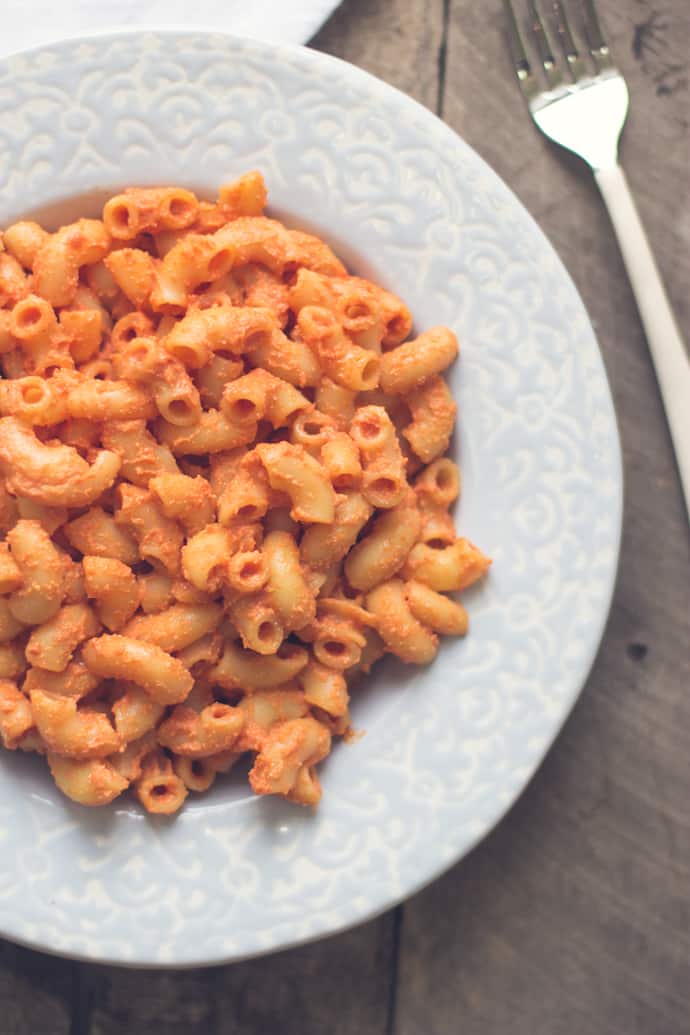 and (preferably) top it with some sauteed kale and a few extra sun dried tomatoes.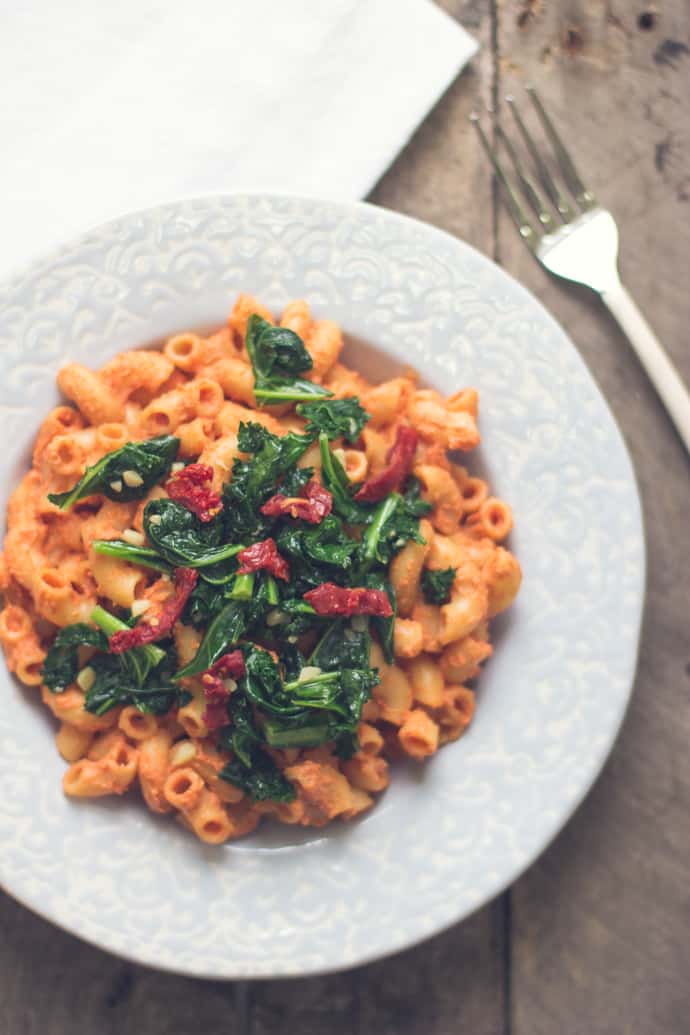 i kept all of the leftovers and ate the HECK out of this for a good few days. sometimes i ate it plain (mostly out of pure laziness) and other times i sauteed up a bit more kale to go with it.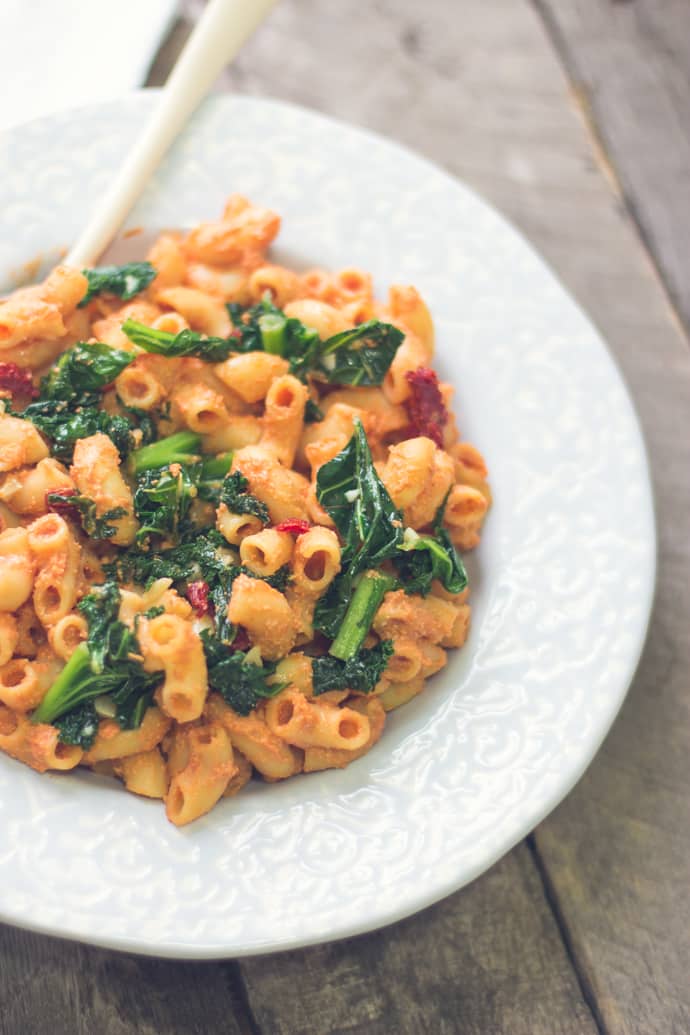 this pasta had a delightful and surprising cheese taste to it that almost mimicked mac n' cheese. needless to say, i'm a pretty big fan.
for the pasta, we made things difficult. we cooked 2 bags of pasta, later deciding that was too much for the amount of sauce, and put a good chunk of it aside. so, i'm going to say that one bag/ box of pasta would be perfect for the amount of sauce this recipe makes.
Print
Vegan Smoked Tomato Pasta
---
Total Time:

15 minutes

Yield:

6

1

x
1

lb of pasta (I used macaroni)

3/4 cup

of cashews, soaked for a few hours

2 1/2 cups

of broth

1

can of tomato sauce

3/4 cup

of sun dried tomatoes (smoked if you can find them)

1/2 teaspoon

of salt
pinch of pepper

1/4 teaspoon

of garlic powder

1/4 cup

of nutritional yeast
optional for topping: sauteed kale and garlic, additional sun dried tomatoes
---
Instructions
Salt and boil water for the pasta and cook according to directions.
While the pasta is cooking, make the sauce.
In a blender or food processor, combine the cashews and broth and processor for 2 minutes.
Add in the remaining ingredients (tomato sauce, sun dried tomatoes, salt, pepper, garlic powder, and nutritional yeast) and processor for another few minutes or until the mixture reaches your desired consistency. It may be slightly grainy depending on your food processor and how long you soaked the cashews.
Stir the sauce into the pasta until thoroughly mixed together.
Optional: top with sauteed kale and garlic and a few extra sun dried tomatoes and ENJOY!
Prep Time:

5 minutes

Cook Time:

10 minutes
This post may contain affiliate links. Please read my disclosure policy.