Warm Kale Salad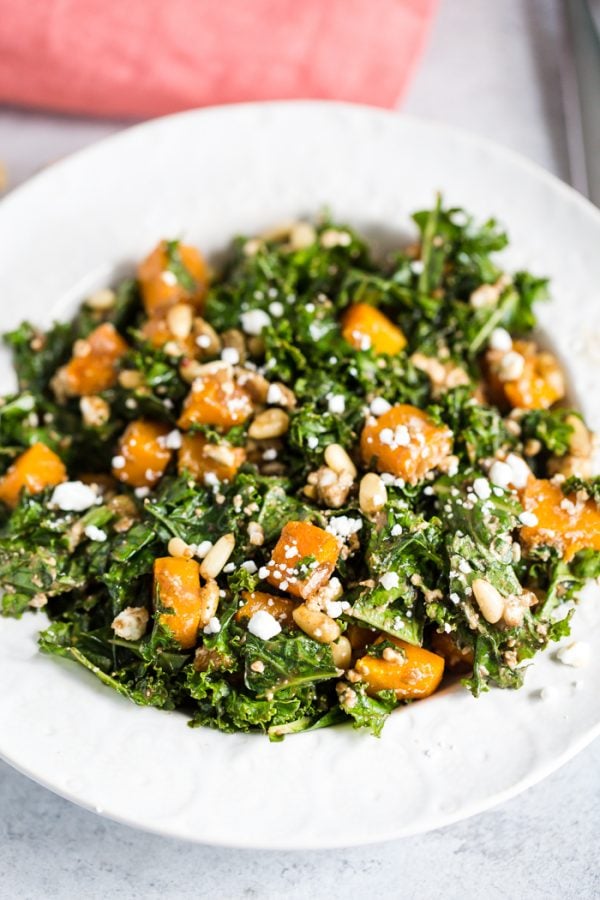 Welcome to your new favorite winter salad! I've been making different versions of this Warm Kale Salad over the past year and every time I'm blown away how GOOD it is!
That's the thing about winter. When it's even mildly cold outside, all I want is warm and cozy foods. The thought of a salad or smoothie (things that I otherwise love), just aren't that appealing to me. SO I figured that I would remedy that by making myself a WARM salad. Best of both worlds.
Do you know about the importance of massaging your kale?? I ate dry kale salads for YEARS before I learned that it tastes VASTLY better if you massage the leaves first. SO, don't make my mistake and always massage that kale!
For this recipe, we're going to massage the dressing directly into the salad but for other salads, you can use a little olive oil, some lemon juice, or really whatever other thing you are already having in your salad.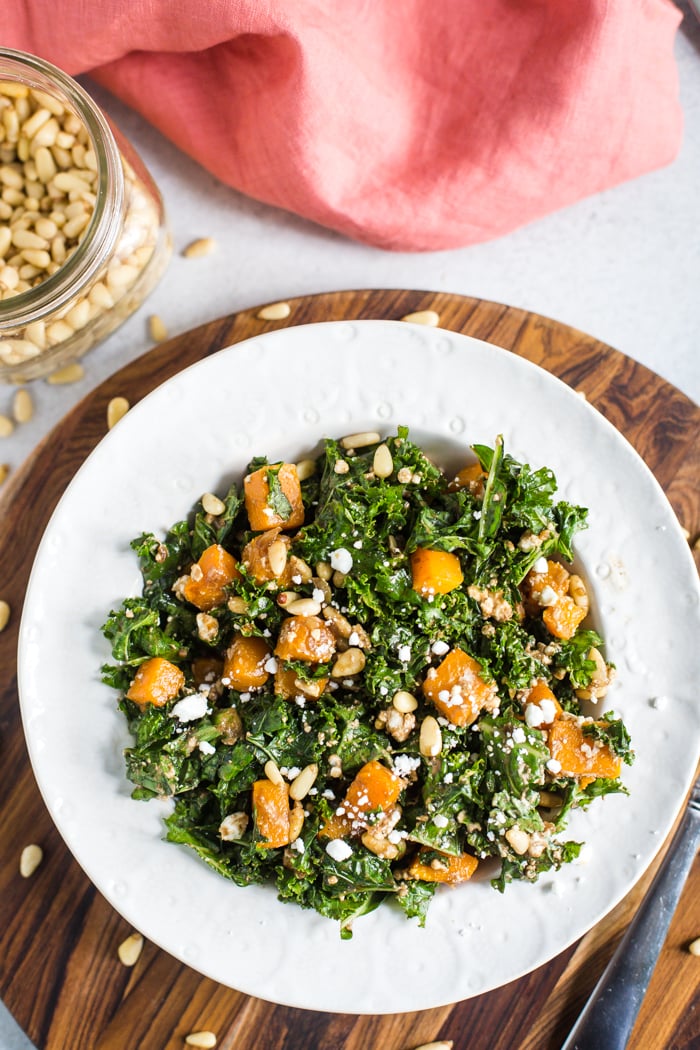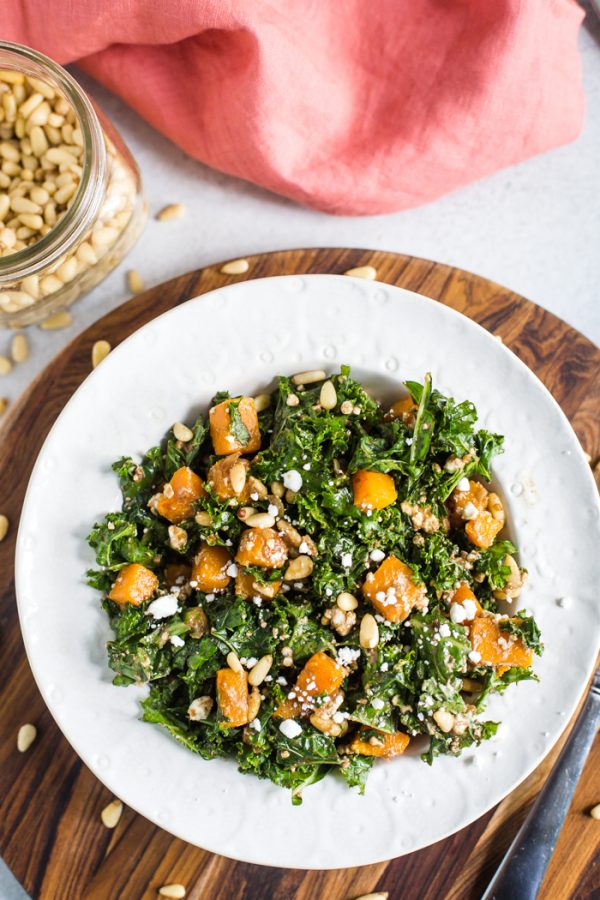 How to Make this Warm Kale Salad
Start by roasted your butternut squash. You could swap this out for sweet potato if that's what you have on hand. I love both in this salad! Toss the squash with a little olive oil, salt and pepper and then roast for about 15 minutes.
While that roasts, make the dressing by sauteeing your onion. Add in the garlic, salt, and maple syrup and cook for a few more minutes until transferring the mixture to a blender. Add in the balsamic vinegar and blend until mostly smooth.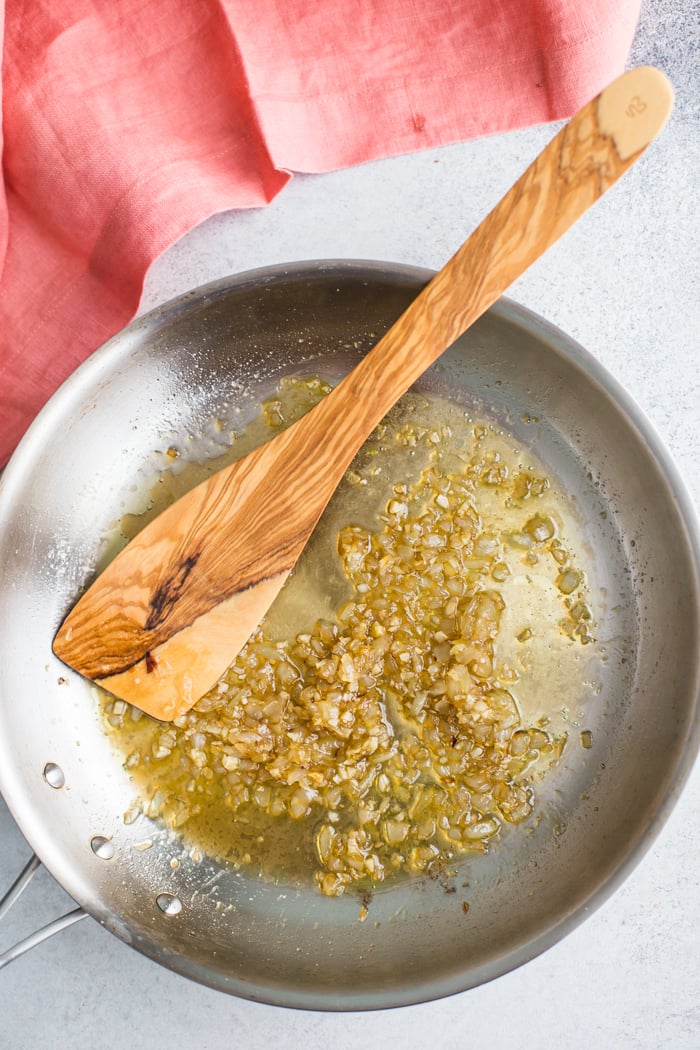 The warm dressing gets poured over the kale and then massaged into the leaves. DO NOT skip this part! It makes the salad softer and more tender and overall just SO MUCH better.
Now just toss in the butternut squash, goat cheese, and pine nuts and you have yourself your new favorite winter salad! :)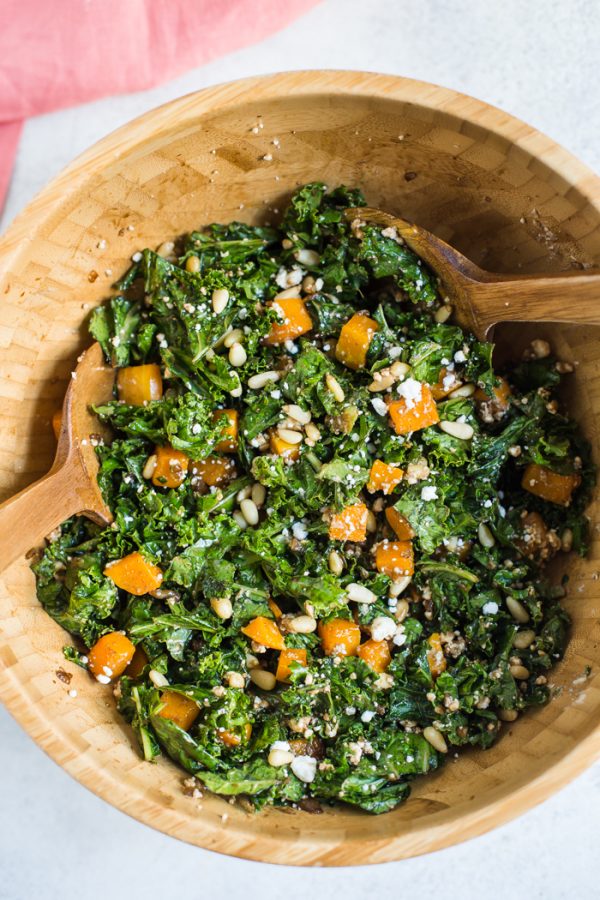 Print
Warm Kale Salad
---
Author:
Prep Time: 10 minutes
Cook Time: 20 minutes
Total Time: 30 minutes
Yield: 4 servings 1x
Scale
Ingredients
1 pound of butternut squash, cut into small bite sized pieces
4 tablespoons olive oil, divided
⅓ cup chopped yellow onion
3 cloves garlic, minced
½ teaspoon salt
3 teaspoons maple syrup
2 tablespoons balsamic vinegar
8 cups of chopped kale, loosely packed, about 1 large bunch
¼ cup pine nuts
3 ounces goat cheese, crumbled
---
Instructions
To roast the butternut squash, heat the oven to 400 degrees F. Place the squash on a large baking sheet and toss with 1 tablespoon of olive oil, and salt and pepper to taste. Roast for 15-20 minutes, tossing halfway through. It is done once fork tender
To make the dressing, heat the remaining 3 tablespoons of oil in a medium saute pan over medium heat. Once hot, add in the onion and saute for about 5 minutes. Add in the garlic, salt and maple syrup and cook for an additional 2 minutes.
Transfer the onion mixture to a blender, add in the balsamic vinegar, and blend until mostly smooth.
Add the chopped kale to a large bowl, pour the dressing over top, and massage the dressing into the kale. Massage for a couple of minutes until all of the kale is coated with the dressing and a rich dark green color. Do not skip the massage! It makes the kale much softer and a lot tastier.
Gently toss in the butternut squash, pine nuts, and goat cheese. Serve immediately and ENJOY!
---
Category: salad
Method: cooking
Cuisine: American
Keywords: salad, butternut squash, healthy, dinner