Wild Greens & Quinoa Stuffed Peppers
This post may contain affiliate links. Please read my disclosure policy.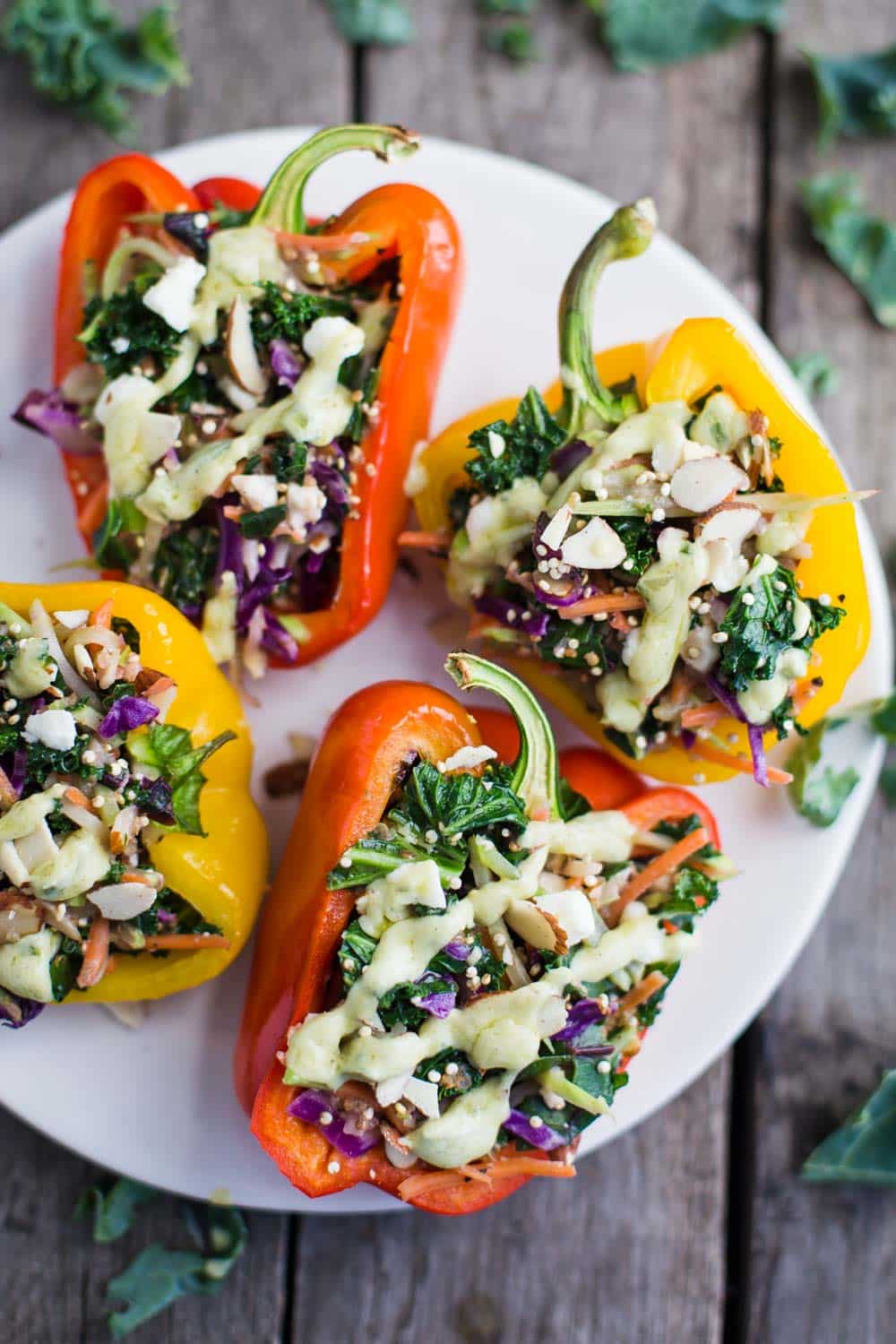 It was literally freezing outside this morning which was a sad change from the 70+ degree weather that we've been having in Nashville lately. Of course it's nice ALL week long while I'm trapped at my desk in an office with no windows but as soon as I'm ready to get outside, the temps drop to unbearable degrees. Stephen and I did a bunch of yard work and work on the chicken fencing Sunday and we both had to wear multiple jackets and gloves the whole time. gah! Needless to say, I'M READY FOR SPRING!!
The problem with it being cold outside is that ALL I want to eat is comfort food. My dish needs to be warm, savory, and preferably covered in some kind of yummy, yummy sauce. BUT, here's the thing (total scary honesty coming, folks): since retiring from roller derby and just generally getting older where I can literally feel my metabolism slowing down, I'm currently 20 pounds heavier than my average weight. I'm not sure that I realized just HOW many calories I burned skating 4 days but I very much have not liked the changes in my body since quitting.
And if I'm perfectly honest, a HUGE portion of it has to do with my eating (although it wouldn't hurt me to workout a bit more as well). SO, my friend Lisa and I are whipping ourselves back into shape this spring and getting ourselves back to a place where we feel comfortable and healthy again (and where all my pants aren't so tight :/).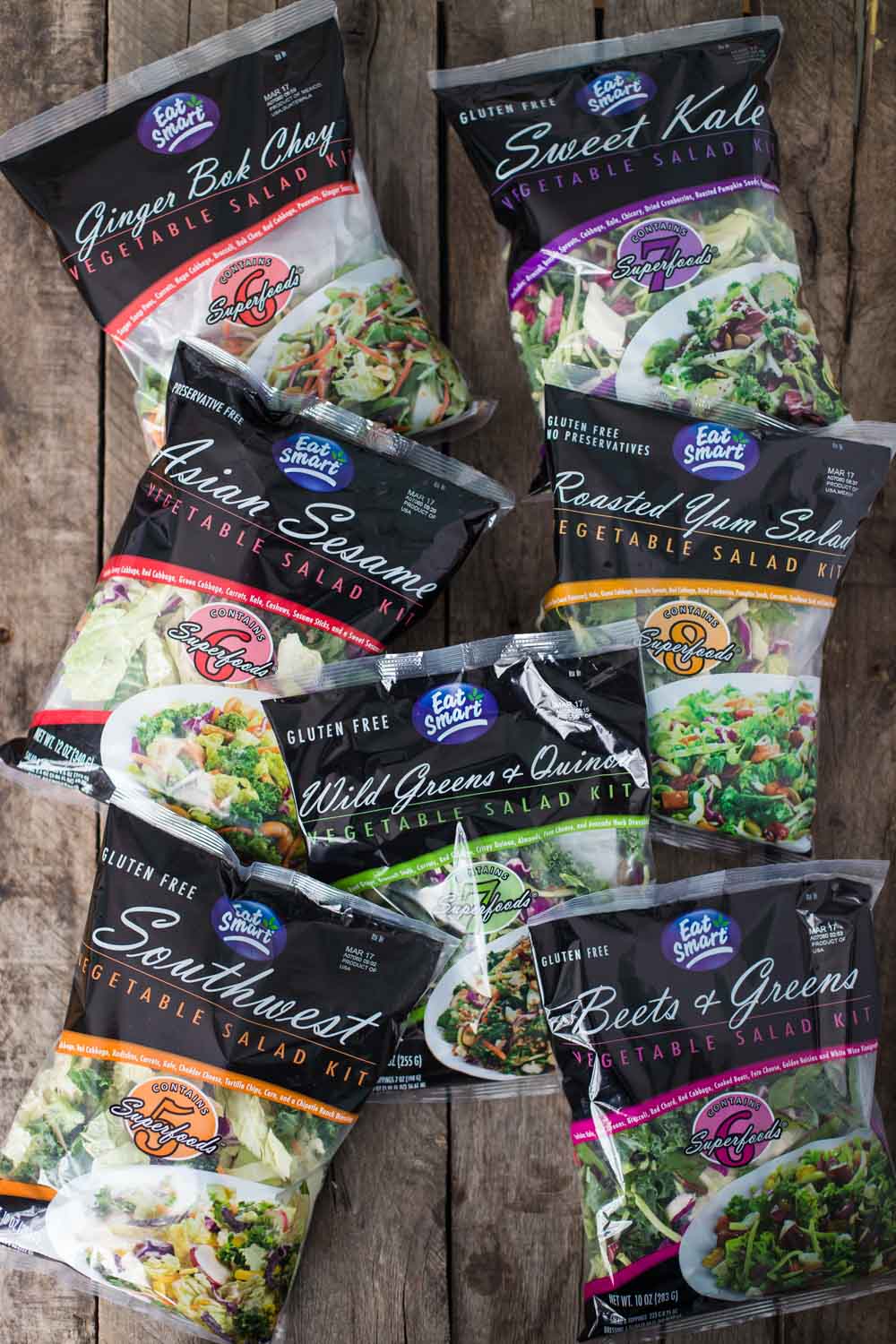 This is where Eat Smart Gourmet Vegetable Salad Kits come in! These chef-inspired salad kits offer sophisticated blends of five or more superfoods and include everything needed for a delicious salad. Perfect for those looking for innovative, convenient and healthy eating options that are easy to integrate into busy lives.
March is National Nutrition Month and I'm celebrating with these Wild Green and Quinoa Stuffed Peppers. I used the Wild Greens and Quinoa Eat Smart Gourmet Salad Kit to make a warm and savory salad dish that's perfect for March when you're trying to slim down a little, get healthier, and still eat something warm and cozy.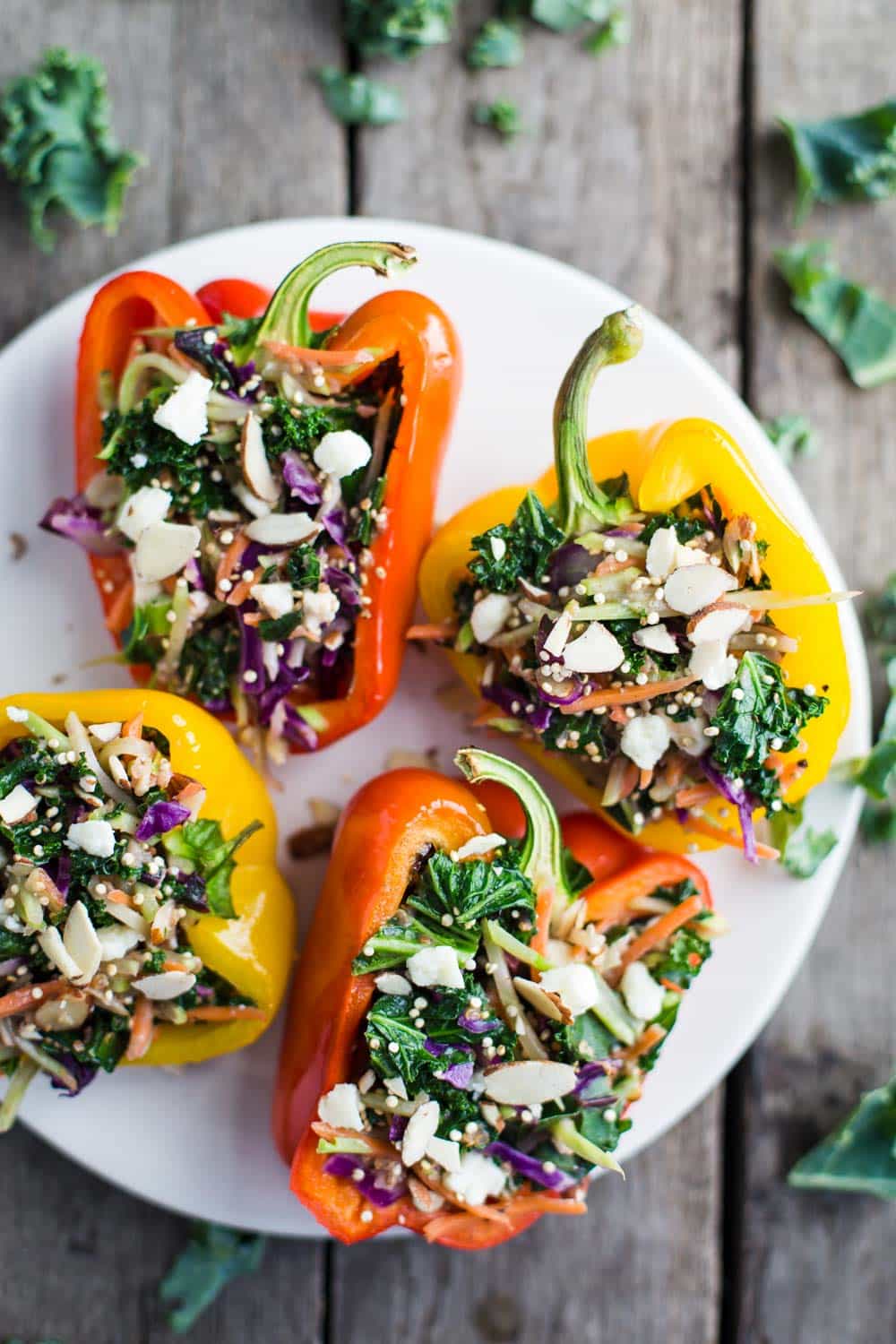 Eat Smart Wild Greens and Quinoa Salad Kit features seven superfoods: kale, beet greens, julienned broccoli, carrots, red cabbage, quinoa and almonds complete with an avocado herb dressing to make a hearty, healthy salad anyone is sure to love.
So, for the recipe….
Everything you need for this yummy dinner is inside the bag except a bit oil, water, and the bell peppers.
While the peppers are roasting in the oven, a bit of oil and water is heated to lightly cook the quinoa in. Then the rest of the vegetable salad kit is added into the skillet and cooked just for a few minutes to blend it all together.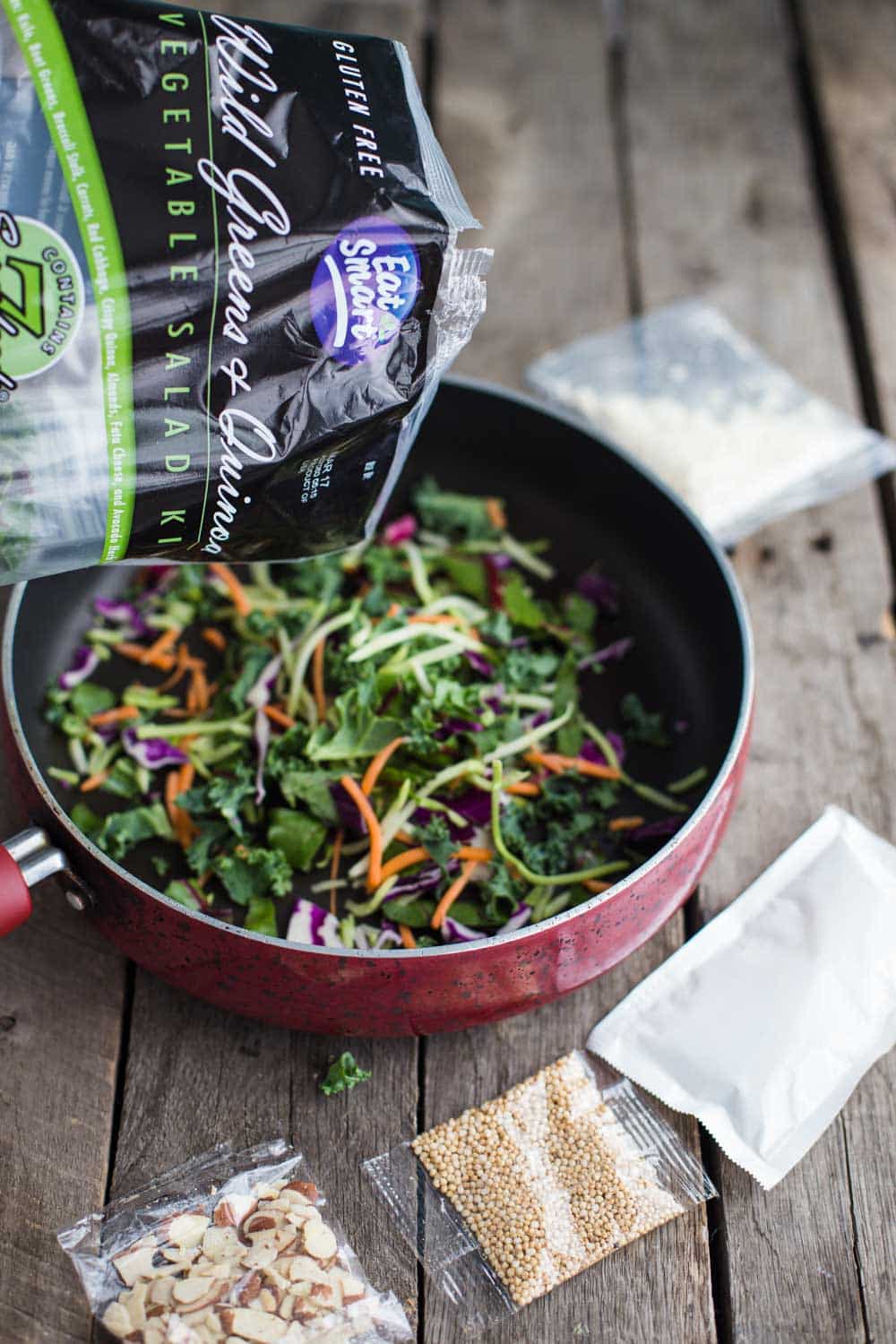 It only needs to cook for about 5 minutes before adding in a bit of the cheese and half of the almonds and dressing. Once it's all mixed together, you have a ridiculously yummy and warm salad.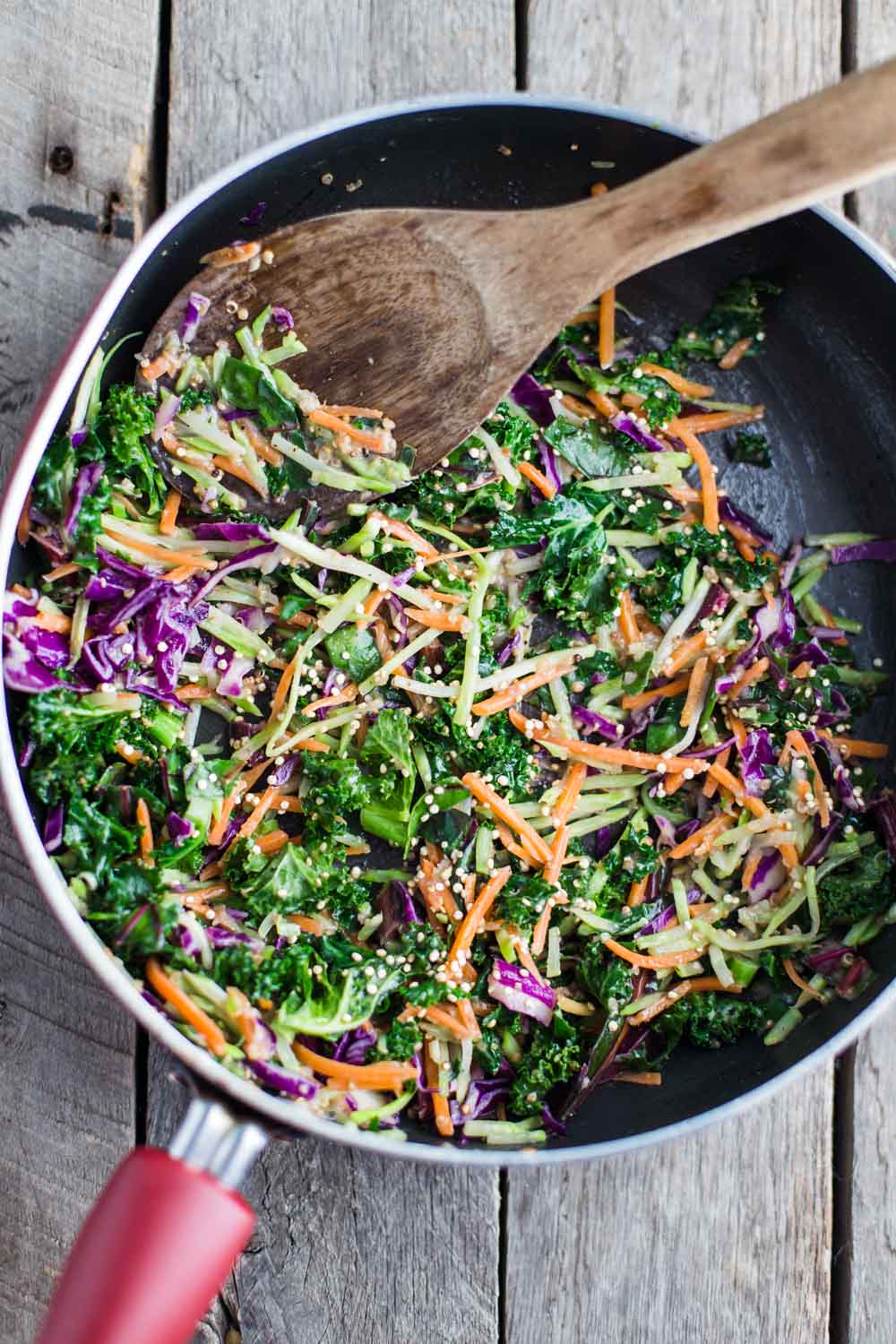 All that's left to do is scoop the salad mixture into the roasted peppers and top with the remaining cheese, almonds, and avocado dressing!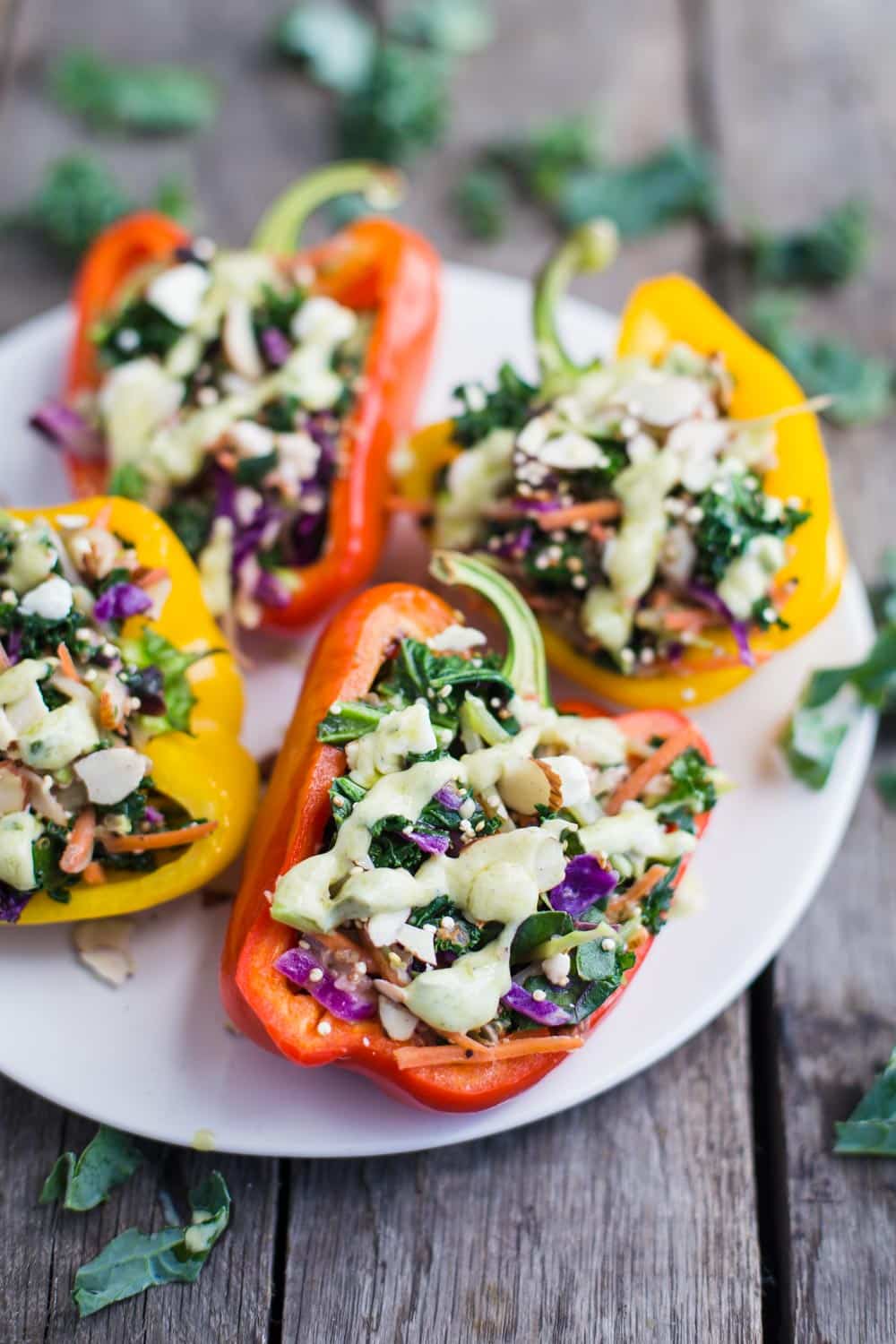 This recipe is super simple, very filling, and filled with lots of great nutrients.
I was able to try all of the different Salad kits from Eat Smart and they are ALL so good! On some days, I would take one of the bags with me to work and mix it fresh for lunch. I seriously love these!
To find out more about Eat Smart Gourmet Vegetable Salad Kits, be sure to check them out and like them on Facebook. You can also sign up for their e-blast newsletter at the bottom of their website HERE.
Print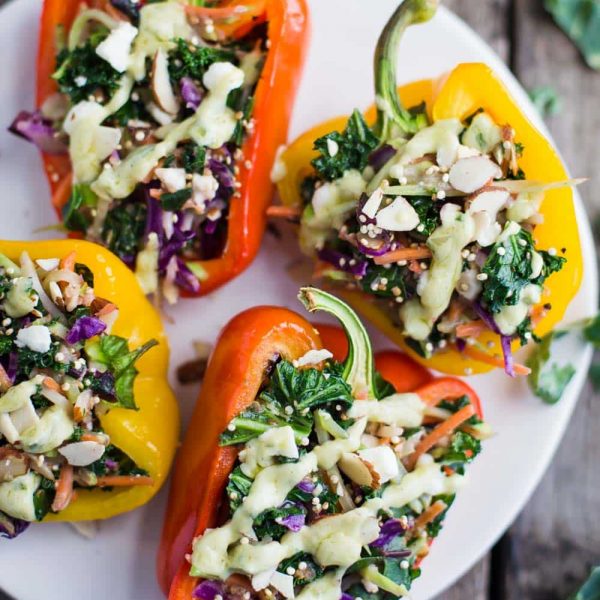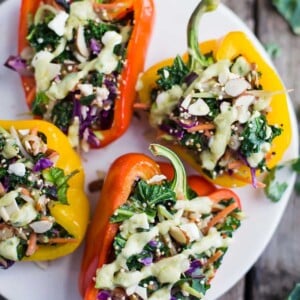 Wild Greens & Quinoa Stuffed Peppers
---
Author:

Total Time:

20 minutes

Yield:

2

1

x
1/4 cup

of water

1 teaspoon

of oil (olive oil or coconut oil will work fine), plus extra for greasing the pan

2

medium bell peppers, cut in half and deseeded
Eat Smart Wild Greens and Quinoa Salad Kit
---
Instructions
Pre-heat the oven to 400 degrees F. Lightly grease a baking tray and bake the peppers for 10 minutes or until they're just beginning to wilt and brown.
When the peppers are about helf done, heat the oil and water in a large skillet over medium heat. Add in the quinoa from the salad kit and stir. Cook for 5 minutes of until the majority of the liquid is absorbed by the quinoa.
Add in the greens and cook for an additional 2 minutes. Take off of heat.
Right before scooping the salad mixture into the peppers, stir in half of the cheese and half of the almonds and half of the avocado dressing.
Top the bell peppers with remaining cheese, almonds, and dressing.
Serve and ENJOY!!
Prep Time:

5 minutes

Cook Time:

15 minutes
I was selected for this opportunity as a member of Clever Girls and the content and opinions expressed here are all my own.
This post may contain affiliate links. Please read my disclosure policy.