Zucchini Carrot Casserole
This post may contain affiliate links. Please read my disclosure policy.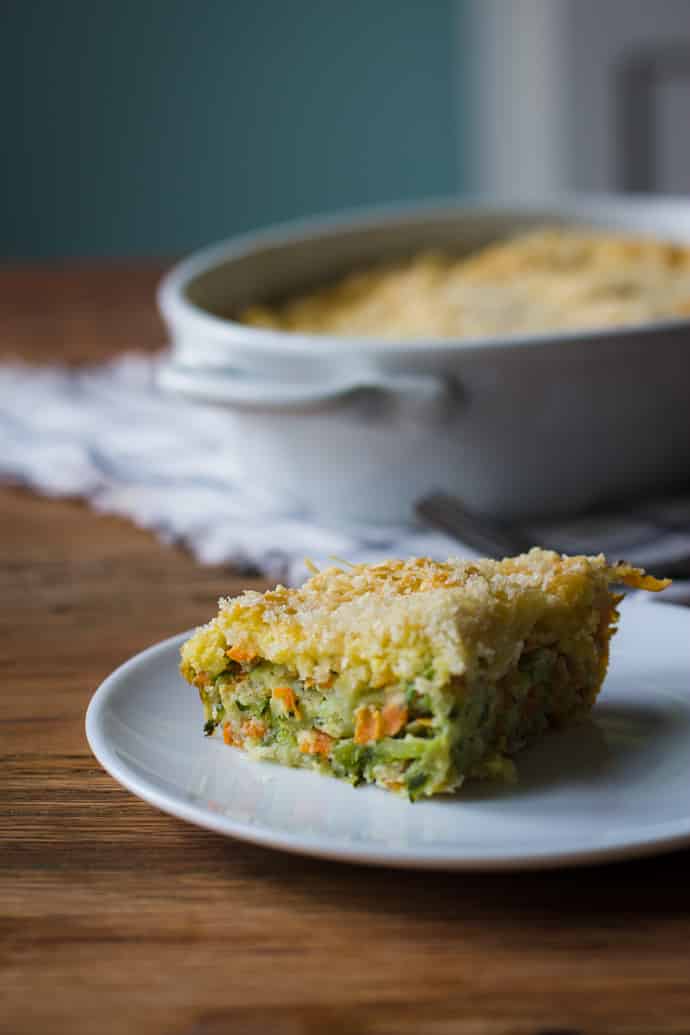 I have a long running list of various recipes that I really want to share with you but haven't done so because I want to wait until it's seasonally appropriate. Like soups. I have SO many soup recipe ideas but who really wants a soup recipe in July? (I do, actually. Because I love soup. But, I think I'm in the minority of summer soup lovers).
I've been waiting and waiting to share this zucchini carrot casserole recipe with you until summer hit and I had fresh zucchini growing in the garden. However, what I didn't know was that my zucchini harvest would come in a bit late this year AND that I would be selling my house this month. CRAZY! What is happening? So yea. By the time zucchini starts flooding into my kitchen with abundance, I'll be neck deep in boxes. What we have here is store bought zucs.
On a complete side note: it's been very strange spending so much time caring for my garden knowing that in less than 3 weeks I'll be abandoning it. But before then, I plan on enjoying plenty of cherry tomatoes, pickling cucumbers, and peppers from my TEN pepper plants.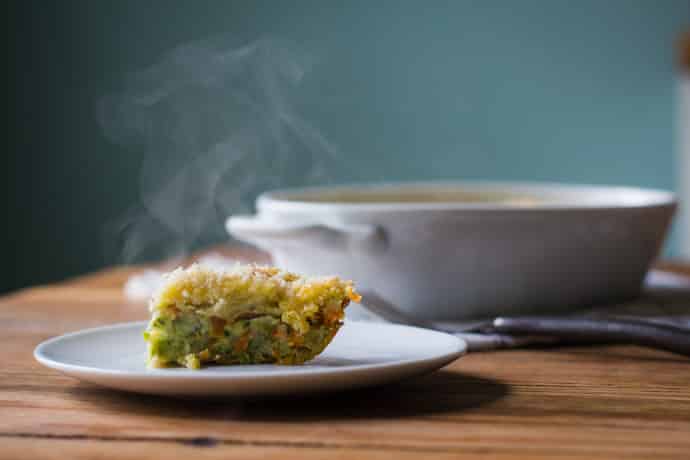 Oh, and in case you're curious about the whole moving thing. No worries! We're staying in Nashville. Surely you know I love this city too much to ever really leave.
So, zucchini carrot casserole.
I have it in very good authority that casseroles are making a comeback, y'all. And this one is the hippest of all the cool casseroles. It's super easy to throw together (especially if you're a master veggie shredder like I am) and it's very light and healthy in the grand scheme of casseroles.
Veggies are shredded. Easy.
Eggs and cheese and salt & peppa are mixed into the veggies and all of that's poured into a casserole dish.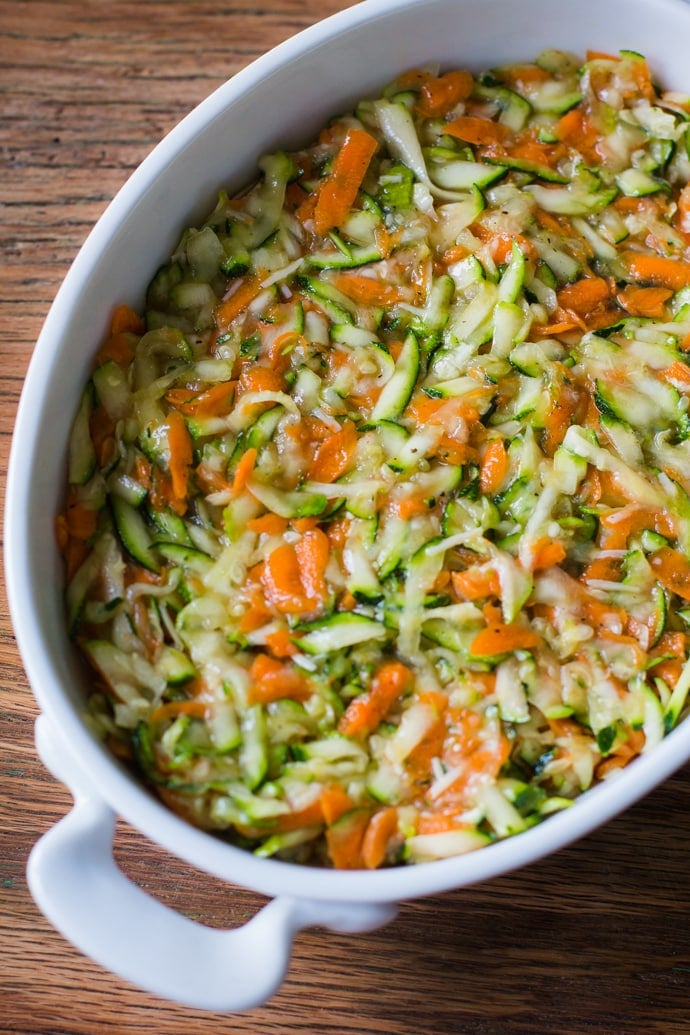 Then cornmeal and panko are spread out over the top like so:
And then lots more cheese of course (or a little more). I like a nice evenly layer.
Pop that in the oven for a bit and then this will happen:
MMmmmmmmmmmMMMmmmmm….
I prefer this dish on its own but it makes for a great side dish as well. There's also really no limit to what veggies you put in it which I love.
It's summer in a casserole and I love it!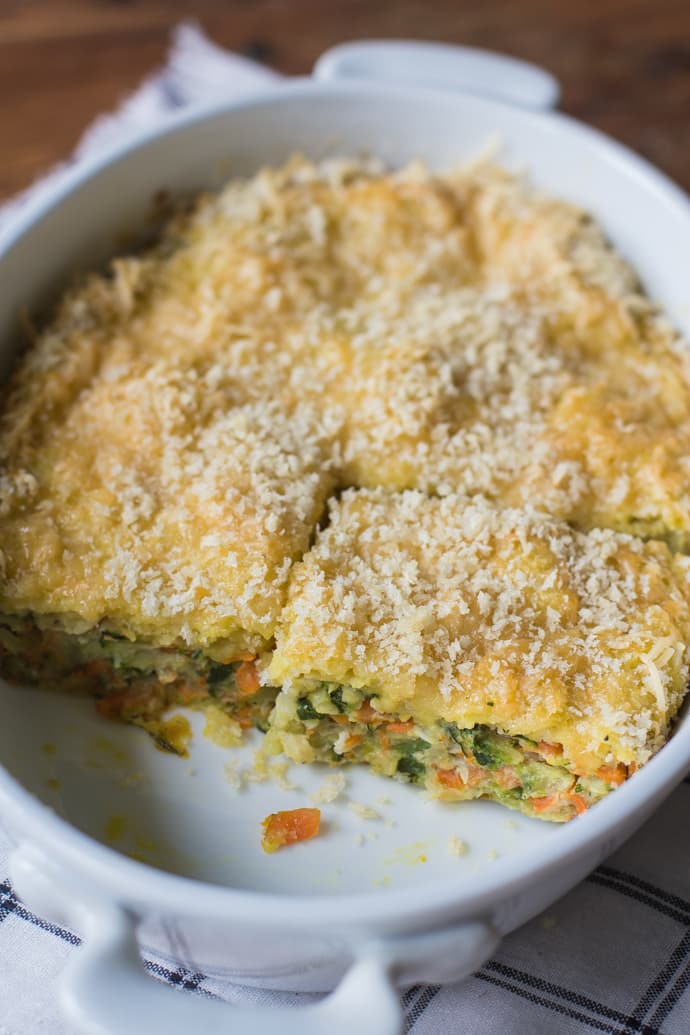 Print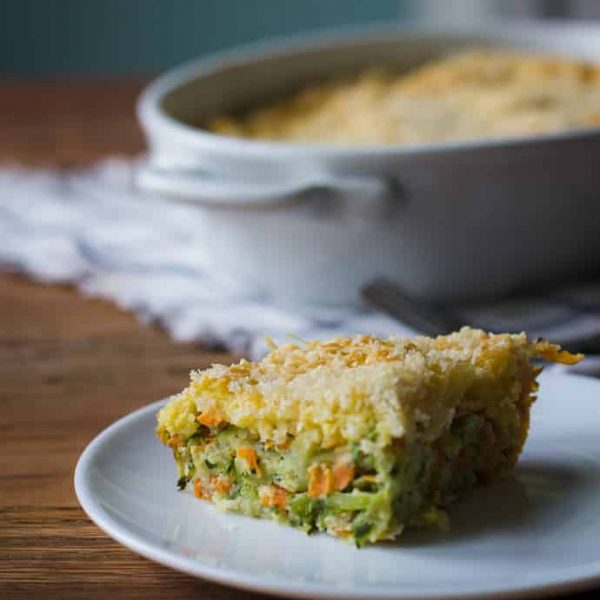 Zucchini Carrot Casserole
---
Total Time:

50 minutes

Yield:

4

1

x
2 1/2 cups

of zucchini, grated

1 tablespoon

of sea salt

1 1/2 cups

of carrot, grated

4 tablespoons

of panko bread crumbs (or whatever kind of breadcrumbs)

2 tablespoons

of cornmeal

5 tablespoons

of Parmesan cheese, grated

2

eggs, beaten

1 teaspoon

of salt

1 teaspoon

of pepper
---
Instructions
Pre-heat the oven to 400 degrees F.
In a strainer, sprinkle the grated zucchini with the sea salt and let sit for 10 minutes. Give the zucchini a quick rinse to wash away some of the salt and then SQUEEZE the heck out of it to release as much moisture as possible.
Mix the zucchini and carrot together in a large bowl and set aside.
In a small bowl, mix together 1 tablespoon the cornmeal, breadcrumbs, and 4 tablespoon of the cheese. Set aside.
Add into the Zucchini mixture the beaten eggs, S&P, and the remaining 1 tablespoon of cheese. Mix well and then pour into a greased casserole pan.
Eveny top the veggie mixture with the breadcrumb mixture.
Cover with aluminum foil and bake for 35 minutes.
Remove the foil and bake for an additional 10-15 minutes or until the top starts to brown up a bit.
Let cool briefly and ENJOY!!
Prep Time:

5 minutes

Cook Time:

45 minutes
This post may contain affiliate links. Please read my disclosure policy.