A Spring Dinner Party
This post may contain affiliate links. Please read my disclosure policy.
Have y'all ever met Sara from the blog Cake Over Steak?? I stumbled upon her blog about 6 months ago and instantly fell in love. With ALL of the food blogs out there, I think it really takes something special to make your blog stand out from among the others. For Sara, it's her super awesome illustrations that she does to go along with each of her recipes and posts. I love them all so much and wish that I had half of that artistic skill.
Long story short: I emailed Sara and totally fan girled her blog and next thing you know we're throwing a dinner party together.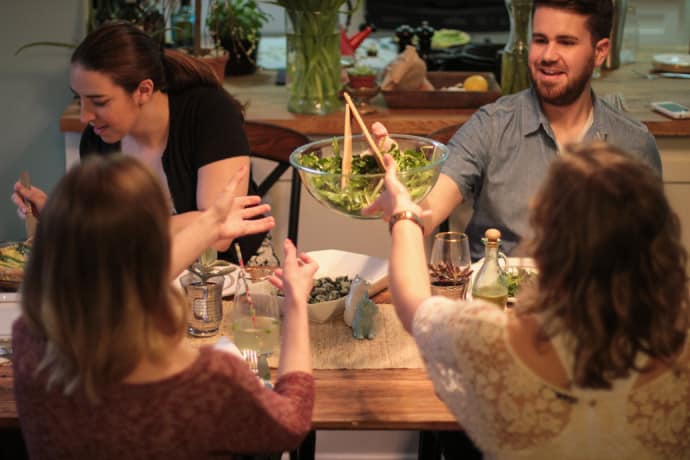 Welllll, by "together" I mean that we collaborated on a really awesome Spring Dinner Party menu and then each hosted our own dinner party in our own respective homes (Sara actually lives quite a few states away from me). What we really wanted was to create a delicious and simple dinner party menu that we could share with our friends and with you. SO, that's what I have for you today.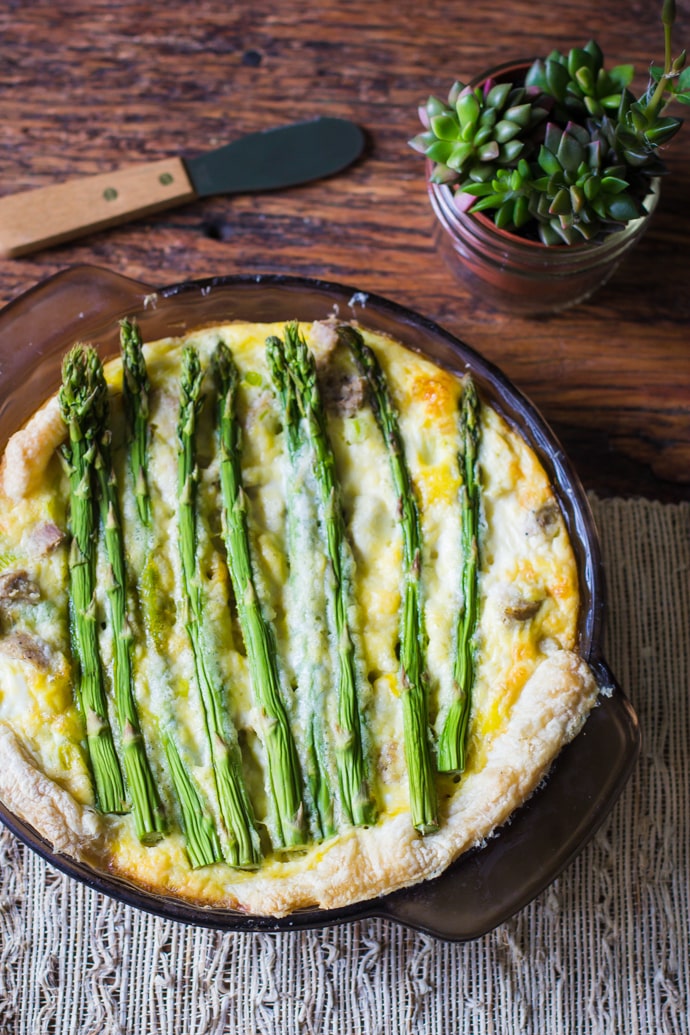 We focused on using fresh, spring ingredients which is why you see lots of leafy greens, asparagus, and berries. Here's what we ended up with:
Cocktail: Elderflower, basil, and cucumber cocktail (recipe HERE)
Appetizer: Mushrooms stuffed with goat cheese and spinach (recipe below)
Main: Spring Sausage Tart topped with Asparagus (recipe HERE)
Salad: Shaved Asparagus, Watercess, Arugula, and Spring Pea Salad (recipe below)
Dessert: Pavlova with Chocolate Whipped Cream and Berries (recipe HERE)
We discussed ahead of time all the things that we could do in advance to make the dinner party itself easier. Sara did a great job on her blog outlining all the things that can be prepped ahead. And yet, despite all of that, I still had nothing ready when my guests arrived. Oh well. Live and learn.
For my dinner party, I invited a few of my fellow Nashville Food Bloggers over: Mary from Minutes Per Mile, Phillip from Southern Fatty, and Ashley from The Nashvillian. My good friend Caitlin was also there (behind the camera) to help document the occasion and to help eat some of the food.
One of my favorite things about dining with them is that I never have to feel ashamed of taking 1,000,000 pictures of my entire meal. Even better: taking pictures of your friends taking pictures. I got lots of those :)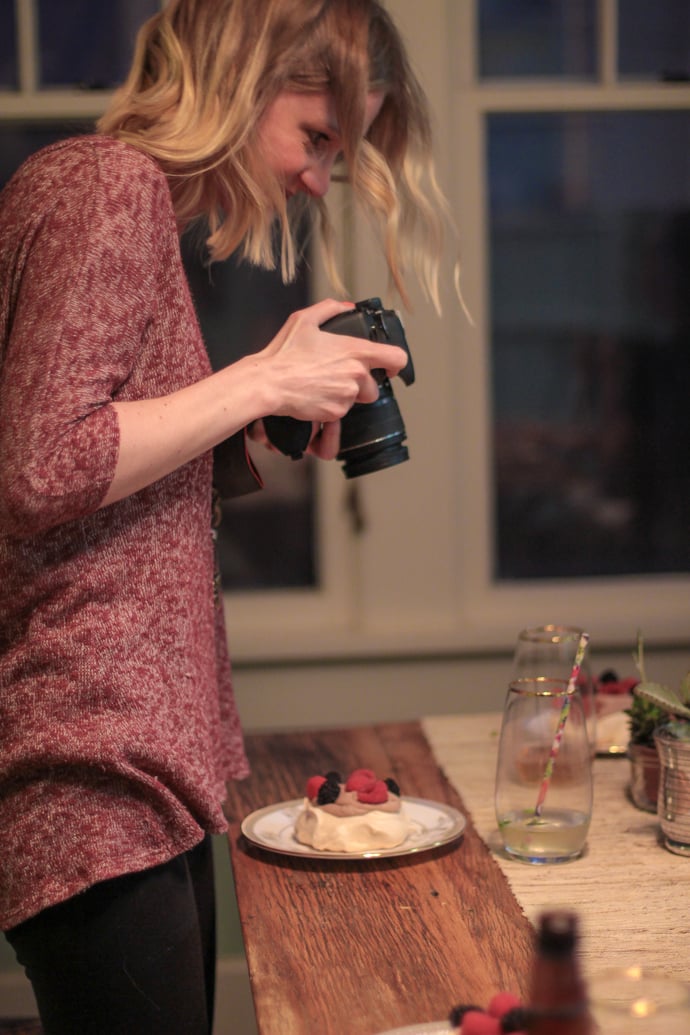 As every good dinner party does, let's start with the cocktail.
This is my new favorite drink and I might have had it multiple times since the party. Sara came up with this one and I love her for it! You can find the recipe HERE.
On the night of the party, I was frantically trying to finish the food so I put Mary in charge of mixing the drinks.
While Mary mixed the drinks, I got the mushrooms in the oven.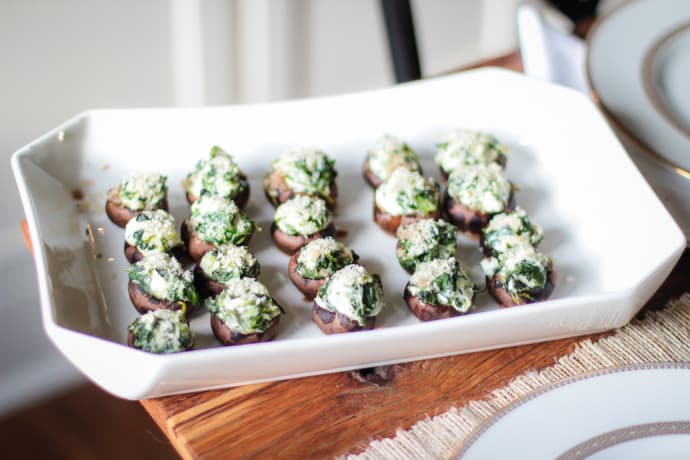 And then prepped the tarts:
AND the salad (which is officially my new favorite salad!)
I do realize that this salad has no color to it (besides GREEN) but it's about Spring veggies and texture.
You can see how good the salad is based on how excited Mary was to eat it ;)
And how rapidly I stuffed it in my face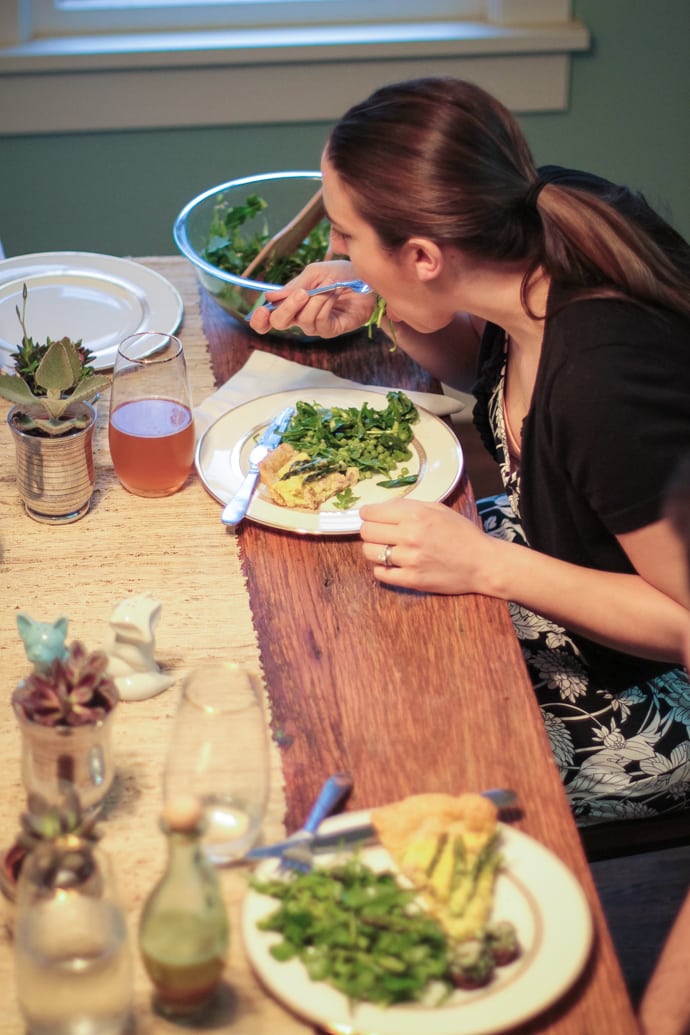 For dessert we had Pavlova with chocolate whipped cream and berries. I made the whipped cream AND the pavlovas the night before which was super helpful!
Overall the dinner party went great and I'm very thankful that I decided to keep it small. I thought that planning a party for just a few people would be easy but I still spent quite a bit of time planning and prepping.
For the cocktail and tart recipe, visit Sara's blog HERE. Below are the recipes for the stuffed mushrooms and the salad. Pavlova recipe HERE.
Goat Cheese & Spinach Stuffed Mushrooms
1 pound (16 ounces) mushrooms. *
4 ounces of goat cheese
4 ounces of mascarpone
4 cloves of garlic, minced
4 ounces (1/2 cup) of frozen spinach or 1 packed cup of fresh spinach
1 tablespoon of olive oil
1 cups of Panko bread crumbs**
1 teaspoon of dried parsley
1/2 teaspoon of sea salt
optional: chopped chives for topping
Pre-heat oven to 400 degrees F. Generously grease a large baking sheet
De-stem the mushrooms and slightly hollow out the inside (I figure I'll include a a picture of this because it can be confusing what is expected)
Heat up the frozen spinach/ wilt the fresh spinach in 1 tablespoon of olive oil for a few minutes until thoroughly heated and wilted.
Prepare the cheese mixture by creaming together the goat cheese, mascarpone, minced garlic, and spinach until thoroughly combined.
Fill each mushroom with the cheese mixture so that they are slightly overflowing.
In a small bowl, combine the panko, parsley, and salt.
Top the mushrooms with the panko mixture.
Bake for 30 minutes. Let cool slightly and serve.
Shaved Asparagus Spring Salad
1 bunch of asparagus
3 cups of lightly packed arugula
3 cups of lightly packed watercress
1 cup of shelled spring or english peas
1/4 cup of almond chopped
1/4 cup of shaved parmesan for topping
dressing:
1 clove of garlic finely minced
1/4 cup of olive oil
1 handful of basil, finely chopped
3 tablespoons of white balsamic vinegar
2 tablespoons of fresh lemon juice
S&P to taste
For dressing, whisk together all of the ingredients and set aside.
Cut the tips off of the asparagus and set aside. Take the stalks of the asparagus and shave them into long ribbons
Assembly salad by combining the asparagus tips and ribbons, arugula, watercress, peas, and chopped almonds. Toss salad with the dressing and top with shaved parmesan.
And now, a ton more pictures from the dinner party: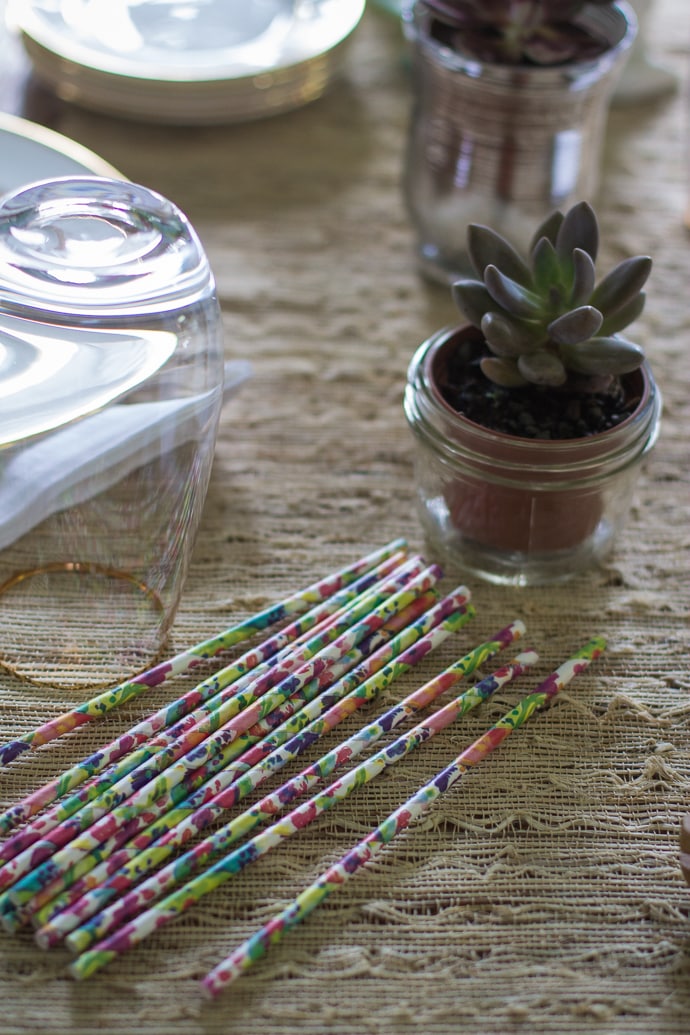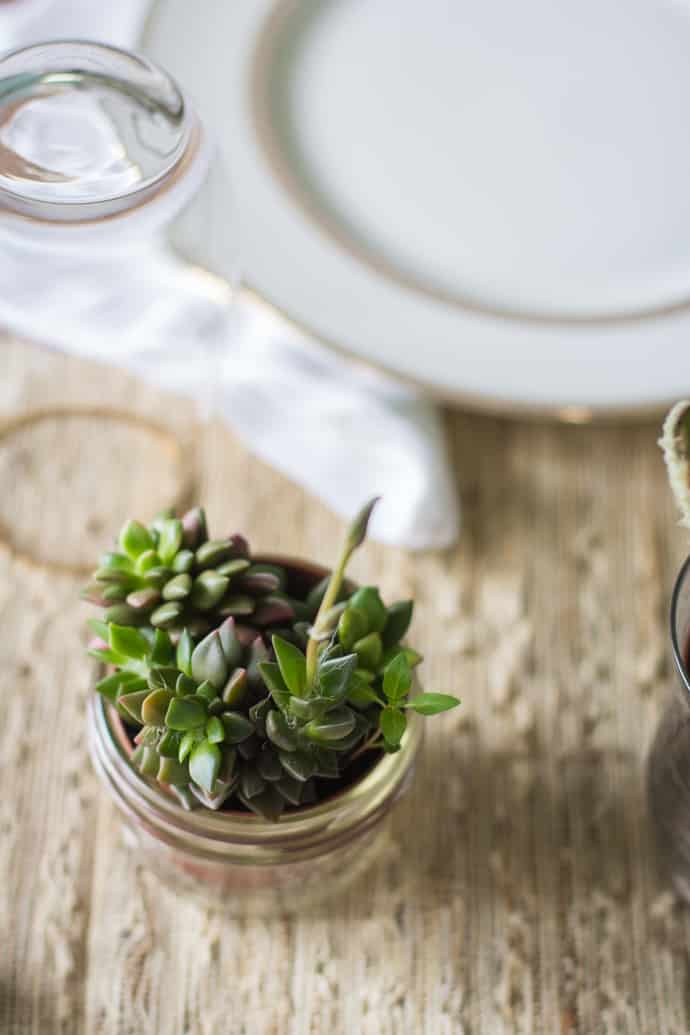 (Photos by Caitlin Richard)
This post may contain affiliate links. Please read my disclosure policy.