Beer Cheese Soup
Beer + Cheese. I'm not sure much else needs to be said and I can probably just give you the recipe and end the post now, right?
Hah. You aren't going to get off without hearing at least a bit of my daily rambling. Sorry!
I've been wanting to make this Beer Cheese Soup for you for a WHILE. Like, all summer. But I'm doing my best to cook seasonally for you and unfortunately, soup gets a lot of discrimination during the summer months. However, it is now socially acceptable to eat soup so I'm eating the HECK out of some soup right now. Especially this BEER CHEESE SOUP!
Traditionally this is made by marinating the juices on veggies and then discarding the veggies before adding the cheese and beer. However, this just seemed silly to me so instead, I put it all in a blender and blended the veggies up. Plus, the carrots give the soup a brighter, more cheesy looking color.

In other weather related news (because apparently I'm super boring and love talking about the weather), it has been really rainy in Nashville the past week, especially the day that I took the pictures of this soup.
I've been working really hard to take all of my food pictures in natural light if I can help it. However, this is really difficult when the sun is hiding and going in and out of clouds. Therefore, I didn't take my usual food preparation pictures. Which, you might be happy about because it'll make the post significantly shorter than usual. You're welcome.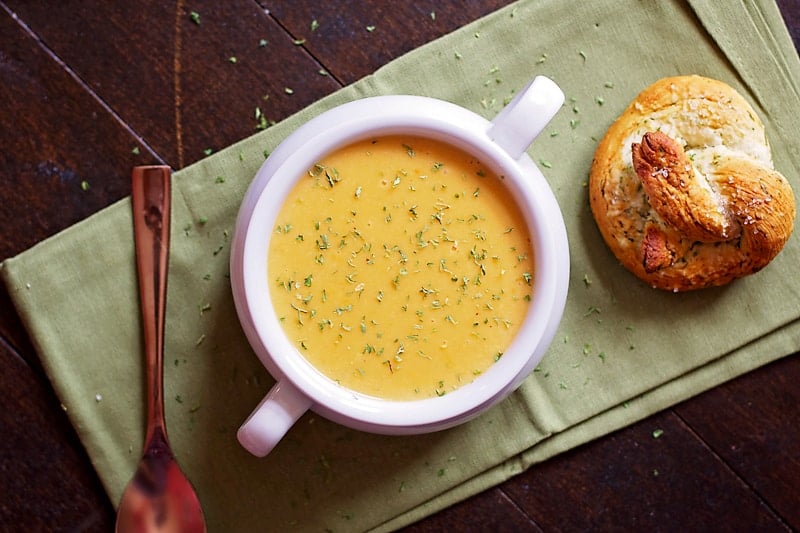 Oh, and these are PERFECT paired with the Garlic Soft Pretzels that I posted earlier this week.
A few nights before making this soup, Stephen and I had dinner at a local brewery/ restaurant, Blackstone Brewing Company, and took home 64oz of locally brewed beer. So, I'm happy to say that this Beer Cheese Soup is made with Nashville beer!
Beer Cheese Soup
10 minPrep Time
25 minCook Time
35 minTotal Time
Ingredients
4 tablespoons of butter
2 medium carrots, diced
2 medium sticks of celery, diced
4 cloves of garlic, minced
1/2 of a white onion, diced
1/2 teaspoon of salt
3/4 cup of flour (all-purpose, coconut, almond, or any other)
4 cups of chicken (or vegetable) broth
1 cup of 2% or whole milk
12 oz of beer (any kind really but something like Guinness is often used)
2 1/2 cups of sharp cheddar cheese, shredded
1/2 teaspoon of Worcestershire sauce
2 tablespoons of dijon mustard
herbs for garnish: fresh thyme or dried parsley
Instructions
Melt butter in a large pot.
Add to the pot the carrots, celery, garlic, onion, and salt and saute for about 5 minutes.
Add in the flour and cook for an additional 5 minutes.
Whisk in the broth and milk and simmer for 20 minutes. Remove from heat and let sit for at least 5 minutes.
Add the mixture to the blender and blend until well combined and no chunks are remaining. Return to the pot.
Whisk in the beer and then in hand fulls, add in all of the cheese. Continue to whisk until the cheese is well combined and melted
Finally, whisk in the dijon mustard and Worcestershire sauce.
Bring mixture to a very gentle simmer and let simmer for a few minutes.
Serve hot, garnished with herbs, and fresh soft pretzels on the side! YUM
Notes
Adapted from http://www.thekitchn.com/cold-weather-recipe-beer-cheese-soup-recipes-from-the-kitchn-195978
7.6.7
31
https://foodwithfeeling.com/beer-cheese-soup/