Beet & Garlic Dinner Rolls
This post may contain affiliate links. Please read my disclosure policy.
Thanks to Love Beets for sponsoring this post! And, thanks for supporting the brands that help support B. Britnell.
Oh hi there! Bet you didn't expect to see me here on a Saturday morning :) But here I am.
I've had a particularly busy few weeks (story of my life!?) and so instead of just not posting, I decided to pop in on a random Saturday which is something that I have very rarely done. But hey, I'm all about making changes this month.
Today we're talking about BEETS! I'm a big fan of beets but typically not just straight. I love them in a juice or smoothie and have a beet pasta recipe that I can't wait to try.
Besides the great nutritional value of beets, they're also great for making your food a pretty red/ pink color! Case in point: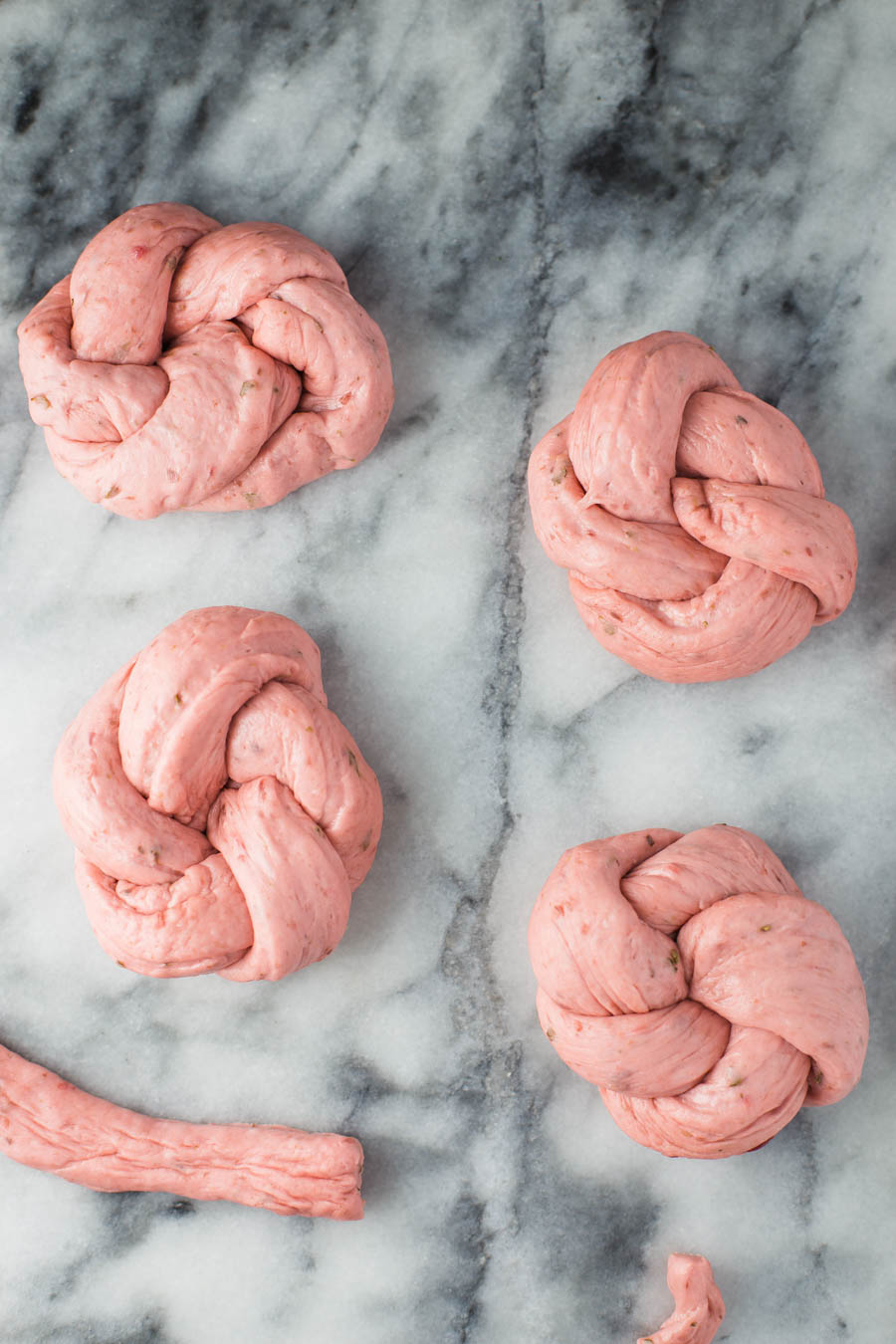 Kind of obsessed with that color for a dinner roll!! ????????????????????????
I originally wanted to make these dinner rolls a bit of a deeper color but they ended up a faint pink and get even fainter when you bake them which is okay too :)
Why do I love Love Beets organic cooked beets!? Easy- they're SO easy. (lots of repetitive words in there, huh?).
I don't love cooking raw beets. I almost ALWAYS manage to get a little of the juice on me and stain my shirt and my fingers. Plus I'm extremely impatient so waiting 45 minutes for them to roast isn't super fun. Needless to say, I'm a big fan of Love Beets organic cooked beets because they're SO easy, already cooked, and easy to just juice up, blend up, or serve straight away. No fuss :)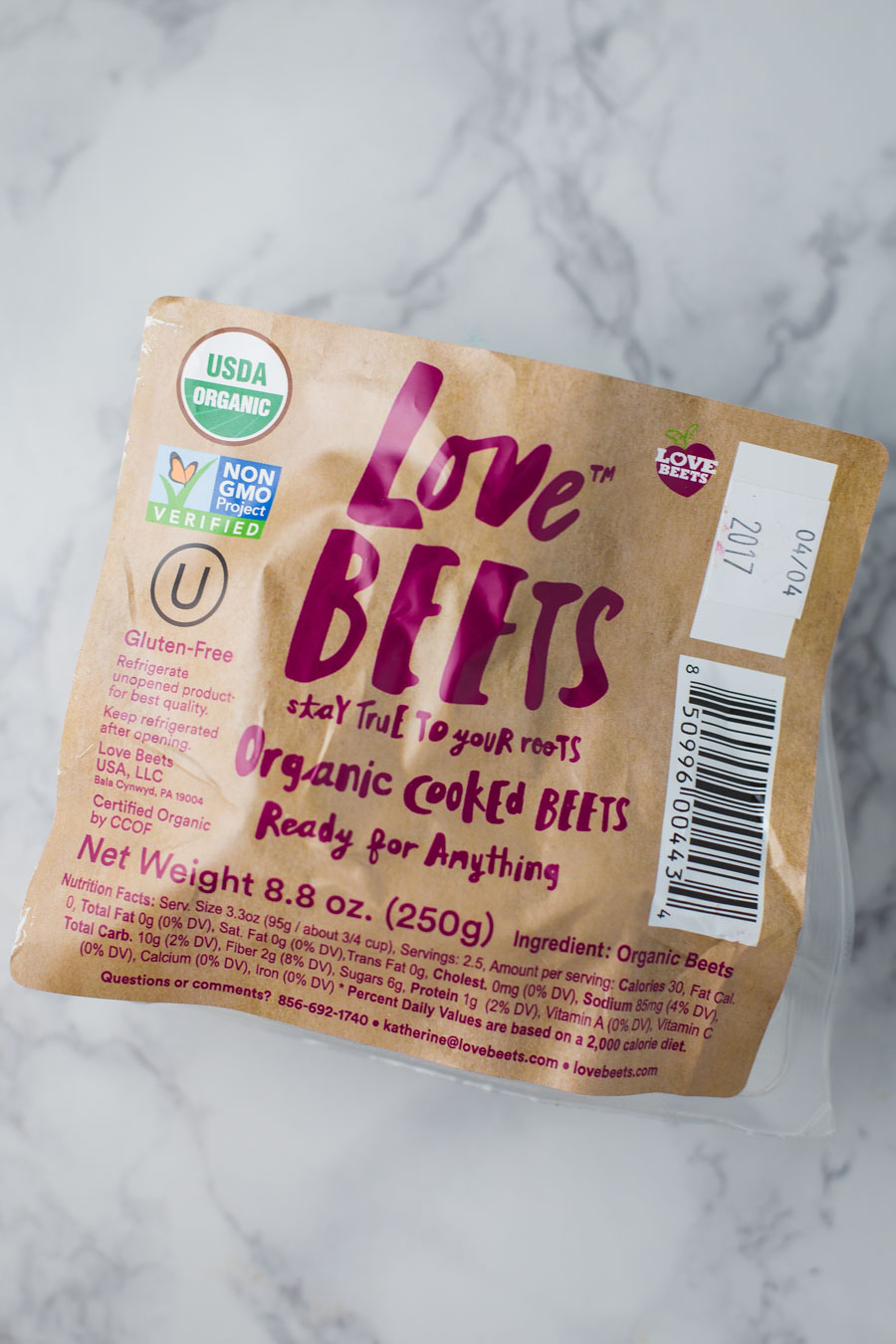 Also, uhm, they have a smoky-BBQ shredded beets that I tried a few months ago and they're SO tasty! I definitely recommend trying those!
But today we're using plain ole organic cooked beets. Since they're already cooked, all you have to do is puree them a bit in a food processor and add them to your dry ingredients before then mixing in the wet ingredients.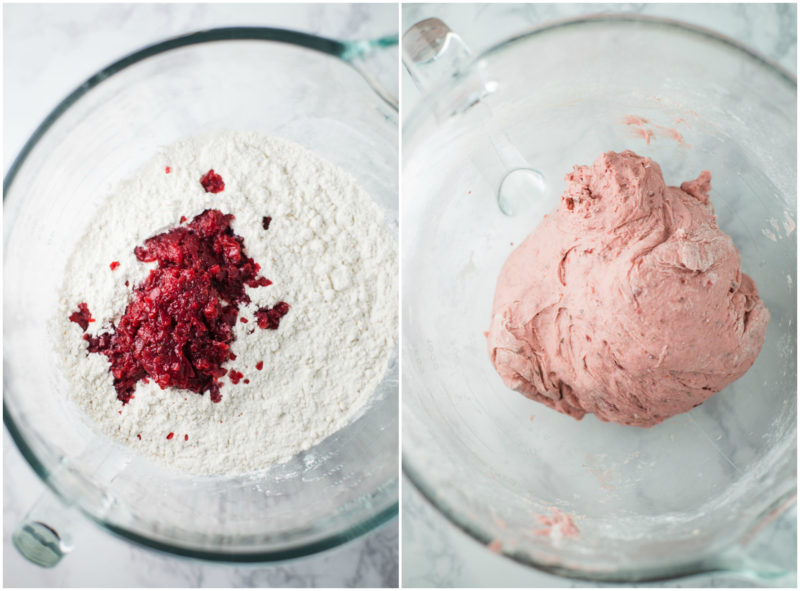 This dough does need to rise…twice. BUT I promise it's worth the wait. Promise. These dinner rolls come out SUPER tasty and hello: pink! :)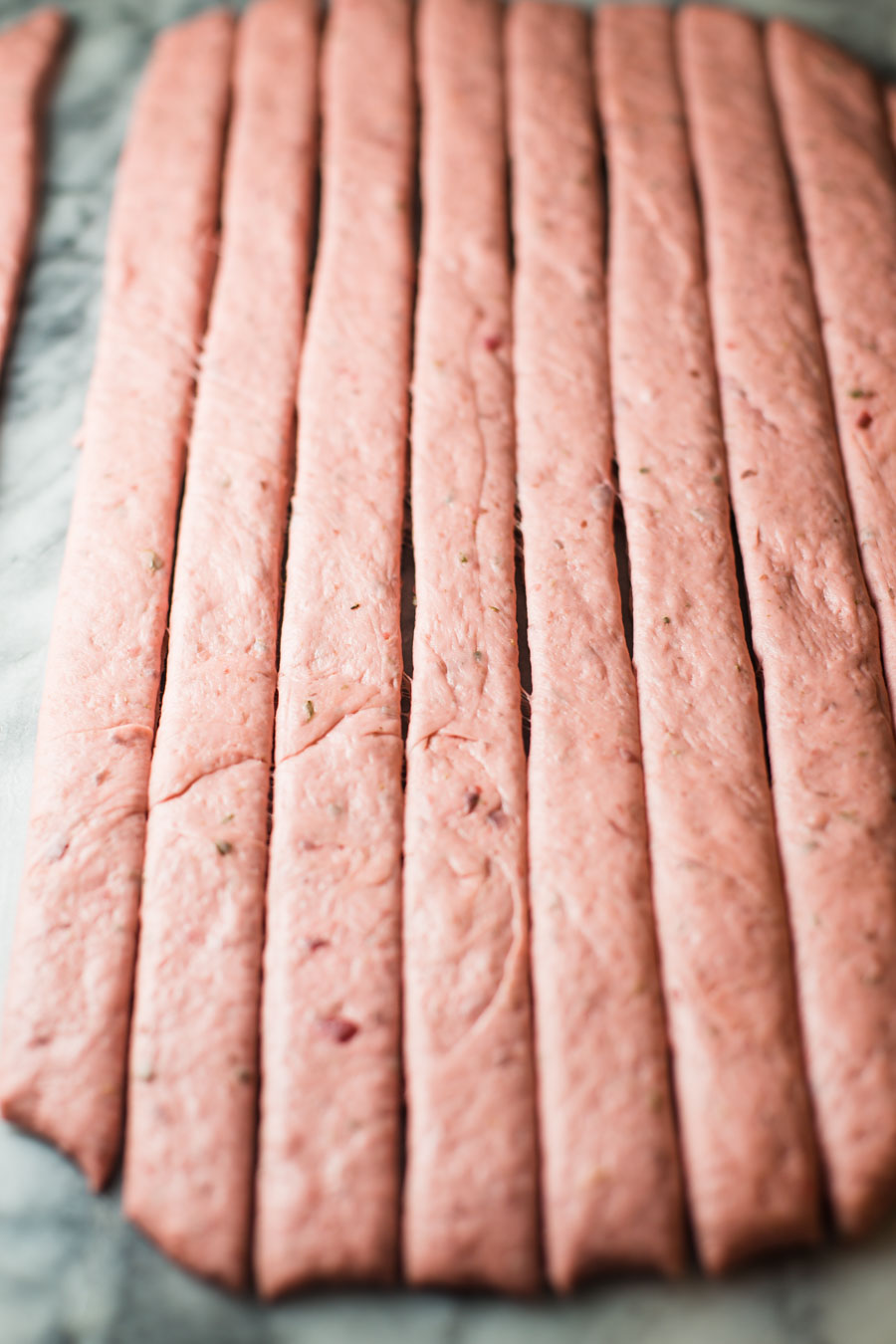 I really wanted to try out a fun new way of using beets as opposed to in a juice or salad. I'm very pleased with how these rolls turned out! Brushed with a little butter, sprinkled with a little sea salt, and they're EVEN BETTER!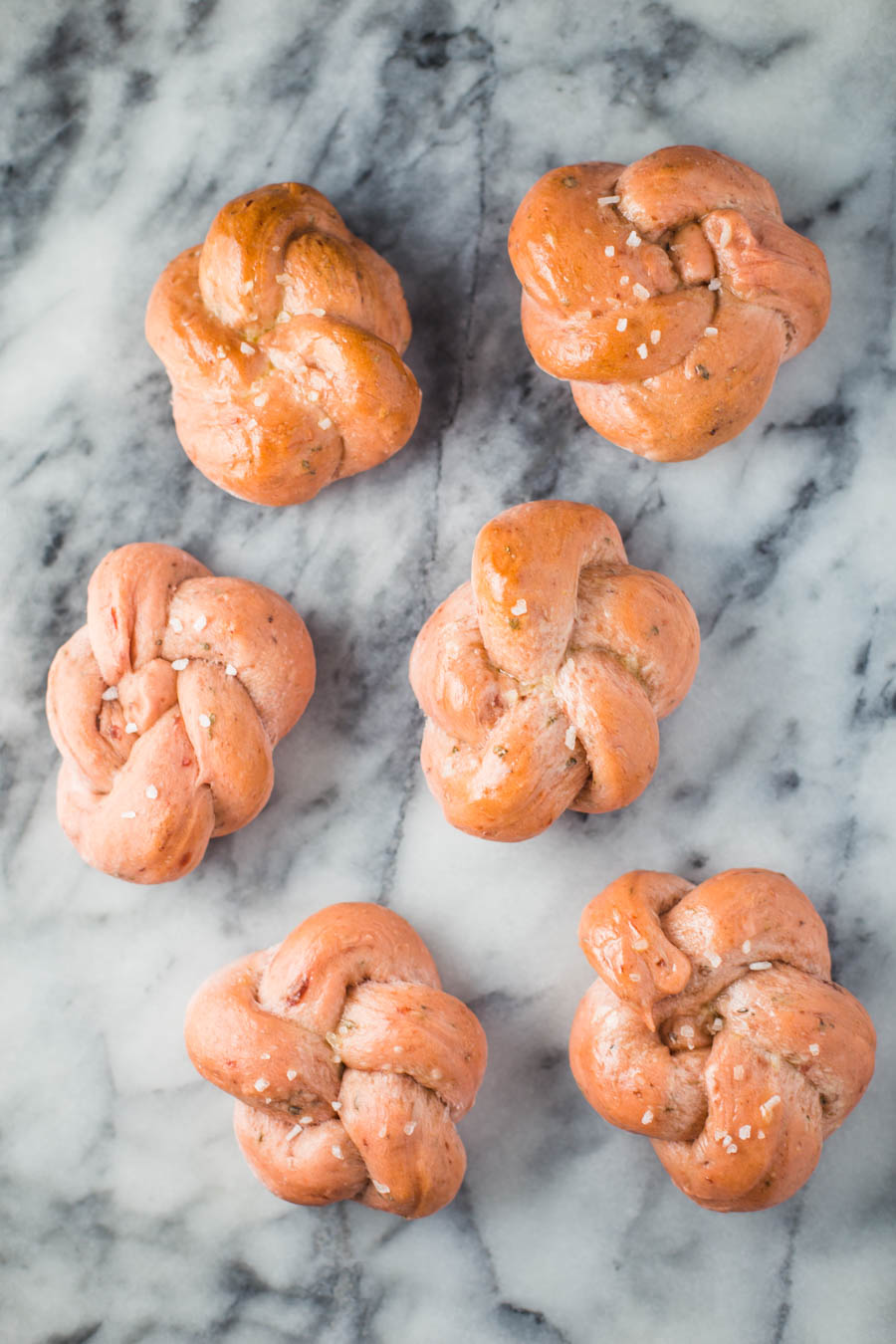 Now, you don't have to do the fancy rolling of the dough BUT it's actually SUPER easy and REALLY pretty!
I originally tried to photograph me doing this but instead I decided to just link you to the youtube video that showed ME how to roll the dough like this.
***You can watch the how to video HERE.*** Warning: the camera work is rather….shaky.
Print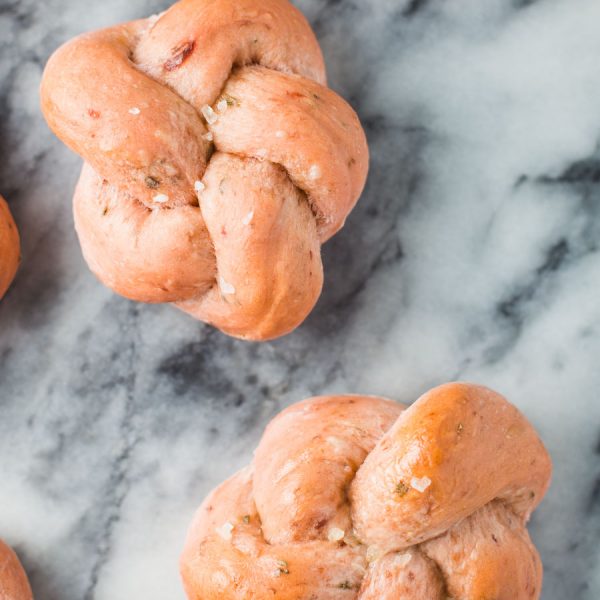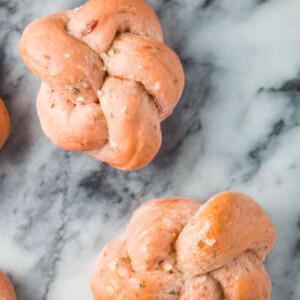 Beet & Garlic Dinner Rolls
---
Author:

Total Time:

2 hours 40 minutes
2

Love Beets Organic Cooked Beets (they come in a pack of

3

but you only need 2)

1 tablespoon

of sugar

1

packet of active dry yeast

1/2 cup

of warm (but not hot) water

1/8 cup

of unsweetened non-dairy milk (make sure you get plain and not vanilla etc!), I use almond milk

2

cloves of garlic, finely minced or crushed/ mashed

1 teaspoon

of dried oregano

1 teaspoon

of dried parsley

2 tablespoons

of olive oil

3 cups

of all purpose flour

2 teaspoons

of salt
optional for topping: sea salt and softened vegan butter
---
Instructions
Using a food processor, puree beet until their in very small chunks about the size of rice.
In a medium bowl, combine the sugar, yeast, and warm water. Stir and let sit for 10 minutes.
Into the same bowl (after the 10 minutes), stir in the almond milk, garlic, oregano, parsley, and olive oil.
In a large bowl (preferably of a stand mixer) stir together the flour and salt. Pour the beet puree into the flour mixture and stir together rubbing the beets into the flour using the back of a spoon.
Pour the wet ingredients into the bowl of the dry ingredients and beet mixture and mix until just combined (can do this by hand, with the paddle hook, or with a wooden spoon. It should begin to form a shaggy dough.
Using the dough hook (or kneading by hand) knead the dough for 7-10 minutes on medium speed. It's done once the dough begins to get smooth. If the dough is excessively sticking to the hook, sprinkle in a bit more flour 1 tablespoon at a time.
Using your hands, roll the dough into a ball, lightly grease it with olive oil, and leaving it in the same bowl, cover and let rise for one hour.
Once done, on a well greased surface (I've found this easier than a floured surface) roll the dough out into a rectangle that's 8 inches by about 15 inches long and about 1/4 inch thick. I use a gently greased rolling pin for the rolling.
You want to cut strips that are 8 inches long and 1 inch thick.
Taking 1 dough strip at a time, roll the dough gently and then make the knots according to THESE instructions.
Place the rolls 2 inches apart on a baking sheet lined with parchment paper or a silicon mat. Place in a warm spot and let rise for 1 hour.
Pre-heat your oven to 350 degrees F.
Bake for 15-18 minutes or until the tops just begin to brown.
Once done, let cool slightly.
Optional: brush the tops of the rolls with softened vegan butter and sprinkle with a bit of sea salt (SO GOOD this way!!).
ENJOY!!
Prep Time:

2 hours 25 minutes

Cook Time:

15 minutes
This post may contain affiliate links. Please read my disclosure policy.