Vegan Pumpkin Bread
If you like the Starbucks Pumpkin Loaf as much as I do then you are going LOVE this Vegan Pumpkin Bread! It all comes together with simple ingredients and in ONE big bowl. You need to make this ASAP!
Looking for more vegan bread recipes? You should try out my Vegan Banana Bread, Vegan Carrot Bread, and my Vegan Zucchini Bread!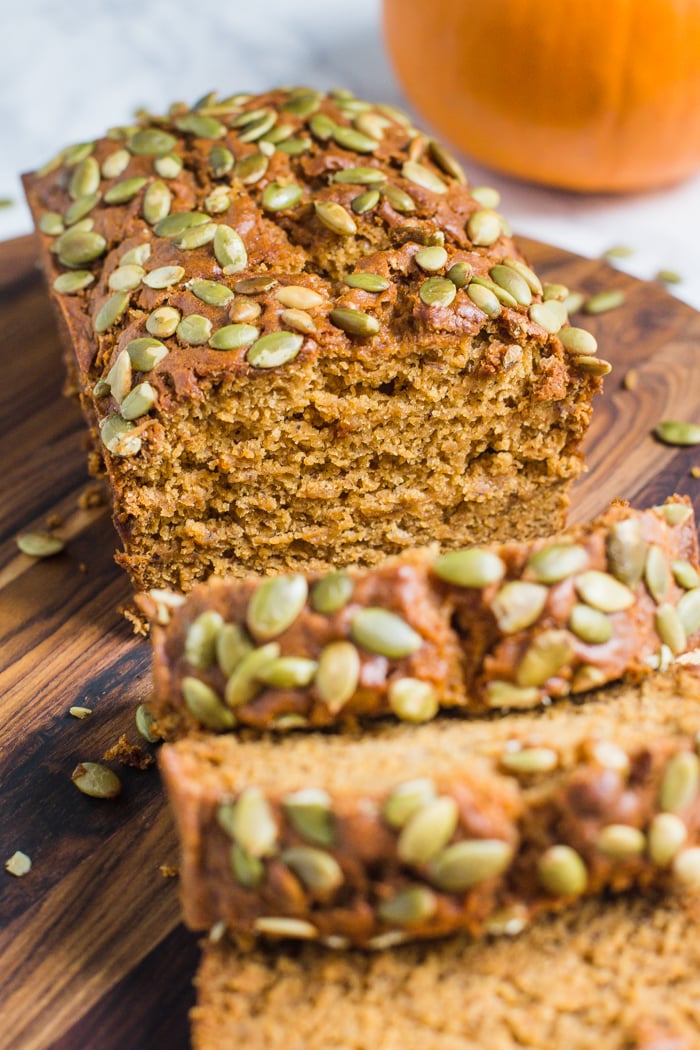 I'm back with day 4 of Pumpkin Week and we're going for another classic pumpkin recipe: Pumpkin Bread. VEGAN Pumpkin Bread to be exact. I've always been obsessed with the pumpkin loaf slices from Starbucks and this recipe is my rendition of that bread!
The bread is also pretty similar to the Butternut Squash Bread that I posted a couple of years ago. Both of these vegan breads are SO GOOD and fluffy and sweet.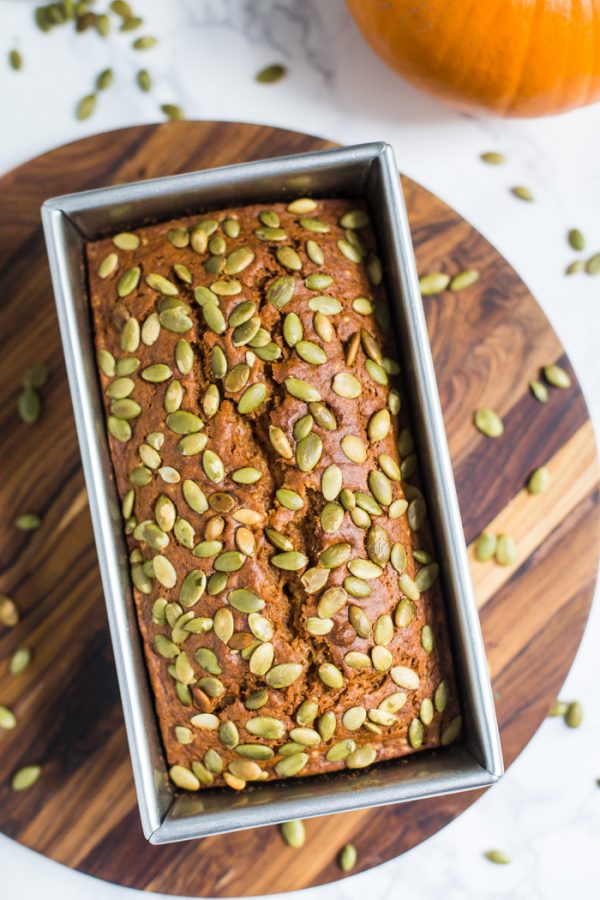 Another reason to love this vegan pumpkin bread: you can whip it up in just one bowl and a few minutes! I've loved baking this fall but have gravitated towards EASY recipes (<<the best of both worlds).
The pumpkin seeds on top are completely optional. I used toasted and salted pepitas so it added a nice bit of saltiness to the sweet bread that I very much enjoyed. AND it just makes the loaf of bread a lot prettier and I'm always happy with tasty and simultaneously pretty baked goods :)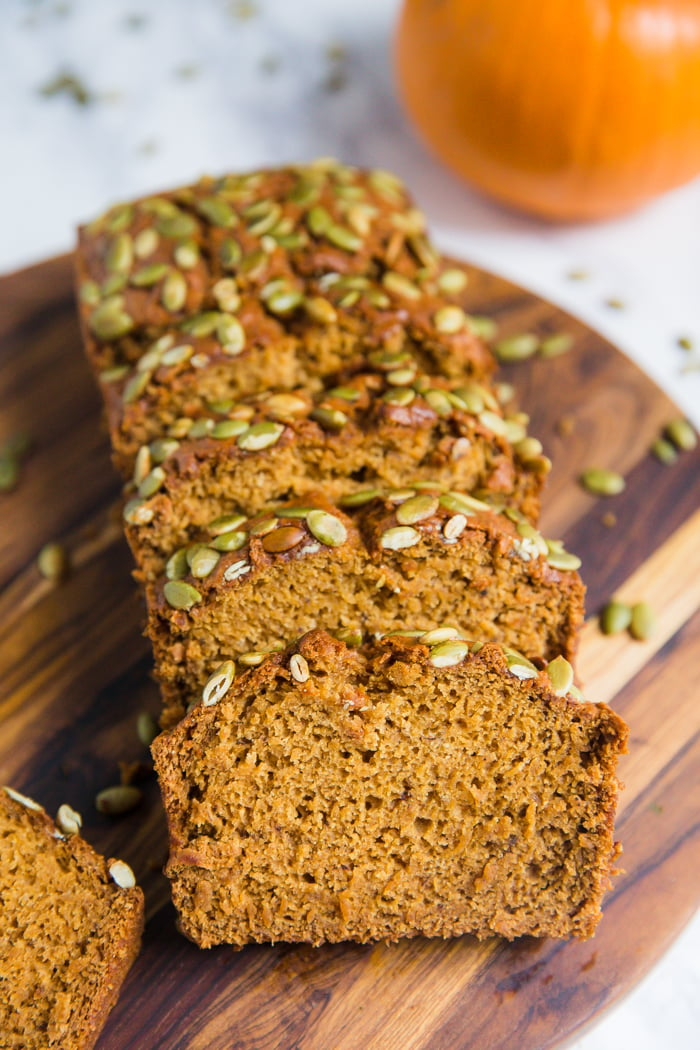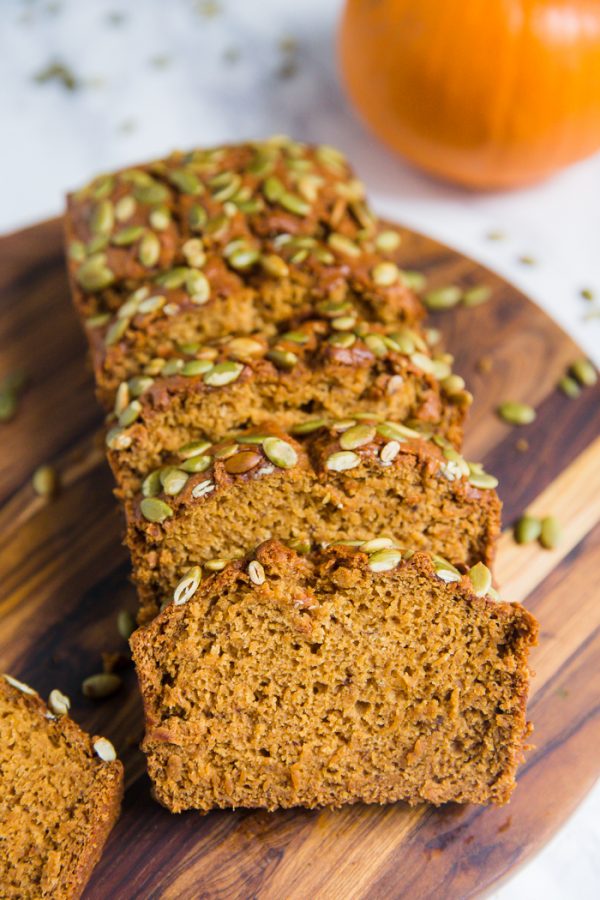 Does this weather make you just want to bake everything? Because it does for me! And I don't even like baking all that much.
But this vegan pumpkin bread. I'd bake this bread every week!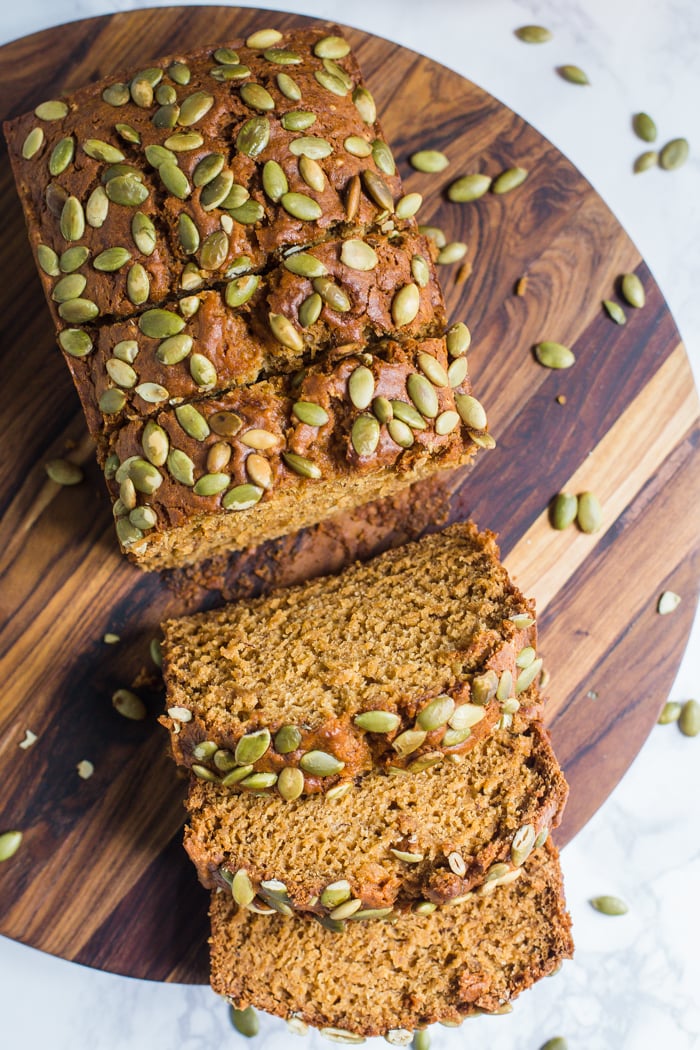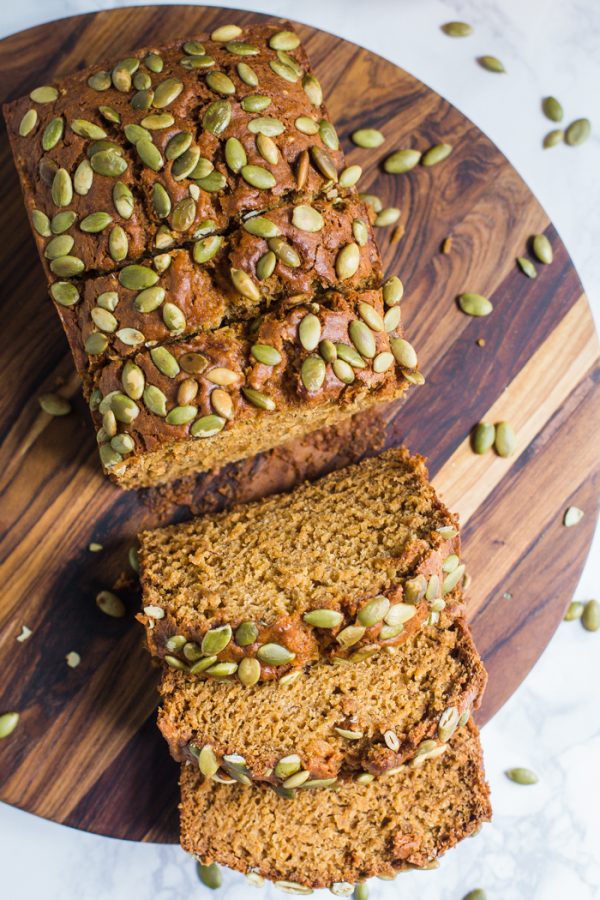 How to Make Vegan Pumpkin Bread
As I mentioned, this bread comes together in just ONE big bowl.
First we whisk together the dry ingredients before adding all of the wet ingredients right into the dry ingredients. The whole prep process takes about 5 minutes which is a HUGE plus in my lazy book.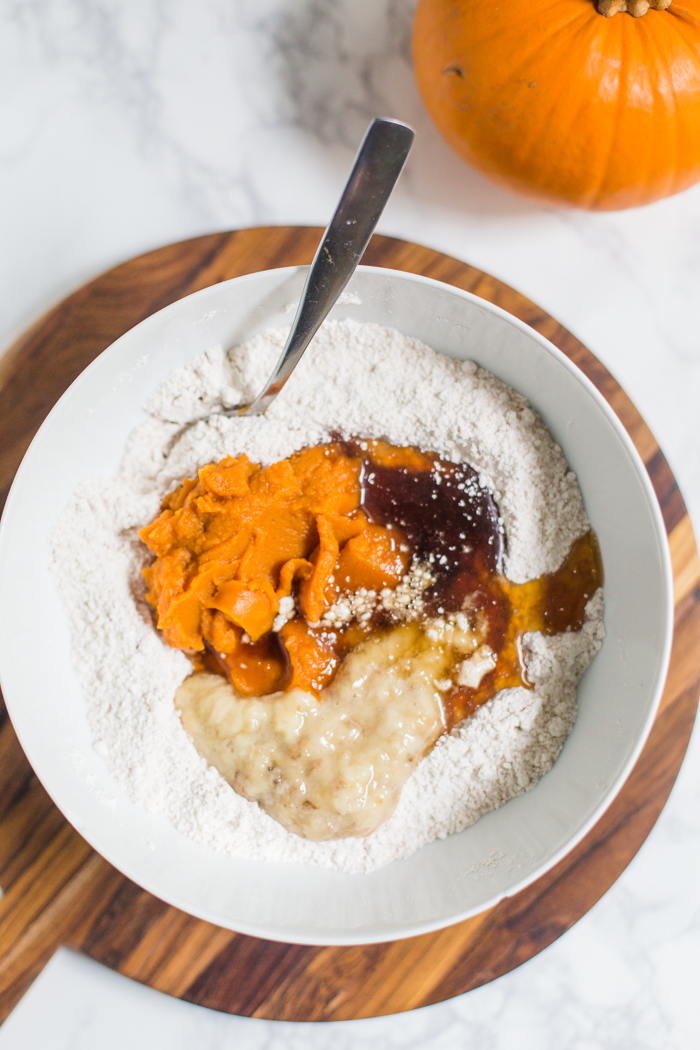 The batter then gets poured into an 8×5 inch loaf pan (THIS one from Chicago Metallics is my favorite!), topped with the roasted and salted pumpkin seeds and baked for roughly 50 minutes.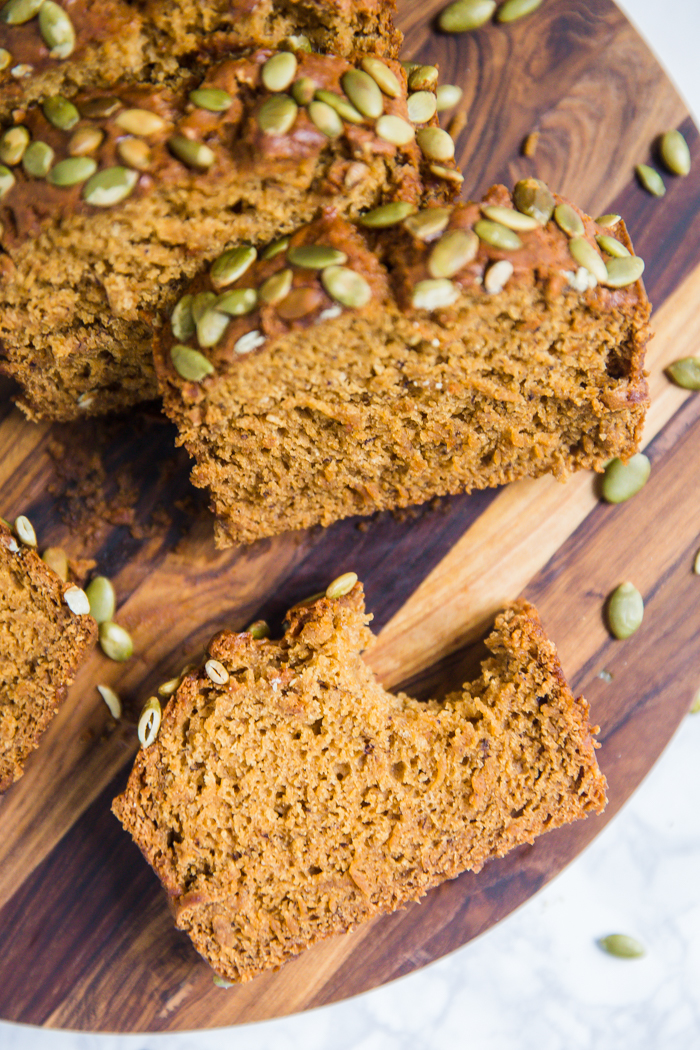 See how to make the pumpkin bread here:
Print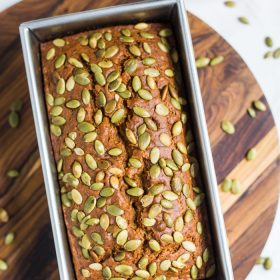 Vegan Pumpkin Bread
---
Author:
Prep Time: 10 minutes
Cook Time: 55 minutes
Total Time: 1 hour 5 minutes
Yield: 1 loaf: 10 slices 1x
Diet: Vegan
Description
This VEGAN Pumpkin Bread comes together in just one big bowl and tastes just like the Starbucks pumpkin loaf we all love so much!
---
Scale
Ingredients
1 3/4 cup of all purpose flour
1/2 cup of brown sugar, packed
1/2 cup of white sugar
1 teaspoon of baking soda
½ teaspoon of baking powder
pinch of salt
½ teaspoon of nutmeg
1 teaspoon of cinnamon
1/4 teaspoon of cardamom
1 banana, thoroughly mashed/ pureed
1/4 cup of maple syrup
3 tablespoons of water
1 cup of pumpkin puree
optional: 1/4 cup of pumpkin seeds
---
Instructions
Pre-heat oven to 350 degrees. Lightly grease an 8×5 loaf pan.*
In a large mixing bowl, whisk together the flour, sugars, baking soda & powder, salt, nutmeg, cinnamon, and cardamon.
Making a well in the center of the dry ingredients, add in the remaining ingredients (mashed banana, maple syrup, water, and pumpkin) and stir until just combined. Do your best not to over mix.
Pour the batter in the loaf pan ,top with the pumpkin seeds, and bake for 55-60 minutes.
Let cool slightly and enjoy warm!
---
Notes
tried this with a 9×6 inch loaf pan and it worked well. The bake time may be a little different so I suggest watching it the last 5 minutes to make sure it doesn't over bake at all
Category: Dessert
Method: Baking
Cuisine: American
Keywords: vegan, baking, pumpkin bread