Brown Sugar COFFEE Bacon
This post may contain affiliate links. Please read my disclosure policy.
I dreamed of this bacon for months before finally making it a reality. When I was in Portland in May I saw Coffee Bacon on a menu and haven't been able to get it off of my mind since then. I have no idea why it took me so long to make it at home but what's important is that it's here now!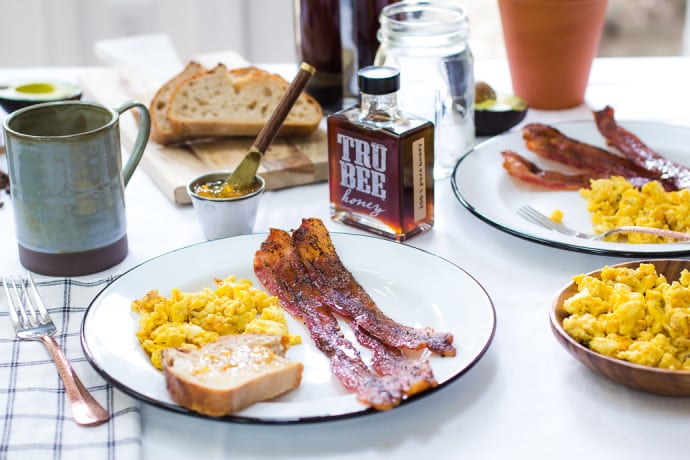 I used to always fry my bacon until I discovered how easy it is to bake it and now it's all I do. Also, I can't really explain why but somehow, for some reason, I always end up under or over cooking fried bacon. I ALWAYS screw it up. In fact, we had a rule in my house for a while that if we were going to eat bacon (which, if I'm being honest, is fairly often) then Stephen had to cook it. I think I just always wanted to fry the bacon while simultaneously cooking the eggs and making pancakes which would result in neglected bacon.
So yea, baked bacon has been my new best friend over the past year.
And then I discovered that I could combine my love for bacon with my deep deep passion for good coffee. !!!!!!!!!!!!!!!!!!!!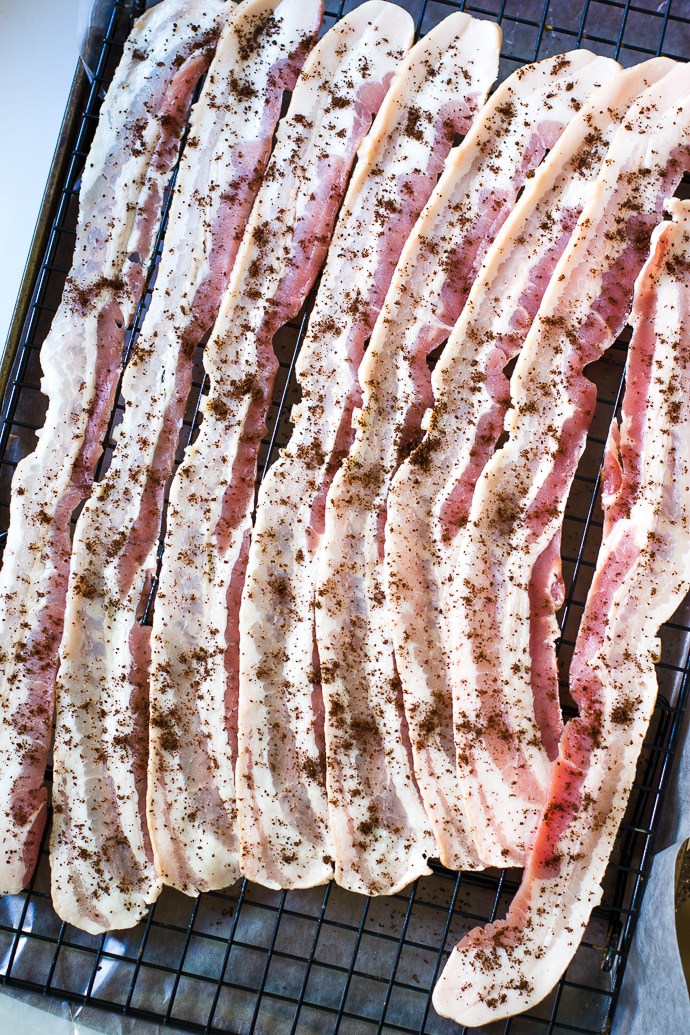 Speaking of good coffee. While I was in Chattanooga a few months back, I bought my first ever bag of Stumptown Coffee and immediately became obsessed! Like, best coffee I've ever had at home! And, not I'm out and can't figure out where to get it. Super sad face. Anyone know where to get Holler Mountain flavored Stumptown Coffee in Nashville??
This Brown Sugar Coffee Bacon is really pretty easy. (Good) Coffee is ground up and sprinkled over top of the bacon. A simple brown sugar syrup is made by stirring together brown sugar with a bit of fresh coffee.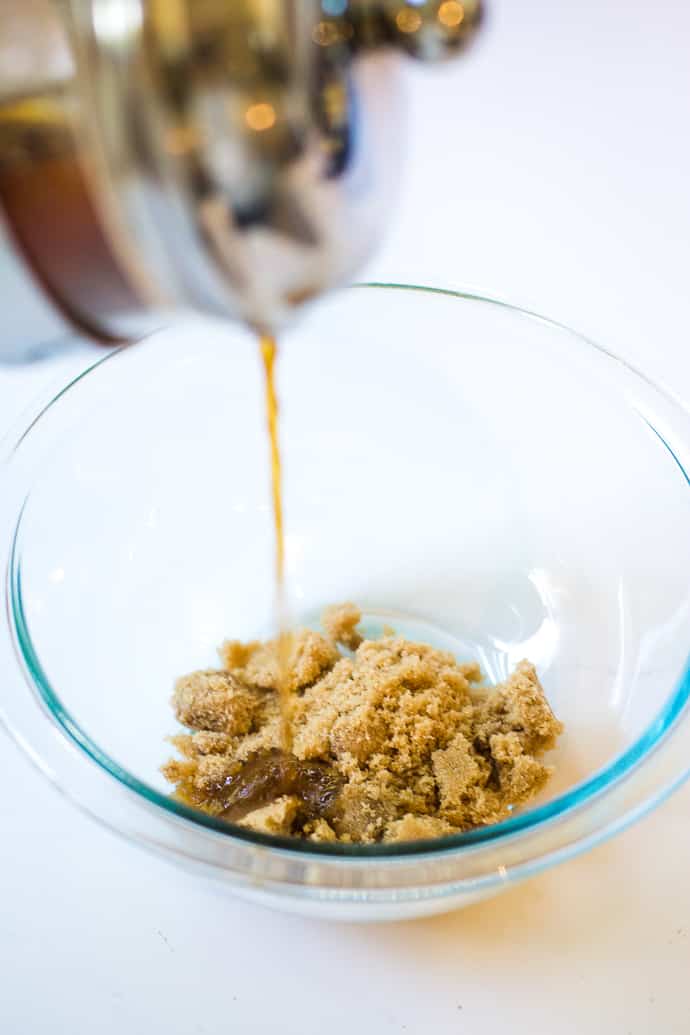 That lovely mixture is then brushed over top of the bacon on each side and then it's baked up to perfection!
It kind of looks like there's excess grease on the bacon but really that's just the brown sugar juices making the bacon extra sweet and extra YUMMY!! I could seriously eat this bacon every single day. I could but I won't.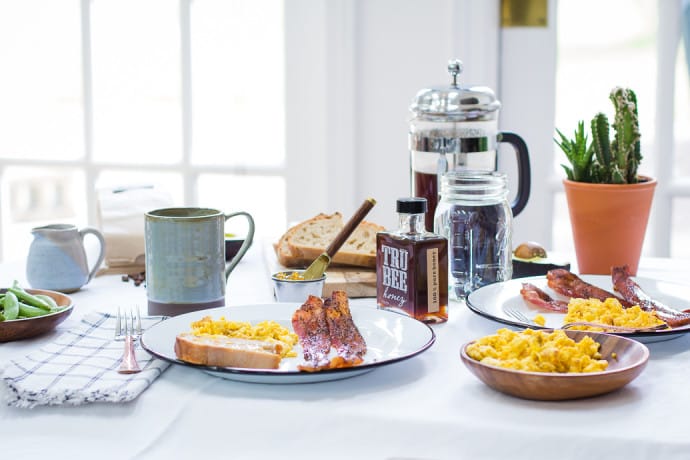 I consider this bacon the PERFECT house-guest bacon. I mean, what guest isn't going to be thrilled that you're cooking them bacon? Well, a vegetarian guest, I suppose. But besides them, any house-guest would be so excited about bacon. But COFFEE bacon! You're instantly the best host ever. I kind of want someone to come stay at my house just so that I can wow them with this bacon.
What other bacon flavors should I try!!?
Oh, and before I forget: here's your bake along song…
Print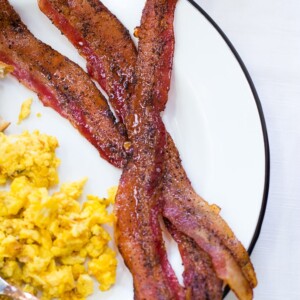 Brown Sugar COFFEE Bacon
---
Total Time:

30 minutes

Yield:

4

-6

1

x
Description
Quick and easy way to cook Brown Sugar Coffee Bacon
---
1

pound of bacon (preferably thick bacon)

1 1/2 tablespoons

of ground coffee

1/2 cup

of packed brown sugar

2 tablespoons

of freshly brewed coffee
---
Instructions
Pre-heat the oven to 375 degrees F.
Line 2 baking sheets with tin foil and then put a wire rack on top of each baking sheet. If you don't have 2, you can cook the bacon in 2 separate batches.
In a small bowl, whisk together the grewed coffee and brown sugar until full combined. Set aside.
Evenly spread out the bacon on the wire rack(s). It's okay to overlap it a little but not too much.
Sprinkle half of the ground coffee (only a 1/4 of it if you're baking in batches) on top of the bacon.
Using a cooking brush, brush the tops of the bacon with the brown sugar glaze.
Turn the bacon over and repeat the steps of sprinkling it with sugar and then brushing it with the glaze.
Bake for 15 minutes, flip the bacon, and then bake for an additional 10-15 minutes or until bacon is at your desired crispiness.
Let bacon cool on paper towels to soak up the excess grease, serve, and ENJOY!!
Prep Time:

5 minutes

Cook Time:

25 minutes
Recipe adapted slightly from HERE.
This post may contain affiliate links. Please read my disclosure policy.