Cauliflower Cilantro Rice
This post may contain affiliate links. Please read my disclosure policy.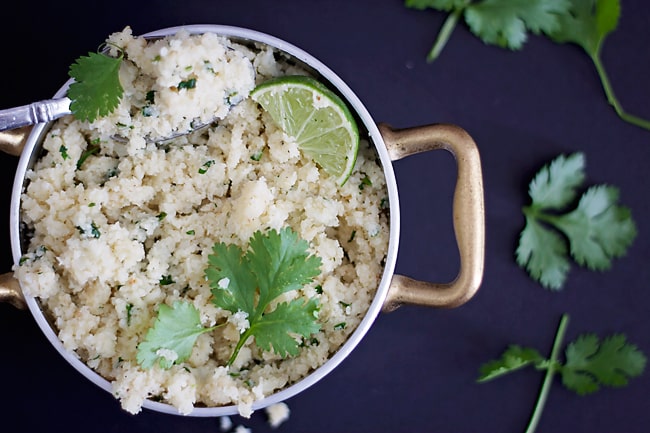 My mom's been asking me for a long time to try and replicate Chipotle's cilantro lime rice. She loves their rice so much that she's been known to go and order just a bowl of rice to go.
I can't say that I love their rice that much but I was still up for recreating it with a bit of a twist. Enter Mr. Cauliflower: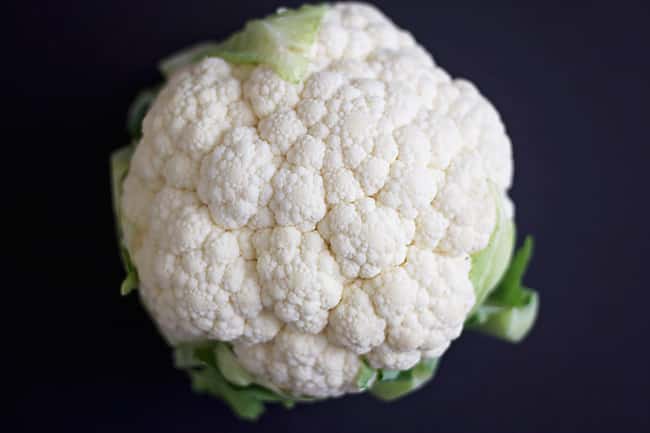 I'm also on a mission this year to use the HELL out of the herbs growing in my garden. The past several years I have let most of my herbs die or bolt or whatever happens to poor, unloved herb plants. But no more. I've found a way to use cilantro everyday this week. You will last the season, little cilantro plants! I digress.
This recipe is short, simple, and sweet. So let's do it.
Ingredients:
1 Cauliflower
Bunch of Cilantro
Juice of 1 Lime
Olive or coconut oil
Salt and Pepper

Directions:
1) Once cleaned and de-leafed, cut cauliflower in half and set one half to the side.
2) Cut the half into smaller sections that will easily fit in a food processor.
3) Process cauliflower until it has a rice like texture. Be careful not to process it too long or the cauliflower will be too fine and end up looking more like mashed potatoes. **I've never tried this but I've heard that you can get the same effect by grating the cauliflower with a hand grater.
4) Heat a few teaspoons of oil on medium in a large skillet and add processed cauliflower.
5) Continue to cook cauliflower over medium heat and stir occasionally for about 10 minutes. I know mine is done when the cauliflower on the bottom of the pan starts to brown a bit. I like to let a tiny bit get brown. Take off of heat and let cool for a minute.
6) Add a few heaping tablespoons of freshly chopped cilantro and your lime juice. Stir.
7) Salt and pepper to taste and ENJOY!
8) Repeat same steps for the other half of the cauliflower.
This makes a great side dish for any meal and I've been enjoying it several times the past few weeks!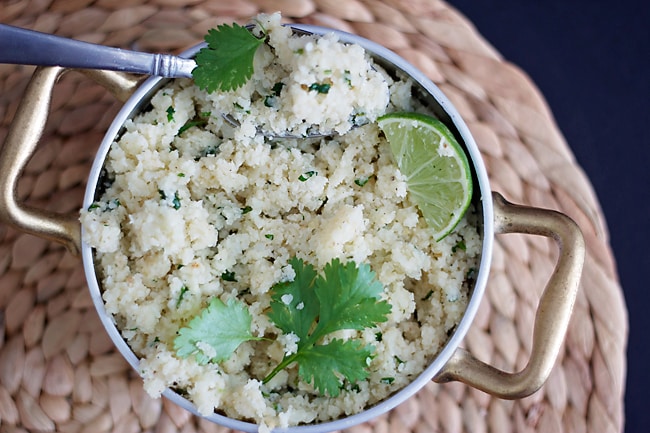 Linking up with the Grits Blog
This post may contain affiliate links. Please read my disclosure policy.