Cheesy Zucchini Risotto
This post may contain affiliate links. Please read my disclosure policy.
Risotto is one of my favorite rice dishes and this Cheesy Zucchini Risotto is easy to make and the perfect summer dinner to please everyone!
As you might be able to tell, I still have summer cooking on my mind and am not quite ready to put down the zucchini. I did, however, work on pumpkin and butternut squash recipes over the weekend so I'm getting there. I might just have a pumpkin recipe for you Tomorrow. Who knows, we'll see :D
And, uh, lets talk about this Cheesy Zucchini Risotto because it's SO GOOD OMG. You may be able to tell from this recipe and this recipe that I'm really into risottos. It's one of those dishes that people are initially turned off to making because it looks complicated. BUT IT'S SO EASY!
This might be my favorite risotto recipe of all time because rice + zucchini + CHEESE can't really steer you wrong.
Let's break this Cheesy Zucchini Risotto down a bit.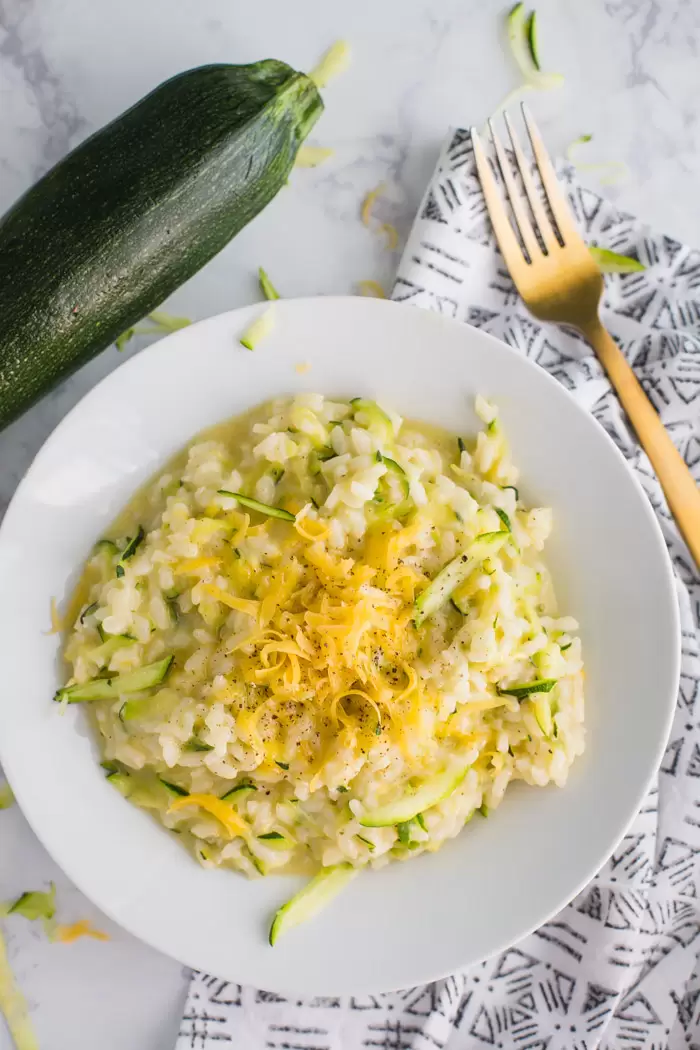 What kind of Rice is Best for Risotto?
To make risotto, you want a short grain rice. Short grain rices tend to have a higher level of starch which means that it absorbs less liquid than other rices. This results in a thicker and creamier rice dish (which is what makes risotto SO GOOD!).
I most often use arborio rice mostly because it's the easiest short grain rice to find in my area. But other short grain rices such as Carnaroli will work as well!
How to Make Risotto
One of my favorite parts about making risotto is how easy it is!
The broth is heated up in a saucepan and set aside so that it's warm and ready to go when it's time to add it to the rice.
The onion is cooked a bit before the rice and garlic are added into the skillet to toast a bit. I know it seems weird to toast rice but trust me! I sometimes cook my risotto in a bit of wine but decided to leave this recipe as simple as possible.
The warm broth is then added in one ladle full at a time. We won't add in any more broth until nearly all of the liquid in the skillet has been absorbed.
Once it's time to add in the last bit of broth, we'll also add in the zucchini so that it can cook just a bit while the rice finishes up.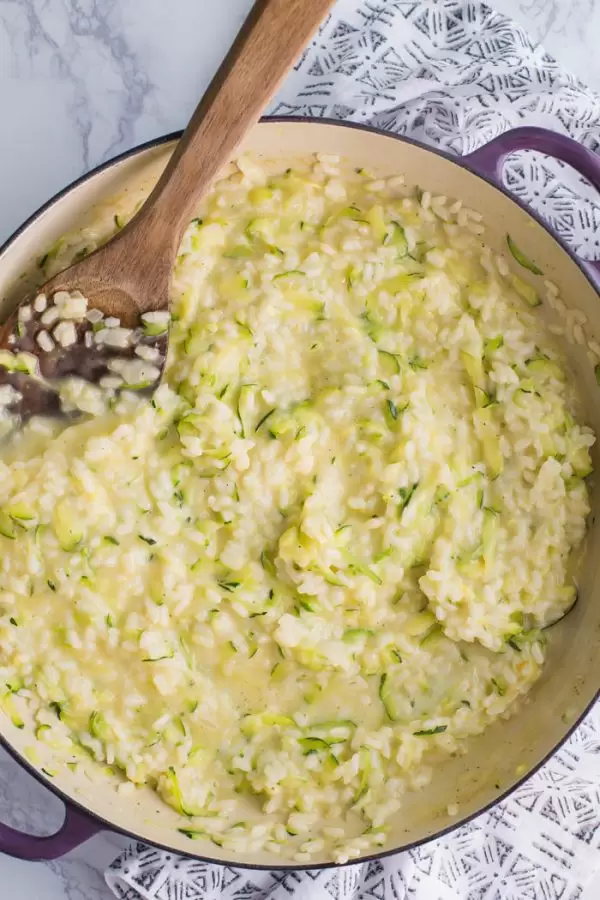 Once done and taken off of the heat, we'll finally add in the cheese and stir it all together a few times to melt the cheese.
AND that's it!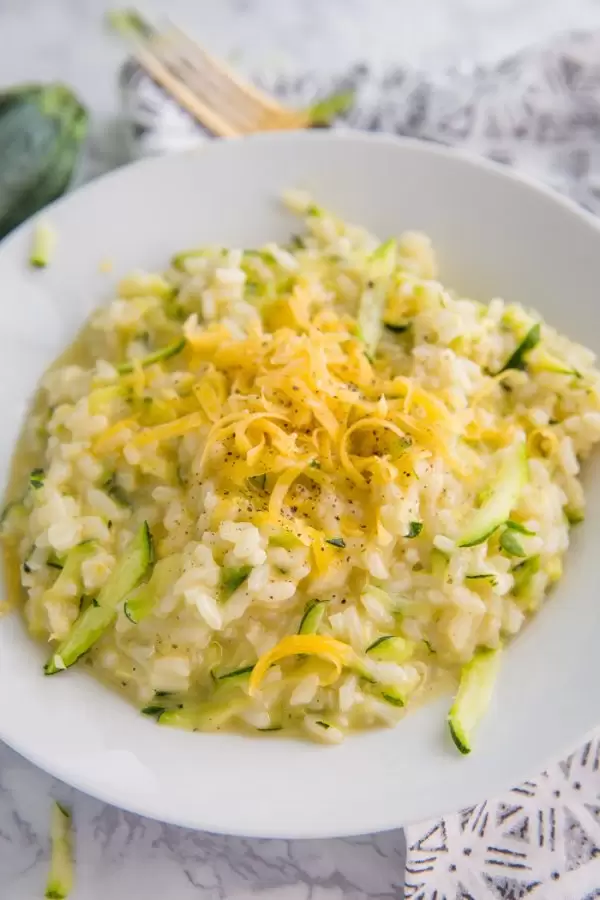 I'm super in love with how this risotto turned out and hope that you give it a try soon! Don't forget to tag me on Instagram @foodwithfeeling if you do!
Print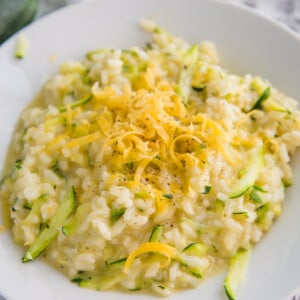 Cheesy Zucchini Risotto
---
4 cups

of veggie stock or broth

3 tablespoons

of butter

1/2

of a sweet onion, finely chopped in cups = heaping half cup

3

cloves of garlic, minced

1 1/2 cups

of arborio rice

1 teaspoon

of salt

1 teaspoon

of pepper

2 1/2 cups

of shredded zucchini, about

1

large or

2

small

1 ½ cup

of sharp cheddar cheese, shredded
---
Instructions
In a medium saucepan, heat the stock so that its just warmed through and at a VERY minimal simmer. Keep on the heat until needed.
In a large pot over medium low, heat the butter until just melted and then add in the onion and cook until it is just translucent which is about 8 minutes. Add in the garlic and cook for 1 additional minute.
Add in the risotto rice, salt, and pepper and let cook for a few minutes, stirring frequently to let the rice get to the point that it's almost frying and the rice becomes a bit translucent. (this might seem strange but go with it…it gives the rice a nice bite)
Add in JUST ONE ladle full of the stock and a pinch of salt. Stir to combine and let simmer until most of the liquid has been absorbed.
Repeat this until all of the stock has been added being careful to not add more stock until the previous ladle-full has been almost completely absorbed. At the same time that you add the last bit of stock, stir in the shredded zucchini and stir to combine.
You can cook the risotto so that most/ all of the liquid has been absorbed OR you can stop cooking the risotto so that there's a decent amount of liquid remaining. I cook most of the liquid out of mine.
Once off of the heat, stir in the cheese until it's fully incorporated.
This post may contain affiliate links. Please read my disclosure policy.