One Pot Lentil Pasta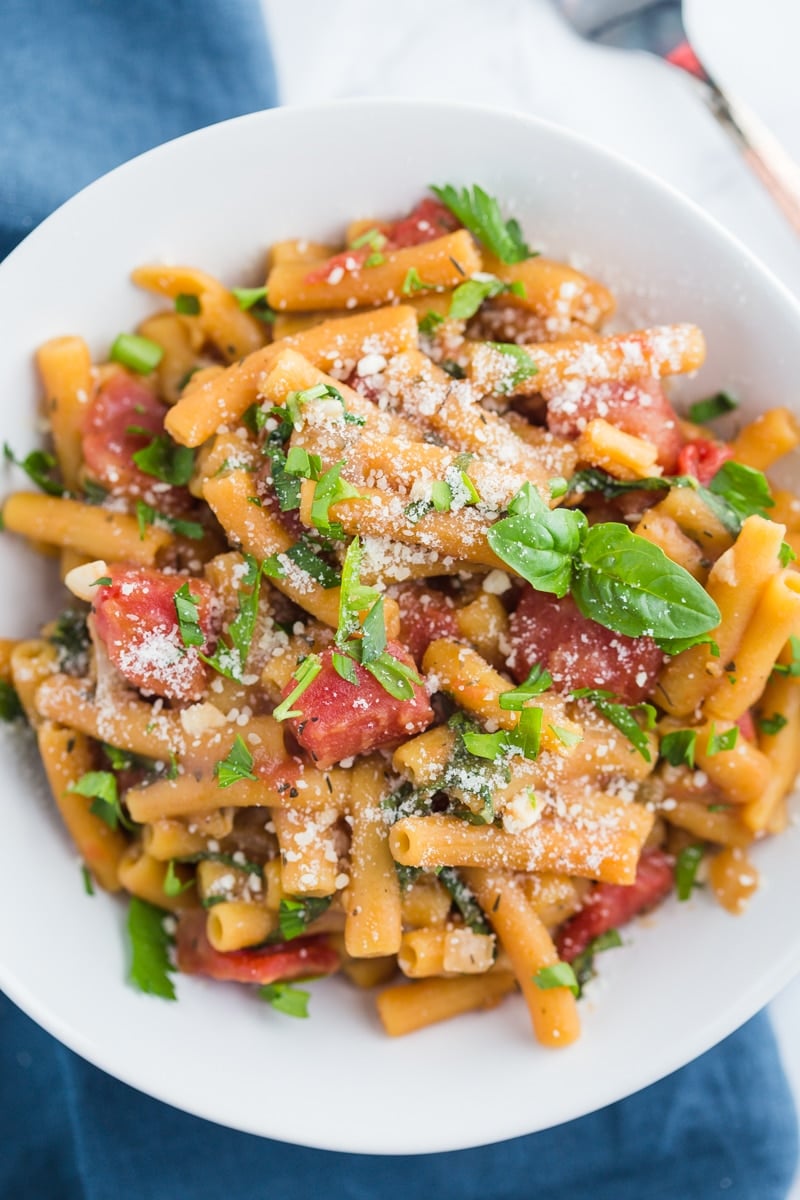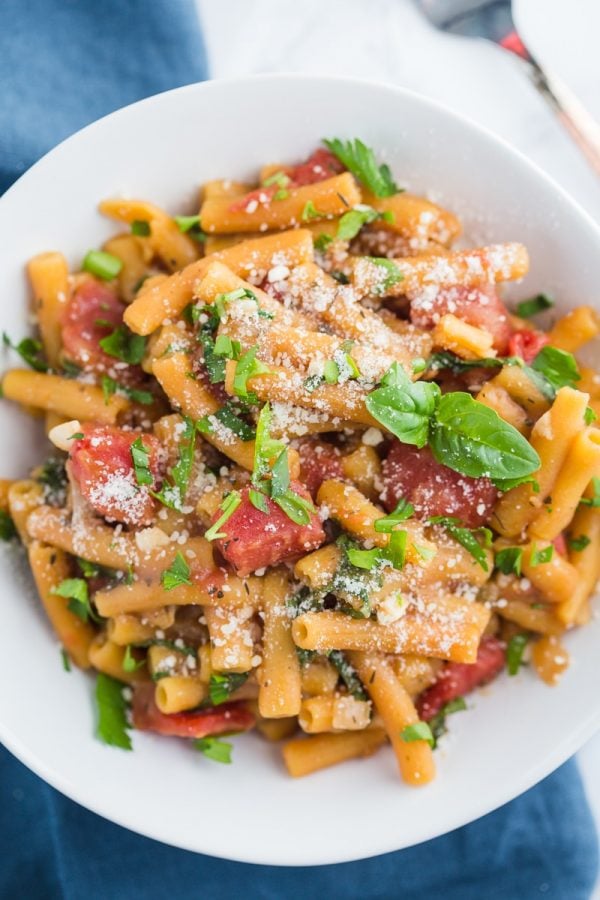 I've had several bags of lentil pasta (plus some black bean pasta which I'm not as much a fan of) sitting in my pantry for about 6 months now. I've also had this recipe in my head since last summer. I tested it a few times but then never got around to actually making it and photographing it for the blog. Figured now was as good a time as any! :) It reminds me of all things summer which makes me happier than a fat kid with birthday cake!
In other exciting news (although not much can top that early days of summer excitement) we assembled the baby crib last night! Guys, this is really happening…..in 4 months there will be a screaming, pooping mini human in our care. Still getting used to the idea of that. Buying/ receiving baby clothes has turned out to be way more fun than originally expected! Finally started working on the baby registry and man….there's SO much. Do we really need a baby wipes warmer? Seems unnecessary and yet, I wouldn't want a wet, cold wipe on my butt 10 times a day (how many times are diapers changed in one day!??!). Any and all baby registry advice is welcomed :)
Ok, back to the lentil pasta.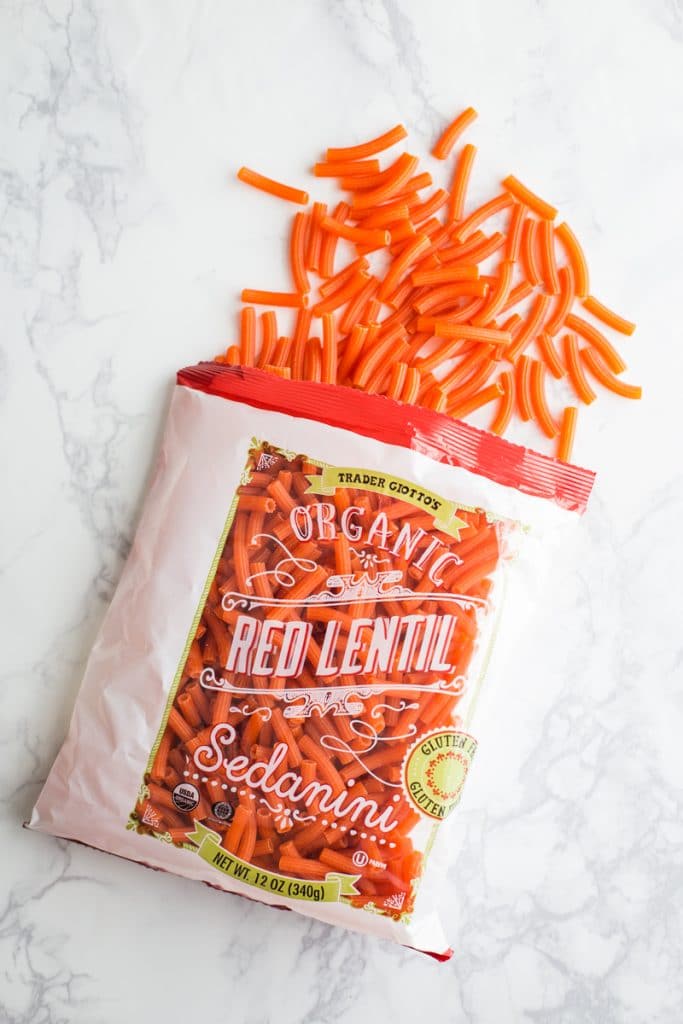 I've found several great lentil pastas (and other gluten free pastas) at Trader Joe's but this red lentil pasta is definitely my favorite. It doesn't get really mushy (unless you highly over cook it) and has a really nice bite to it that's as similar to regular pasta as I've ever come across. It's also great for one pot pasta dishes since lentil noodles are perfect for really absorbing the extra liquid in the pan.
The biggest trick is simply to not let the noodles overcook. Once you master that, the dish is basically done (yay one pot dishes!!).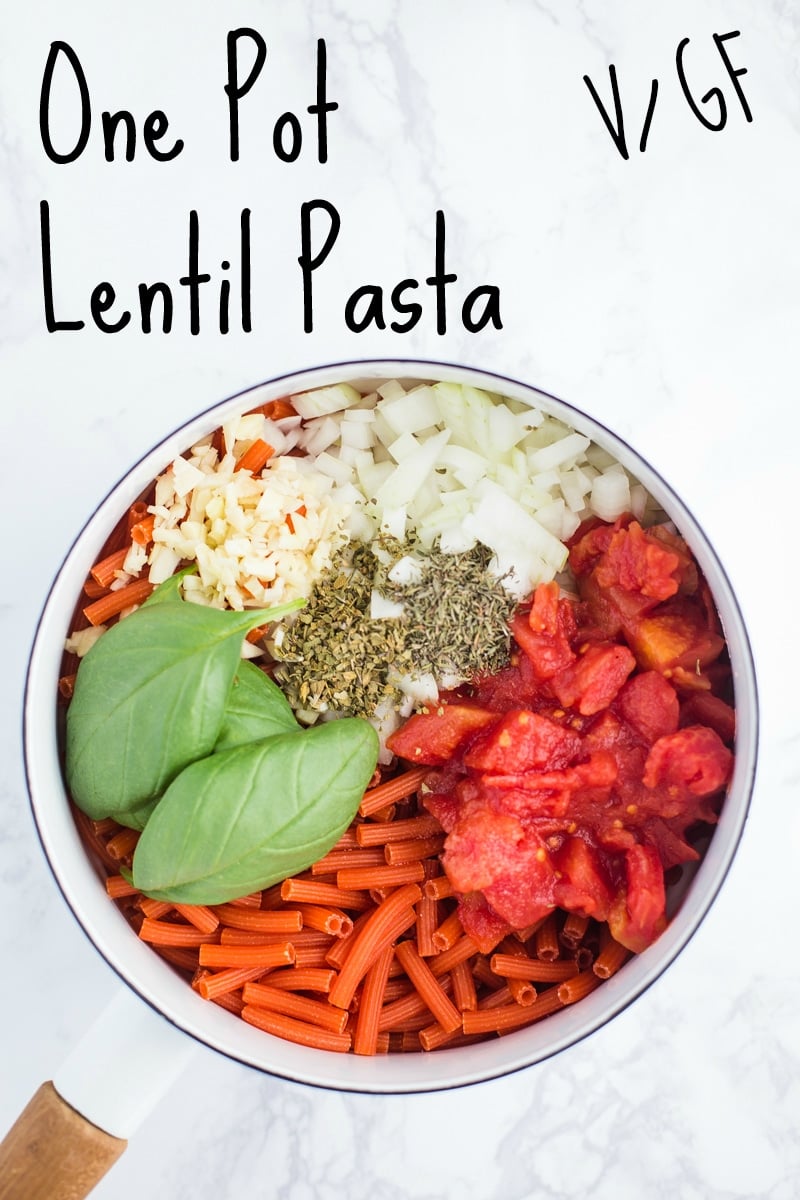 I've never tried this particular dish with other kinds of noodles so I can't say for sure how well it would work. If you try something similar (or have similar recipes to share) PLEASE let me know. I'm ALL about recipes where everything gets sloppily dumped into one pot :)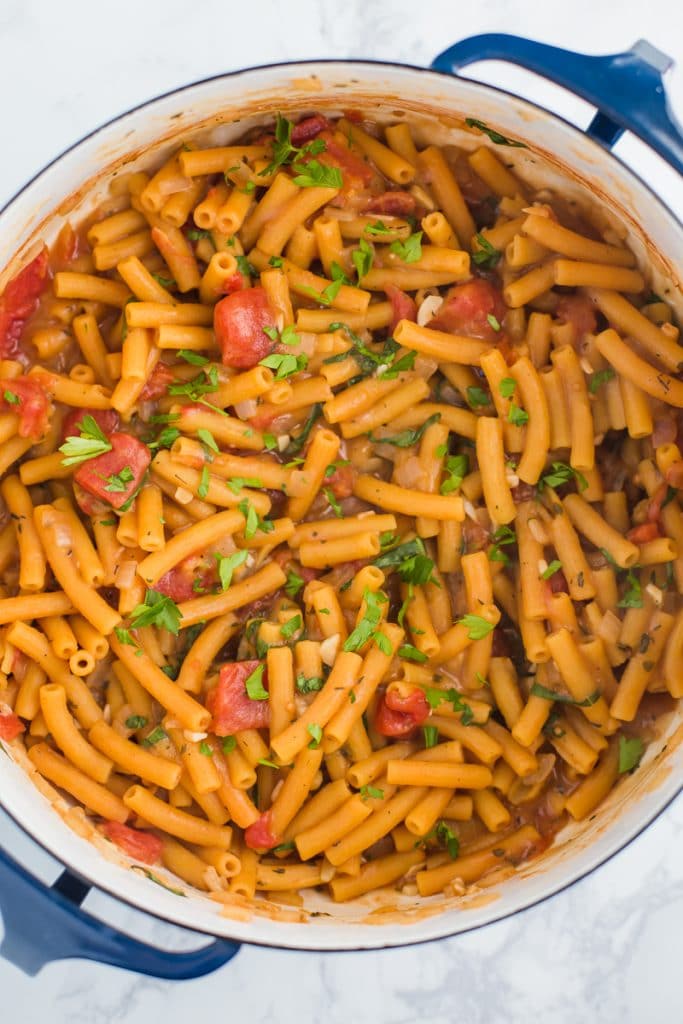 Coming soon on the blog, SEVERAL ways to make homemade pasta :) I got a pasta roller for xmas and a pasta rack for my bday and I'm slowly becoming a pasta making MACHINE. I want to perfect my recipes before I share them with you. But, be keeping an eye out for those :)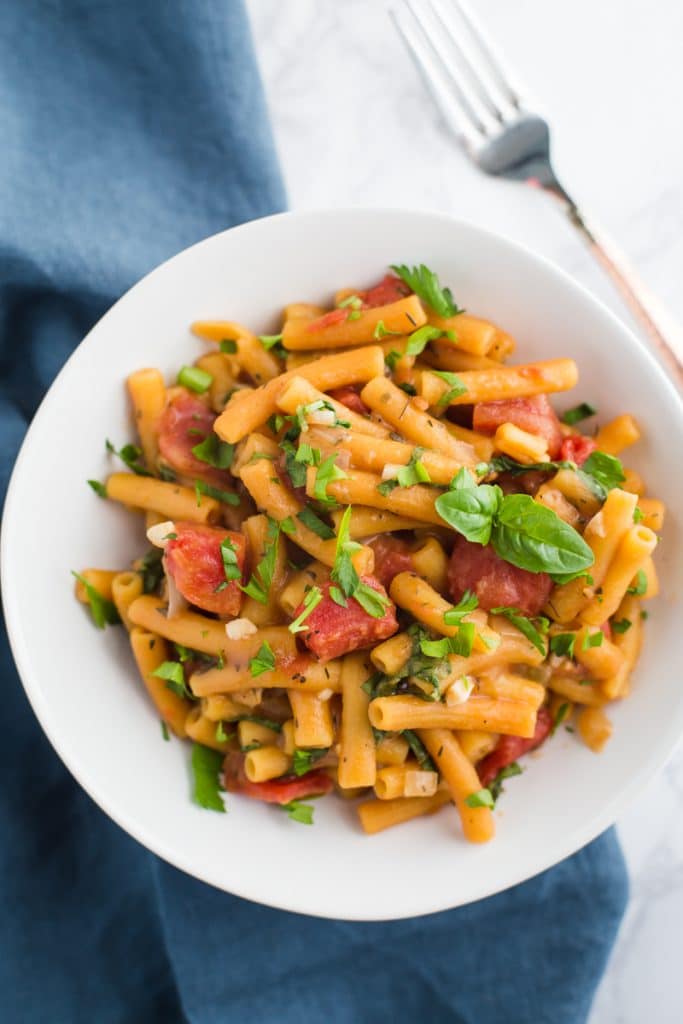 I hope that there is LOTS of pasta on your weekly menu :)
See How to Make the One Pot Lentil Pasta:
Print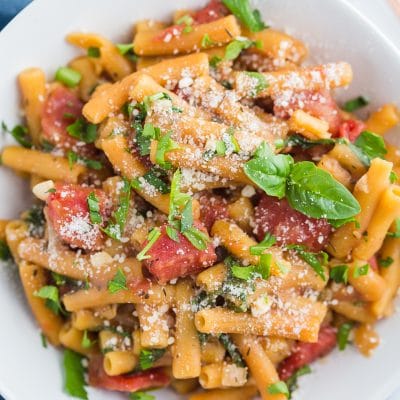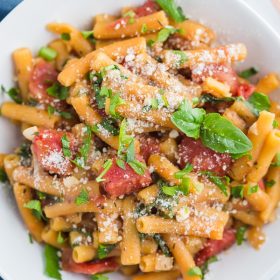 One Pot Lentil Pasta
---
Author:
Prep Time: 5 minutes
Cook Time: 15 minutes
Total Time: 20 minutes
Yield: 4 servings 1x
Scale
Ingredients
12 ounces of lentil pasta
3 1/2 cups of veggies broth (can also use water but the broth provides extra flavor that I recommend!)
5 cloves of garlic, minced or roughly chopped depending on preference
1 can of diced tomatoes
1/2 of a medium sized onion, I used sweet onion but really any kind will do
1 teaspoon of dried thyme
1 teaspoon of dried oregano
handful of fresh basil (could also use fresh parsley or both), chopped
salt and pepper to taste
---
Instructions
In a large pot, combine all ingredients MINUS this basil. Stir to combine thoroughly.
Once boiling, reduce heat and let simmer for 13-15 minutes. Dish is done when the pasta is tender to the bite. Watch the pasta carefully because you don't want to over cook it! Once done, take off of heat and let sit for a couple minutes to let the pasta absorb any remaining liquid.
Stir in the chopped herbs and season with salt and pepper if needed.
ENJOY!
---