Mushroom and Pea Risotto
This post may contain affiliate links. Please read my disclosure policy.
Have I mentioned my love for risotto?? This Mushroom and Pea Risotto is VEGAN, super easy to make, and very filling. Downside: it's not the prettiest dish we've ever made, but that's okay :)
Hiiiiiii. How was your weekend? I hope it was long enough (but are they ever?). In case you're curious, I'm mostly recovered from my 7 wasp stings after a ridiculous amount of Benadryl and lots of sleep (because what else can you do while on Benadryl). We also managed to find the nest which is fixed in a low hanging branch, in a very inconvenient spot. Hopefully we'll manage to remove it this week. Wish us luck.
In other news, I've been eating a rather ridiculous amount of fruit lately. Everything is ripe right now and I just can't say no to a $4 watermelon, a $1.50 cantaloupe, $1 berries, or $.50 mangos (especially the mangos!!). I just can't do it. Also, I've been a bit lazy in the kitchen lately and half of my meals have consisted solely of fresh fruit that requires no effort besides being cut in half and eaten. The chickens have also thoroughly been enjoying all of the fruit and I even caught the kitten nibbling on some watermelon that I left out on the counter. Have I ever mentioned how much I love summer??
Lets just talk about rice for a second. Ever since buying an InstantPot (that cooks rice in EIGHT MINUTES!), I have been consuming LARGE amounts of rice and other grains and my body has been very happy about it. That's kind of irrelevant to this situation because we're not cooking risotto in a pressure cooker. BUT, rice!! I'm in love with it.
Besides it's massive yumminess level, I love risotto for how easy it is. Asides from heating the broth up in a separate saucepan, everything is cooked in one big skillet. First the onion and mushrooms, then the rice, finally the peas.
I also feel like I'm being true to my Italian heritage when I cook meals like this. Give me all the pasta and risotto and gnocchi. ALL of it!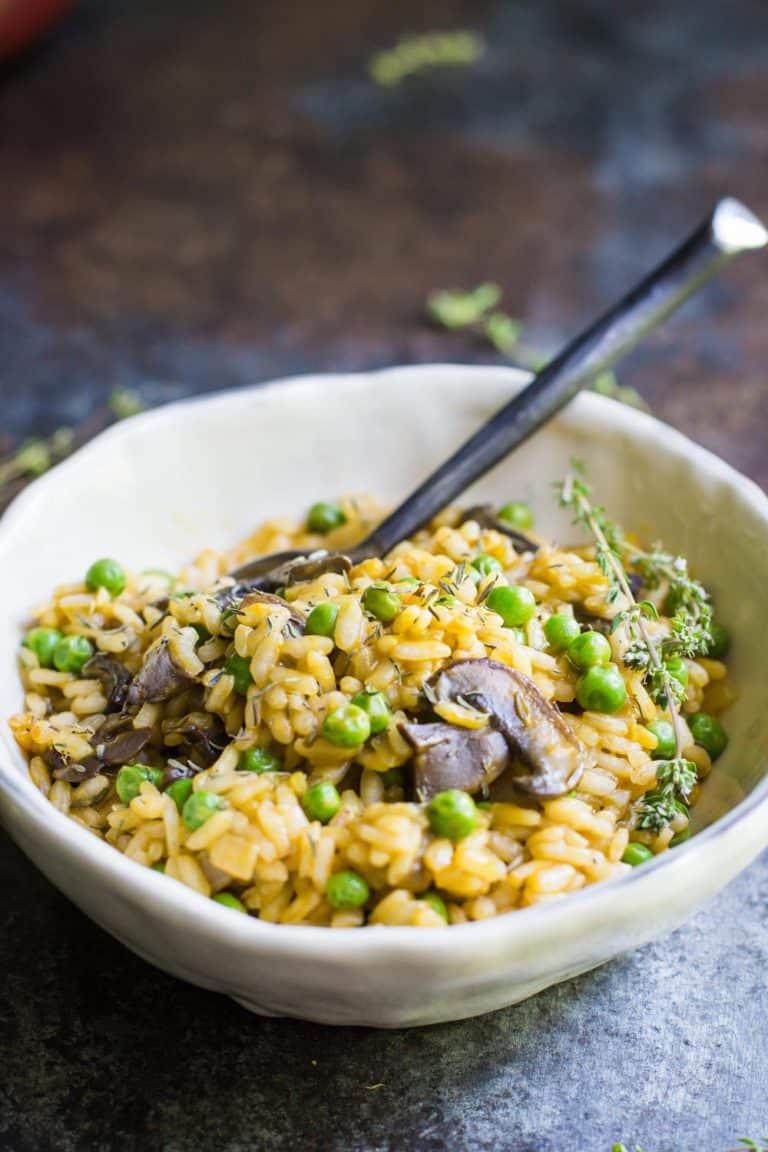 I hope you make it through your Monday okay, stay cool, and eat lots of fruit and risotto :D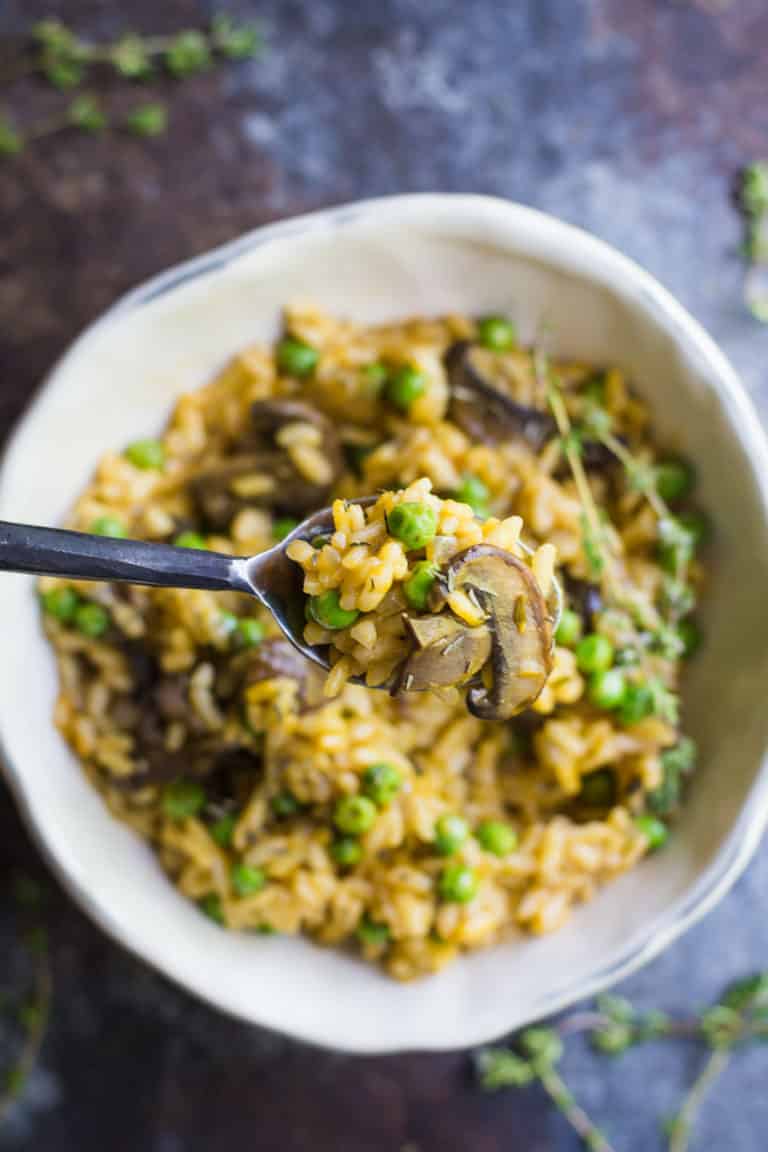 Print
Mushroom and Pea Risotto
---
Author:

Prep Time:

5 minutes

Cook Time:

25 minutes

Total Time:

30 minutes

Yield:

4

servings

1

x
4 cups

of veggie stock or broth

2 tablespoons

of vegan butter

1/2

of a medium sweet onion, finely chopped

1 1/2 cups

of baby bella mushrooms, thinly sliced

5

sprigs of fresh thyme, de-stemmed

2

cloves of garlic, finely minced

1/2 teaspoon

of salt

1/2 teaspoon

of freshly ground black pepper

1 1/2 cups

of risotto rice

2/3 cup

of white wine
heaping cup of peas (can be frozen), I used fresh english peas

1/4 cup

of almond milk
extra s&p to taste
---
Instructions
In a medium saucepan, heat the stock so that its just warmed through and at a VERY minimal simmer. Keep on the heat until needed.
In a large pot, heat the butter until just melted and then add in the onion, mushrooms, and thyme and cook until the onion is just translucent which is about 8 minutes. At 5 minutes, add in garlic, salt, and pepper
Turning up the heat a bit, add in the risotto rice and let cook for a few minutes, stirring frequently to let the rice get to the point that it's almost frying and the rice becomes a bit translucent. (this might seem strange but go with it…it gives the rice a nice bite)
Add in the wine and stir to combine. Turn the heat back down to a gentle simmer.
Add in JUST ONE ladle full of the stock and a pinch of salt. Stir to combine and let simmer until most of the liquid has been absorbed. Repeat this until all of the stock has been added being careful to not add more stock until the previous ladle-full has been almost completely absorbed.
When you add in your last ladle full of stock, stir in the peas and the almond milk. You can add a bit more or less if desired. The milk simple gives it a bit more creaminess.
You can cook the risotto so that most/ all of the liquid has been absorbed OR you can stop cooking the risotto so that there's a decent amount of liquid remaining. I cook most of the liquid out of mine.
Once done, take off of the heat, let cool just slightly, and ENJOY!!
Category:

Dinner

Cuisine:

Italian
This post may contain affiliate links. Please read my disclosure policy.