Crispy Smashed Red Potatoes
This post may contain affiliate links. Please read my disclosure policy.
I got well over 8 hours of sleep last night and yet I'm having a morning that feels like I drank my weight in alcohol last night (which, I didn't). I'm SO tired! Needless to say, lots of coffee is being consumed today.
In good news (I think?) I finally got around to filming a vlog! We'll see how long it takes me to get it edited but my hope is to have it up by Wednesday. I had a lot going on over the weekend so I figured that it was a good chance to finally dive into the world of vlogging. It's ridiculous how nervous I was. In the car on our way out Saturday night, I wanted to record a quick clip of my explaining where we were going. Bu,t I was so nervous that I had to re-film it a few times to get it right. <<<<which is ridiculous considering the only person actually in the car with me was Stephen. Oh well. I suppose I'll get used to chatting on camera the more I do it, right?
This Crispy Smashed Red Potatoes recipe is one that I've had in my back pocket for a bit. I first made these potatoes a good few months ago and crave them on a regular basis. SO yummy, super easy to throw together, and very filling. Plus, crispy potatoes….enough said, right??
To achieve optimally crispy potatoes, we're first going to boil them until they begin to soften. THEN the potatoes are smashed (the fun part!) and roasted for a bit to crisp em up! It might initially seem like a lot of work to boil potatoes and still have to bake them. But it's not, I promise. It just takes a bit of time.
Mine are topped with a touch of salt and pepper (duh), some sriracha mayo (obsessed), and a handful of cilantro. <<<I suggest that you do all of those things for maximum deliciousnesssss.
Print
Crispy Smashed Red Potatoes
---
Author:

Total Time:

55 minutes
1 1/2

pounds of small red potatoes
cooking spray
sea salt
pepper to taste
garlic or onion powder for sprinkling
herbs for topping (I used cilantro but any fresh herb would be lovely!)
---
Instructions
To boil your potatoes, add them to a large pot and cover them with water so that they're fully submerged. Heat the water on high and when it begins to boil, turn the heat down and simmer for 25 minutes or until the potatoes are tender enough to be pierced with a fork rather easily. Remove from heat.
Drain the potatoes and set aside to cool slightly.
While the potatoes cool, pre-heat the oven to 450 degrees F. Lightly grease a large baking tray.
Once the oven is nearly pre-heated, prepare the potatoes by lining them up on your baking tray and smashing them with a large spoon or a cup. I used a cup placed in the center of the potato and pressed down until the potato cracked and became rather flat.
Gently spray the top of the potatoes with cooking spray and sprinkle with salt and pepper and garlic powder (optional). Bake for 25 minutes or until the potatoes start to brown around the edges.
Take out of the oven and let cool slightly.
The sriracha mayo is simply 2 parts vegan mayo and 1 part sriracha (or less/ more depending on how spicy you want it).
Top with sauce (if using) and herbs and ENJOY!!
Prep Time:

5 minutes

Cook Time:

50 minutes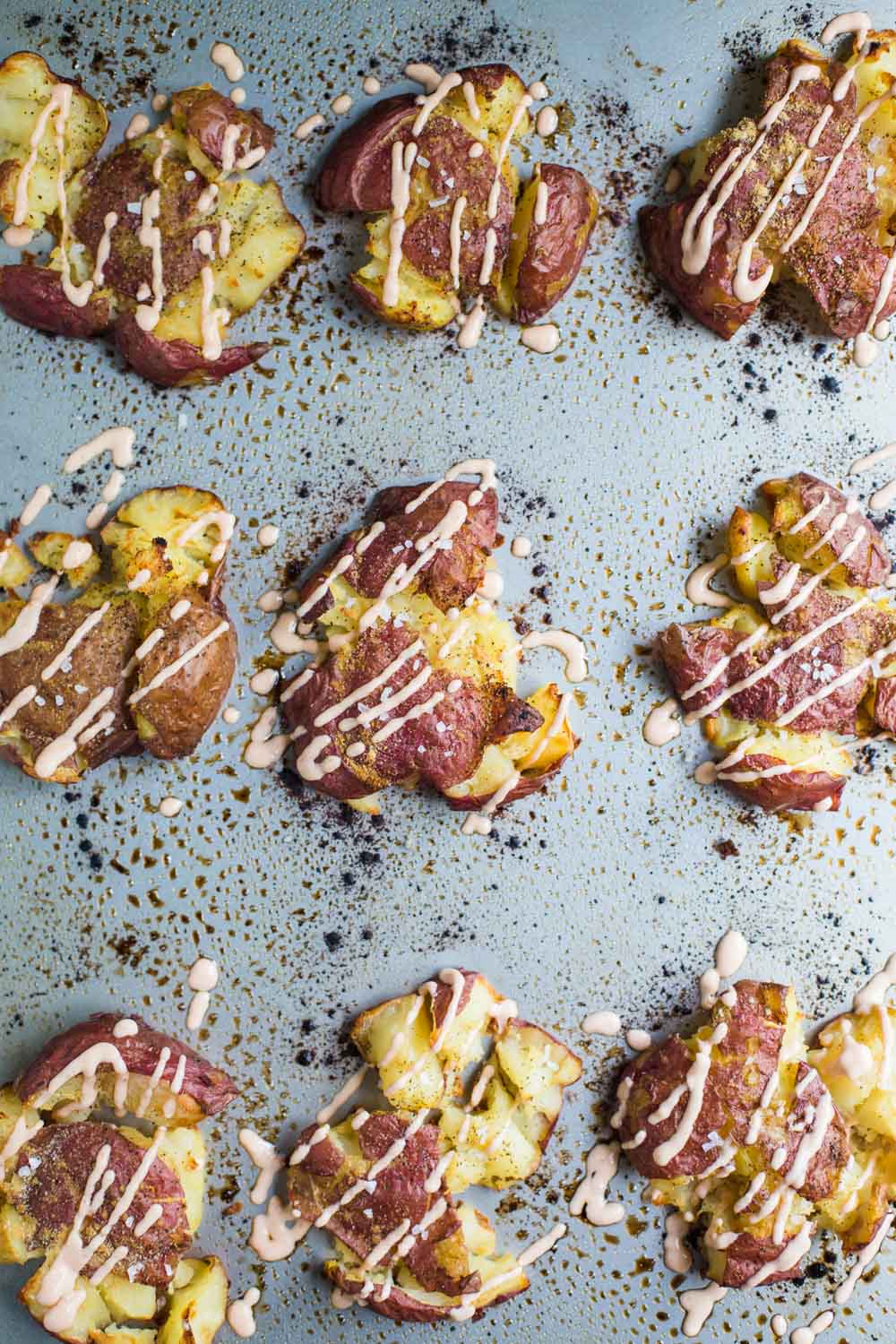 This post may contain affiliate links. Please read my disclosure policy.