Dark Chocolate Almond Bites
This post may contain affiliate links. Please read my disclosure policy.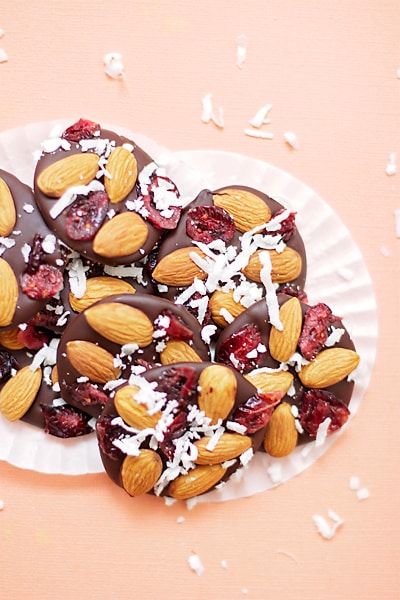 As you'll soon learn from me, nearly all of my recipes are inspired by one random thing/ food item. Like the radishes in yesterday's post. Today's inspiration comes from these orange flavored cranberries from Trader Joe's.
It's also inspired by the fact that I'm trying to be good and eat wholesome foods. But, sometimes you just really need chocolate. And I hear ALL the time that dark chocolate is great for you in moderation. And if I heard someone say it (literally anyone), then it must be true, right?
And I've always loved almonds as a snack. SO, let's throw dark chocolate, almonds, and these orange flavored cranberries together into one bite sized treat. Sound good?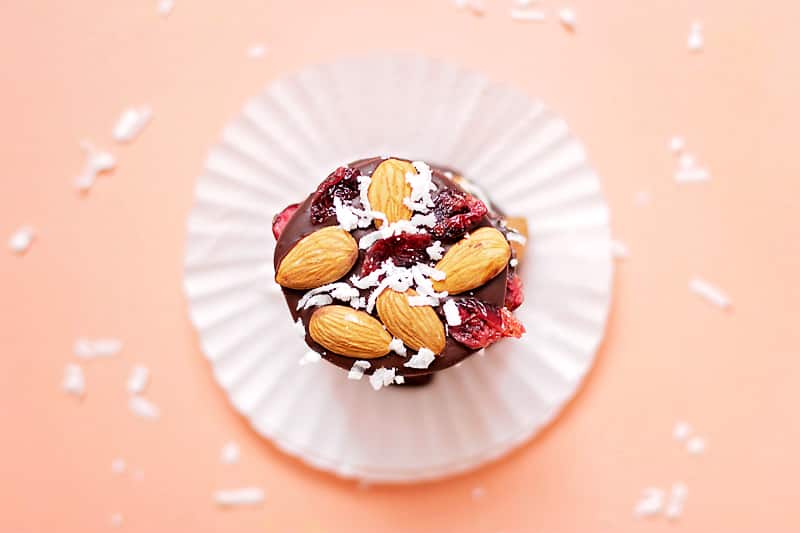 This "recipe" is one of those that I feel really goofy giving you. I mean, you don't need me to tell you how to melt chocolate and throw yummy things into it before it hardens. But, looks like I'm doing it anyways. So, yea.
Melt your chocolate. This is best done in a double boiler or at least on the stove but if all else fails, your trusty microwave will get the job done. Once melted, spoon about 1 heaping teaspoon of the dark chocolate onto a lined baking sheet and flatten it out into a circle.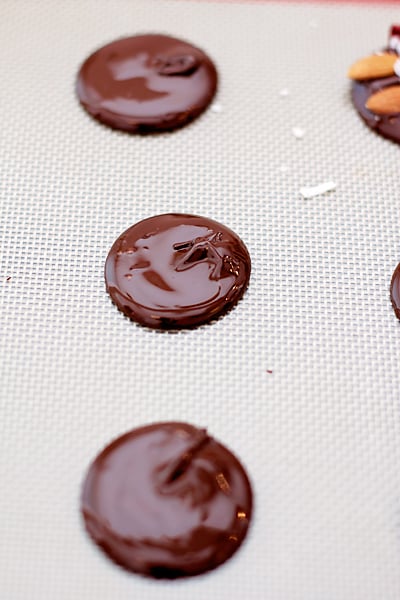 I made these bites seem bigger by really flattening the chocolate out and making them wide yet thin.
Now all you need to do is add. Add whatever you want. Any kind of nut would be great! I went with almonds (obv). You could even stop with just the almonds. Or you can be cool and add dried fruit (ORANGE flavored cranberries, come one!).
Finally, I topped mine off with a sprinkle of shredded unsweetened coconut just because it was sitting on the counter from a previous recipe and, why not!
Stick your tray of yumminess in the fridge for a few hours and they're ready! Once removed from the tray, I put mine in an air tight container and stored them in the fridge to keep the chocolate fresh.
These make a REALLY great pick me up snack during the day or while at work. I take just a few of them with me in a baggie (otherwise, I would eat 10) and eat one or two during the day when I just want a little something.
Print
Chocolate Almond Bites
---
Total Time:

3 hours 10 minutes
dark chocolate
large handful of almonds (or other nut)
small handful of cranberries (or other dried fruit)
optional: heaping tablespoon of unsweetened coconut flakes
---
Instructions
Melt your desired amount of chocolate either on the stove or in the microwave.
Spoon heaping teaspoons of the chocolate onto a lined baking sheet and flatten out the chocolate into thin circles.
Top each chocolate circle with nuts, fruit, and a sprinkle of coconut flakes.
Put in the fridge to harden for at least an hour.
ENJOY!
Notes
Store in an air tight container
Prep Time:

10 minutes

Cook Time:

3 hours
This post may contain affiliate links. Please read my disclosure policy.