We need to have a talk + Roasted Cabbage
This post may contain affiliate links. Please read my disclosure policy.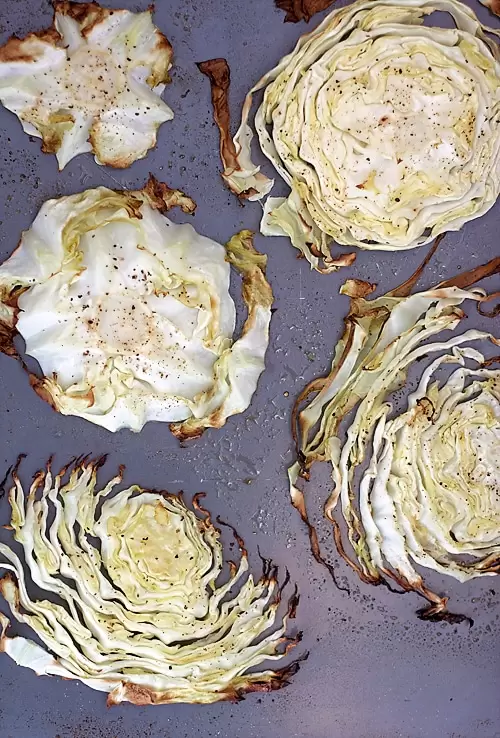 In four weeks my team will be competing in the WFTDA (Women's Flat Track Derby Association) international playoffs. (If you have no idea what I'm talking about, read this.) Only the top teams in the world make it to the Division 1 playoffs and my team has worked incredible hard this year to make it. We'll play Houston first and, if when we win, we'll go on to play the London Rollergirls.
As part of our prep for playoffs, we have a thread on our message board where we post some of the things that we are doing outside of practice to get ready for the tournament. It's everything from drinking enough water and getting enough protein to running stadium stairs and making it to the gym at 6am so an extra workout can be squeezed in before work. I'm genuinely so in awe (and proud) of how hard my teammates are working!
Which brings us to me. I want to be doing more to get ready. I want to be getting in at least one extra workout a week. I really want (need) to be drinking more water. But, most importantly to me, I want to eat cleaner. The thing about me is that I eat lots of great, nutrients full, food. But, the other thing about me is that I also eat lots of not so great, not so clean, food (but super delish none the less).
So, to all the cute little hand pies, scones, nachos, and cocktails….we need to have a talk. It's not you, it's me. We can still be friends. I do love you, after all. But, I need some time. I need some space. I need to see other foods that have more protein, more nutrients, more 'go out and kick some ass' fuel.
It's not about the food so much as the mental preparation. Yes, my body will perform better if it's well hydrated etc, but by fasting from coke and cupcakes, I feel like I'm getting ready for something big (which I am!!). It reminds me that this time is different. Saying no to the free coke that comes with my meal reminds me how hard my teammates are working and that means so much to me.
To my readers (is anyone out there really reading this??): nothing will change really. I'm still going to be giving you super awesome, super yummy recipes. They'll just have a little less flour and sugar in them and a little more green. I should probably make this a permanent switch but I don't want to make any promises that I'm not sure I can keep.
Lets start with this head of cabbage, yea? I had a friend over this past weekend (you'll hear more about that later this week) and to snack on, I made us a little roasted cabbage. This is kind of my new favorite thing especially since it's SO easy, ridiculously inexpensive, and makes me feel like I'm nibbling on chips (one of my favorite foods ever). When roasted, cabbage is kind of like corn in that it becomes really sweet and just all around yummy.
To make this is simple. After washing your cabbage and removing the outer pieces that have brown bits on them, slice the cabbage into ~1/2- 1 inch pieces and place them on a greased baking sheet. Coat with olive oil, sprinkle with salt and pepper and any other spice you so desire then bake and EAT. That's literally it.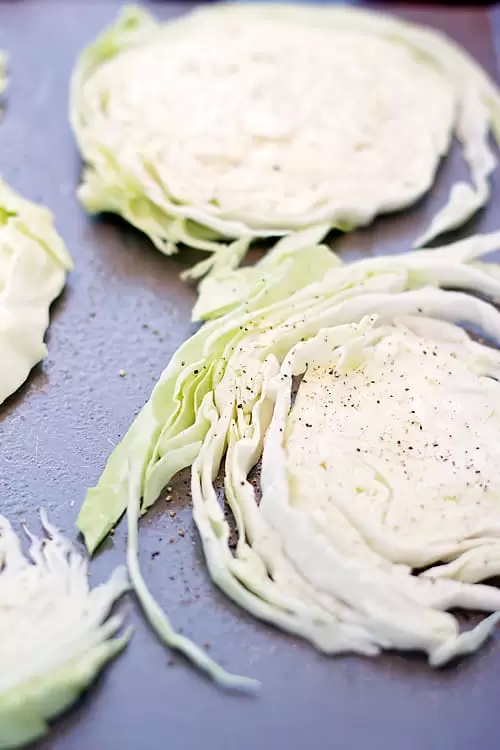 Here's to eating cleaner and helping my body get prepared for playoffs. The time is now….to eat a giant salad and jug a gallon of water.
Print
We need to have a talk + Roasted Cabbage
---
1

head of cabbage, rinsed clean
Garlic salt
Pepper
Optional: other spice such as dill, basil, cilantro, parsley, etc…
---
Instructions
Pre-heat oven to 400 degrees F.
Cut cabbage into 1/2 inch- 1 inch round pieces. This doesn't need to be exact at all.
Place cabbage rounds onto a greased baking sheet. And spray with olive oil spray (or you can brush olive oil over the tops).
Sprinkle with salt, pepper, and any spices.
Bake for 40-45 minutes.
Let cool and ENJOY!
This post may contain affiliate links. Please read my disclosure policy.