Enchilada Zucchini Boats
This post may contain affiliate links. Please read my disclosure policy.
These Enchilada Zucchini Boats are one of the recipes that I've had on my mind for a long time and finally made it a reality now that it's summer and zucchini is in massive abundance at our house! One of my all time favorite Vegetarian Zucchini Boats Recipes.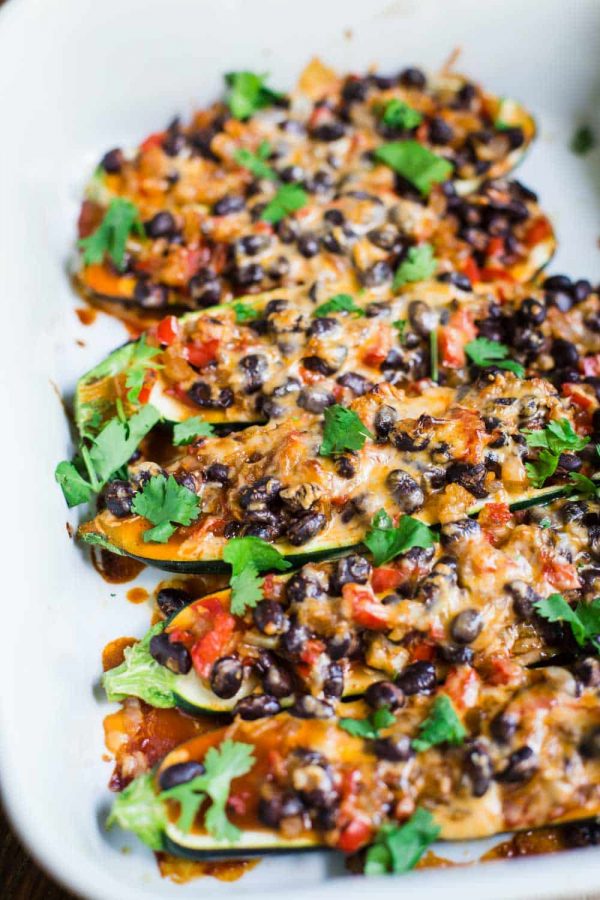 I had one of those weekends where I wasn't exactly sad to see Monday get here. We spent the greater part of the past few days traveling between several different vets trying to figure out what was wrong with our cat (who wasn't eating and who had been throwing up), how we could afford the surgery she needed, and if she was even going to make it. I'm happy to report that our poor kitten is okay.
Apparently she swallowed a string (a freakin' string!) which got caught on her tongue and wrapped itself around her insides. Also apparently, this is a very common things with young cats and the vet said they do this particular surgery all the time. WHO KNEW? She still has a bit of a fever and isn't eating much so the vet is keeping her one more day. Our house is so much quieter without her sprinting around and doing everything in her power to annoy the dogs (isn't it supposed to be the other way around?).
I'll keep you updated on how our dear Crookshanks is doing. I'm expecting a full recovery within a week.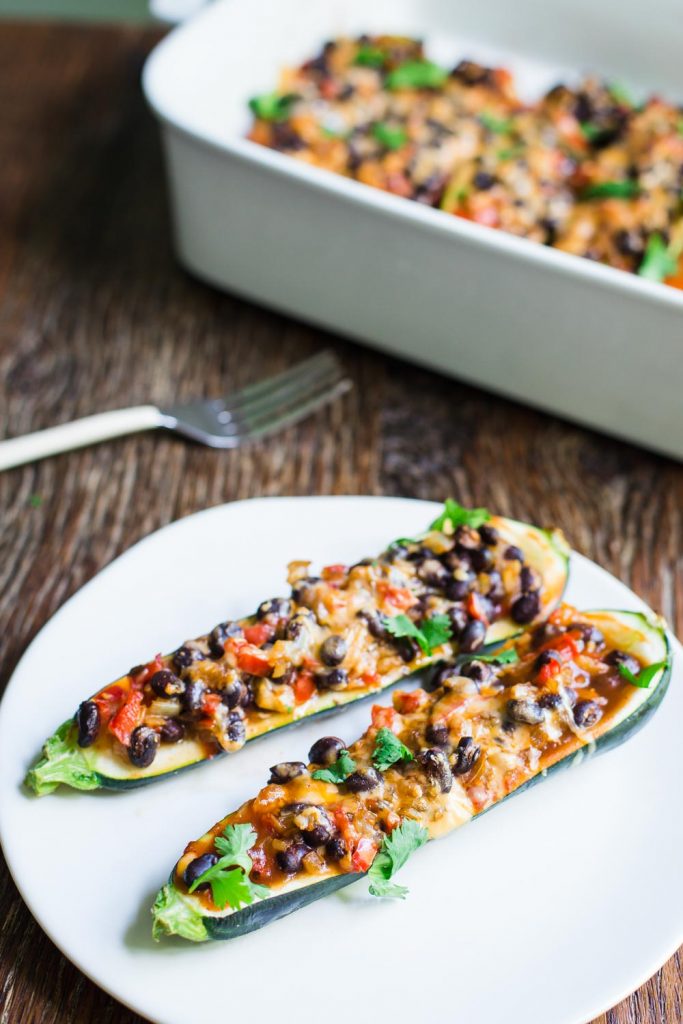 SO, these Enchilada Zucchini Boats. I made these on somewhat of a whim. As I've mentioned about 10 times now, one of the many things that I have growing in my garden this summer is zucchini. It grows at a VERY ridiculous rate and I'm currently picking about 2-3 new zucchinis each day. At the beginning of the season, that doesn't seem like a lot because I'm excited to eat veggies from my garden and I'll eat a whole raw zucchini as an afternoon snack. But now….now our kitchen counter is stacked high with squash and I get a bit stressed trying to eat it all before it goes bad (which btw, fresh zucchini lasts WAY longer than anything you'll buy at the store).
Since I had the zucchini, some leftover enchilada sauce, and everything else I needed for the idea I had in my head for this dish, I went for it! Since I'm sharing it here today, you know it was a winner :) I'm very pleased with how it turned out!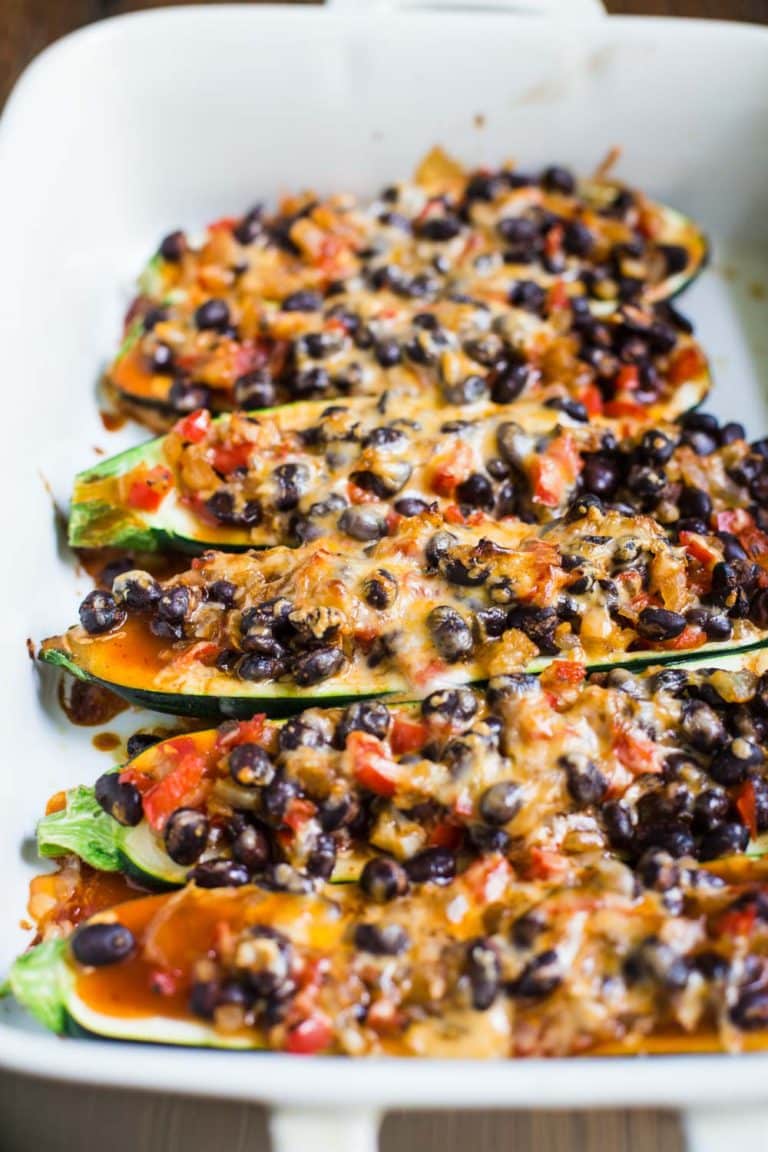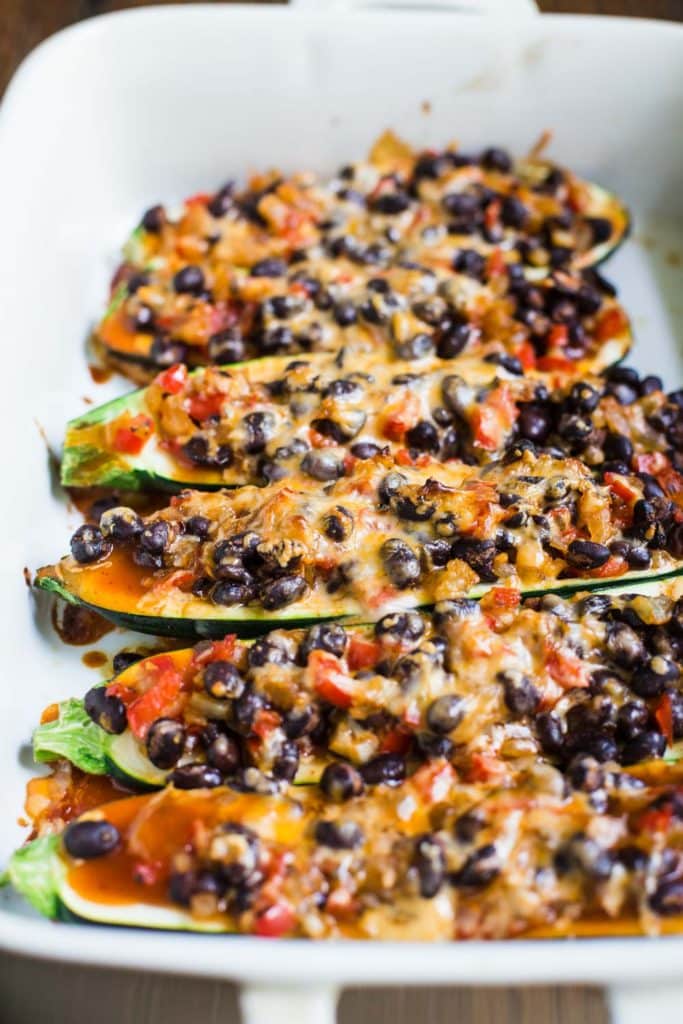 If you follow me on snapchat (@bbritnell if you're interested) then you might have heard my rant recently about vegan cheeses. For the most part, I don't like any of them. My favorite part about eating cheese has almost always been grabbing it right out of the fridge and eating it straight out of the package. This just isn't the same with vegan cheese. Nope. What I have discovered, however, is that vegan cheese is actually pretty good in it's melted, warmed up form. So, that's what I did here. Enchiladas just aren't the same without a little bit of melty yumminess on the top.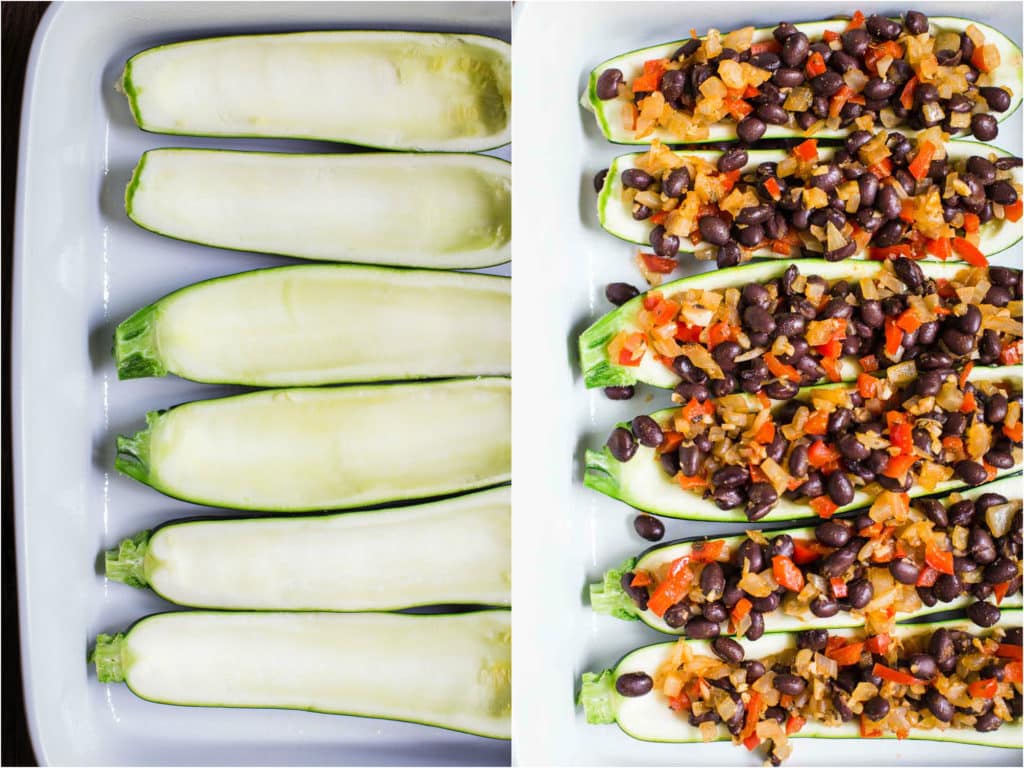 These Enchilada Zucchini Boats are essentially just partially hollowed out zucchinis that are stuffed with sautéed red pepper, black beans, garlic, and onion. Topped with enchilada sauce and the previous mentioned cheese. Easy. Done. We're taking you on, Monday!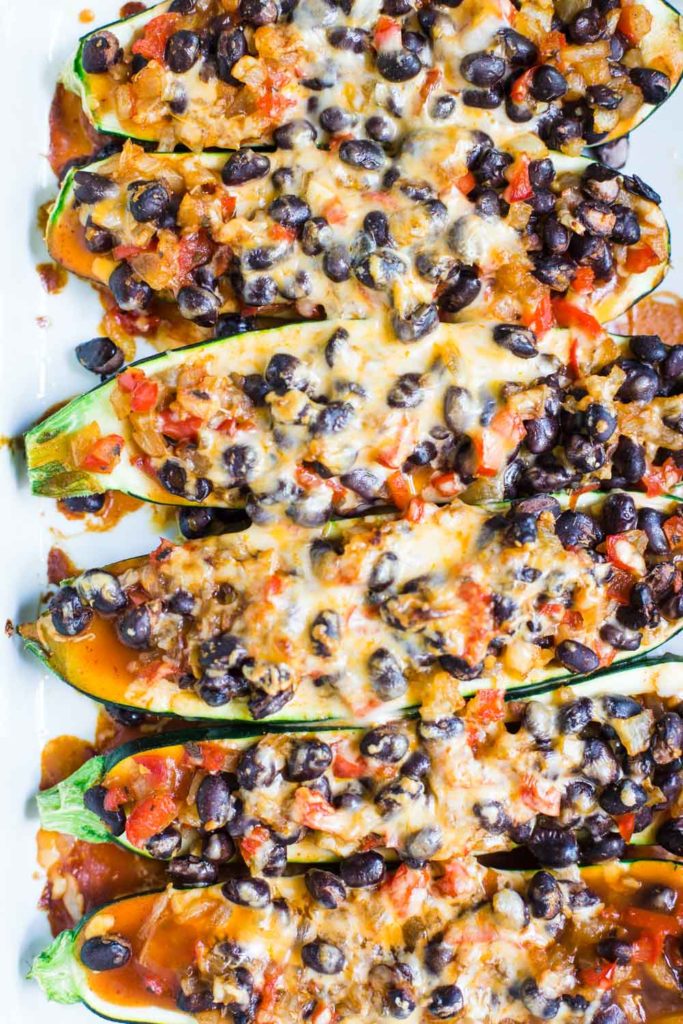 If you make these Vegetarian Zucchini Boats, please tag me and let me know how you like them!
See How to Make the Zucchini Boats:
[adthrive-in-post-video-player video-id="LONE7XQz" upload-date="Wed Aug 15 2018 12:11:45 GMT+0000 (Coordinated Universal Time)" name="Enchilada Zucchini Boats" description="Enchilada Zucchini Boats"]
Print
Enchilada Zucchini Boats
---
Author:

Yield:

4

servings

1

x

Diet:

Vegetarian
1 tablespoon

of oil

1/2

of a sweet onion

1/2

red bell pepper

3

cloves of garlic, minced

1/4 teaspoon

of cumin

1/4 teaspoon

of dried oregano

1/4 teaspoon

of paprika

1/4 teaspoon

of salt

1

15 ounce can of black beans, drained and rinsed

3

medium zucchinis

1 1/2 cups

of enchilada sauce
optional for topping: 1/2-1 cup of vegan cheese
---
Instructions
Pre-heat oven to 400 degrees F and lightly grease a baking dish.
Prepare your zucchinis by cutting them in half long ways and gently scooping out most of the inside of the zucchini and discarding. You want it so that the shell of the zucchini is just about 1/4 inch thick once the insides have been removed (see photo).
In a skillet over medium heat, heat your olive oil and then add in the onion and pepper to sauté for 5 minutes. Add in garlic and spices and cook for an additional 2 minutes.
Add in black beans and cook for abour 3 more minutes until the black beans are heated through. Take off of the heat.
Dividing evenly, spoon the mixture into the zucchinis and place them in the greased baking dish.
Top the zuchinnis with the enchilada sauce.
Optional: top with vegan cheese.
Bake for 30-35 minutes at 400 degrees.
Let cool slightly and ENJOY!!
Category:

Dinner

Method:

baking

Cuisine:

Mexican
Nutrition
Serving Size:

Does not include cheese

Calories:

241

Sugar:

10.7 g

Sodium:

1782.8 mg

Fat:

5.3 g

Carbohydrates:

38.4 g

Protein:

11.5 g

Cholesterol:

0 mg
This post may contain affiliate links. Please read my disclosure policy.