My Favorite Green Juice Recipe
This post may contain affiliate links. Please read my disclosure policy.
This easy and delicious Green Juice Recipe is a great introduction to juicing and will become one of your favorite green juices to make at home!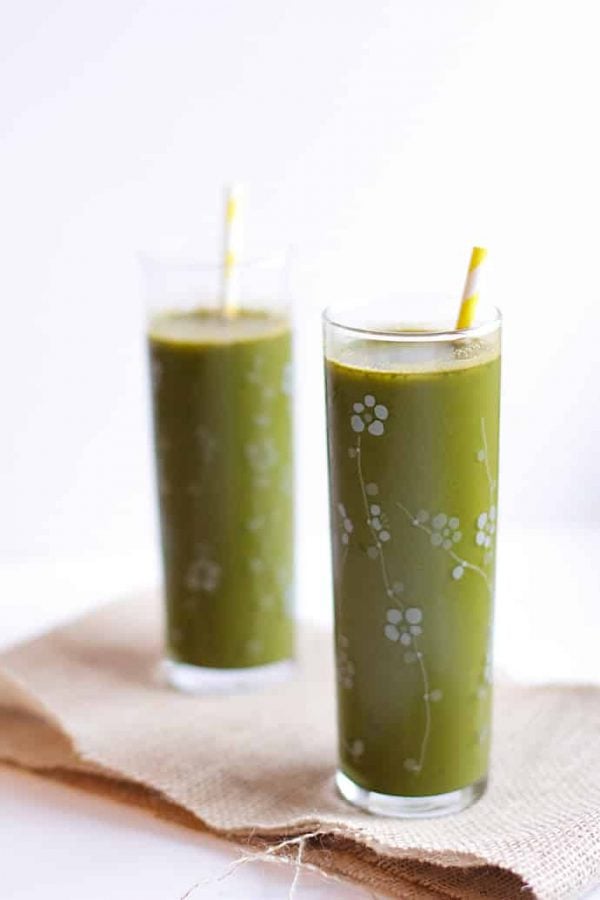 I've been wanting to give you this recipe for a really long time. I even made this green juice several times but then never got around to actually photographing it and instead just drank all the juice uncontrollably.
But hey, here it is! (finally.)
I have an up and down, love/ hate kind of relationship with my juicer. By that I mean that I hate having to clean it and when I put it on the shelf, it's often months before I get it back down again. I've debated selling it and using the money for the endless amount of camera gear that I want. However, I'll instantly regret it if I do. SO. Here we are.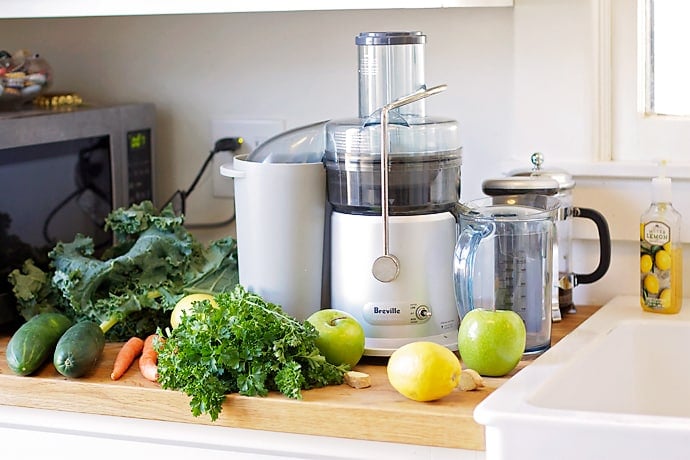 I have THIS
juicer that my mom got me (thanks mom!!). I've had it for about 2 years and it's been very good to me (minus the whole cleaning thing. Can I buy one that cleans itself? OH, do they have houses that auto clean themselves [for free]?? I digress.)
This is my favorite go-to Green Juice recipe: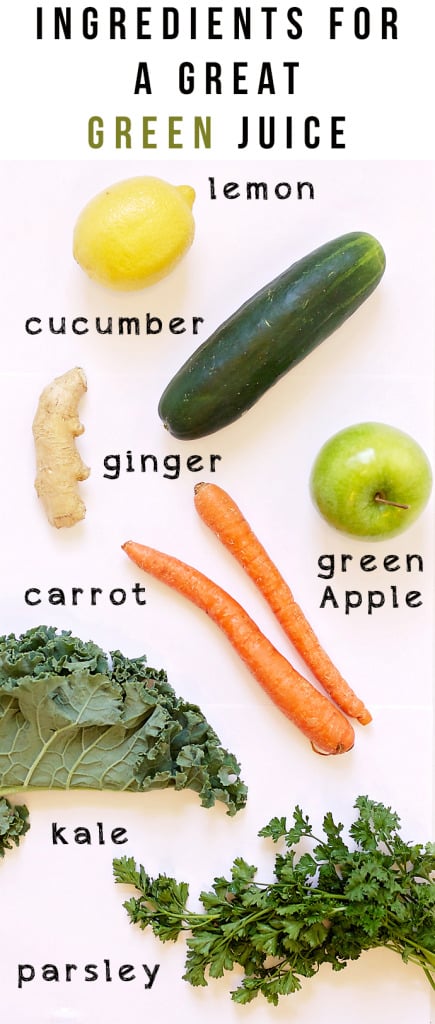 Ingredients for a GREAT Mean Green Juice:
These are simple and adjustable depending on your preferences. Play around with quantities and have fun with it!
Here's what I like in my juice:
parsley
kale
carrot
green apple
ginger
cucumber
lemon
If you're new to juicing, I recommend finding a few recipes and trying those to start out with. BUT THEN, I highly recommend experimenting with your juices. For example: you might find that you hate ginger in a juice (or like me, LOVE it). I personally need a good bit of sweetness in all my juices, hence the whole apple and lemon that go in this recipe. One simple piece of fruit goes a long way in sweetening a juice.
Before I juice, I always get all of the ingredients ready first.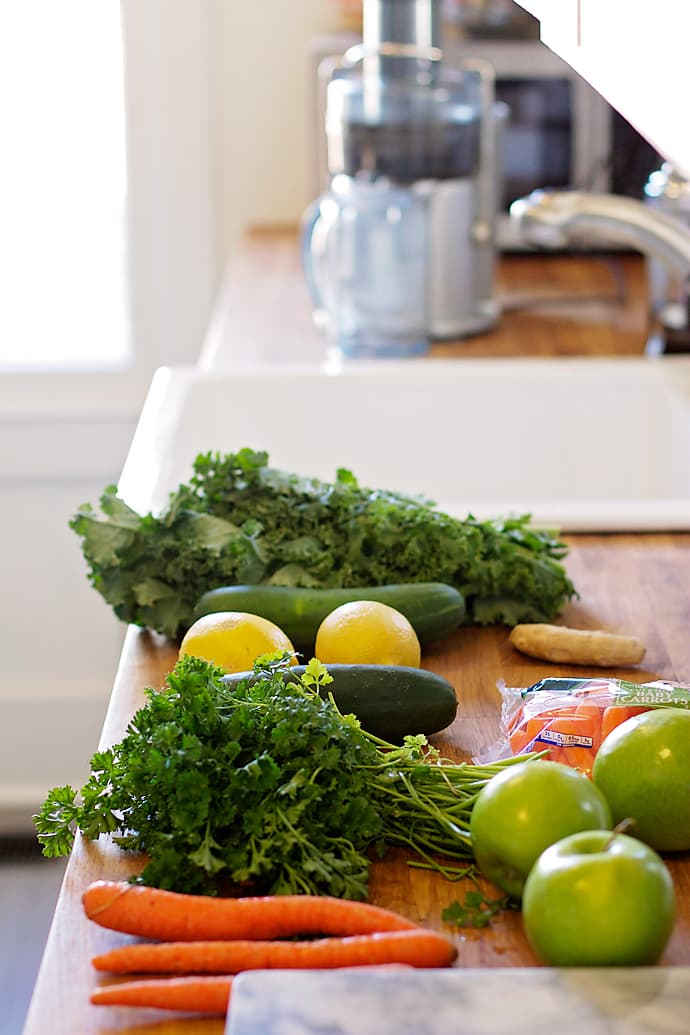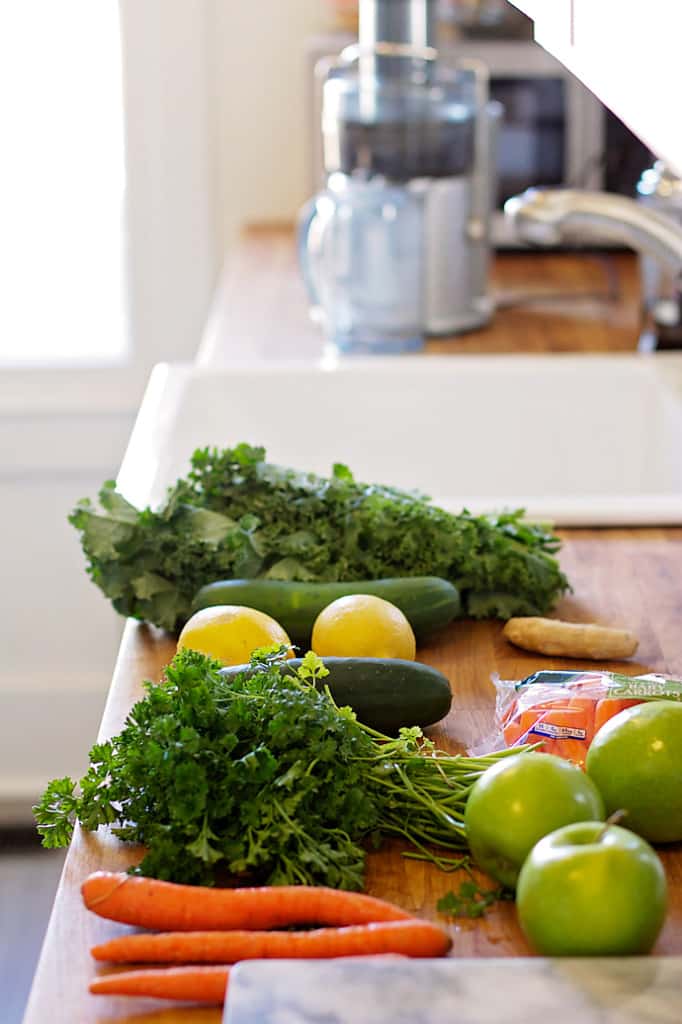 Before the juicer I have now, I had a $50 juicer from Walmart. That juicer was okay but it required me to really chop everything up first. The Breville I have now is a lot easier in that it requires a lot less preparation. Now, I've heard varying opinions on this but, for me, I find it works great to just throw it all in there.
Meaning: I don't peel oranges or lemons. I don't de-stem the kale. I don't touch a knife at all really unless, for example, the apple is slightly too large and I need it a bit smaller to fit in the juicer.
I just make sure everything is clean and throw it all in the juicer!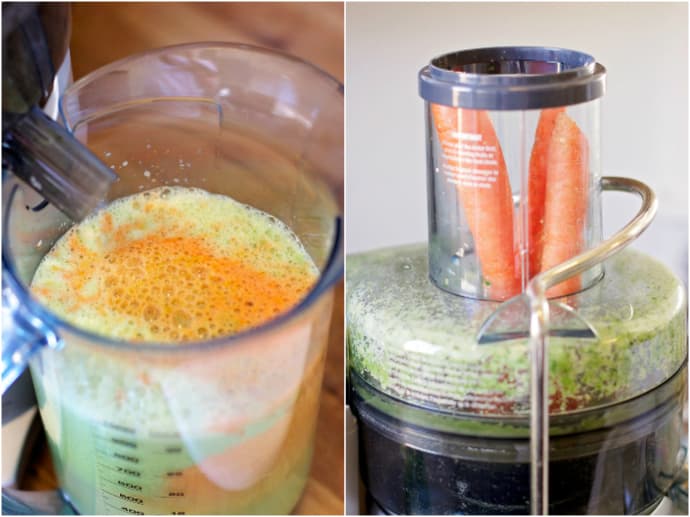 There's really no logical reason for it but I save the leafy greens for the end.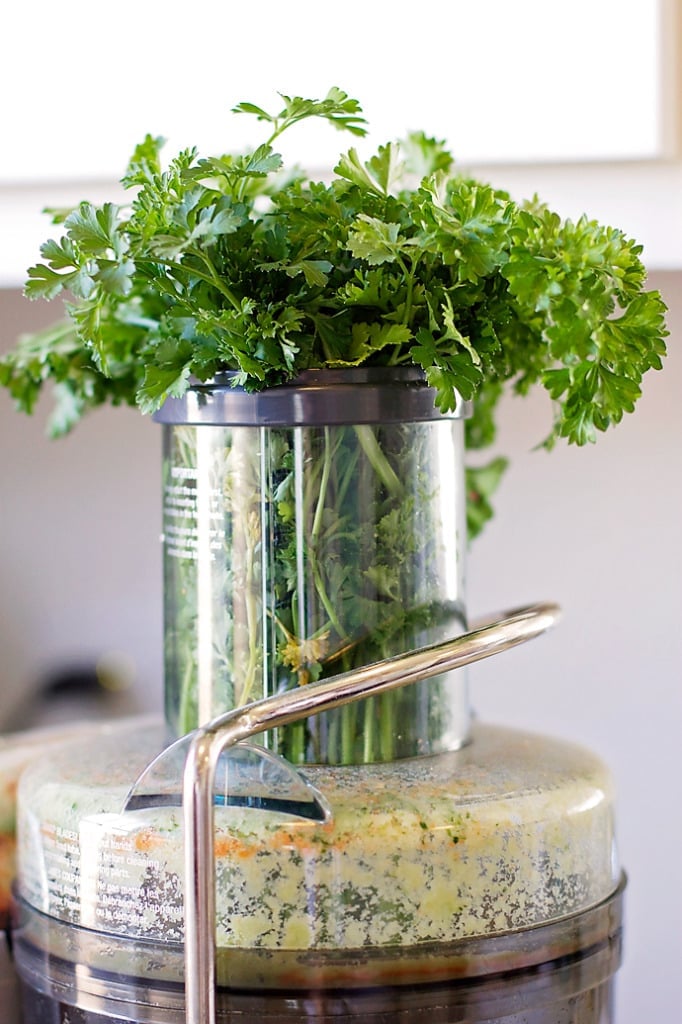 The smell of juiced parsley is oddly one of my favorite smells ever! It's kind of like freshly mowed grass, but BETTER! I bet somewhere I can find a "Freshly juiced parsley" candle!
Once I have everything juiced, I give it a good stir, a quick taste, and add anything if necessary. I decided that I wanted a bit more carrot in this, mainly because I had a lot of them. So, a bit more carrot was added.
All of the juice is poured into mason jars (or other jars that can be closed up real tight).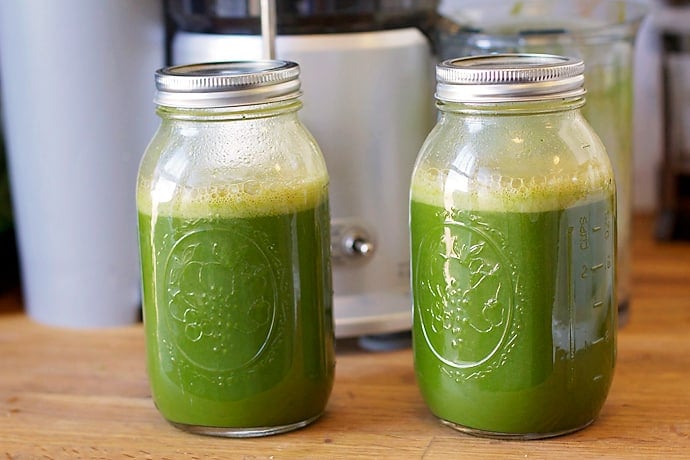 I typically split this recipe up into ~4 servings which I drink for breakfast and as a snack over the period of just a couple days.
OH and all that pulp?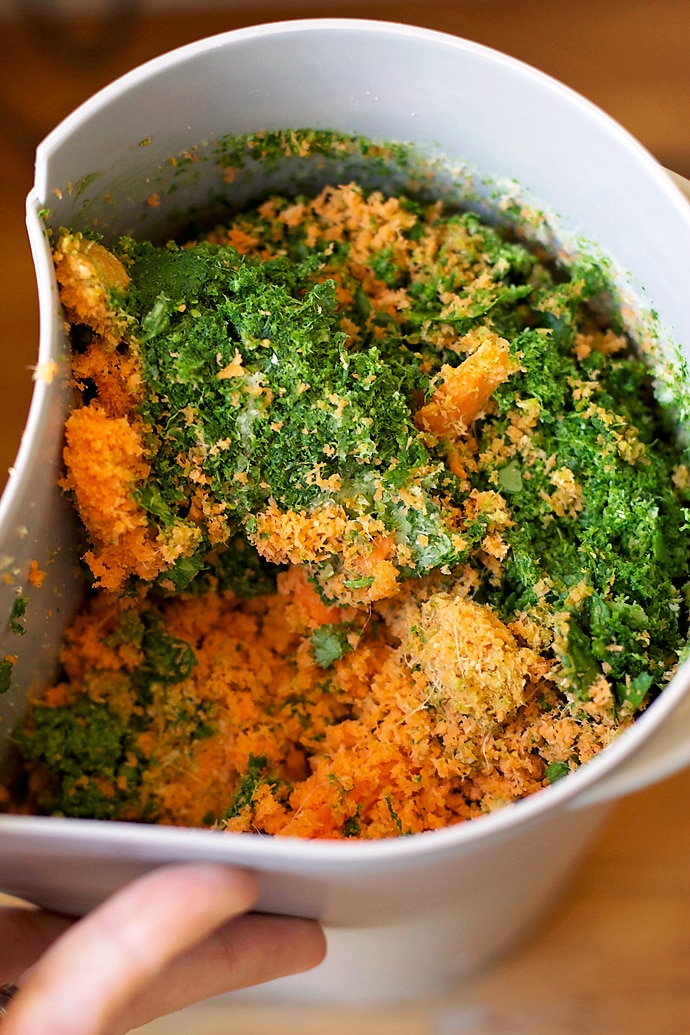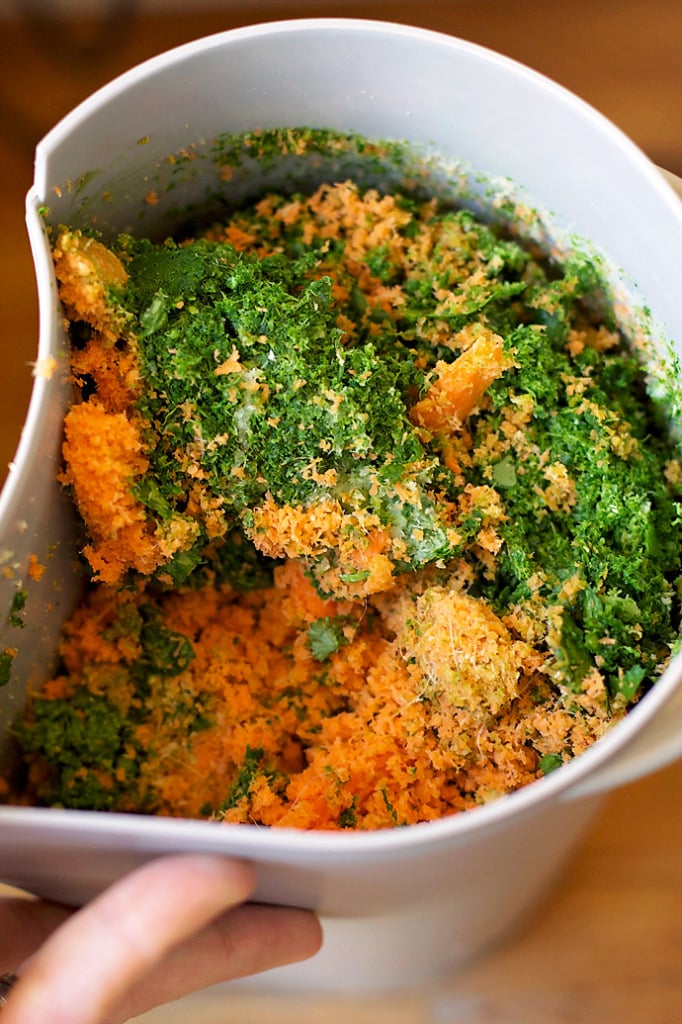 Here's a great recipe that utilizes some of the pulp to make Juice Pulp Muffins. What? Great idea, huh? I haven't tried it yet but I'm going to soon!
What does green juice taste like anyways?
Each green juice recipe is different but this one is on the sweet side (how I prefer my juices). I refer to it as a Cucumber Apple Juice because really, the strongest flavors that come out in this are the cucumber and apply with a nice kick of ginger :).
Some green juice benefits:
Can boost your intake of antioxidants. Give me ALL of the antioxidants PLEASE
Can improve gut health due to the digestive enzymes and prebiotics found in green juice
Can help you get your daily dose of fruits and veg
Can help support a healthy immune system due to all of the extra nutrients you consume in a green juice
A couple more juice recipe that you might enjoy:
Print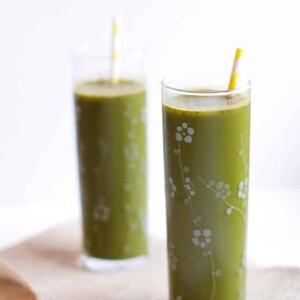 Green Juice Recipe
---
Author:

Total Time:

15 minutes

Yield:

3

-4

1

x
Description
This easy and delicious Green Juice Recipe is a great introduction to juicing and will become one of your favorite green juices to make at home!
---
2

cucumbers

2

green apples

2

small lemons

5

whole carrots

2

inch piece of fresh ginger

1

bunch of kale

1

bunch of parsley

3

handfuls of spinach
---
Instructions
Put everything through the juicer.
Stir thoroughly before drinking.
Store in an air tight container in the fridge for up to 3 days.
Prep Time:

15 minutes

Cook Time:

0 minutes

Category:

juice

Method:

juicing

Cuisine:

American
Keywords: juice recipe, green juice, juice cleanse
This post may contain affiliate links. Please read my disclosure policy.