Green Juice Recipe
This is the BEST Green Juice recipe that you will find! It's simple to make green juice at home, great for your health and weight loss, and just tastes amazing!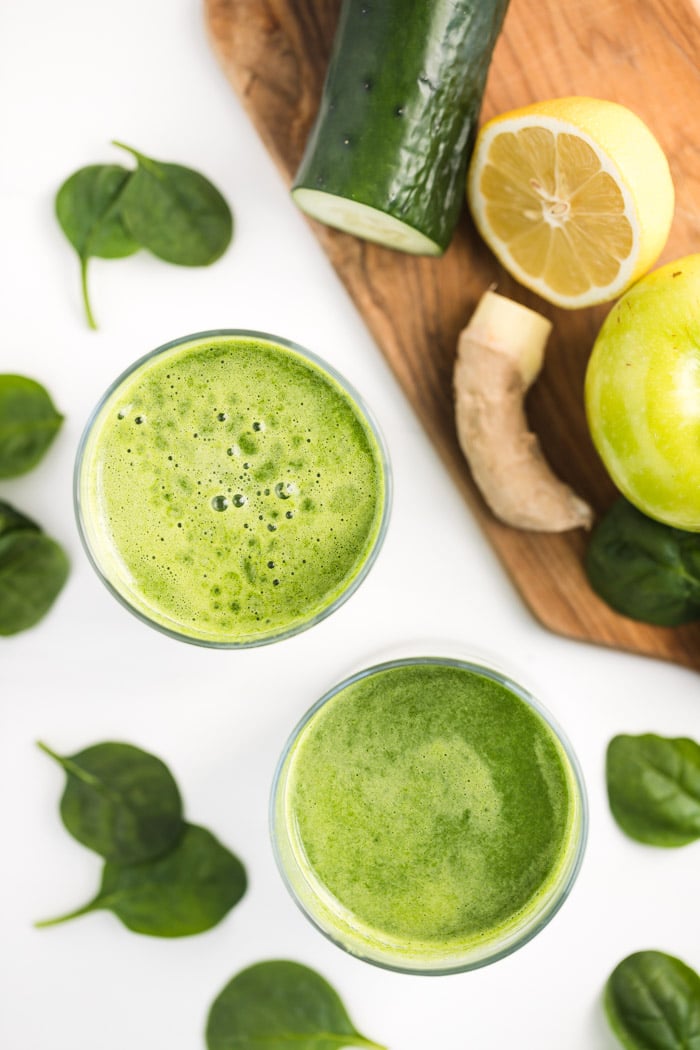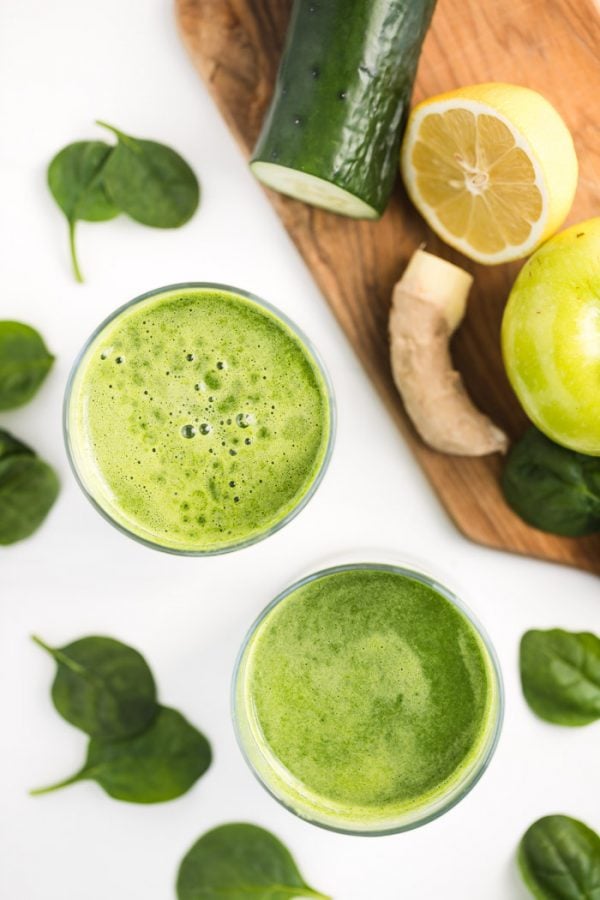 I got our Breville juicer as a wedding gift (over 5 years ago which seems crazy!). I used it SO much at first. Green juice recipes were some of the first recipes that I posted on my blog when I started it. But since then, since having a baby, I have hardly touched my juicer. I even debated getting rid of it at one point (we've been very adverse to clutter lately) but knew I would regret it as soon as I did. SO glad that we kept it.
I've been making this super basic green juice recipe lately and guys it's SO GOOD! It's a green juice recipe for people that aren't really sure if they will like green juice. The apple in this recipe make it rather sweet and so it ends up tasting a lot like ginger apple juice (that just so happens to be green). It's the BEST green juice recipe I've made at home and know that you will love it!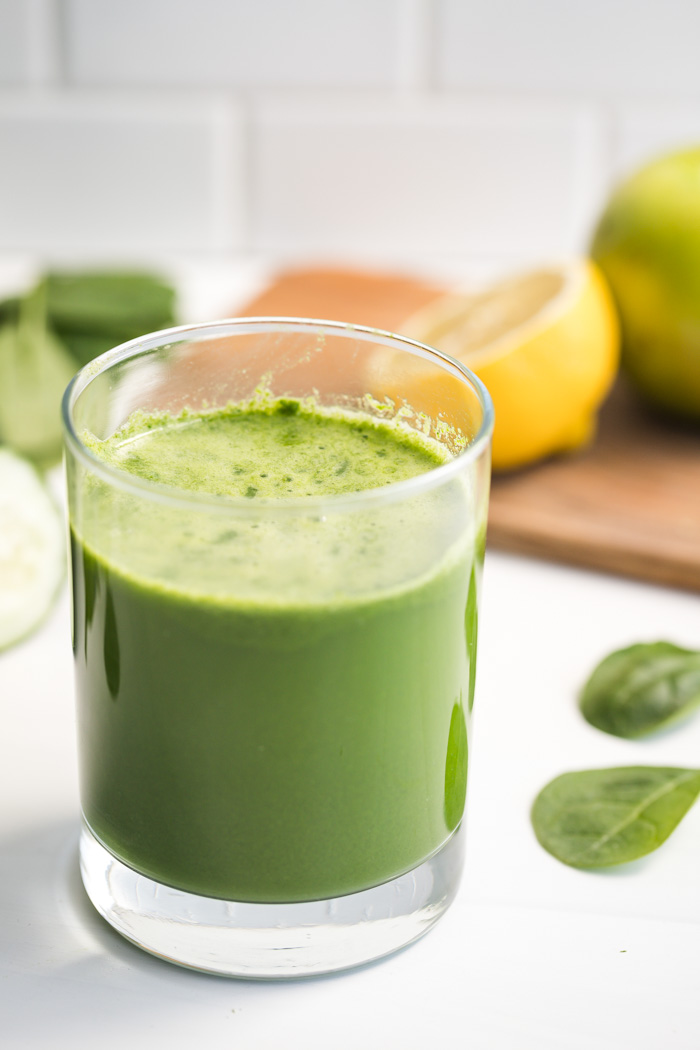 How to make this MEAN Green Juice:
I suggest checking the manual on your juicer. Different juicers have different speed levels and each fruit and vegetable is technically supposed to be juiced at a different speed depending on it's thickness and texture. I'm often lazy and do mine all on the same speed (my juicer only has 2 speeds but many of the newer ones have more).
With the juicer on, simple add all of your ingredients into the juicer. AND…that's it :) Did you really need me to tell you how to do that? :D
As you'll notice in the video below, I add most things in whole. I cut the lemon in half but I didn't bother peeling it. You can throw most peels right into the blender and the juicer will do all of the hard work. Usually the only time that I bother cutting fruits or vegetables is if they won't fit into the juicer otherwise.
Feel free to experiment with this recipe if you want it more or less sweet. This is really just a base recipe and you can add to or subtract from it as you see fit.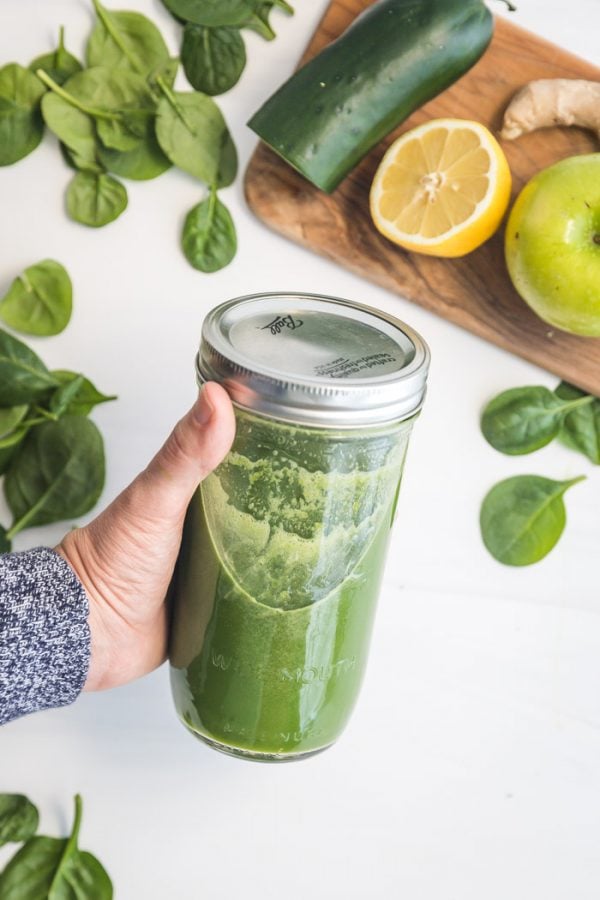 What does green juice taste like anyways?
All green juices are different but this one is quite sweet. I refer to it as a Green Apple Juice because really, it tastes a lot like apple juice that's green and with a nice kick of ginger :). So, maybe we should call it Green Apple Ginger Juice? That feels like too much. Let's stick with simply green juice.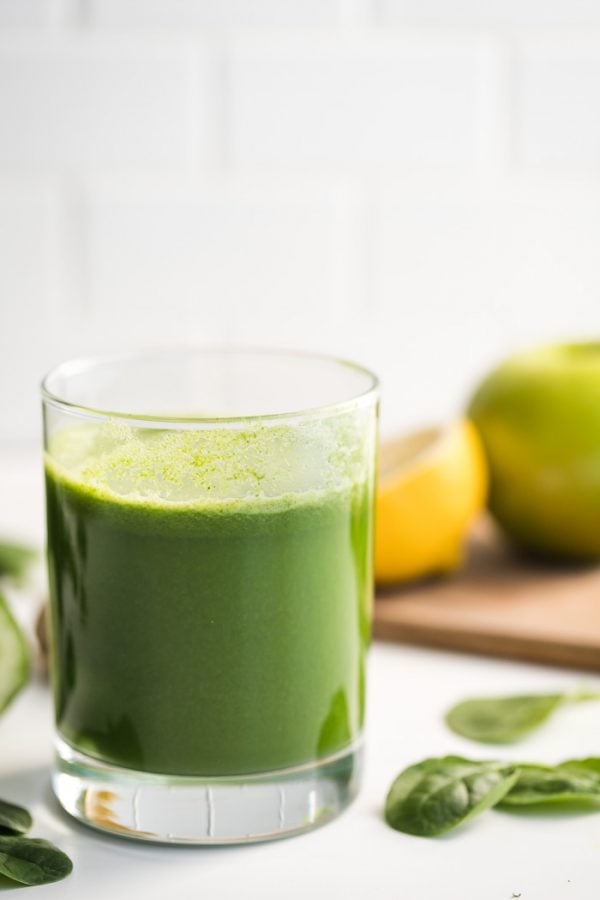 Some green juice benefits:
Can help you get your daily dose of fruits and veg
Can improve gut health due to the digestive enzymes and prebiotics found in green juice
Can help support a healthy immune system due to all of the extra nutrients you consume in a green juice
Can boost your intake of antioxidants. Give me ALL of the antioxidants PLEASE
A couple more juice recipe that you might enjoy:
See how to make this Green Apple Juice here:
Print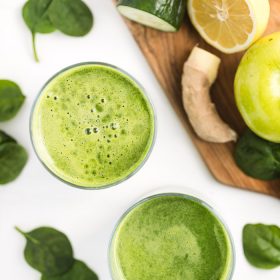 Green Juice Recipe
---
Author:
Prep Time: 5 minutes
Cook Time: 0 minutes
Total Time: 5 minutes
Yield: 2 servings 1x
Description
This is the BEST Green Juice recipe that you will find! It's simple to make green juice at home, great for your health and weight loss, and just tastes amazing!
---
Scale
Ingredients
2 medium green apples
1 cucumber
½ lemon
6 kale leaves (about 4 packed cups of chopped kale)
1 inch ginger
2 large handfuls of spinach (about 2 cups of leaves)
---
Instructions
Every juicer is a little different so read the manual to know if yours recommends using different settings for different kinds of fruits and vegetables.
Add all of the ingredients to the juicer. Give the juice a good stir and ENJOY!
I usually split this juice into 2-3 servings. If saving some for later, store it in an air tight container in the fridge and enjoy within 48 hours.
---
Category: Juice
Method: Juicing
Cuisine: American
Keywords: juice, green weight loss, healthy