Garlic Buttered Shrimp Pasta
This post may contain affiliate links. Please read my disclosure policy.
This pasta!! I tested this recipe out quite a few times, making small tweaks to perfect it, and enjoyed ALL of it probably more than I should have. There's just something about butter + garlic + carbs that makes my tummy SO so very happy. Especially at this time of the year where I just want to feel cozy and warm. Basically just give me all the butter covered pasta and I'll make it through winter.
On another note: how was your HALLOWEEN!!? I'm very (very) sad to report that we don't really get trick-or-treaters out at our little house in "the country". We do have quite a few neighbors but none of them have small children so, more candy for me.
I dressed up twice. Once for work on Friday where I was under the impression that most of the staff would also be dressed up. Turns out (at most) about 1/4 of the staff dressed up; even that is probably a high exaggeration. I felt a little silly all day but my costume wasn't too crazy so. And, I (along with a few others) won the costume contest so that was fun. My costume was a repeat costume from 2 years ago but I hadn't had the chance to wear it to work that year and I still love it.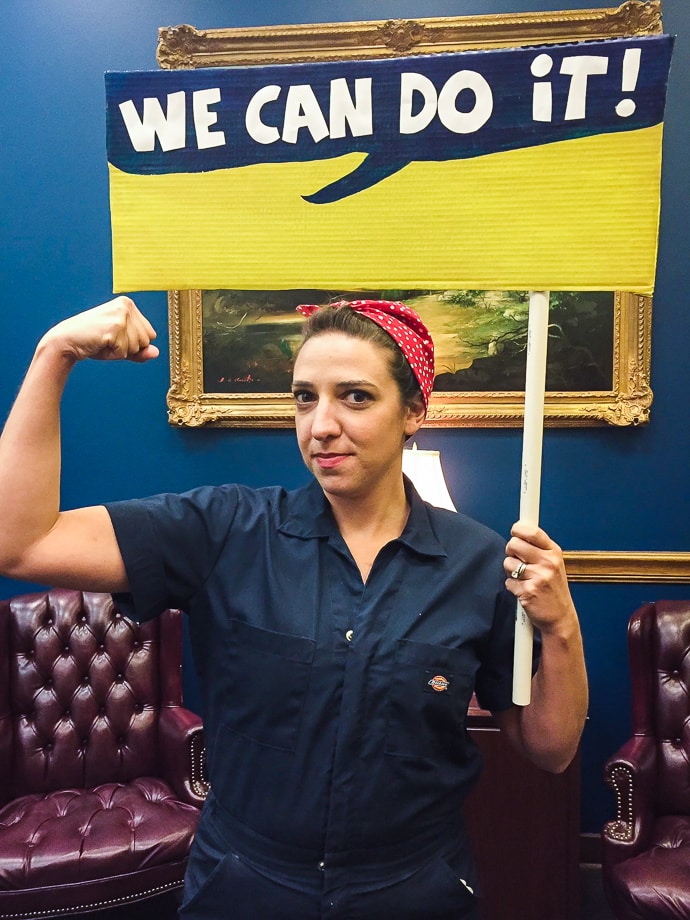 And I don't know how it is where you are but it has been rainy and GROSS and cold every single day in Nashville since I got back from Mexico and it's really killing my post-vacation high.
SO now that our obligatory weekend and weather chats are over, lets get back to this pasta!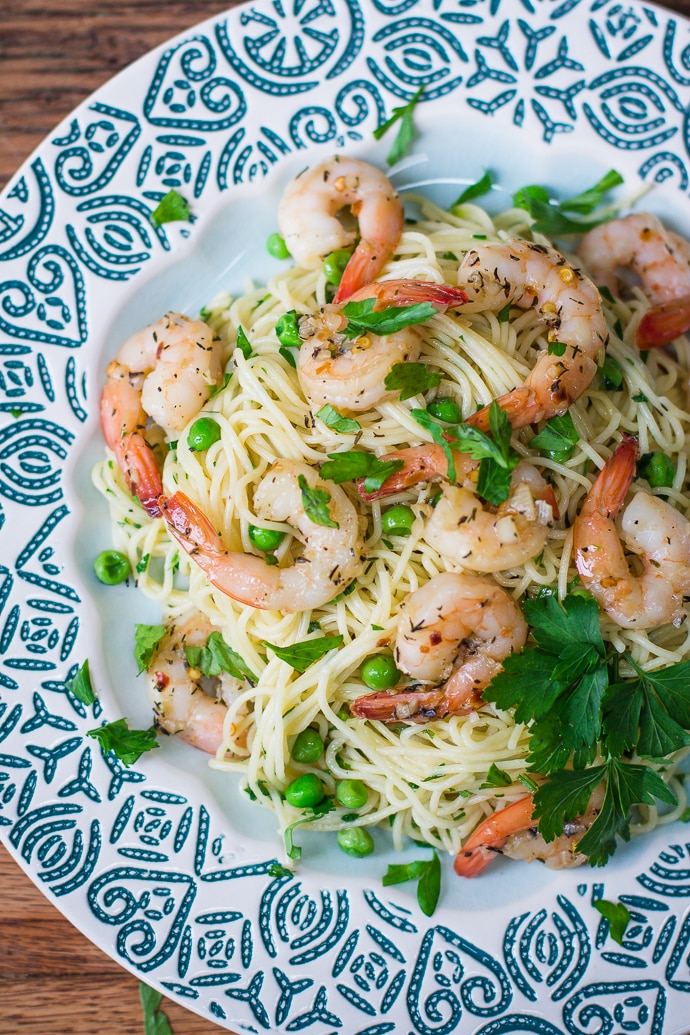 This Garlic Buttered Shrimp Pasta is SUPER easy to make and takes just about 20 minutes to throw together. The garlic buttered shrimp can be cooking while the pasta is boiling and once the noodles are done, your dish is basically about ready. I really love that about it (+all the garlic and butter…I really love that part too).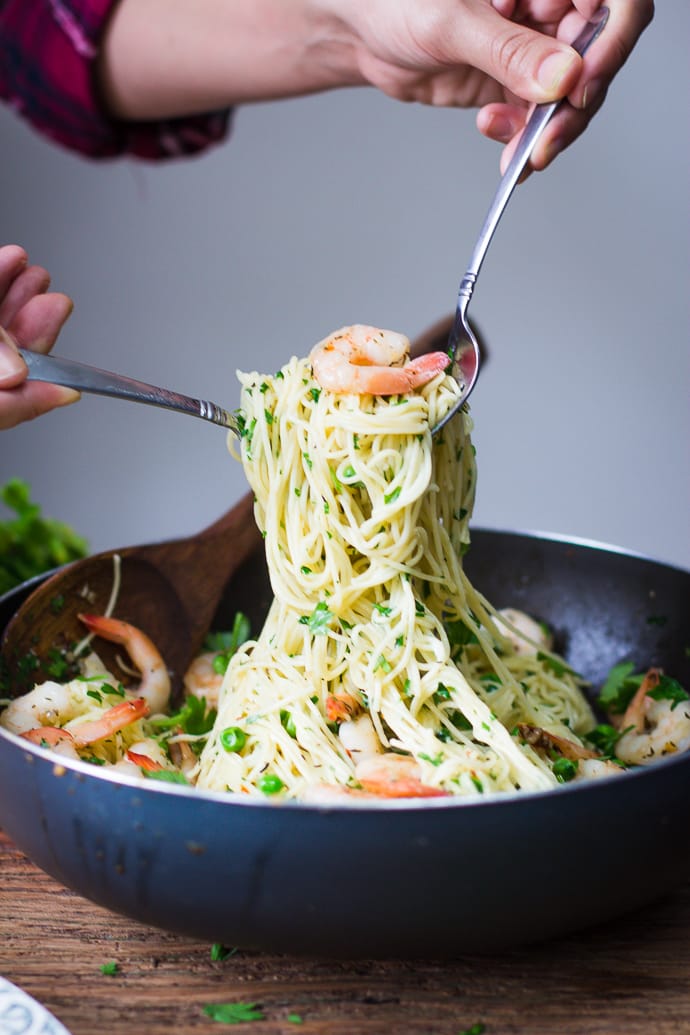 While the pasta is cooking, some of the butter is getting toasty in the skillet with the garlic, thyme, and pepper. Then the shrimp is added in to soak up all the buttery goodness.
Now, I'm using already cooked and shelled shrimp so they don't technically need to cook. But I leave mine over the heat for a bit to get warm and (again) to absorb all the garlic buttery flavors.
The shrimp is then set aside for a moment while more butter is added to the skillet and the noodles are now given a chance to absorb some flavors. The parsley, parmesan, and cheese are also added at this time. The peas were a last minute addition to the recipe and I absolutely love what they add to the dish.
Once all stirred together, you're practically done.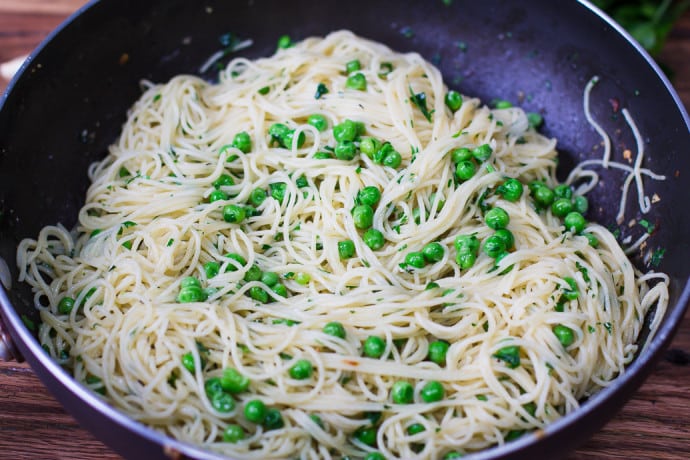 You can stir the shrimp in now (which probably makes the most sense) or you can strategically place the shrimp on top of the pasta for maximum presentability. Like so: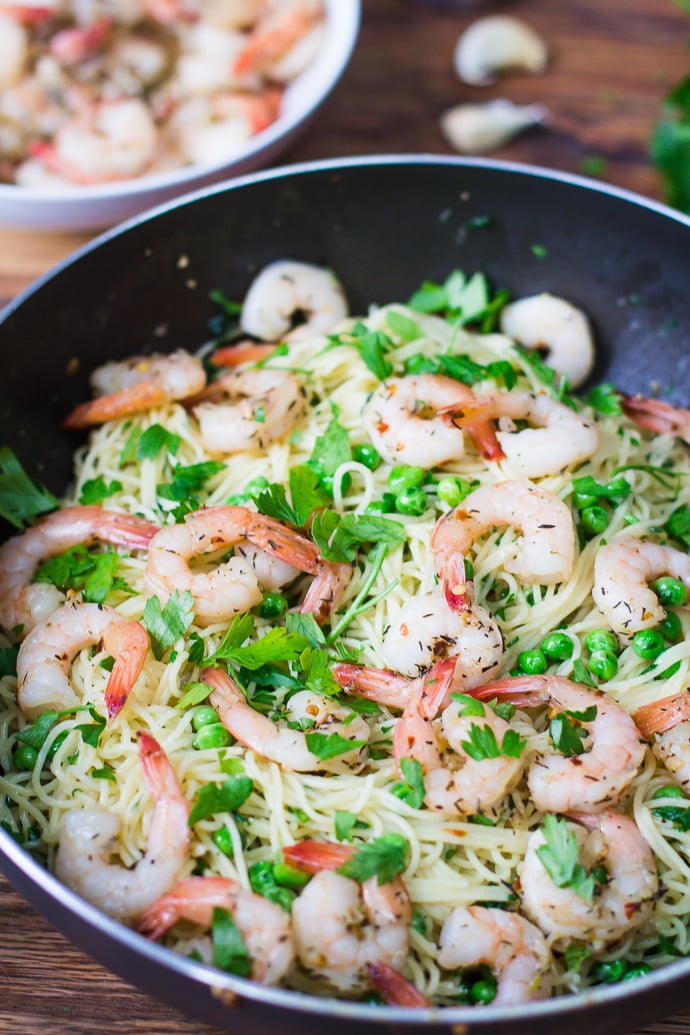 I topped mine with a bit more of the fresh parsley and (duh) some more cheese.
Well, now I'm going to go bing eat the rest of the Halloween candy to get rid of it so I can start my pre-holidays diet…tomorrow.
Print
Garlic Buttered Shrimp Pasta
---
Total Time:

25 minutes

Yield:

4

1

x
1/2

pound of angel hair pasta (although you could use any kind of pasta really)

8 tablespoons

of butter, divided

3

–

5

cloves of garlic (

3

if you like garlic,

4

if you really like garlic,

5

if you love garlic)

1/2 teaspoon

of crushed red pepper flakes

1 teaspoon

of dried thyme

1

pound of shrimp, peeled and deveined

1/4 cup

of fresh parsley, finely chopped

1 cup

of frozen peas

1/2 cup

of parmesan cheese, grated
optional: additional cheese and parsley for serving
---
Instructions
Cook pasta according to directions until done. If you don't already do so, I recommend salting the water and pouring in a bit of olive oil as well. Once done, drain and set aside.
In a large skillet, melt TWO tablespoons of the butter over medium heat. Once just completely melted, add in the thyme, garlic, red pepper flakes, and shrimp. Toss to coat the shrimp completely and cook for 4-5 minutes or until shrimp is warm. Set the shrimp aside in a bowl.
Using the same skillet, add in the remaining 6 tablespoons of butter and melt. Once just melted through completely, add in the cooked pasta, parsley, peas, and parmesan. Stir completely and cook over medium heat for about 3 minutes. Stir frequently.
The shrimp can either be stirred into the pasta or simple placed on top of the pasta once dished up.
Serve with a bit of fresh parsley and cheese and ENJOY!!
Prep Time:

5 minutes

Cook Time:

20 minutes
This post may contain affiliate links. Please read my disclosure policy.