Goat Cheese Stuffed Rosemary Chicken in Prosciutto
This post may contain affiliate links. Please read my disclosure policy.
Man. I've really been having one of those weeks. Lots and lots going on with some unexpected (unwelcomed) curve balls. Like being on the receiving end of a 4 car pile up yesterday morning on my way into work. That was no fun. Everyone was okay, so that's good. However, my poor car. I had JUST picked my car up from the body shop 2 weeks ago from where a delivery truck had rear-ended me. They laughed a little when I brought it in again this morning with twice the damage and an interior that smells of pure coffee from where my entire thermos full of coffee spilled on me during the wreck. If I could hire someone to drive me around everywhere, I so would. ps, I swear I'm a really good driver. It's everyone else that keeps hitting me.
But, it's a new month and I'm very grateful for that. Februarys and Septembers are like the hump days of the year. The hump months. You just have to get over them to get to the good stuff. Like spring and the holidays. Glad we're over you, September!
In other good news, I've been eating very well lately. I've been doing some photography work for a Nashville based magazine (more on that later) which has resulted in lots of free and YUMMY meals from various restaurants across the city. Definitely enjoying that. I've also been doing lots of recipe testing and just generally spending lots of time in the kitchen. The result= too much food and a ginormous pile of dishes that I'm trying to convince Stephen to do.
One of the yummy things I've been working on is this Goat Cheese Stuffed Rosemary Chicken in Prosciutto. I know it's a bit of a mouthful but I couldn't leave any of those details out of the title. So, we're going with it.
I got criticism from a few family members for my methods on this chicken. The proper way to stuff chicken is by pounding it out thin, putting the cheese in the middle, and then wrapping the chicken around it. HOWEVER, I was going for simplicity and ease as much as I was going for deliciousness. So, I came up with an alternative that's much easier and so much faster.
I cut large chicken breasts in half and then simple cut a large slit down the middle of the chicken. And then season em with a little S&P.
It's then dipped in an olive oil, rosemary, and garlic bath and then placed in a baking pan or skillet.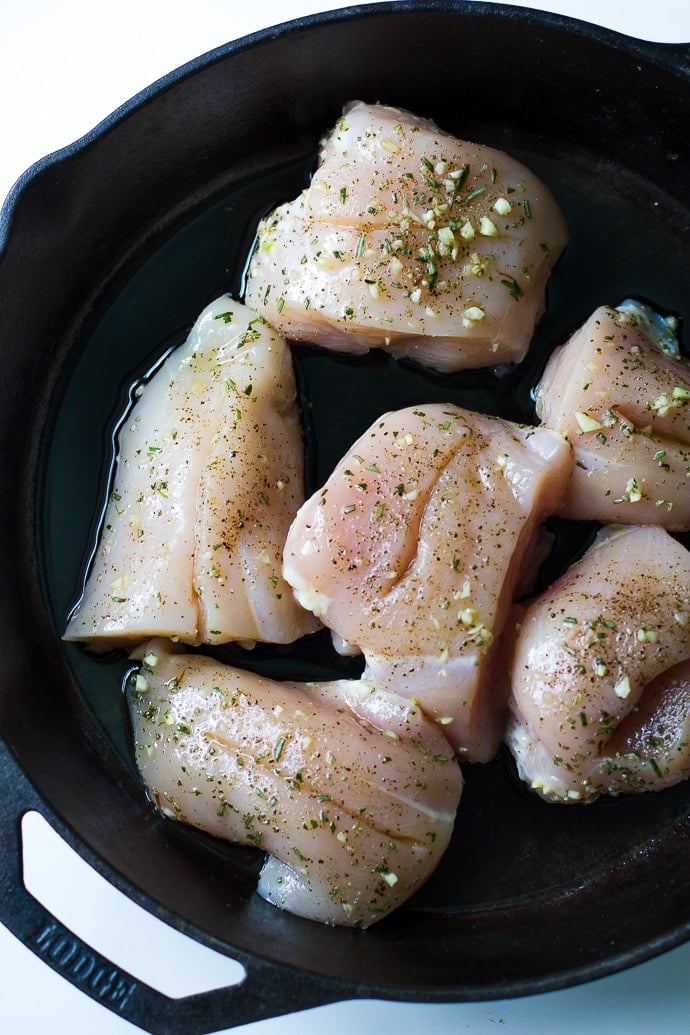 The cheese is then aimlessly stuffed in the middle. I didn't much measure it but for those that like exact measurements, it was ~1 tablespoon per piece of chicken. Just stuff it right in there.
Next the chicken gets a little bit of my favorite herb (Rosemary, duh!) placed right on top.
And lastly, a nice piece of prosciutto is wrapped around the chicken. To keep it cozy in the oven.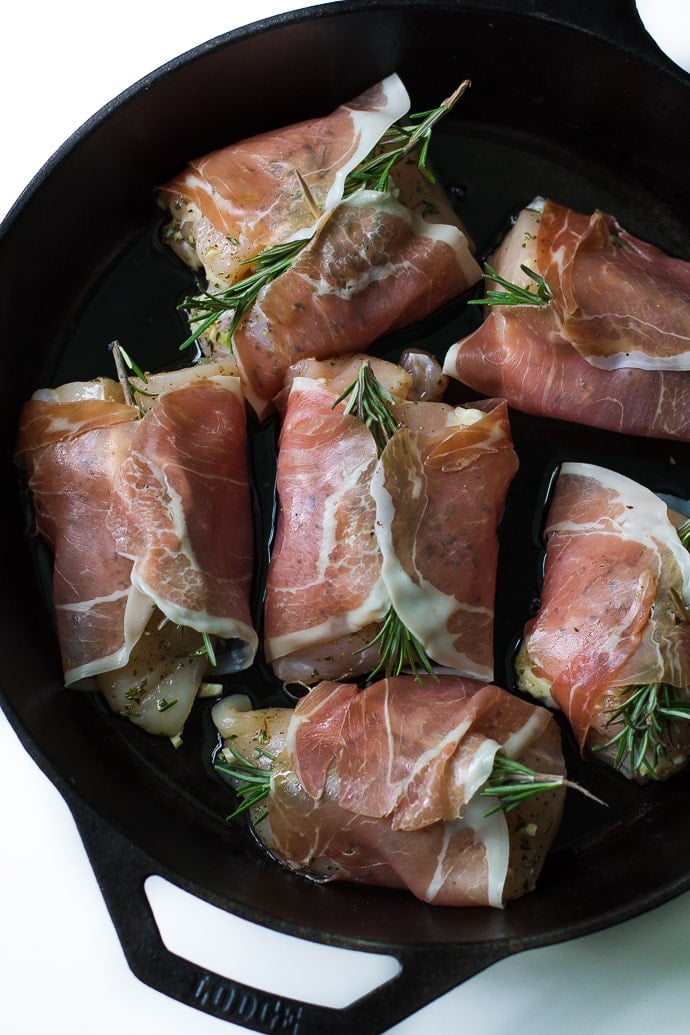 A simple trip to the oven and you have a seemingly fancy as hell dinner! That wasn't too difficult, right?
I'm a pretty big fan. So far I've only tried this particular recipe with goat cheese but I'm very confident that just about any cheese would work and I want to try all of them.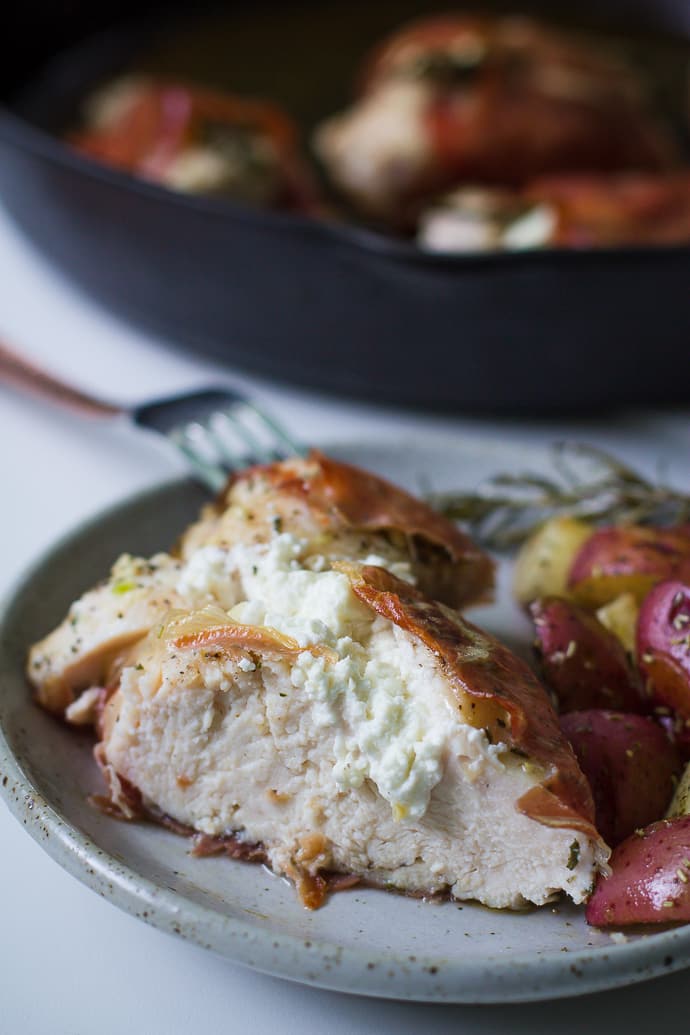 Alright, October. I'm ready for you.
Print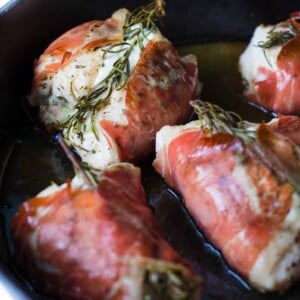 Goat Cheese Stuffed Rosemary Chicken Wrapped in Prosciutto
---
Total Time:

50 minutes

Yield:

6

1

x
3

large chicken breasts
Salt & pepper

1/4 cup

of olive oil

3

cloves of garlic, minced

1

sprig of rosemary, de-stemmed and finely chopped

6

sprigs of fresh rosemary

6 tablespoons

of goat cheese (

3

–

4

ounces)

6

slices of prosciutto
---
Instructions
Pre-heat the oven to 375 degrees F. Grease a baking pan or skillet.
Cut all of the chicken breasts in half. Taking each half, make a long slit down the middle of the chicken breast big enough to fit the cheese in. Season each one with salt and pepper.
In a shallow bowl, mix together the olive oil, garlic, and the finely chopped rosemary.
Taking each chicken breast half, dip it in the olive oil mixture making sure to coat both sides. Place the seasoned chicken in a baking pan or skillet.
Stuff each piece of chicken with ~1 tablespoon of the goat cheese. You can add more or less depending on your chicken and how much you want.
Top each piece of chicken with a sprig of rosemary and then wrap each one in a piece of prosciutto. If needed or desired, you can use a toothpick to hold the prosciutto closed.
Bake for 35-45 minutes checking for done-ness at the 35 minute point.
Once done, let cool slightly and ENJOY!!
Prep Time:

10 minutes

Cook Time:

40 minutes
This post may contain affiliate links. Please read my disclosure policy.