Healthy Rice Crispy Chocolate Bars
This post may contain affiliate links. Please read my disclosure policy.
These Healthy Rice Crispy Chocolate Bars are a delicious vegan dessert that are quick to make and perfect for snacks or as a party treat!
True story: growing up, I HATED peanut butter. Even the smell of it made me sick which was unfortunate because my brother ate it multiple times a day. It's always been on of the VERY few foods that I don't like. I'm not sure where the aversion stemmed from or why I suddenly got over it but something changed in me about 5 years ago and now I LOVE peanut butter.
I recently made a peanut butter cups recipe video for a client (which were SO DAMN GOOD btw) that had chocolate, peanut butter, and rice crispies in them. I LOVED the combo and have been craving something like it ever since. SO, I figured that I would make something of my own with the same flavor combo. Enter these Healthy Rice Crispy Chocolate Bars!
This is a classic, easy 'mix everything into one big bowl' recipe and I love it for that.
We melt together all of the ingredients- minus the crispies- and mix it all together.
Try not to eat all of that before the rice crispies get added in! ??? It's difficult but you can do it! (I mean, I managed it). A couple licks are okay.
Then the rice crispy cereal gets added in. For this, you can use the classic stuff or a gluten free/ organic version. They'll pretty much all work!
It all gets smashed into a dish and left in the fridge to harden up. THAT'S IT! Easy, right?
You *could* store these on the countertop if you're planning to eat them in about a day. I recommend storing them in an airtight container in the fridge. I found that they lasted better that way and I kind of liked the cold-ness of them.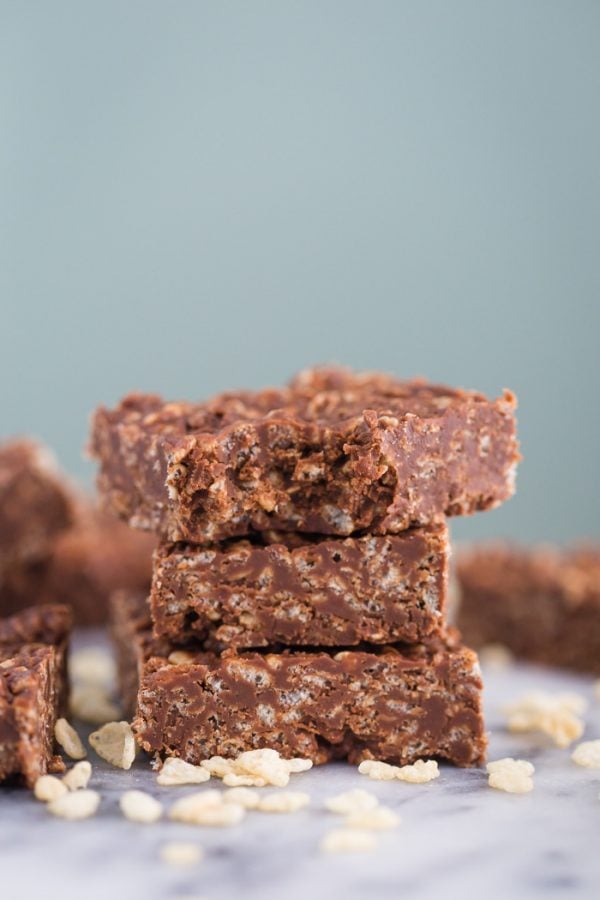 In other unrelated news, if you have any advice on getting a 7 month old baby to eat ANYTHING that isn't breast milk, please let me know. Little miss Jemma wants nothing but the boob ????
Print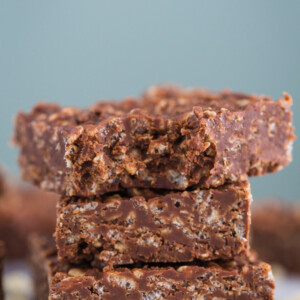 Healthy Rice Crispy Chocolate Bars
---
Author:

Total Time:

35 minutes
Description
Healthy Rice Crispy Chocolate Bars- this vegan dessert comes together in one big bowl, requires NO baking, and is ready in no time!
---
3 cups

rice crispy cereal

1/4 cup

of coconut oil (I also tried this with ghee and it was great!)

1/2 cup

of maple syrup

1 cup

of dark chocolate chips (can also use your favorite chocolate bar broken up into pieces)

1 cup

of your favorite seed/ nut/ whatever butter- I have tried these with peanut butter, almond butter, and my favorite- COOKIE BUTTER!
---
Instructions
Prepare a 9×9 pan (or something of roughly similar size) by lining with parchment paper.
In a medium bowl, add in the coconut oil, maple cyrup, dark chocolate, and nut butter. Melt in the microwave in 30 seconds increments, stirring in between, until completely melted and mixed together.
Add in the rice crispy cereal and stir until combined.
Pour the mixture into the prepared pan and press down until even in the pan. Gently wet your hands before doing so and the mixture won't stick to your hands as bad.
Chill in the fridge for 30 minutes to harden and then ENJOY!
Store in an air tight container either on the counter for 2 days or in the fridge for up to a week.
Prep Time:

5 minutes

Cook Time:

30 minutes
This post may contain affiliate links. Please read my disclosure policy.