Light and Easy Jalapeño Poppers
This post may contain affiliate links. Please read my disclosure policy.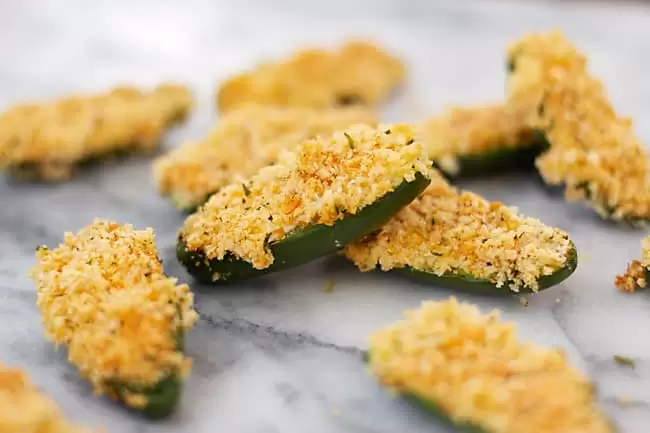 There's something you should know about me: I'm really good at appearing to have my
shit
life together while in reality, I really have no idea what I'm doing half the time. Case in point: my garden. If you walked in my backyard knowing little about gardening, I think it would look like I'm an old pro. I've got 3 different gardening sections/ beds in my yard and each one is moderately organized and neat looking. The reality of it is that I keep buying gardening tools only to realize that I don't really know what to do with them (I just
thought
I needed it). Now I just have a lot of gardening odds and ends that I never use.
Everything I've grown has been a guessing game. Which I suppose is how it is for all new gardeners/ people trying out a new thing? You just keep doing what works and don't do the things that don't work? Or is that just how all of life works? This is getting entirely too deep for a Monday morning. Let's get to the point….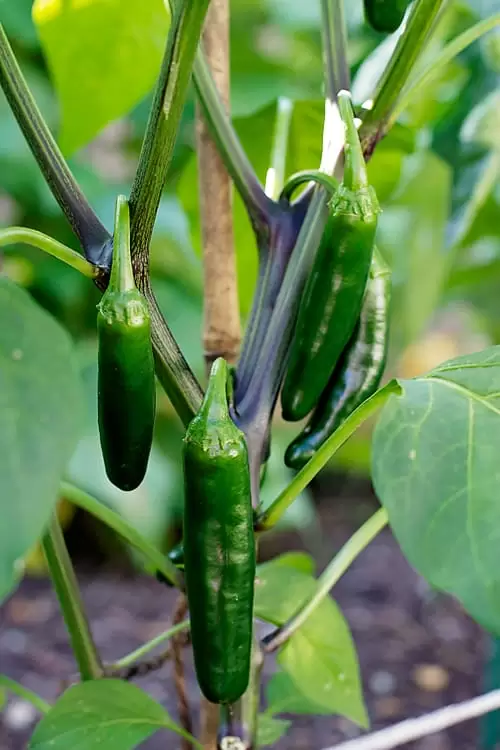 Jalapeños. This my first year growing them. I stuck those baby jalapeño transplants in the ground and have basically done nothing to them but water them. And much to my surprise, they've produced SO many delicious jalapeños! (no seriously, this surprises me). There are other plants that I spend countless hours pruning and watering and trellising and tying and they still don't turn out right. But these jalapeños, they're perfect.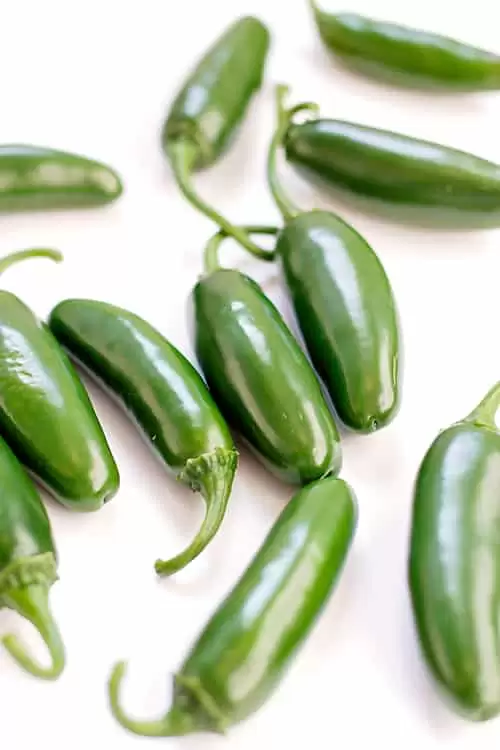 Let's make them even better and stuff them with cheese. Everything is better stuffed with cheese.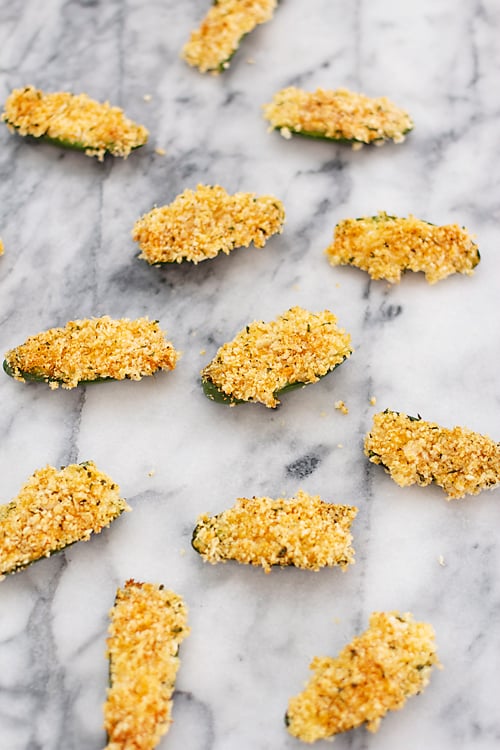 Oh, and before we get to the recipe, let's please look back on
this cautionary tale
. Ya know, the one where I get jalapeño all over my hands, under my finger nails, and inevitably all in my eyes resulting in a doctor's visit. Yea, take a moment to learn from my mistakes and wear some stinkin' gloves.
I take jalapeños very seriously now. I will never make that mistake again. In the meantime, I'll look cool wearing these bad boys: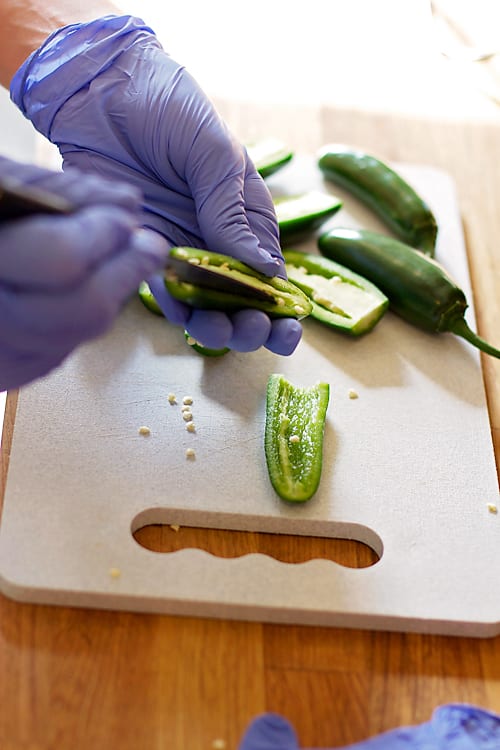 Alrighty, let's do this finally, shall we? Or I could talk more? No? OKay…
Once you've carefully deseeded your jalapeños, we're going to stuff them with cheesy goodness. I chose a light cream cheese and instantly regretted it. It wasn't worth the saved calories, trust me (unless you just really like light cream cheese).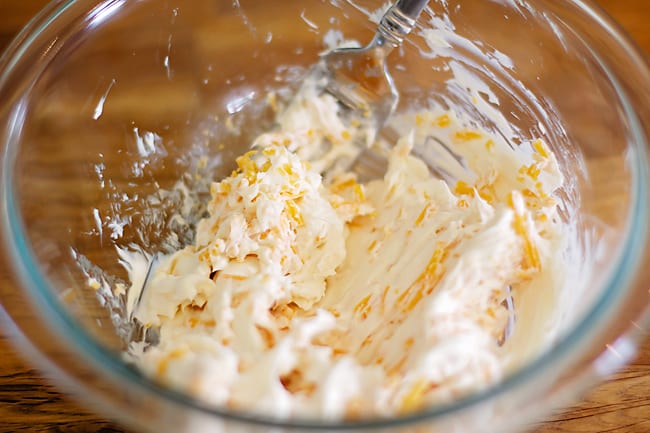 Fill each jalapeño half with about 1/2 tablespoon of the cheese mixture. I made it so each one was slightly over full.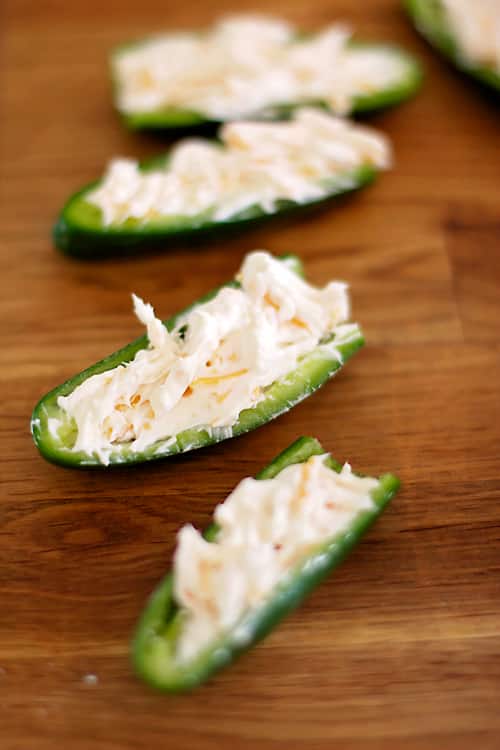 Now comes the messy part. Taking a cheese filled jalapeño, dip it cheese side down into the egg mixture and then drop it, cheese side down again, into the bread crumbs.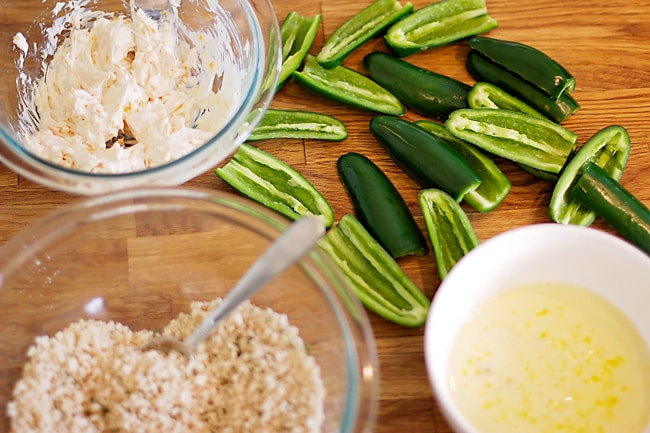 Rub it into the crumbs really nice and make sure it's thoroughly coated. To ensure maximum bread crumbiness, I picked up the jalapeño and used a spoon to dump more of the bread crumb mixture on the tops and slightly on the sides. Then I gave each one a gentle tap to knock off any excess and placed them all on a parchment lined baking sheet.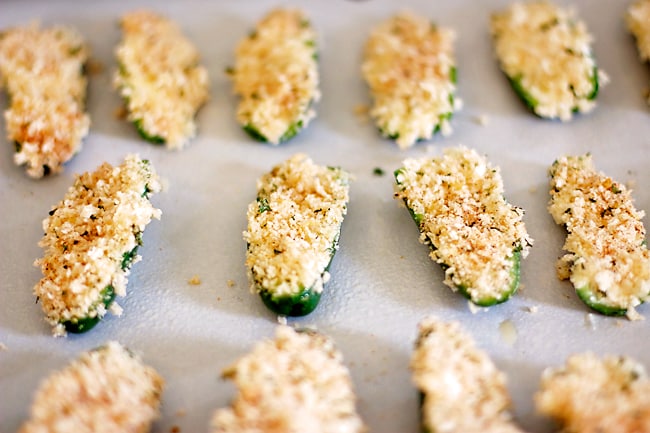 Once they're all cheesed and coated, I lightly sprayed them with cooking spray and put em in the oven.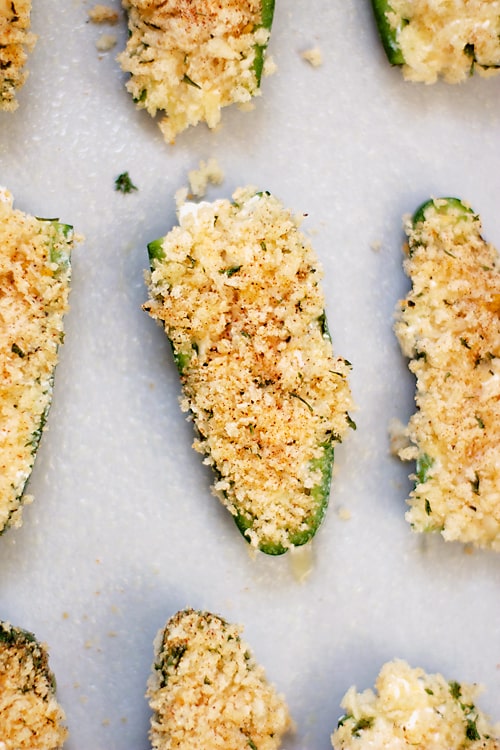 Bake for about 25 minutes and eat pretty much immediately because you have no self control so that you can enjoy all of the oozing hot cheesy goodness!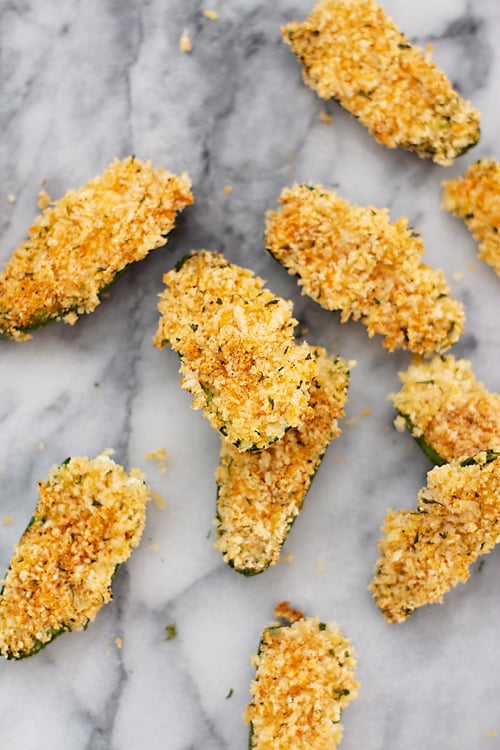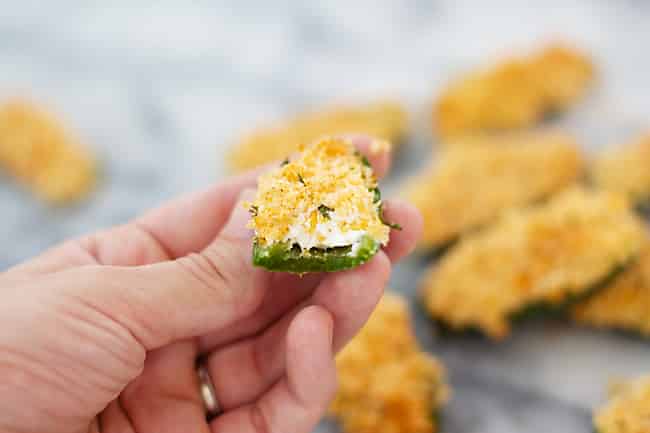 Light and Easy Jalapeño Poppers
Ingredients:
10 jalapeños, deseeded and sliced in half
6-8oz cream cheese (I used light cream cheese but didn't prefer it)
1/3 cup sharp cheddar cheese, shredded
1 egg
1/4 cup milk (any kind)
2/3 cup panko bread crumbs (mine are italian seasoned, hence the parsley flakes you see)
1/4 teaspoon paprika
1/4 teaspoon garlic powder
1/2 teaspoon salt
freshly ground black pepper
Directions:
Pre-heat oven to 350 degrees F. Line a baking sheet with parchment paper.
1) Combine cream cheese and cheddar cheese and mix well.
2) Prepare egg mixture by thoroughly beating your egg and milk together.
3) Prepare your bread crumbs by mixing together in a large bowl your panko bread crumbs, paprika, garlic powder, salt, and pepper.
4) Fill each pepper half with ~1/2 tablespoon of the cream cheese mixture. I filled mine so they were slightly overflowing on the top.
5) Dip each jalapeño, cheese side down, into the egg mixture and then drop it, cheese side down, into the bread crumb mixture.
6) Pick the jalapeño up and using a spoon, mix the bread crumbs together (because the spices will keep falling to the bottom) and spoon more of the crumbs onto the jalapeño.
Note: I chose to only cover the tops of mine but you can dip the whole thing in the egg mixture and cover it in bread crumbs if you so please.
7) Give the jalapeño a tap to knock off any excess crumbs and place it on your baking sheet.
8) Repeat these steps until all of the jalapeños are ready and on the baking sheet. Spray them lightly cooking oil and bake for 25 minutes.
9) Let cool for a minute and ENJOY! These are best served warm.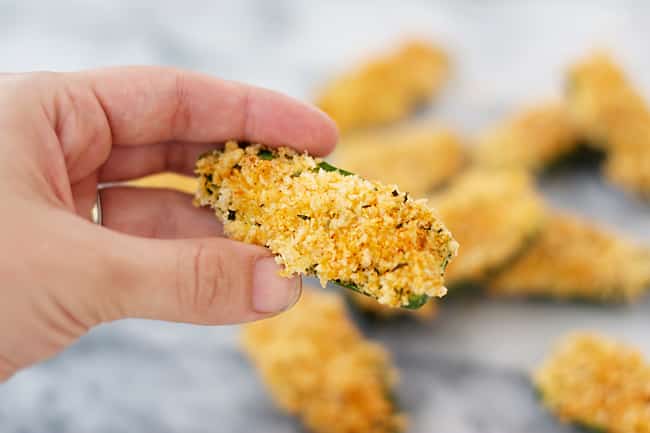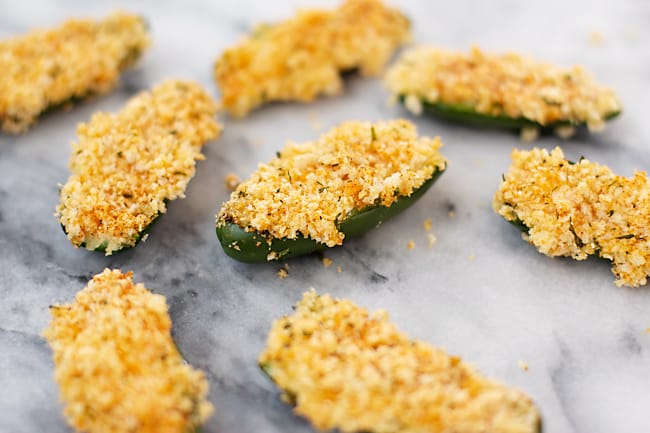 What do you like to cover in breading??
This post may contain affiliate links. Please read my disclosure policy.