Mocha Cashew Brownies
This post may contain affiliate links. Please read my disclosure policy.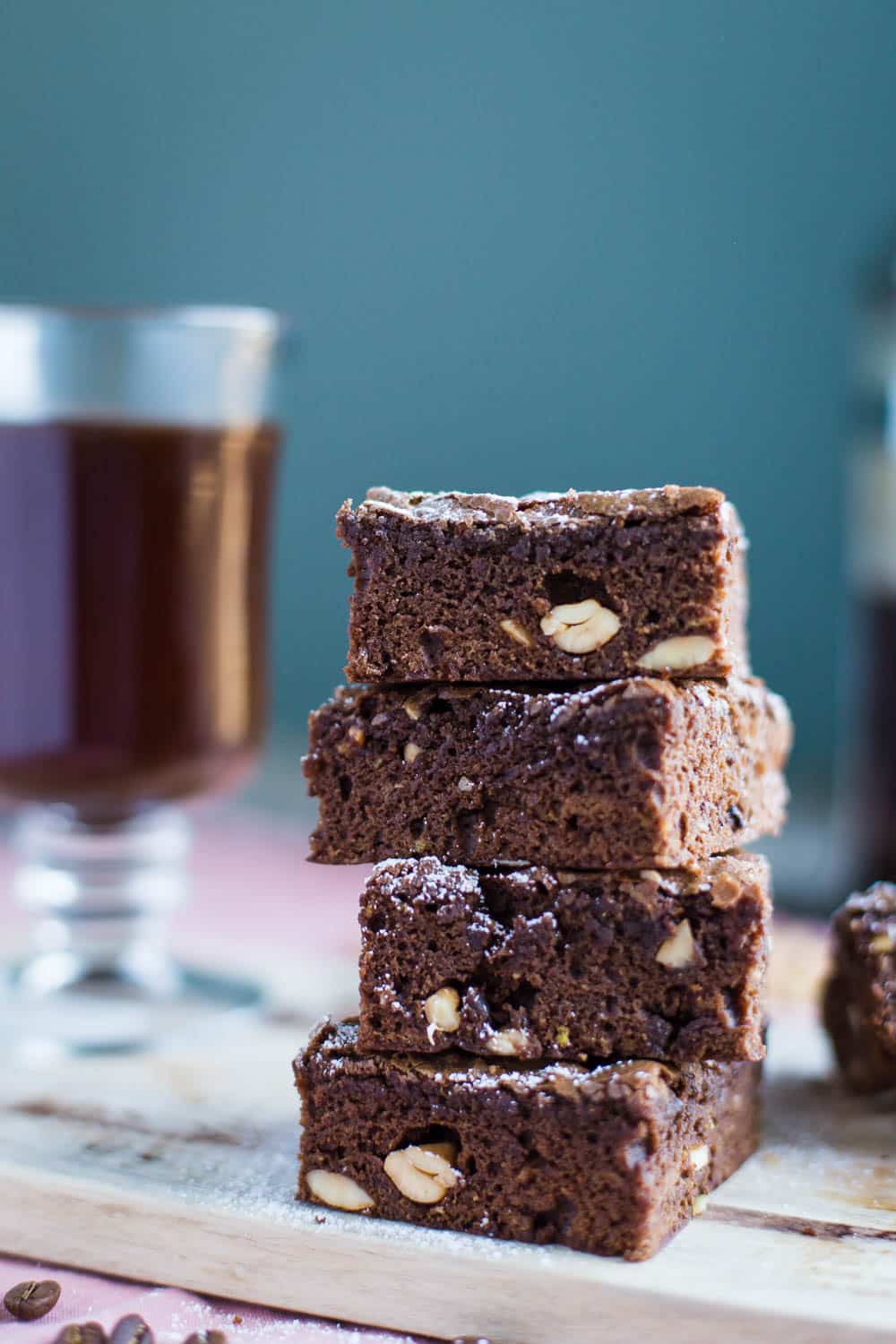 I wanna talk politics SO bad right now. I want to comment on the results from last night's super tuesday. But, I will refrain because this blog is my happy place and we talk about happy things here/ things that don't make me crazy. So instead, lets talk about these Mocha Cashew Brownies. Brownies can never do anything wrong.
In case you haven't noticed, it's been hyper healthy around here these days and mostly vegan. I decided it was time to shake things up just a little bit. Mocha brownies have been on my list for a while and I'm happy that they're finally here. ACTUALLY, I wanted these to be Mocha HAZELNUT brownies. But apparently hazelnuts are impossible to find this time of year even if you go to 4 different grocery stores to find them. I guess I'll just have to make them again later in the year when hazelnuts are in season.
So, we're going with cashews here because I wanted something that wasn't pecans or walnuts AND I bought a large container of cashews in bulk recently.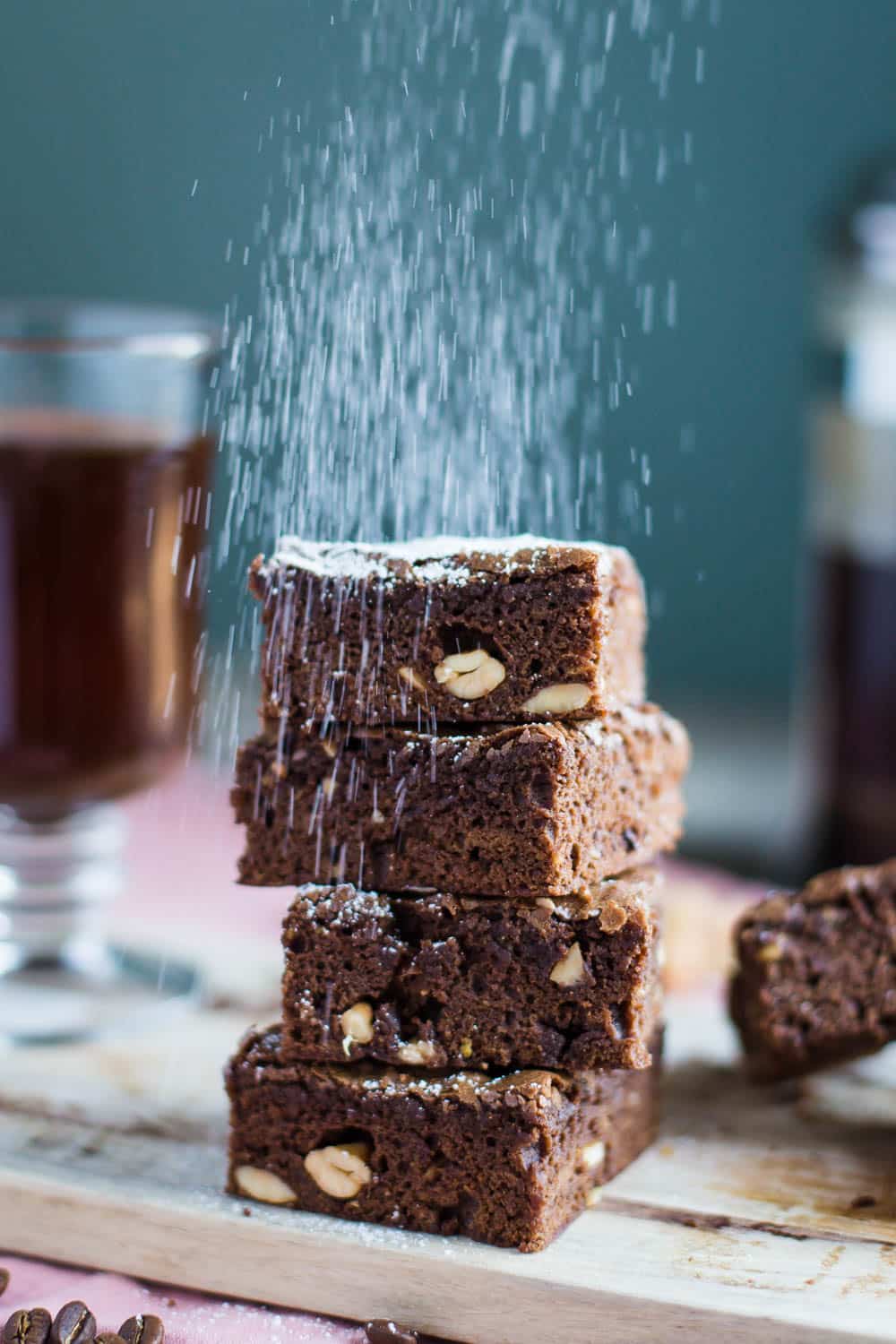 The recipe for these brownies comes from an old baking cookbook that's literally called "Baking". My former roommate gave it to me shortly before moving to Israel and it's been a nice addition to my ever-growing cookbook collection. My original intention was to link you to the book so that you could check it out because it's a good little (actually pretty big) baking cookbook with lots of great recipes. HOWEVER, typing in "Baking" cookbook into google does not provide the best results.
Alright. These brownies come together quickly, as brownies typically do.
Eggs and sugar are creamed together while the butter and chocolate melts and the coffee granules dissolve a bit. Then it's all mixed together.
Then we add our cashews in, reserving a large handful for eating while we wait for the brownies to bake.
I like my brownies topped with a dusting of powdered sugar (because they need more sweetness (not)).
Baking Mocha Brownies is a good way to justify eating brownies for breakfast BECAUSE you're getting your bfast AND your coffee all in one little delicious nugget of chocolaty goodness. Besides, we're adults here and that means that there's no one around to tell us that eating brownies for breakfast is unacceptable. It'll be our little secret.
Need more brownies?? Check out these BEER BROWNIES!!
Print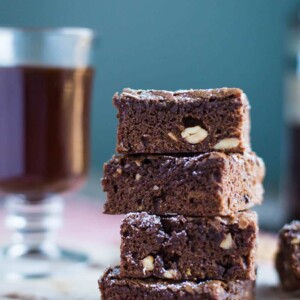 Mocha Cashew Brownies
---
Author:

Total Time:

35 minutes

Yield:

9

1

x
4 ounces

of semisweet chocolate

4 ounces

of unsalted butter

1 tablespoon

of instant coffee powder

1 tablespoon

of warm water

1 cup

of brown sugar

2

eggs

2/3 cup

of all-purpose flour

1/2 teaspoon

of baking powder

1/2 cup

of cashews, roughly chopped
---
Instructions
Pre-heat the oven to 350 degrees F. Grease an 8 inch square baking dish and set aside.
In a small saucepan, heat the chocolate and butter over low heat. Stir frequently until full melted. Take off of the heat and set aside to let cool slightly.
In a small bowl, mix together the coffee powder and the warm water. Let cool.
In a large bowl, cream together the eggs and sugar until light and fluffy. Fold in the chocolate mixture and the coffee mixture. Mix until thoroughly combined.
Sift in the flour and baking powder and fold in until combined. Add in the cashews and gently mix.
Pour the brownie batter into the prepared baking dish and bake for 25-30 minutes. You'll know they're done when a toothpick inserted into the brownies comes out clean.
Let cool slightly, cut into squares, and ENJOY!
Prep Time:

10 minutes

Cook Time:

25 minutes

Category:

Dessert
This post may contain affiliate links. Please read my disclosure policy.