Beer Brownies
This post may contain affiliate links. Please read my disclosure policy.
Can I be honest with you for a minute before talking about brownies? Life has been a challenge the past few weeks. As a dear friend of mine would say: I've been 'riding the struggle bus'.
It's all kinds of normal little life things plus the fact that I'm a chronic over thinker. I'm the kind of person that sets my mind on something and then bends over backwards trying to get it even if maybe that thing isn't actually what I want or need after all. I'm also the kind of person that thinks (and then re-thinks) about every possible horrible outcome to a situation. I have a very busy mind and it's exhausting.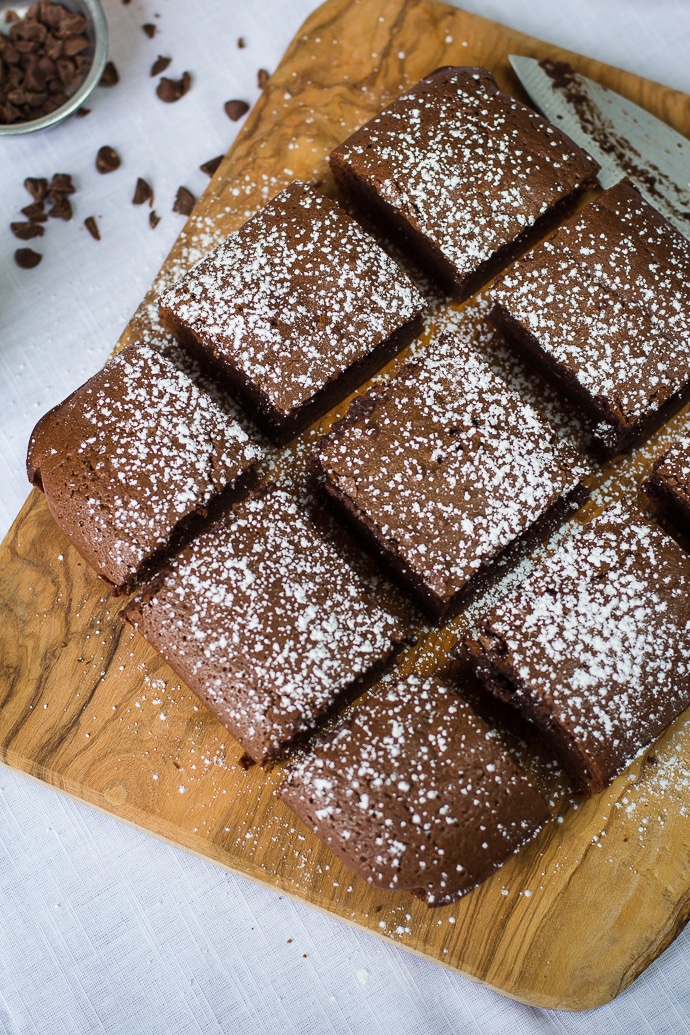 Something else I've discovered about myself as I've gotten older is that I am a natural born pessimist. I think I'm really good at being positive but my natural instinct is certainly not to look through the rose colored glasses. I'm working on it though and I think that's all I can ask for, right?
On a much lighter note: I'm going to Cancun next week for a food blogging/ food photography conference at an all inclusive resort! (!!!) This trip seriously couldn't come any sooner. The conference itself is only 2 days but I'll be there for 5. I plan to do lots of nothing and I can't wait!! It has been very strange, however, trying to buy a new bathing suit while the leaves are falling and all the stores are selling is winter coats. Thank goodness for the internet.
Ok, so brownies. BEER BROWNIES!! I've had these brownies on my to-do list for a very long time. Basically ever since I made this Beer Bread and discovered how amazing (and easy) it is to add beer to baked goods. I used the same Nashville brewed beer for this from Blackstone Brewing Company, but this time, given the season, I opted for the Pumpkin Ale.
To be honest, the pumpkin-ness of this beer doesn't really come out in the brownies at all but I know it's there and that's (kind of) what matters.
Also, it seems that people typically use darker, stout beers for beer brownies but I didn't and these brownies are just perfect.
The brownies come together rather quickly which is always nice.
Chocolate is melted together with the buttah.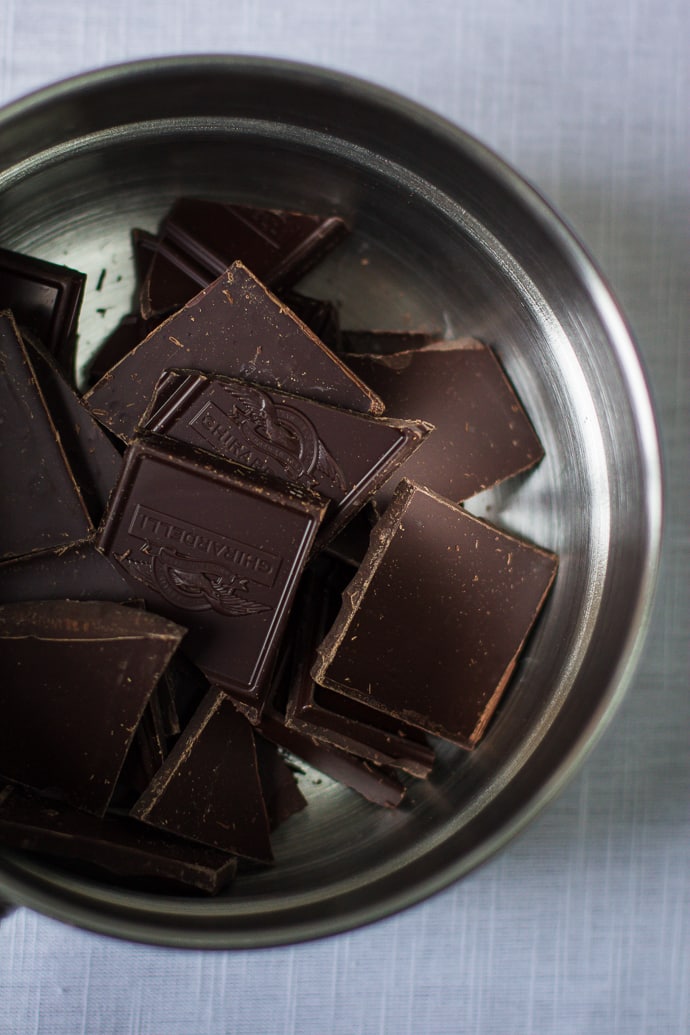 And then the sugars and beer are mixed in before the eggs and eventually the dry ingredients.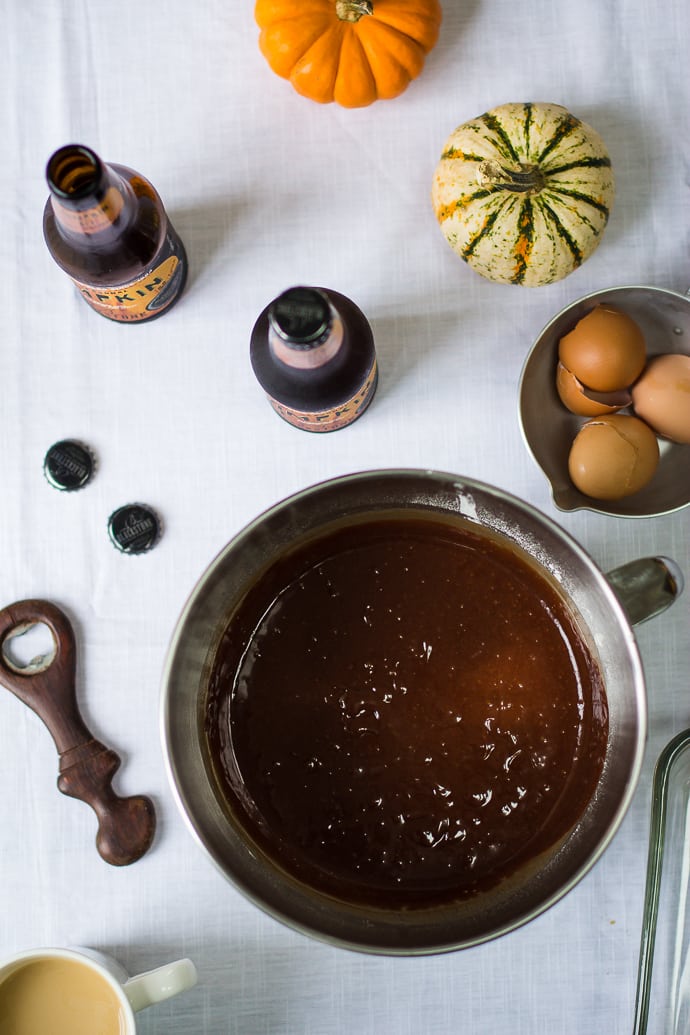 I made these brownies early one morning and may have double fisted my coffee and the leftover beer. Waste not, want not, ya know. I have no regrets.
The rich chocolate batter is then poured into a square dish and ready for the oven.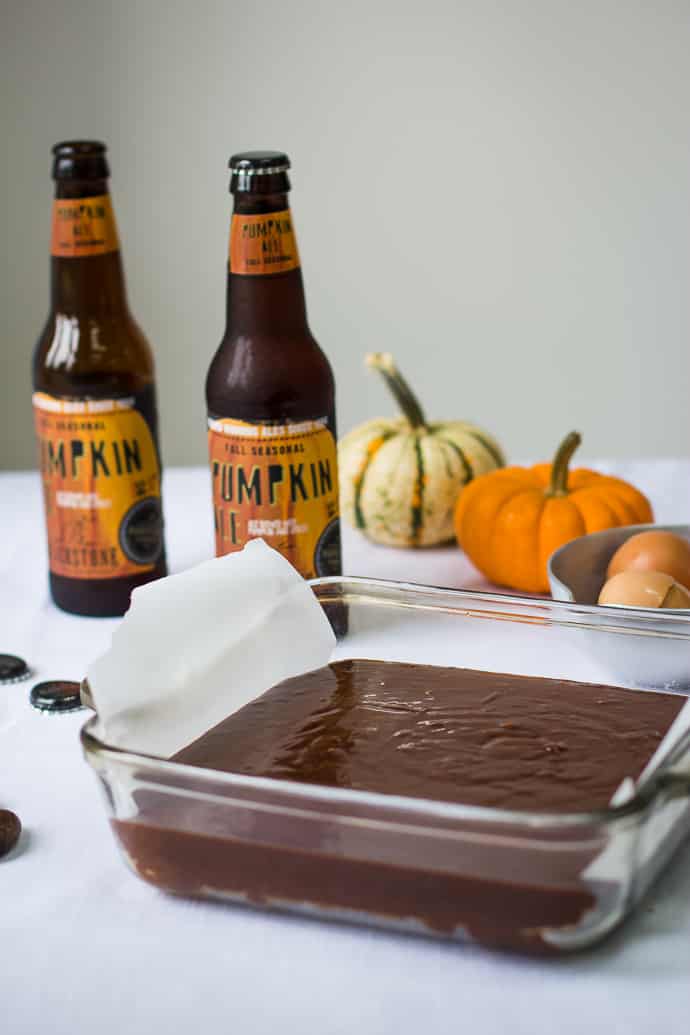 Once the bowl was clean (aka I licked it clean), and I had finished my third cup of coffee, the brownies were done.
I used an 8×8 inch pan as opposed to a 9×9 thus resulting in plumper brownies. I was not at all sad about this either.
And as if they weren't sweet enough already, a bit of powdered sugar is sprinkled on top to make them a bit prettier.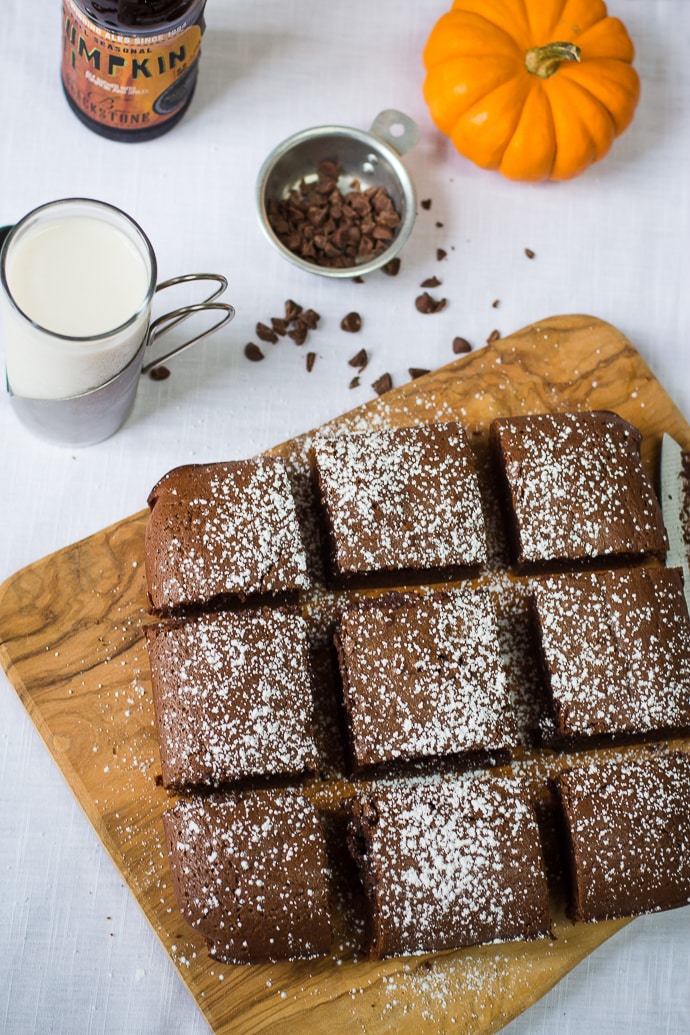 Like I mentioned before, the pumpkin nor the beer flavor itself really overpowers these brownies at all. But, just knowing that it's there makes me a little bit happier :)
So, what baked creation should I add beer to next?? I'm already working on a little beer recipe that I'm very close to perfecting and I can't wait to share it with you!!
Happy beer baking, friends!
Print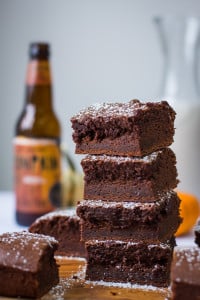 Beer Brownies
---
Total Time:

50 minutes

Yield:

9

1

x
1 cup

of all-purpose flour

1/2 teaspoon

of salt

8 ounces

of chocolate (I used 60% cocoa)

1 1/2

sticks of butter (or

3/4

of a cup)

1/2 cup

of white sugar

1/2 cup

of brown sugar

1 teaspoon

of vanilla extract

1/2 cup

of beer

3

eggs
---
Instructions
Pre-heat the oven to 350 degrees F. Butter a square baking pan (I used 8×8 but 9×9 works just as well).
In a medium bowl, sift together the flour and salt and then set aside.
In a double boiler (or with whatever method you prefer to melt chocolate) melt together the chocolate and butter until fully melted and combined. Take off of heat.
Pour the chocolate mixture into a large bowl and stir in the sugars, extract, and beer.
One at a time, whisk in the eggs to chocolate and sugar mixture.
Add the dry ingredients to the wet chocolate mixture and stir until well combined.
Pour mixture into prepared pan and bake for 35-40 minutes or until a toothpick comes out clean.
Let cool slightly.
optional: sprinkle with powdered sugar.
ENJOY!!!
Prep Time:

15 minutes

Cook Time:

35 minutes
I haven't been listening to ANY music lately because I recently discovered the Serial Dynasty podcast and I'm obsessed. I'm not proud of this fact but it's a fact. So, if you've listened to Serial, go listen to Serial Dynasty. If you haven't listened to Serial then WHAT IS WRONG WITH YOU go download it and binge listen to it NOW :)
This post may contain affiliate links. Please read my disclosure policy.