Mojito made with Stevia Extract
This post may contain affiliate links. Please read my disclosure policy.
This Mojito made with Stevia Extract is perfect for hot summer days!!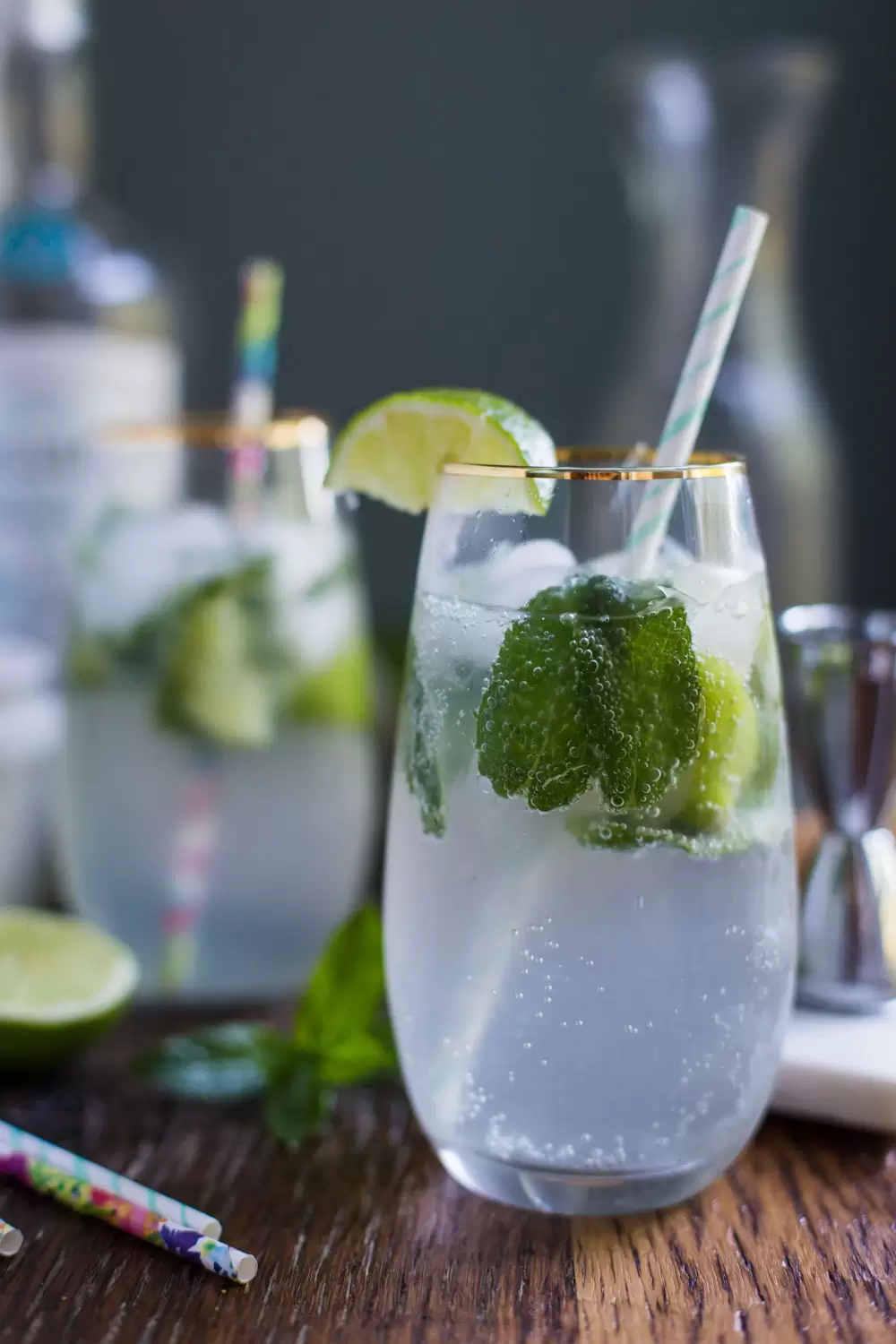 It's Monday which means that we all clearly need a drink. A drink in the summer fashion but also one that will leave us feeling light and refreshed (because I don't know about where you are but here in Nashville, it's been HOT!).
Today we're going to talk about Stevia as a sugar alternative. I've been a long time fan and a long time addict of sugar alternatives. It started when I was really young (maybe 12?) and started caring about my appearance. Culture taught me that artificial sweeteners were much better for you because it means that you are consuming MUCH less sugar. While true, it's also only part of the whole picture.
Throughout my college years, Spenda was my artificial sweetener of choice. I carried it around with me so that I could always make the "healthier choice". Fast forward a few years and I learned that maybe all of that powdered sweetener wasn't as good as it claimed to be. I'm not going to try and throw science at you but I will say: anytime I can choose an all natural option, I'll take it. Enter: stevia.
But even amongst Stevia varieties, not all are equal. I used to buy the big label brands of stevia. The ones that are at pretty much any grocery store in white and lime green containers. It was an easy substitute for the artificial substitutes that I was previously using. I then did a little more research and found that, like with everything these days, companies were altering the stevia so that it wasn't so natural anymore and wasn't so great of an alternative.
SO, I researched how to grow my own. Which I did. But then never followed through with the whole drying and turning it into a powder part. Oops. THIS is a place to start if you're interested in growing your own.
In the meantime, I've been using THIS All Natural Stevia Extract Powder. What's SUPER SUPER important to know about this particular powder is that it is very sweet! We're talking SWEET. If you look at the serving size then you will see that it is 1/32 of a teaspoon. Yep! The stevia that you buy at the store has all kinds of additives in it which is why it can be used similar to other sweeteners. However, natural stevia is very potent. When I put it in my coffee or in a drink like this mojito, I'm using a TINY amount.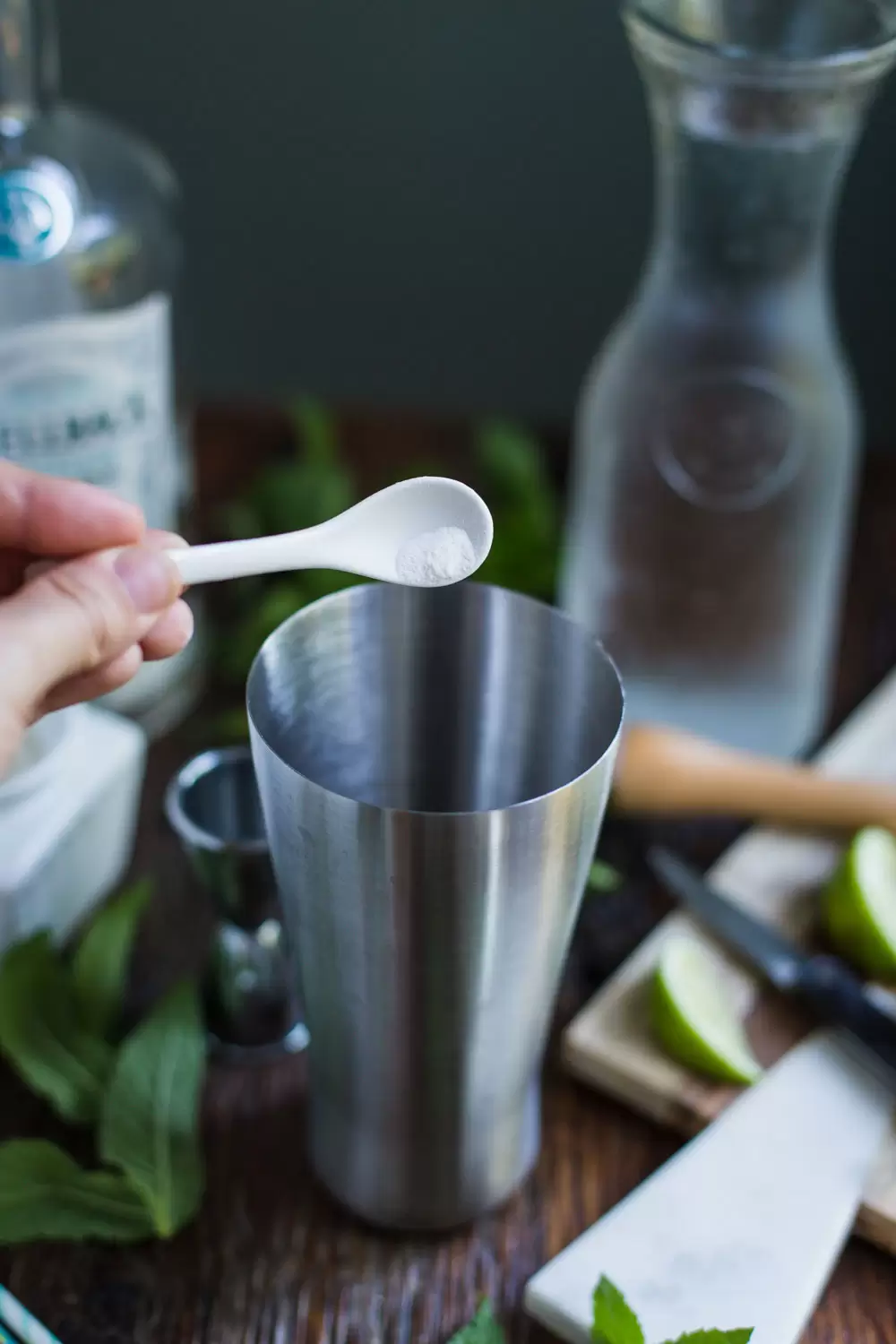 Moral of the story: if you're new to all natural stevia, I suggest only using a ridiculously small amount to start out with until you figure out what works best for you.
OH, and there's also liquid stevia such as THIS ONE. I honestly don't know as much about the liquid form and have only used it a few times in this drink. But, it does exist.
So, onto the actual Mojito! :D
I don't need to tell you how awesome Mojitos are, do I? We all know that as a well established fact at this point. And when you planted those stevia plants, you also planted some mint plants that have begun o COMPLETELY take over and you basically have mint growing out of your ears. So, might as well make lots of Mojitos with it.
We're going to start with a base Mojito recipe but please feel free to play around with it from there. A bit more lime juice? Go for it. Maybe a splash more rum…YES PLEASE!
Also good ideas: adding fruit to the mix. Maybe muddling a few berries in the bottom of the glass! Go for it!
It also magically tastes a little better with a cute straw<<<< fact.
It might be August, and kids might be going back to school, but there's still lots of summer left to enjoy as far as I'm concerned!
Print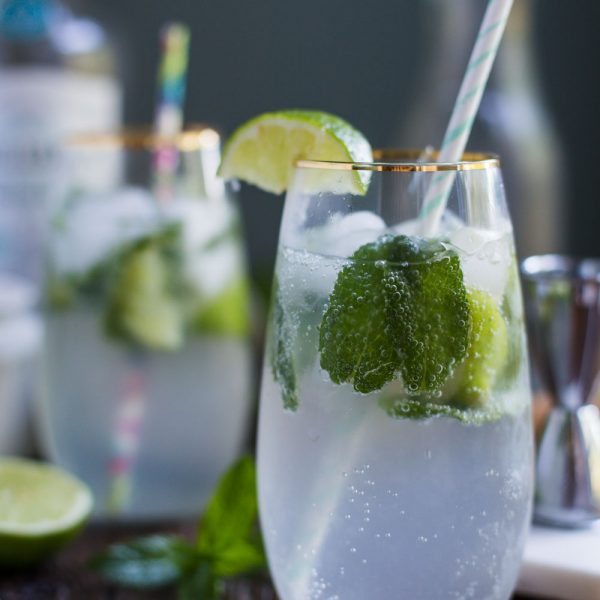 Mojito made with Stevia Extract
---
Author:

Total Time:

2 minutes

Yield:

1

drink

1

x
Handful of mint leaves (about 10 leaves)

1/2

of a lime cut into

2

wedges
pinch of all natural stevia powder

1 1/2

–

2

ounces of white rum
Club Soda (in times of desperation, I've also used various flavors of La Croix (sparkling water) and it worked great!).
ice
optional: additional mint and lime for serving
---
Instructions
In the bottom of a tall glass or cocktail shaker, muddle together the lime, mint, and stevia.
Add in the rum and shake to combine.
Strain the mixture into a glass filled with ice and top off with the club soda.
If desired, add in additional lime and mint leaves.
Stir to combine and ENJOY!!
Nutrition
Serving Size:

1 tall glass
This post may contain affiliate links. Please read my disclosure policy.