Peach Mojito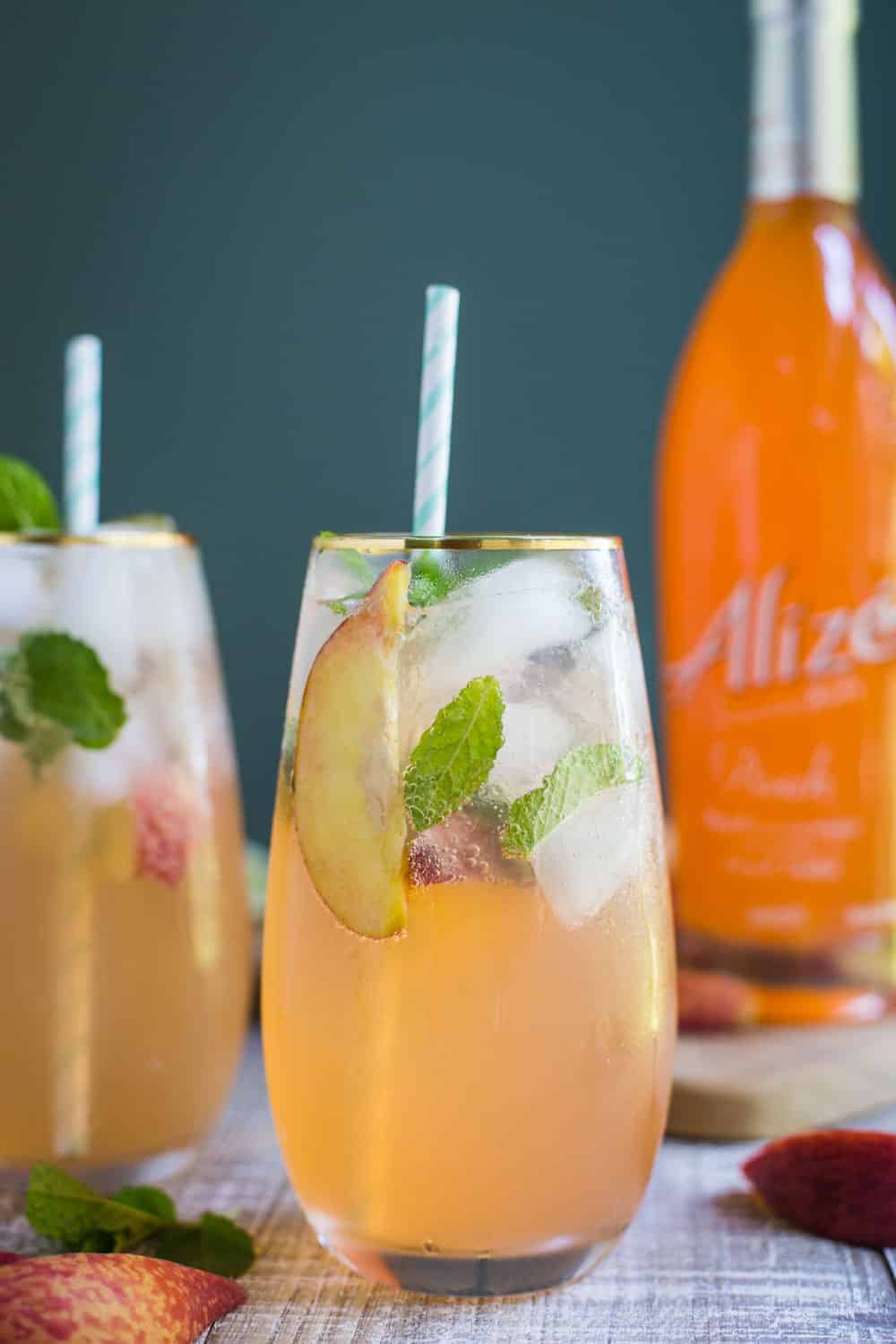 I can't tell you how excited I am that summer is nearly here and it's finally acceptable to drink mojitos on a regular basis. If you follow me on snapchat (bbritnell), then you might have seen that I have a RIDICULOUS amount of mint growing in my backyard. And, since I hate to let things go to waste, I typically use it as an excuse to make myself a mojito (or maybe 2 some nights).

This mojito is a little different, though. I swapped the usual rum out with this super delicious Alize Peach Liqueur. Don't worry, I did lots of testing to make sure that all the flavors would go together okay. Even Stephen was a bit skeptical at first. I mean, do peaches really mix well with lime? YES! The answer to that question is YES. And the Alize Peach Liqueur give the mojito and more distinctly sweet summer taste that I'm kind of in love with.

Oh, and HEY: I created another little recipe video for you because I'm 100% and completely obsessed with them :) I hope you like it!

For the past couple years, I've been swapping out the sugar in my mojitos for stevia powder which you'll note in the recipe. I plan to talk more about this in a future post but please note that not all stevia is the same. If you buy stevia at the average grocery store, chances are high that you're actually buying a stevia blend. These blends can be used and substituted in similar quantities to other sweeteners. However (!!!!), if you buy stevia that's totally pure, you're going to use WAY less. I would typically put about 1-2 tablespoons of sugar in a cocktail like this but when using the pure stevia powder, you'd only actually use a small pinch (literally just a small pinch).

But, more on all that in a future post :)
Lets talk just for a second about this Peach Alize Liqueur.
Alizé Peach is a succulent infusion of ripe, luscious peaches delicately blended with premium French vodka. This delicious flavor can be savored on the rocks or in stylish, colorful cocktail like this Peach Mojito. I tried it straight with just a little bit of ice and it's SO good. Sweet but not too sweet and just perfect for summer. Plus, I really love peaches, so. WIN!
I highly recommend making yourself one of these fruity cocktails ASAP!! Or, add it to your menu for Memorial Day :)
ps- did you watch my video? I put a lot of sweat and love into that video and I'm really proud of how it turned out. Give it a little share on Facebook if you don't mind.
This post was sponsored on behalf of Alizé Peach. All opinions stated are my own.
Print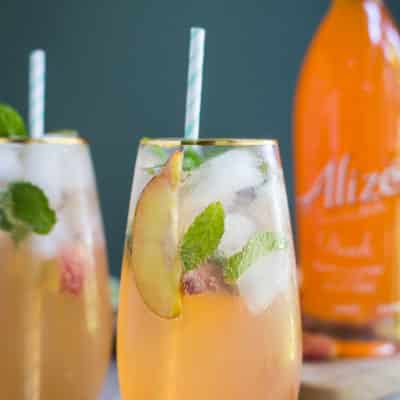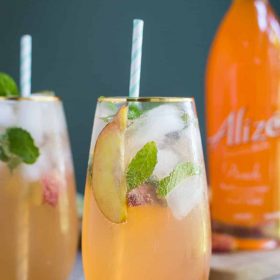 Peach Mojito
---
Author:
Prep Time: 5 minutes
Total Time: 5 minutes
Yield: 2 1x
---
Instructions
In the bottom of a cup, muddle together the Alize Peach Liqueur, mint leaves, lime, and sweetener. Once fully muddled, shake thoroughly and then pour the mixture evenly among 2 glasses filled with ice.
Add to each glass a bit of the mint that you muddled and peach slices if using.
Top each glass off with the club soda. Give it a gentle stir and ENJOY!!
---