Protein Porridge
This post may contain affiliate links. Please read my disclosure policy.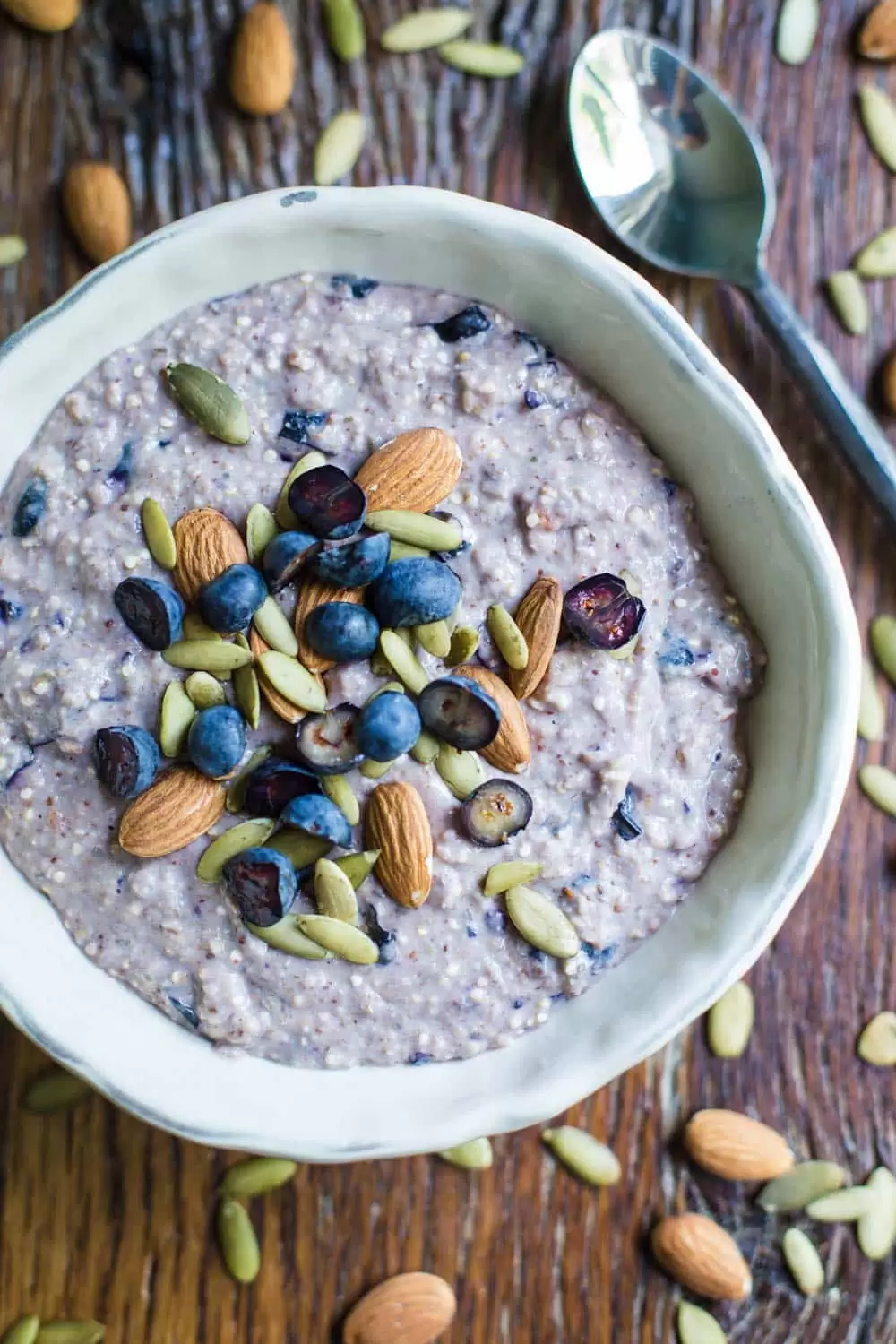 Hi, friends! I'm back with yet another Jamie Oliver recipe re-make. In case you don't know by now (or you're new), I'm thoroughly obsessed with Jamie Oliver. I've been hoarding lots of his magazines (even though you can't buy them here in the US) AND my Jamie Oliver cookbook collection is growing to an embarrassing number (although it's not actually my fault that he releases a new book each year and that I HAVE to have it).
So, let's talk about what porridge is, exactly. If you're like me, you grew up eating oatmeal and the word "porridge" was something that you only heard if you watched a British film or were reading the Story of Goldilocks.
Turns out, porridge and oatmeal are often one in the same. Well, technically, oatmeal is a type of porridge while porridge is simply the word used for cooked breakfast grains. Porridge often has more in it than simply oats (ie our protein porridge here).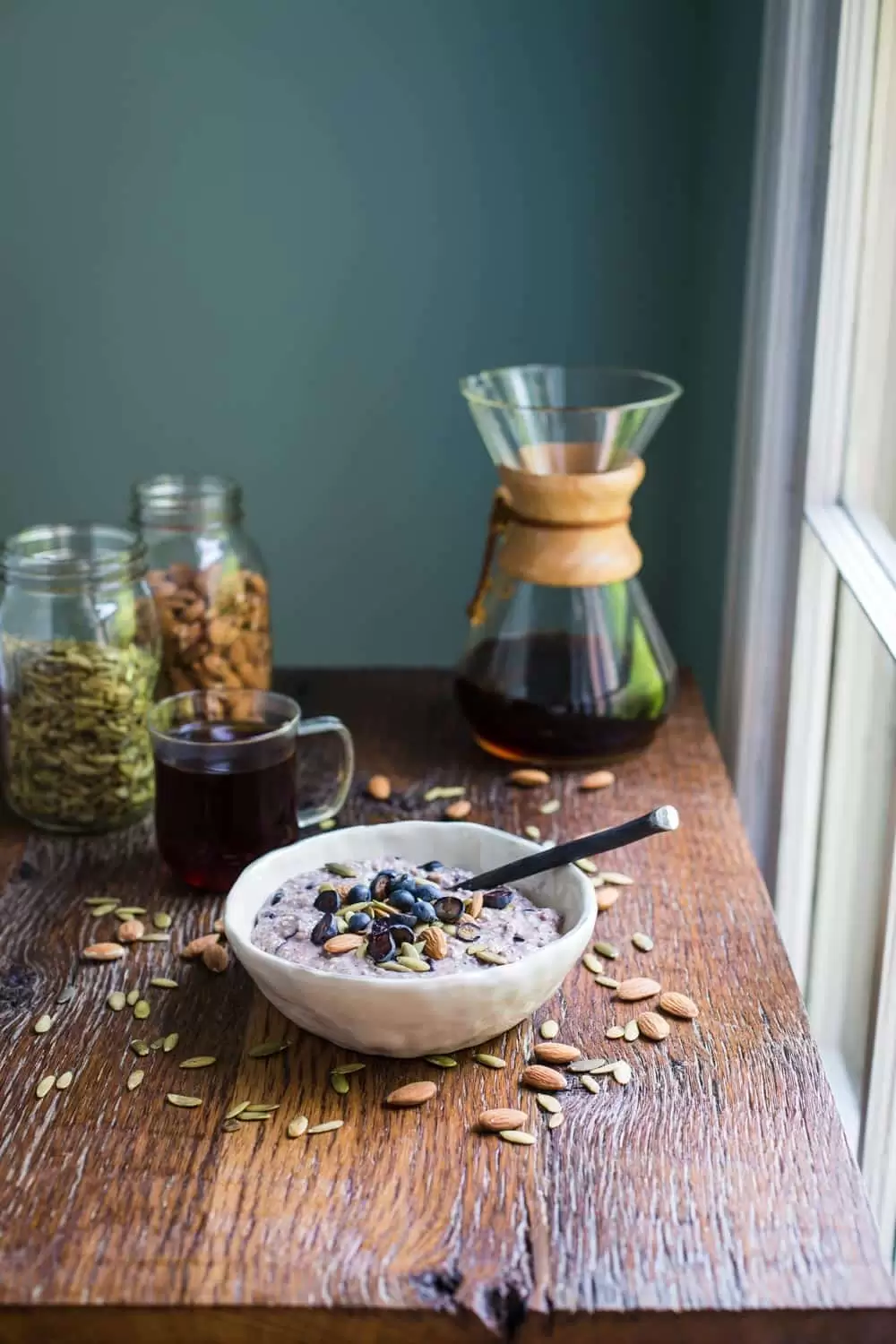 And at the end of the day, porridge is just more fun to say! Right? Right!
This porridge consists of oats, quinoa, nuts, flaxseed, and fruit. I also added some vanilla protein powder to mine but that's not actually necessary. All of the ingredients are processed together to create a kind of coarse powder which is then stored away until you're ready to use it. I keep mine in a big mason jar and use it for lazy day breakfasts.
You can blend yours up as much or as little as you like. I wanted my mixture to be rather fine so I blended mine until there were no large clumps left. The nice thing about this is that the porridge cooks ridiculously fast. I mean, you can have breakfast ready in 5 minutes flat!
The texture is perfect when it resembles coarse almond meal. Like that☝︎☝︎☝︎☝︎☝︎
When you're ready to make yourself a bowl, places 1 3/4 cup of the mixture in a small pan with 2/3 cup of milk for just 3-5 minutes while stirring frequently. In his book, Jamie recommends mashing up fruit to mix into the porridge. I highly suggest that because not only does it taste delicious, but it gives the porridge a very pretty color. I tried it first with strawberries and this time (when I took the photos) with blueberries.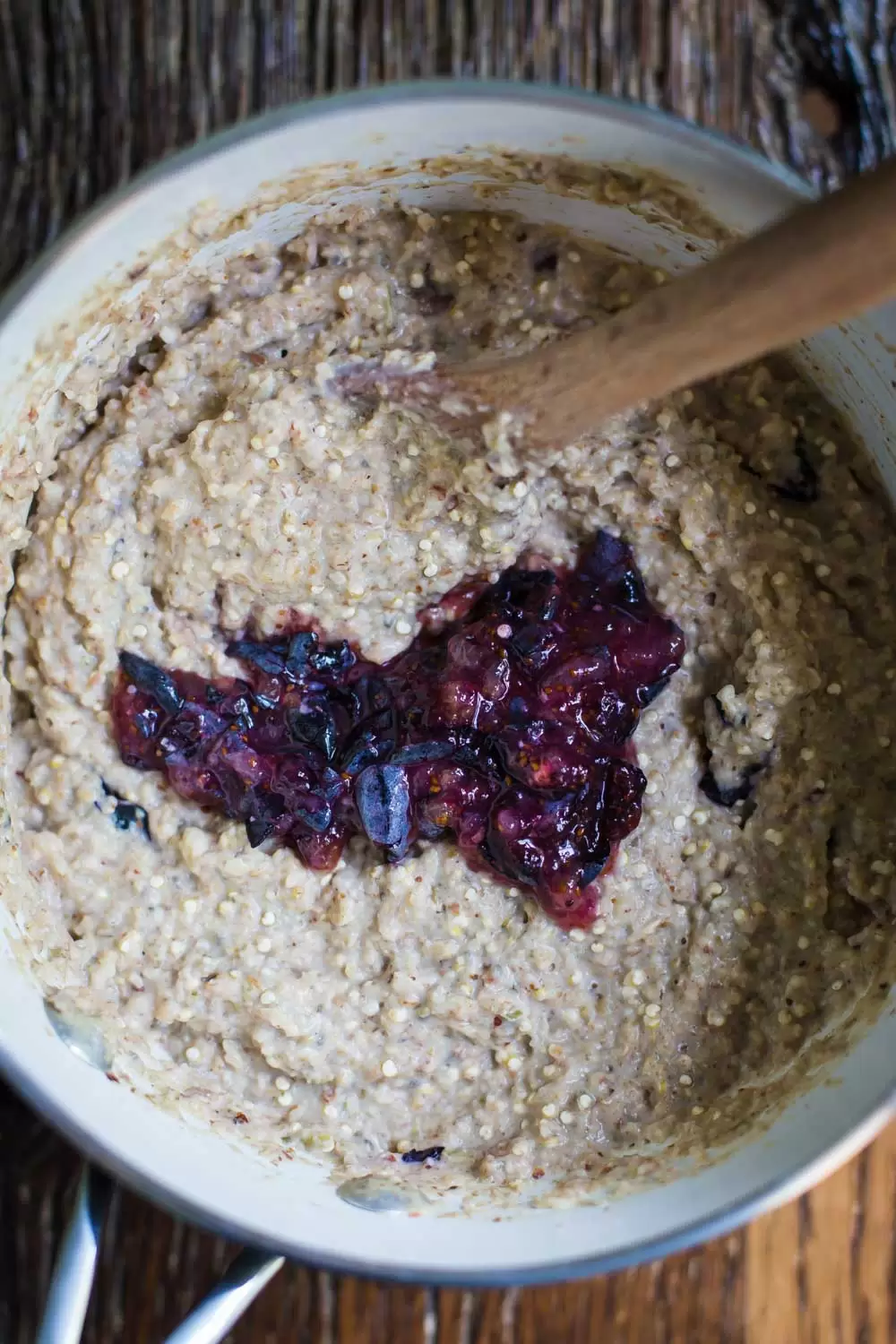 I simply mix the fruit in at the end and it's perfect!
I then top mine with a bit more fruit and a sprinkling more of some nuts (pumpkin seeds because I'm obsessed with them at the moment!).
YUMMMMMMM! ☝︎ I still have a little bit of the mix left from when I made it to photograph this. I believe that I should go make some of this RIGHT NOW! ????
I hope you have a lovely Friday and a great weekend that's filled with lots of good food and maybe some of this porridge!
Print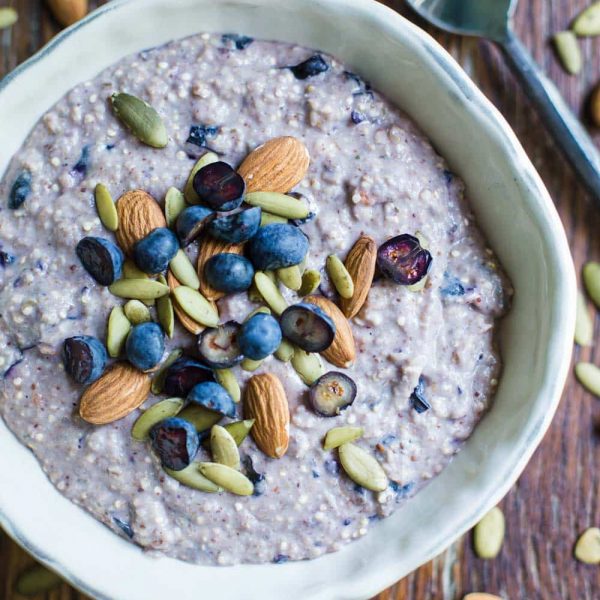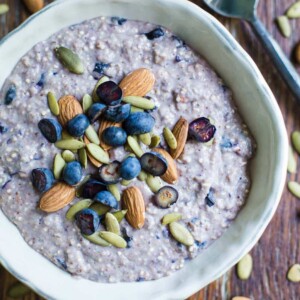 Protein Porridge
---
Author:

Total Time:

10 minutes

Yield:

8

1

x
To make the mix:
2 cups

of rolled oats

1/4 cup

of quinoa

1/3 cup

of flaxseeds or flaxseed meal

3/4 cup

of pumpkin seeds

3/4 cup

of walnuts

3/4 cup

of almonds (can be whole or sliced)

1 teaspoon

of vanilla extract
optional: 3 tablespoons of plant based protein powder
To make the porridge:
2/3 cup

of milk (I used vanilla almond milk but you can use regular milk, soy milk, or whatever your favorite milk is)

3 ounces

of fruit (berries work best), mashed if desired
nuts for topping is desired
---
Instructions
To make the mix, simply combine all of the mix ingredients in a food processor or blender and blend until you get a consistency similar to coarse almond meal. You can make the mix thicker or thinner depending on your preferences but I prefer it the consistency of almond meal (see picture above).
Store the mix in an airtight container until you're ready to use it.
Once ready to make, combine 1 3/4 cup of the mix with 2/3 cup of milk in a small pan. Cook for 4-5 minutes over medium heat, stirring frequently. Take off of heat and stir in mashed fruit if desired.
Top the porridge with more fruit and nuts if desired.
ENJOY!!!
Notes
Adapted from Jamie Oliver's Everyday Super Food
Prep Time:

5 minutes

Cook Time:

5 minutes

Category:

Breakfast
Nutrition
Serving Size:

1 bowl of porridge
This post may contain affiliate links. Please read my disclosure policy.