Pumpkin & Goat Cheese Macaroni
This post may contain affiliate links. Please read my disclosure policy.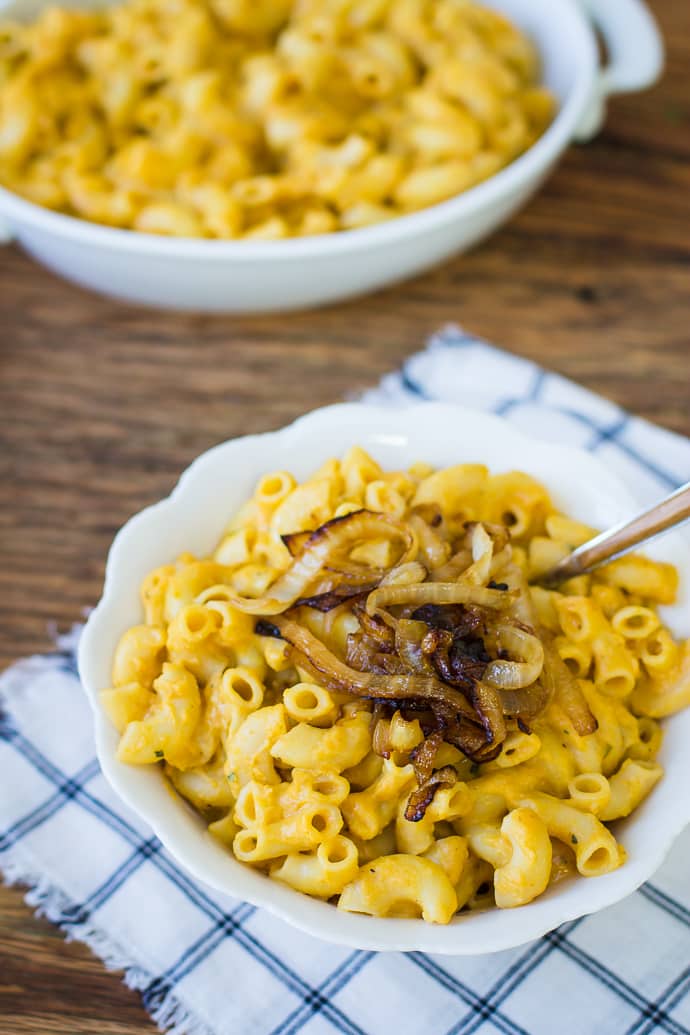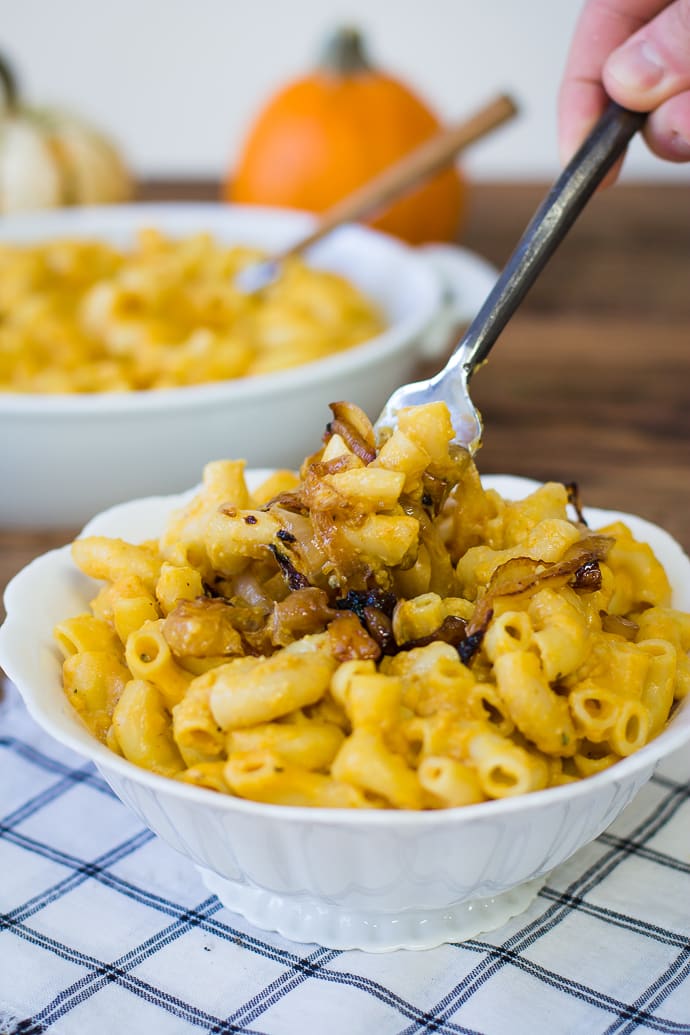 Today is officially (not really) Pumpkin Day!! Remember Sara from Cake Over Steak who I did the Spring Dinner Party menu with? She organized an army of food bloggers to come together today and bombard the internet with all things pumpkin on. About 70 food bloggers are posting pumpkin recipes today and I'm very proud to be among them. These are some of my all time favorite blogs and I highly recommend that you check a few of them out. If you're interested, a FULL list of all the recipes will be at the end of the post.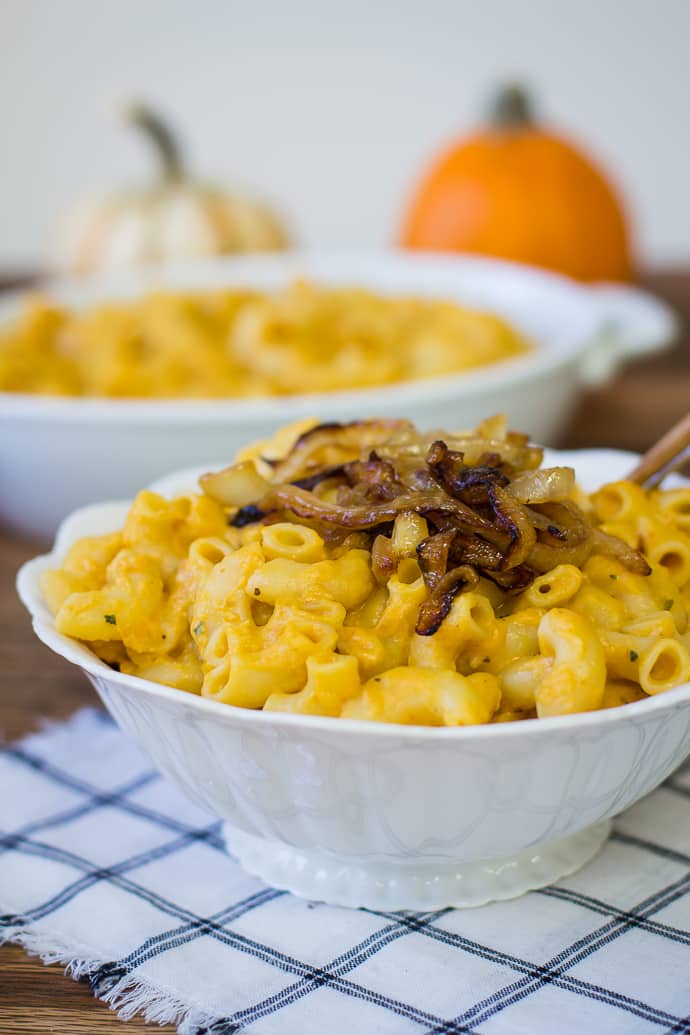 When Sara first brought this idea up, I knew exactly what pumpkin recipe I was going to do: Pumpkin Beer Bread. Remember this Honey Beer Bread recipe from a while back? It's one of my absolute favorite recipes on the blog and I really (REALLY) wanted to recreate it with an autumnal twist. I wrote a recipe and tested variations of it out 3 times before just giving up due to lack of time (and a shortage of flour). I just couldn't seem to get the consistency quite right and I also couldn't manage to get it to bake all the way through. ARG! I haven't given up, though. Maybe next year.
I settled on something a bit simpler although no less yummmmmyyyyy. I wasn't sure how goat cheese + pumpkin puree would taste but turns out that it tastes awesome and I want lots of it in my life!
At first I was going to just melt cheese and mix it together with pumpkin but then I thought better of it and decided to make a full on roux to be proper about it all.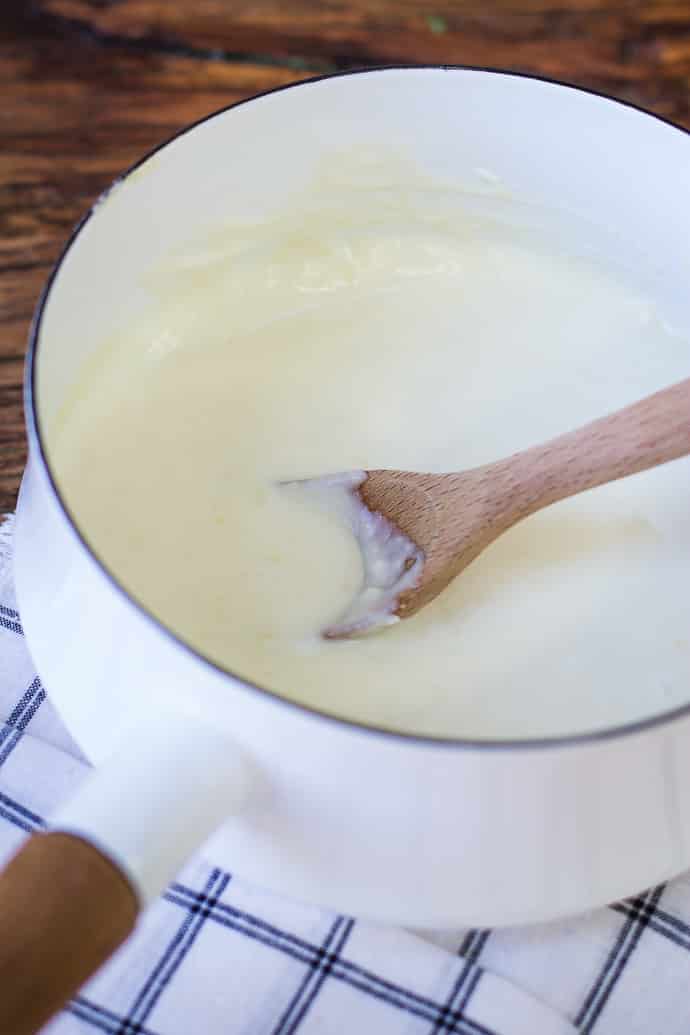 I also added in some sauteed onions to the mix because why not? AND yummy!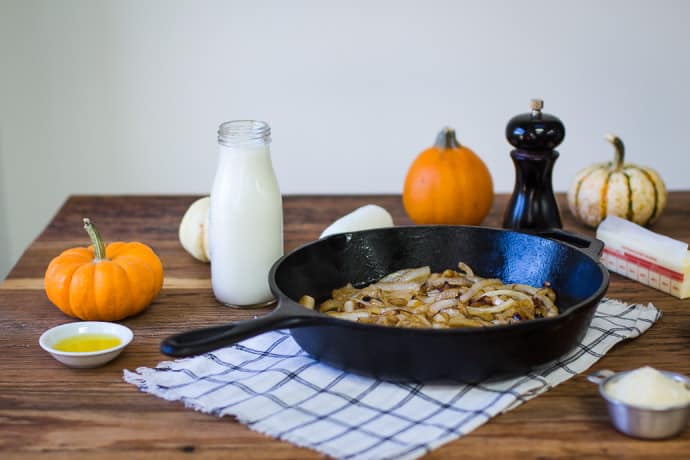 Goat Cheese AND Parmesan were melted into the roux. I only didn't mention parmesan in the title because it's not quite as cool (and the title would just be too long).
The rest of the sauce is made by simply pureeing together pumpkin (I used already pureed pumpkin to keep it simply but you could puree your own) half of the sauteed onions and a couple fresh sage leaves.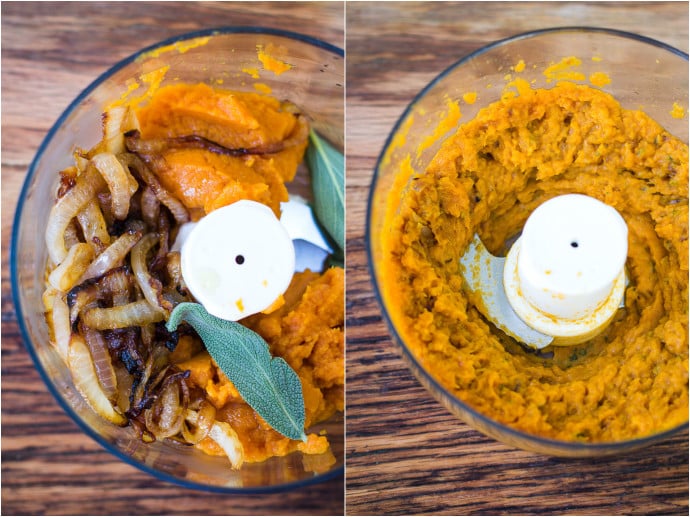 That paste is then stirred into the cheese mixture…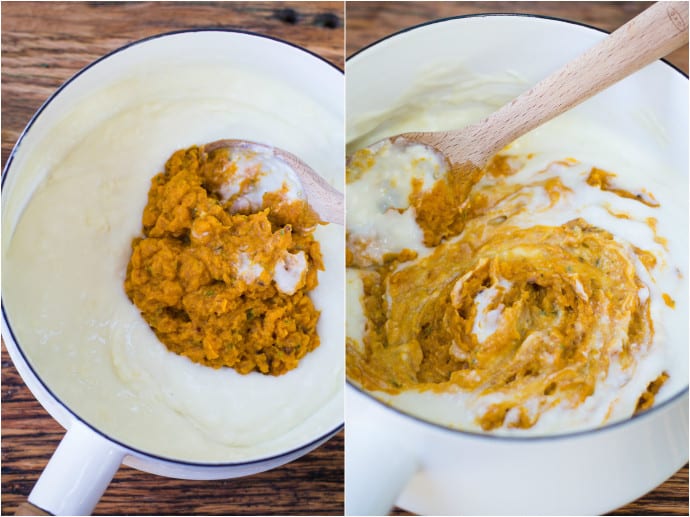 And then put back over low heat for a few minutes to mold all of the flavors together into one yummy cheese and pumpkin sauce.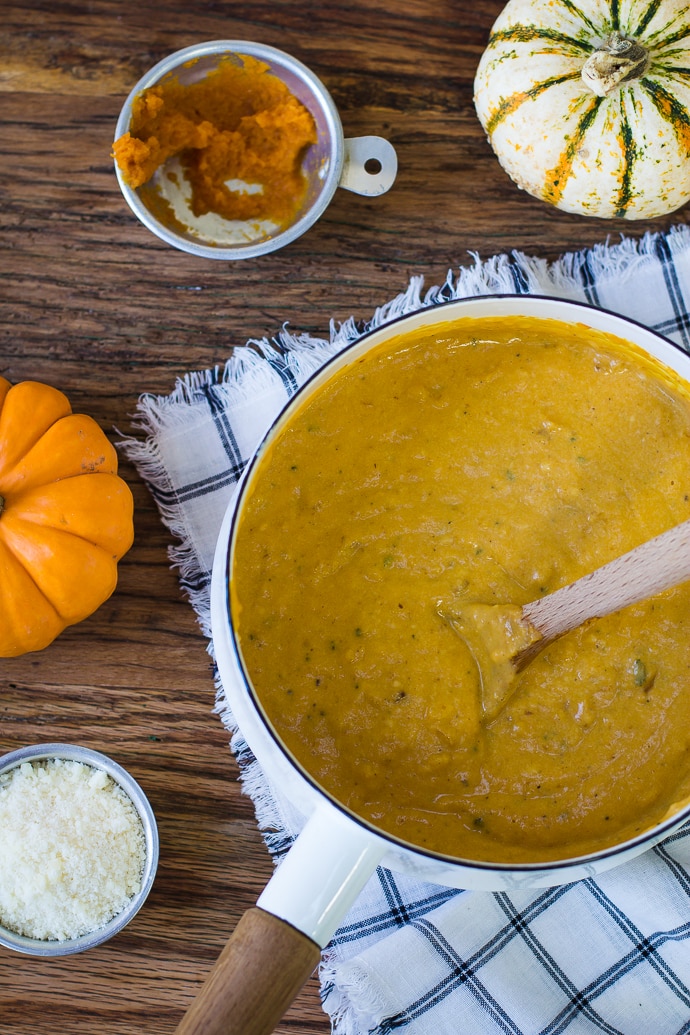 You can obviously serve this over basically any type of noodles (spaghetti squash maybe!!?) but I went with the classic macaroni to kind of emulate a mac n cheese.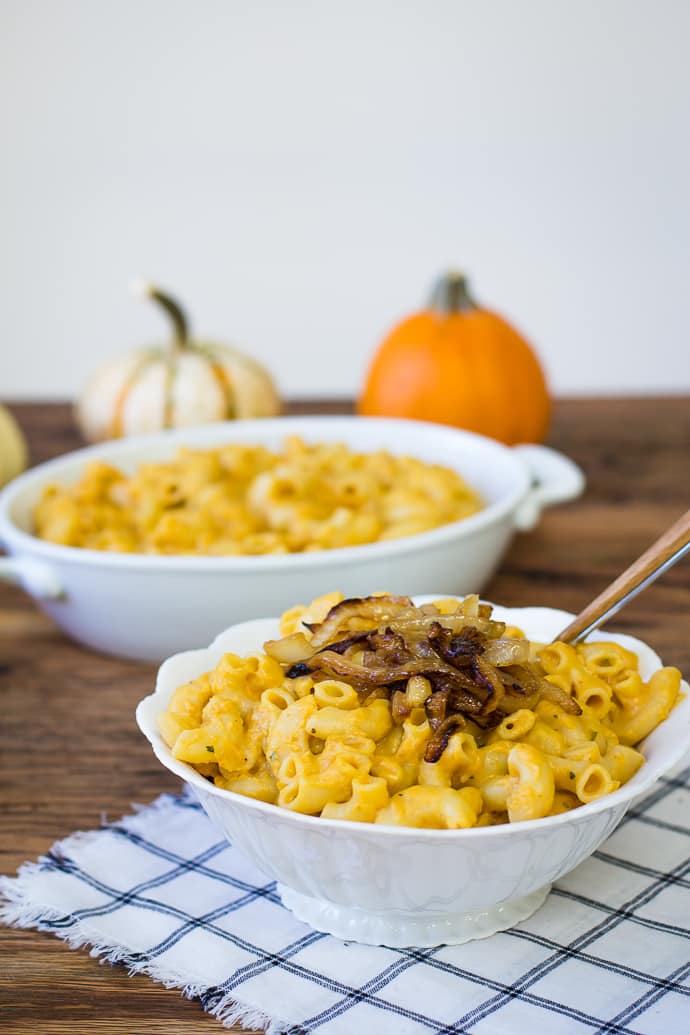 I then topped it with the remaining sauteed onions and ate the whole bowl in one sitting.
Don't forget to check some of the other fabulous pumpkin recipes for our virtual pumpkin party!!! I leave the (LONG) list after the recipe.
Happy Pumpkin day, friends!
Print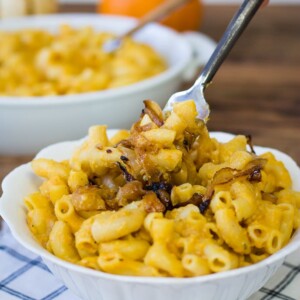 Pumpkin & Goat Cheese Macaroni
---
1

medium onion, cut into long strips

2 tablespoons

of olive oil

1/2

pound of macaroni

2 tablespoons

of butter

2 tablespoons

of flour

1 1/2 cups

of milk

1/3 cup

of goat cheese

1/3 cup

of grated parmesan cheese

2/3 cup

of pumpkin puree

2

fresh sage leaves
S&P to taste
---
Instructions
Saute the cut up onion in the olive oil for about 30 minutes stirring frequently and adding additional oil if needed.
When the onions are nearly done, boil a large pot of water and cook pasta according to your desired doneness.
While the pasta cooks, make the sauce. In a medium saucepan, melt the butter over low heat. Once fully melted, stir in the flour until fully combined and let cook for 1 minute.
Slowly add in the milk, stirring, until the milk is fully incorporated and smooth. Let cook for 5 minutes or until the sauce is just thick enough to coat the back of a wooden spoon.
Once done, take off of heat and immediately stir in the cheeses, stirring until the cheese is fully melted and fully incorporated. Set aside.
In a food processor or blender, combine the pumpkin puree, sage, and half of the sauteed onions. Pulse several times until fully combined.
Placing the cheese mixture back over low heat, stir in the pumpkin mixture fully and let sit on the heat for a few additional minutes, stirring occasionally.
Once the pasta is done, drain it and then pour back into the pan. Stir in the pumkin and cheese mixture until the noodles are fully coated with the sauce.
Plate the macaroni immediately and serve with the remained of the sauteed onions.
ENJOY!!
Prep Time:

10 minutes

Cook Time:

45 minutes
And I would just like to take a brief moment to admire Lexi's dedication to the cause. She really wanted to be in the kitchen with me but she also wanted to lay in her favorite spot. So, she compromised by laying in her favorite spot in a manner that allows her to still see if any scraps are dropped.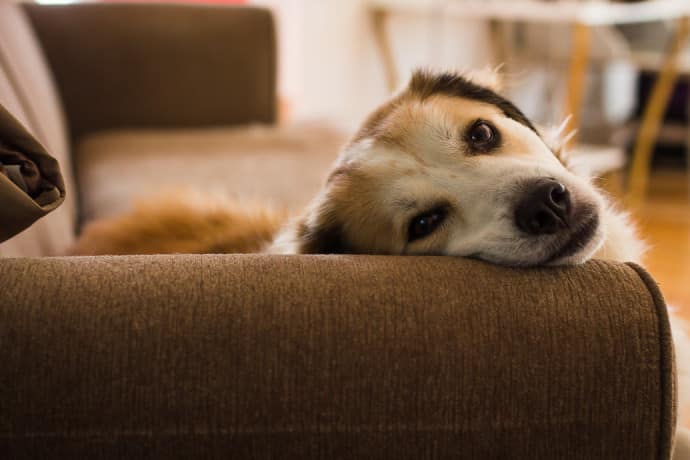 Our #virtualpumpkinparty :
This post may contain affiliate links. Please read my disclosure policy.