Honey Beer Bread
This post may contain affiliate links. Please read my disclosure policy.
Please welcome to the blog the BEST damn bread that I have ever baked. To be perfectly fair, I haven't actually baked a lot of different kinds of bread in my life. I don't have anywhere near the bread baking experience that Mary does. Regardless, this Honey Beer Bread is AHmazing.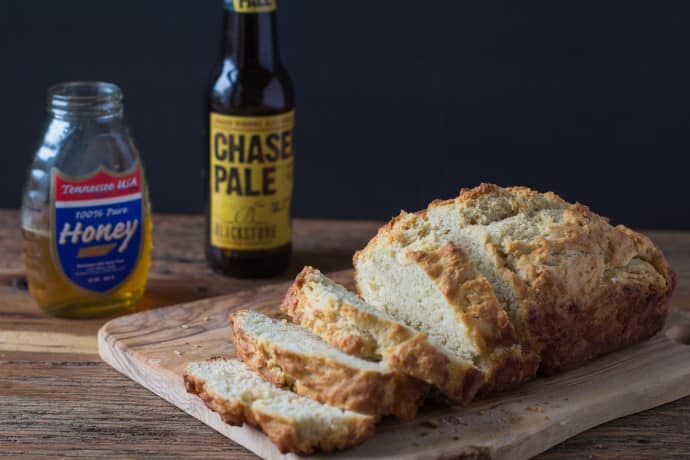 I used two of my favorite local things for this bread: 1) Tennessee honey. I didn't realize how bad store bought honey is until I started buying local honey at the farmer's market. I could eat this honey by the spoonful (and maybe sometimes I do. There's no judgement here).
2) Tennessee Beer: Blackstone's Chaser Pale Ale. We've been to Blackstone here in Nashville a few times and really love it. It's particularly a favorite of Stephen. I debated putting Guinness in this bread to make it more appropriately themed for St. Patrick's Day. However, I wanted something a bit lighter. So, Chaser Pale Ale it is.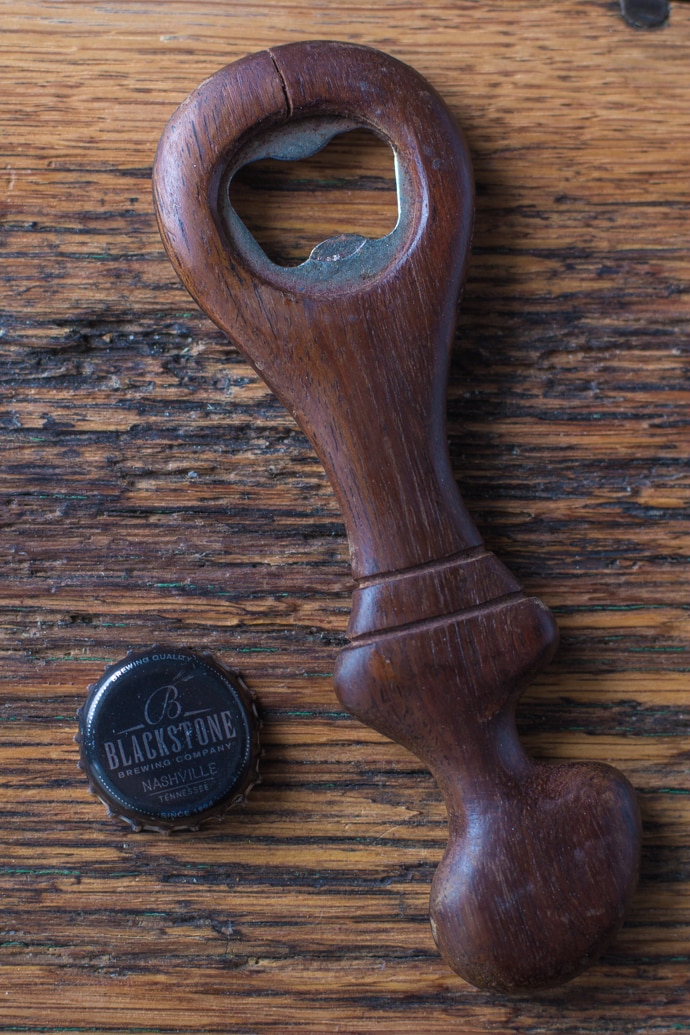 This bread comes together very quickly and involves NO kneading and NO waiting. (I'm a very impatient person).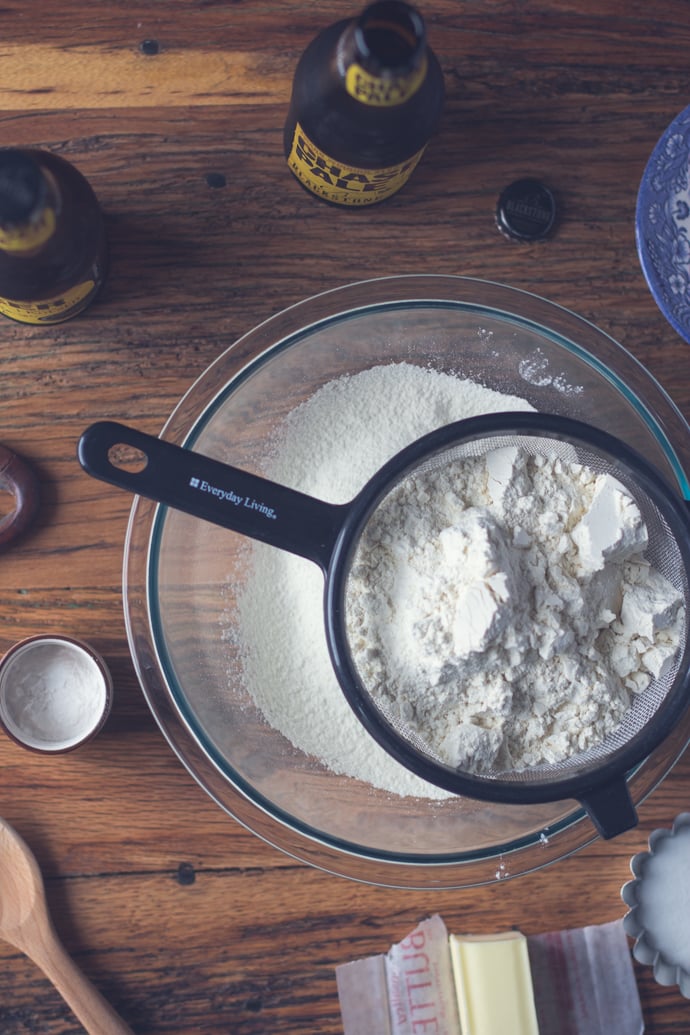 The recipe requires 2 beers: 1 for drinking and 1 for the actual bread. This is important.
First the dry ingredients are sifted together. Don't skip the sifting!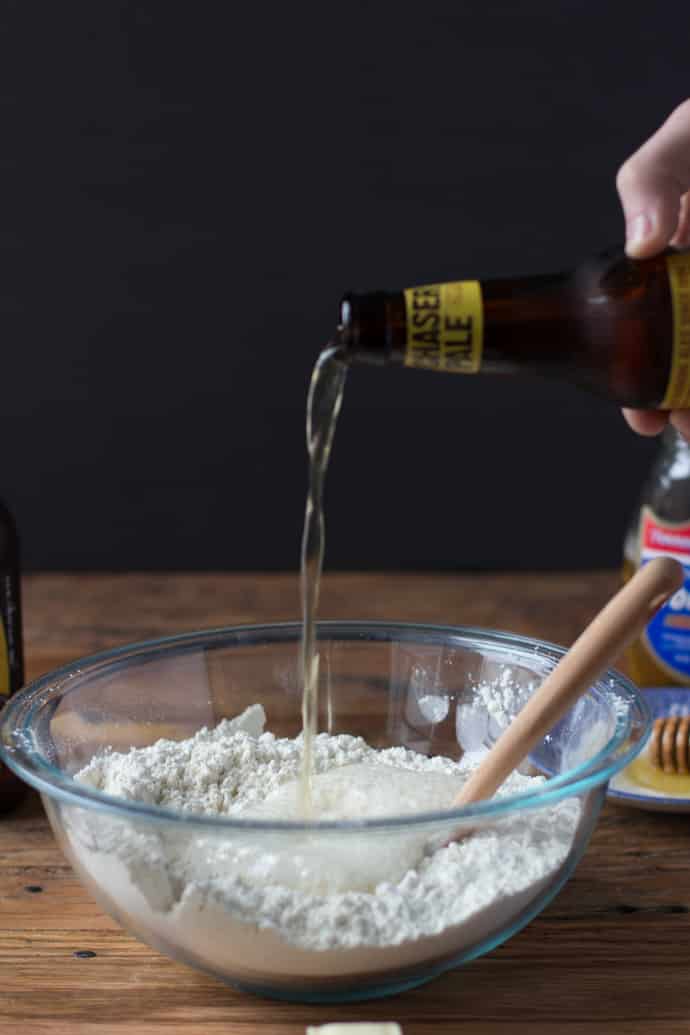 Then the beer is added. You want to add the whole beer, down to the last drop.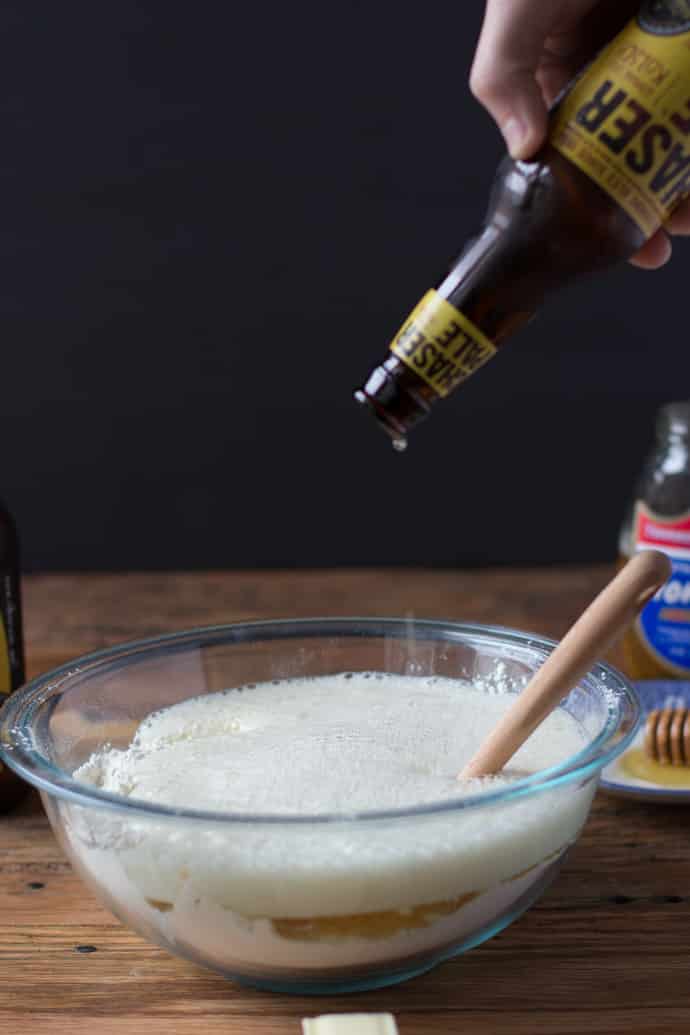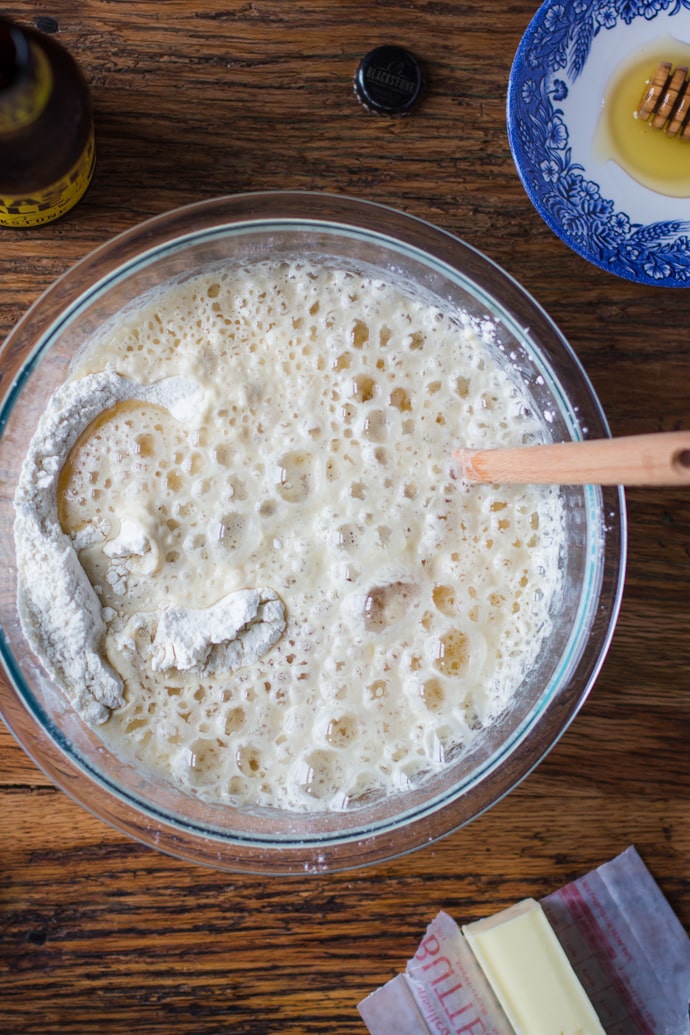 Then the honey is added in.
And it's stirred up realllll nice until the flour is just combined.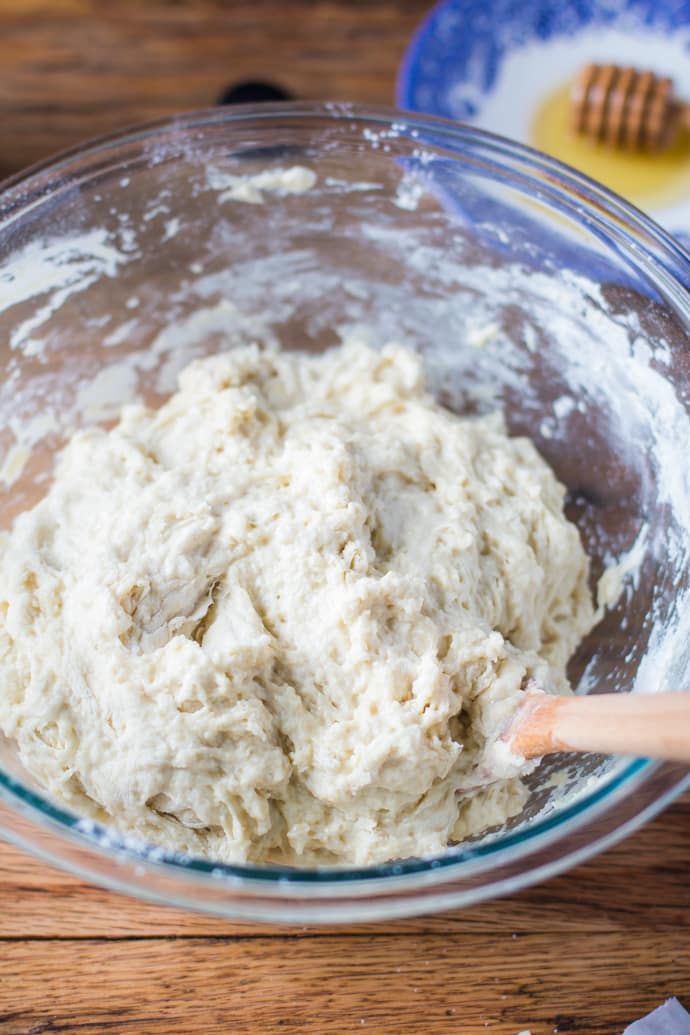 Now the fun part! We're going to just pour half of the butter into the pan. No stirring. Just pour it in the bottom of the pan. Trust me.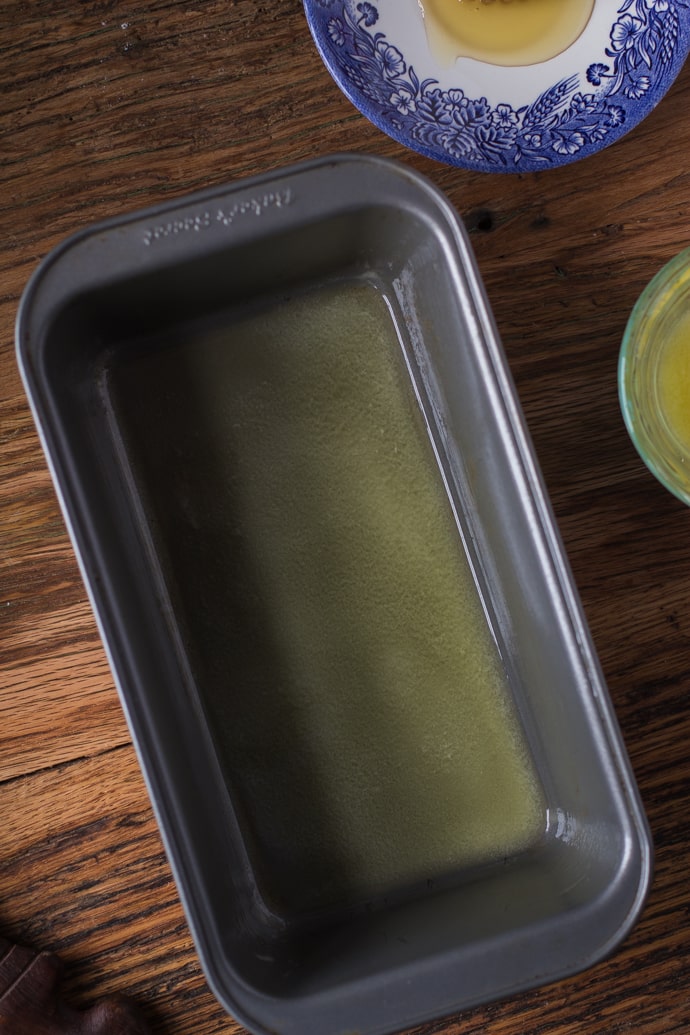 Now the bread dough will go on top.
And…….more buttAH just poured right on the top! I told you this recipe was great.
I used a pastry brush to brush the butter around and get it in all of the crevices. It's baked for about an hour. And then, this deliciousness emerges from the butter scented oven: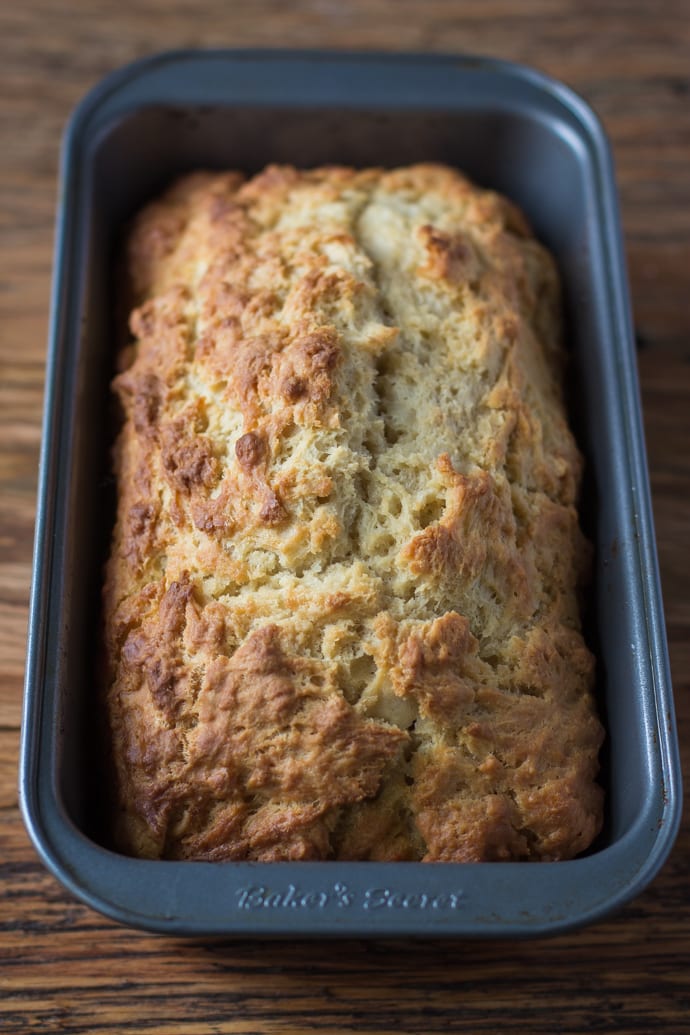 It's kind of hard and crusty and buttery on the outside but sweet and soft on the inside. It's what magic is made of, I'm telling you.
My favorite way to eat this bread is by spreading MORE butter and honey on the top. I think some kind of jam would be good on it too but I haven't wanted to try because it's SO delicious on its own.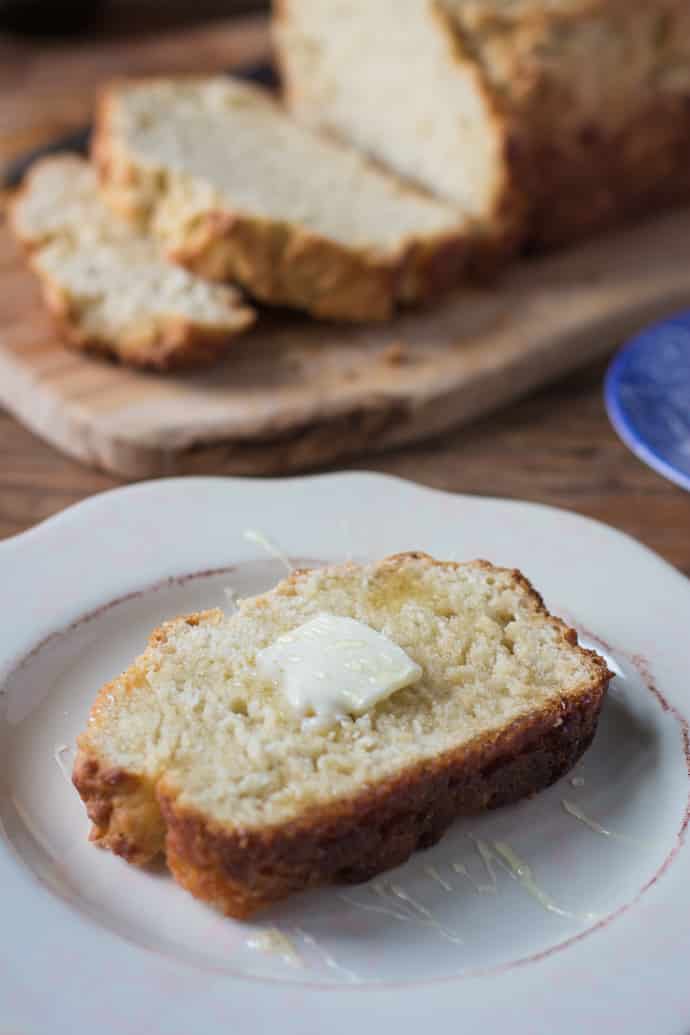 So yea, you're going to want to make this bread ASAP. Then you can thank me later.
Print
Honey Beer Bread
---
Total Time:

1 hour 5 minutes

Yield:

1

1

x
3 cups

of all-purpose flour

3 tablespoons

of sugar

1 tablespoon

of baking powder

1 teaspoon

of salt

1

bottle of beer (any kind will do but I prefer a lighter beer)

2 tablespoons

of honey
Half a stick of butter (1/4 cup), melted, divided
---
Instructions
Pre-heat oven to 375 degrees F. Grease a 9×5 inch loaf pan
Start by sifting together all of the dry ingredients together in a large bowl. Do not skip the sifting!
Pour into the flour mixture the beer and honey. Stir until the flour is just combined.
In your loaf pan, pour in half of the melted butter.
Pour the bread dough on top of the butter and then pour the remaining butter on top of the dough.
Optional: use a pastry brush to spread out the butter across the top of the loaf so that it gets in all of the crevices.
Bake for 50-60 minutes checking for done-ness by inserting a toothpick into the center of the loaf. If the toothpick comes out clean, it's done!
Let cool and ENJOY!!
Prep Time:

5 minutes

Cook Time:

1 hour
This post may contain affiliate links. Please read my disclosure policy.