Quinoa Black Bean Salad
This post may contain affiliate links. Please read my disclosure policy.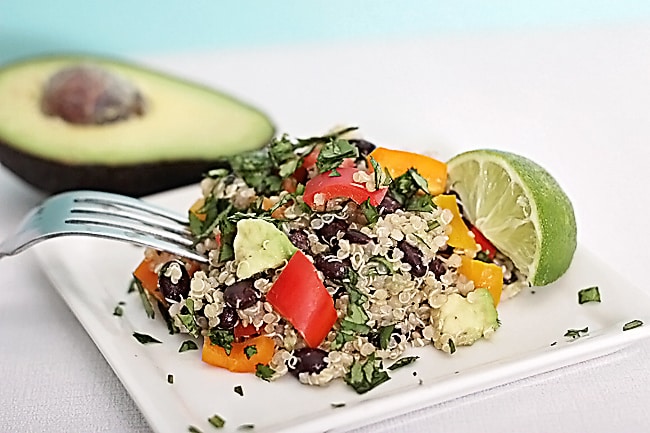 Hey look, two consecutive days of healthy eating! We're doing okay. We'll just ignore the many *free* girl scout cookies I ate yesterday. Stinkin' Girl Scouts.
If you haven't figured out by now, I'm a huge fan of dishes that come with the instructions "just throw in whatever/ however much you want!". Because you know what? Sometimes I just want 3 times the amount of cilantro that the recipe actually calls for. This also explains why baking scares me and causes me an unhealthy amount of stress. I digress.
One of my favorite things about quinoa is that you can throw pretty much anything with it and it tastes yummy! I never quite make this dish the same way as sometimes I want a TON of cilantro in it and other times it's more quinoa than veggies. So, have fun with this one.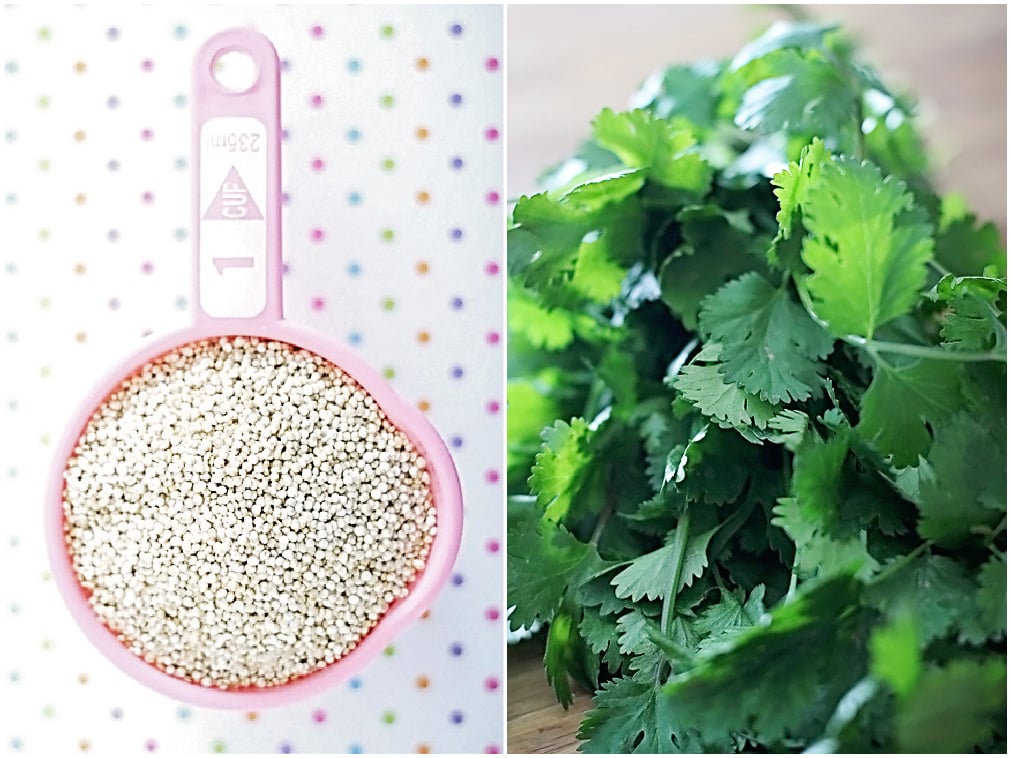 Ingredients:
1 cup dry quinoa
2 cups water
1 can black beans, rinsed and drained
1 avocado, diced
2/3 cup bell pepper chopped (I used half red, half yellow)
1/2 cup onion
2 tablespoons chopped cilantro
1 lime, juiced
1/2 tablespoon olive/ coconut oil
1/2 teaspoon cumin
Salt & pepper to taste
Directions:
Cook quinoa in 2 cups water. Heat to a boil and then simmer, covered, until all of the water is absorbed. Remove from heat and add black beans. Stir. Set aside and let cool a bit.
In a small bowl, combine cumin, oil, salt & pepper, and lime juice to make the dressing.
Once quinoa has cooled a bit, add the dressing and all remaining ingredients. Here is where I like to have fun and just throw in whatever I have extra of or whatever I'm just really loving that day. This usually includes extra chunks of avocado and cilantro.
Garnish with an extra bit of cilantro and EAT!
I've found that this makes a great dish to make extra of and take for lunch. I, however, really don't like cold quinoa so if I'm taking it for lunch, I'll keep the dressing and veggies seperate from the quinoa and black beans. This way, I can reheat the quinoa and black beans and then add the veggies to it and it's as fresh as when I first made it!
I happened to have some extra sweet baby peppers so I made a couple "quinoa bites"! These were delish and a great idea for an appetizer or party dish.
This post may contain affiliate links. Please read my disclosure policy.