Roasted Delicata Squash 2 Ways
Have you ever had delicata squash? It's one of those foods that is highly under-rated. It's SO good and ridiculously easy to make. The skin is thin and much softer than the skin of a butternut squash or acorn squash so you can just leave the skin on and eat it whole. That makes the cooking process a lot easier which I'm a fan of!
Today I'm giving you TWO different options for roasting your delicata squash: a sweet delicata squash recipe and a savory delicata squash recipe.
Each one of the recipes below calls for 2 delicata squash BUT you could cut each recipe in half and make some of the savory AND some of the sweet. I high recommend that!
How to Roast Delicata Squash
Delicata Squash is MAYBE the easiest of squashes to roast. The only prep work required is simply cutting the squash in half and then slicing it into half moons. ALTHOUGH, you could also just leave them in rings if you so desired. There's just something about the half moons that I really like.
After that, we through the squash on a baking tray, toss it with some oil and spices/ herbs and then throw it in the oven. THAT'S IT! When it's done, you just eat it. (again- the thin skin is totally edible!)
For the herb roasted delicata squash, you'll toss the squash in olive oil, rosemary, sage, garlic powder, and salt + pepper. I toss everything right on the baking sheet in order to avoid washing any more dishes than necessary!
For the sweet cinnamon roasted delicata squash, you'll toss the squash in maple syrup, brown sugar, cinnamon, and a little pinch of salt.
We'e keeping it nice and brief today. I'm off to test pumpkin recipes for PUMPKIN WEEK coming up in a couple weeks. Get very excited!!
Print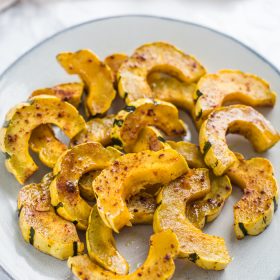 Roasted Delicata Squash 2 Ways
---
Author:
Prep Time: 5 minutes
Cook Time: 15 minutes
Total Time: 20 minutes
Yield: 4 servings 1x
Scale
Ingredients
2 medium delicata squash (about 2 pounds)
To Make the Herb Delicata:
2 tablespoons of olive oil
½ teaspoon of dried rosemary or thyme
¼ teaspoon of dried sage rubbed
¼ teaspoon of garlic powder
½ teaspoon of Salt
Pepper to taste
Optional: couple tablespoons of grated parmesan for topping
To Make the Sweet Delicata:
2 tablespoons of olive oil
1 tablespoon of maple syrup
2 tablespoon of brown sugar
¼ teaspoon of cinnamon
Pinch of salt
---
Instructions
Pre-heat the oven to 400 degree F.
Slice the stem and the bottom off of the squash and discard. Leaving the skin on, cut the squash in half long ways and then slice half moon pieces that are roughly 1/2 inch thick.
Place the squash on a large baking tray. Toss the squash with the remaining ingredients from EITHER the herb recipe or the sweet recipe. Toss until combined and then spread the squash out evenly on the tray.
Bake for 15 minutes, flipping the pieces over after about 8 minutes.
Let cool slightly and ENJOY!
---
Category: side dish
Method: baking
Cuisine: american
Keywords: squash, delicata squash, roasting