Savory Breakfast Crepes + special announcement
This post may contain affiliate links. Please read my disclosure policy.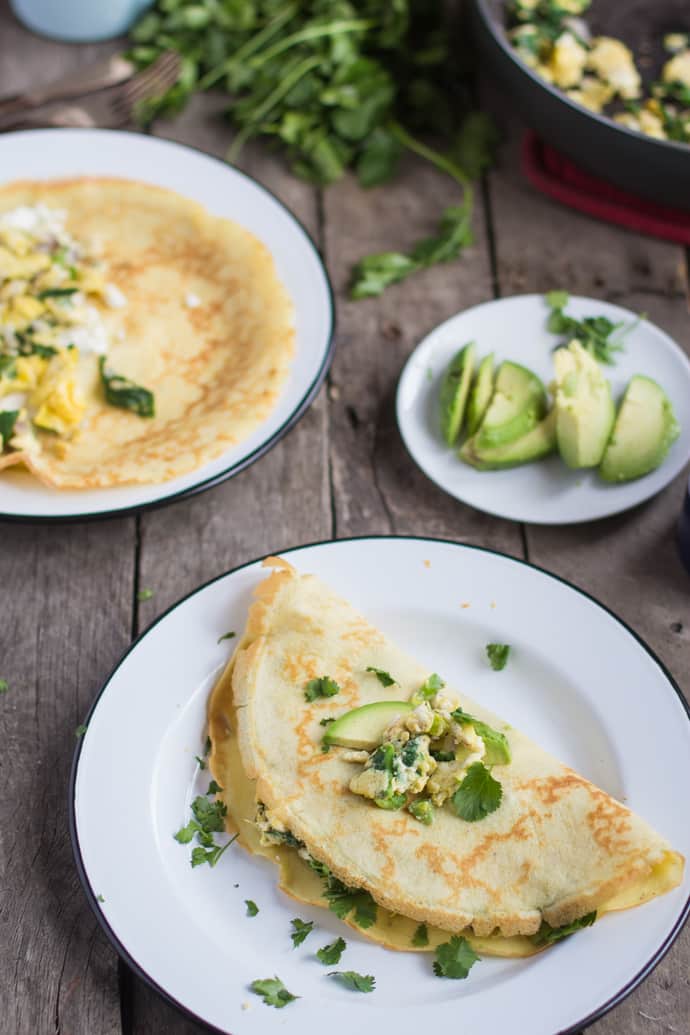 I want to tell you all about the love affair that I've been having with crepes lately, but first, a bigger announcement.
The Britnell family is getting bigger….
5 baby chicks bigger :)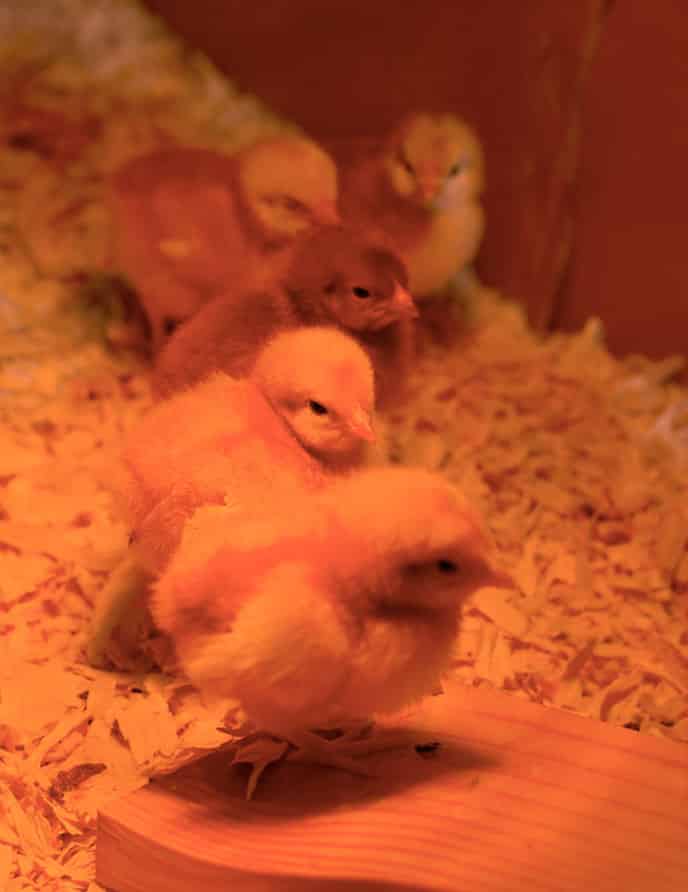 Raise your hand if I tricked you into reading this post by the words "special announcement"! muahahah :D
Either way, this is news that I'm super excited about! We got these 5 babies on Saturday and I've been obsessed with them ever since.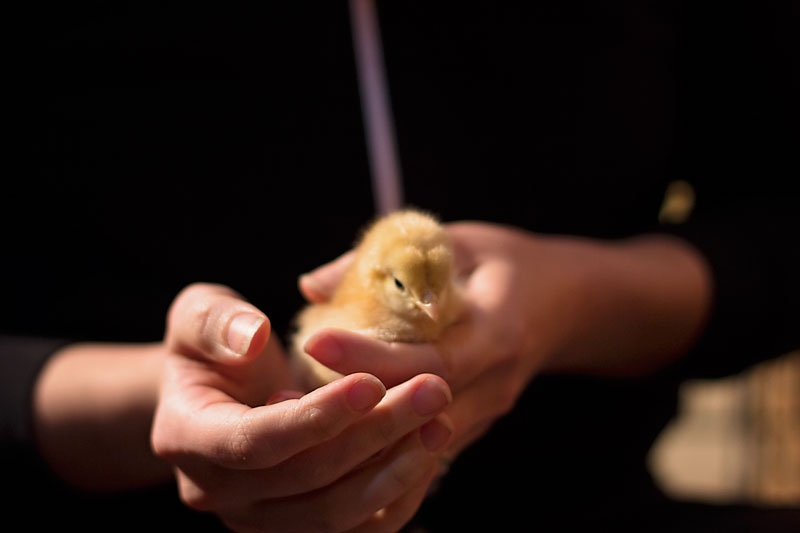 2 of them are Rhode Island Reds and the other three are Gold Sex Links. All 5 have yet to be named but contrary to popular advice, I WILL be naming them. Currently taking suggestions. The Golds are pretty docile and sweet. They'll fall asleep in your hands in .5 seconds. The 2 Reds, however, are much feistier. They're fast (I mean, for a baby chick) and one in particular, that can be identified by its red beak, seems to be the queen bee.
The most popular question that I've received is "How are the dogs handling this?". Lexi loves them. She waits outside of the garage door in the morning to run in and see them (and give them a few adorable licks). Zorro on the other hand…..despite the fact that he could crush them under his paw and not even notice, he's terrified of them. He won't go within 5 feet of them unless the gate is clearly locked. He's basically a 90 pound baby.
In ~20 weeks, we'll have dozens of eggs EACH WEEK and you're all invited over for some of these Savory Breakfast Crepes. bring the mimosas.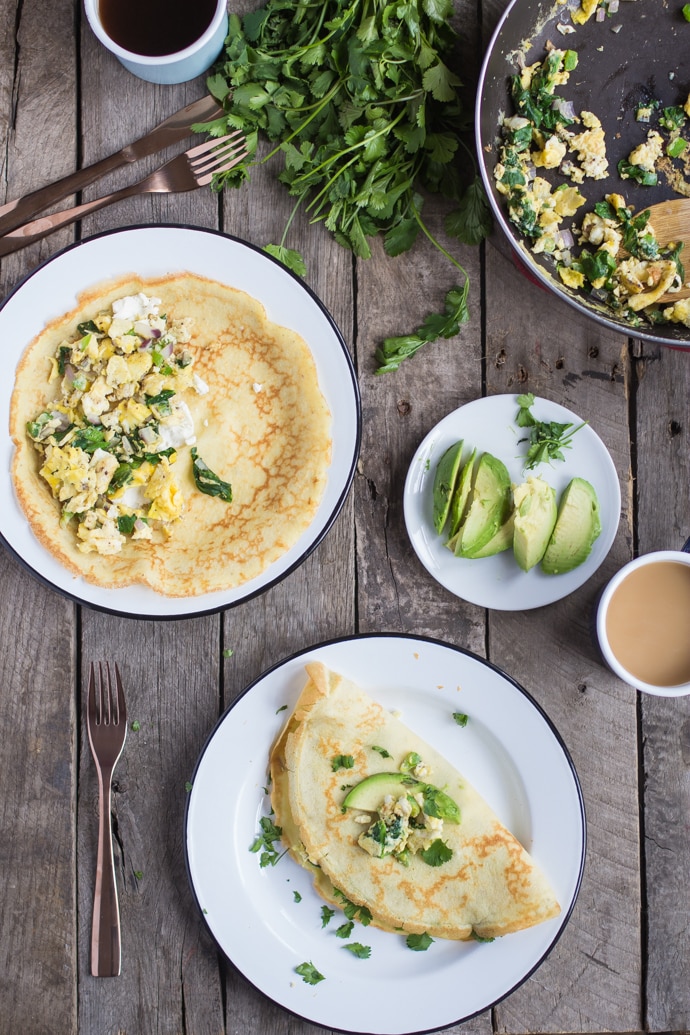 There's a really delicious crepe place here in Nashville that I'm kind of obsessed with. Problem is, I can't convince them to give me ALL the free crepes. So, I've been making them at home to satisfy the craving.
I like crepes because 1) they're so fancy and 2) so easy.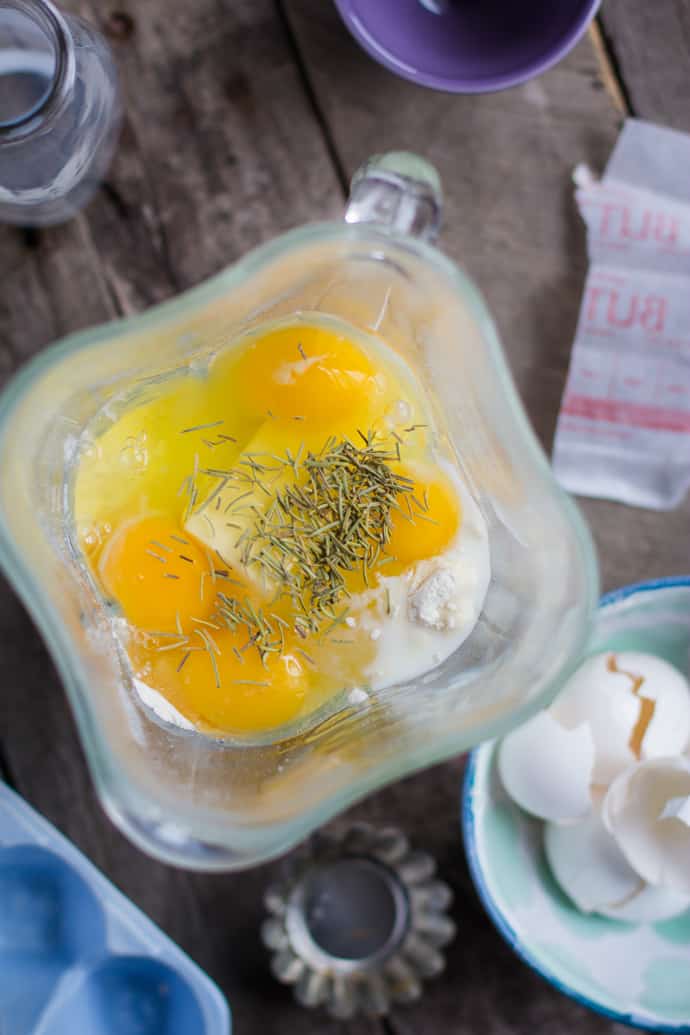 Just put all the ingredients in a blender. Blend up reallllll nice. And then cook.
I added some rosemary to the dough because I'm fancy like that.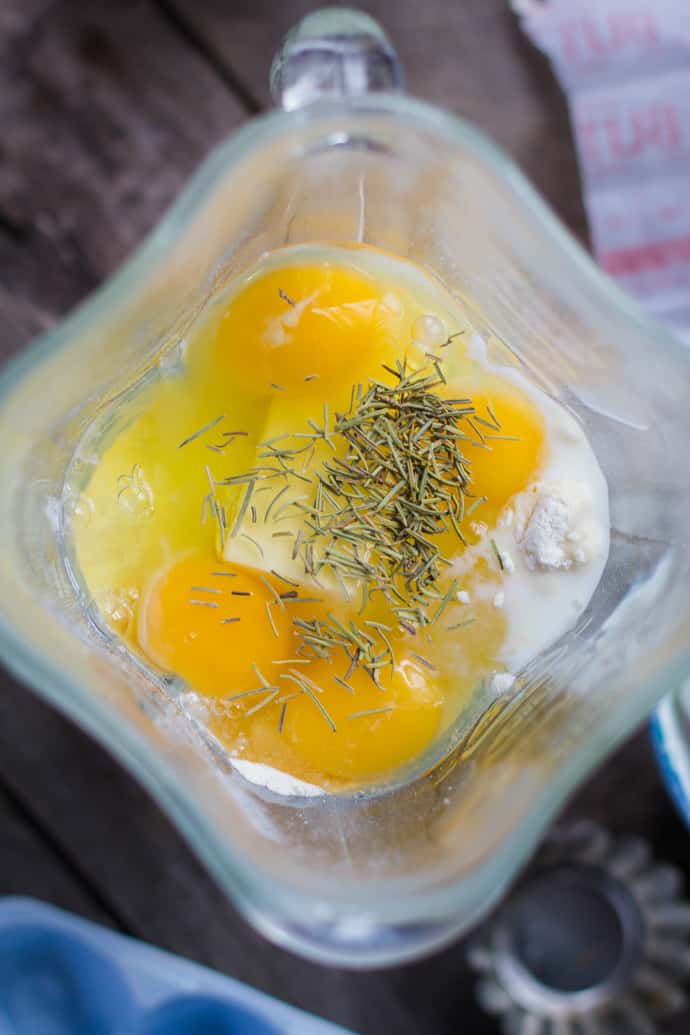 Heat your greased skillet up and then take it off of the heat. Pour batter into the skillet so that a very thin layer is covering the bottom of the pan. The amount of batter depends on the size of your skillet. I used the biggest skillet I have so it took ~2/3 cup to cover the bottom.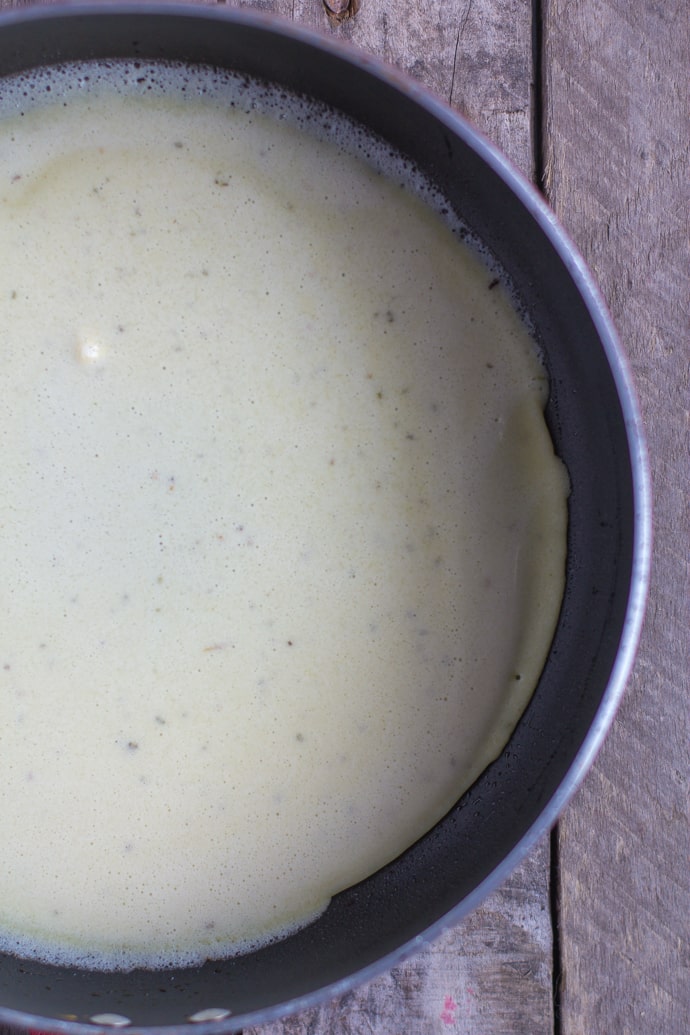 Put back on the heat. After about 3 minutes, flip the crepe and let it cook for an equal amount of time on the other side.
At the same time, be cooking your eggs. I'm a really good multi-tasker! (says everyone of our generation) These eggs are "throw in whatever you have leftover in your fridge" kind of eggs.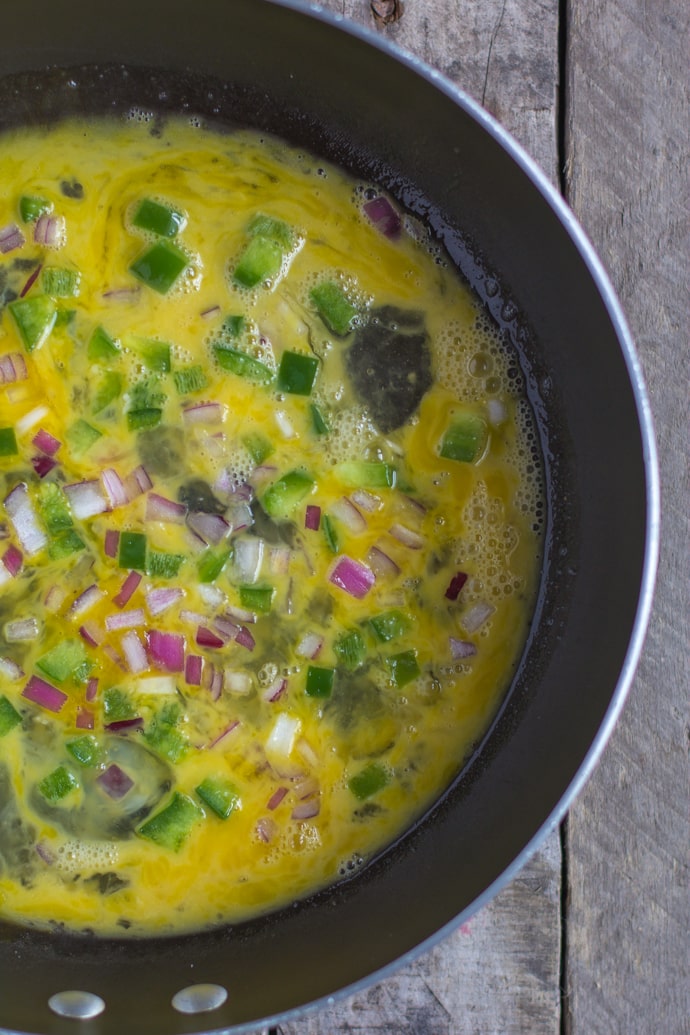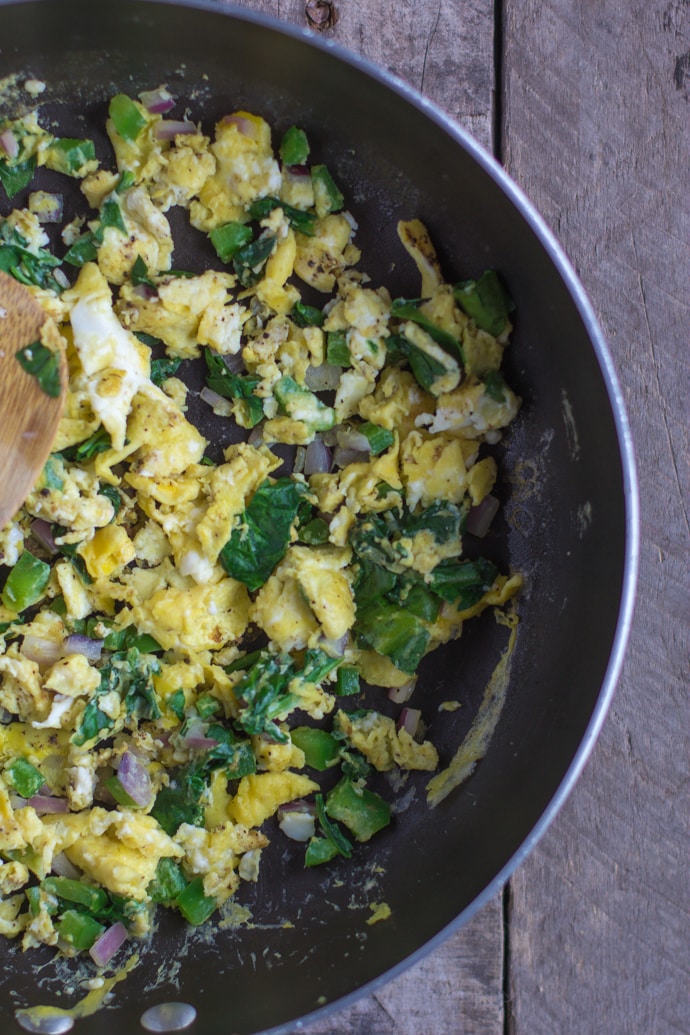 Once it's all done, goat cheese is spread onto the warm crepe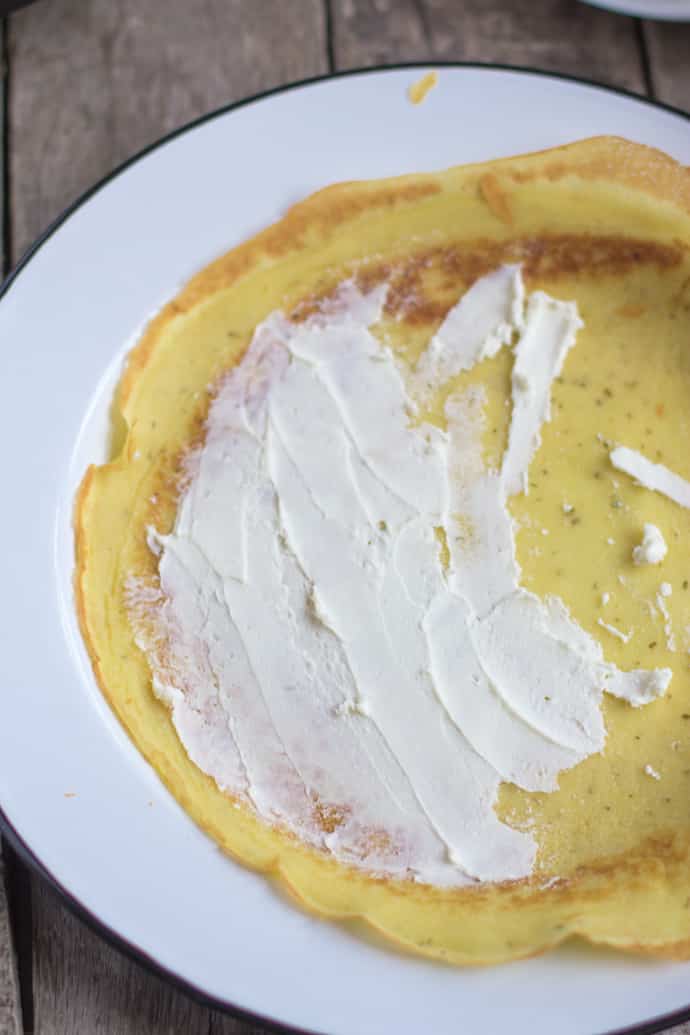 and topped with the egg scramble, avocado, and obsessive amounts of cilantro…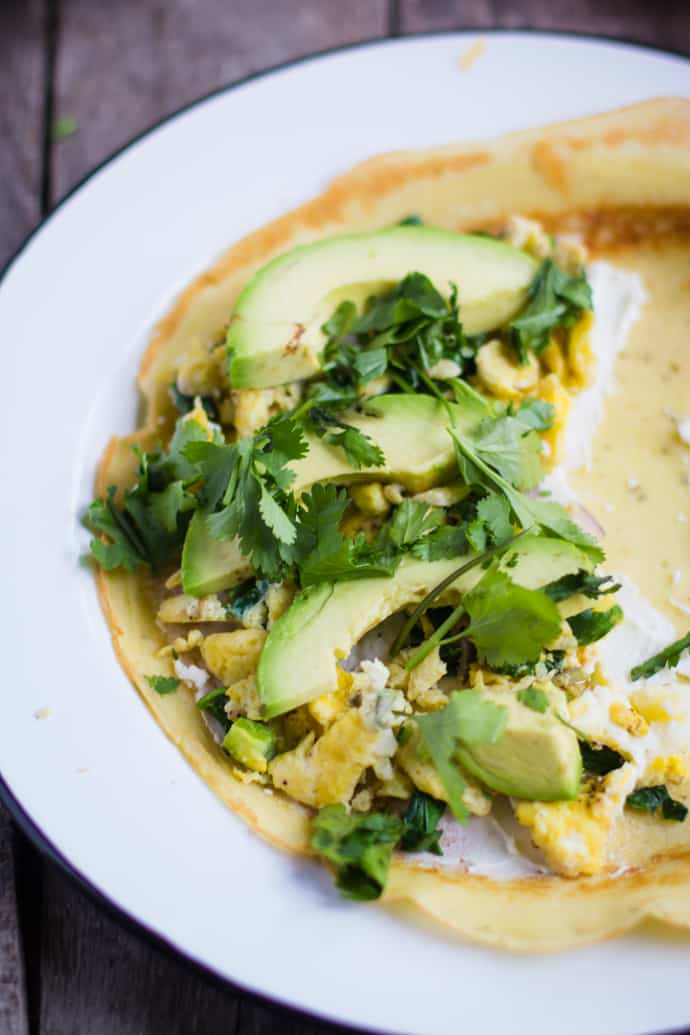 AND that's pretty much it. My new favorite breakfast!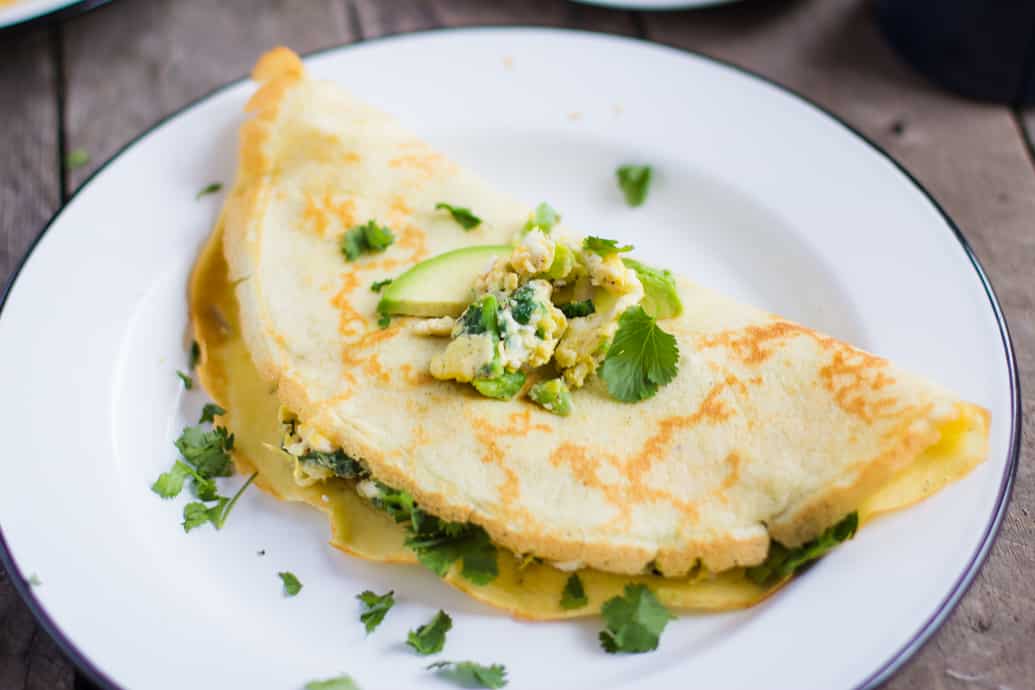 Print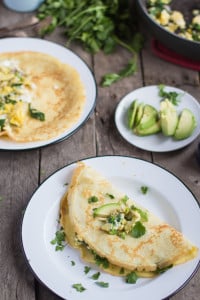 Savory Breakfast Crepes + special announcement
---
Total Time:

40 minutes

Yield:

4

1

x
Crepes:
1 cup

all-purpose flour

1 cup

of milk

1/2 cup

of water, lukewarm

4

large eggs

1/4 cup

of butter (

1/2

a stick)

1/4 teaspoon

of salt

1 tablespoon

of sugar

1

heaping teaspoon of rosemary

4

eggs
Egg scramble:
4

eggs, whisked
large handful of spinach, lightly chopped

1/4 cup

of chopped bell pepper

1/4 cup

of chopped onion

2

–

4

tablespoons of goat cheese
---
Instructions
Put all of the crepe ingredients into a blender or food processor and blend until creamy smooth.
Cover and let sit for at least 30 minutes (or even overnight).
Over medium heat, grease your pan and let it warm up.
Once heated up, take the pan off of the heat and pour in ~1/2 cup of the batter, or enough to cover the whole bottom of the pan with a thin layer. Tilt and rotate the pan around a few times to make sure that the batter is evenly distributed. Return pan to the heated stove.
Cook for about 3 minutes, flip, and cook for an additional 3 minutes. Repeat until all of the batter is gone.
At the same time, cook your egg scramble by combining the eggs, spinach, bell pepper, and onion in a pan. Cook until done.
Once everything is cooked, smear goat cheese on one half of each crepe and then sandwich the egg scramble between the crepe, top with avocado and cilantro and ENJOY!!
Prep Time:

30 minutes

Cook Time:

10 minutes
Here's a sweet crepe for you too: Raspberry Nocciolata Crepes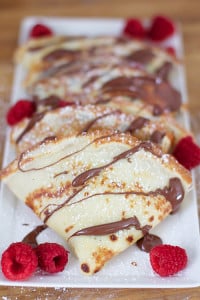 This post may contain affiliate links. Please read my disclosure policy.