Easy Sautéed Tofu with Creamy Tahini Sauce
Easy Sautéed Tofu with Creamy Tahini Sauce– this simple tofu recipe has become my NEW favorite vegan dinner and I'm so excited for you to try it!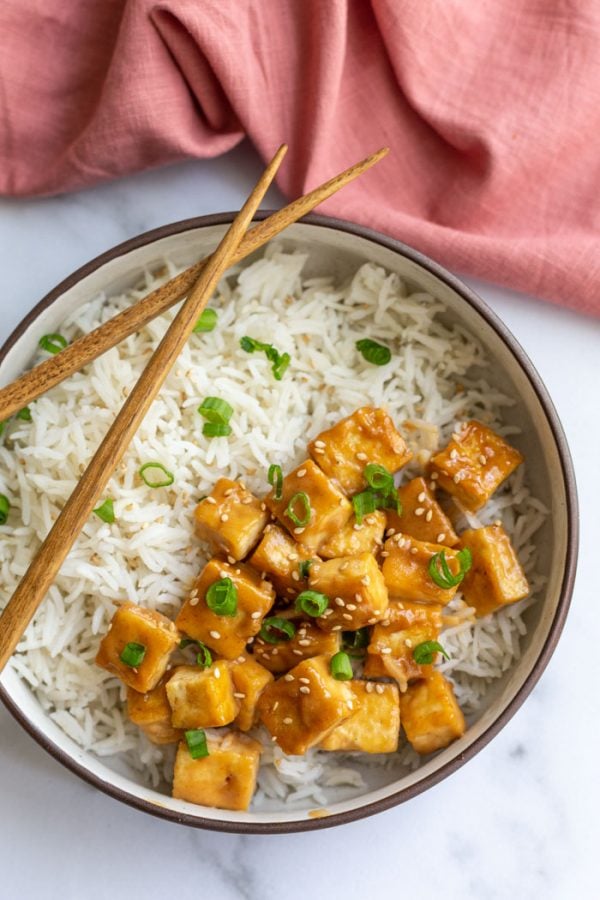 Oh HEY it's me…back with ANOTHER tofu recipe (not sorry about that at all!). I'm on a mission to cook tofu in every single way possible and I realized that I didn't actually have any sautéed tofu recipes on my blog.
Here I am to fix that with this AMAZINGLY DELICIOUS recipe that features a ridiculously creamy tahini sauce (it's definitely a lick your plate kind of sauce ;)).
So far we've baked tofu, grilled tofu, kebabed tofu, scrambled tofu, and now we're doing a simple tofu saute.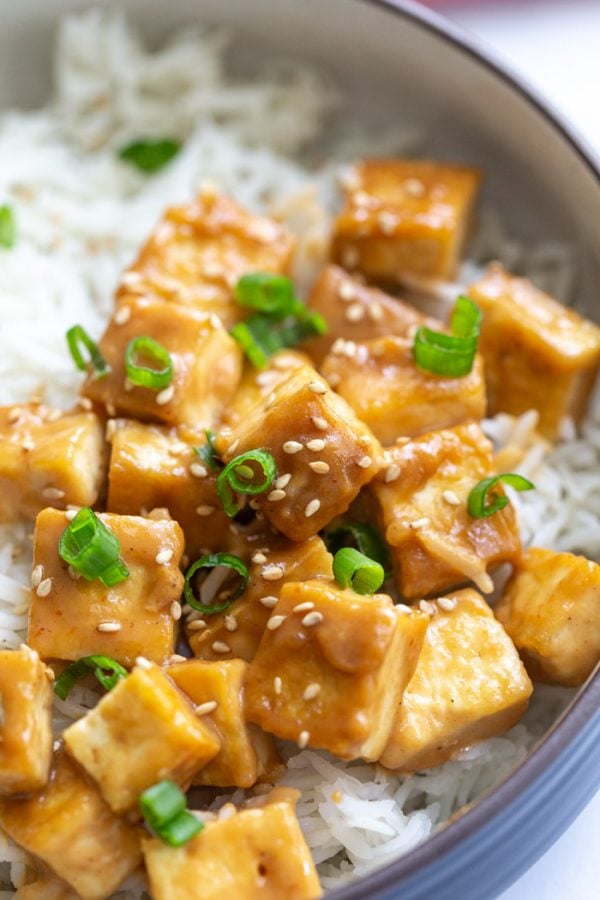 The tahini sauce is basically peanut sauce but with tahini instead of peanut butter. It's magical and you NEED IT in your life.
I was never much into tahini until I started making videos for Monique Ambitious Kitchen who uses tahini ALL the time. That truly started my love affair with the toasted sesame butter of deliciousness.
How to Saute Tofu
All you need to saute perfect and crispy tofu is oil + tofu. That's it!
Start out by pressing as much of the moisture out of the tofu as possible. Pat dry and cut the tofu into bite sized pieces.
Heat the oil in a large skillet and add in the tofu in a single layer. The trick for perfectly sauteed tofu is to not touch it for at least 5 minutes. The tofu will kind of stick to the bottom of the pan but eventually form a crust and pull away from the pan. At that point you can toss the toss and let it cook on all sides.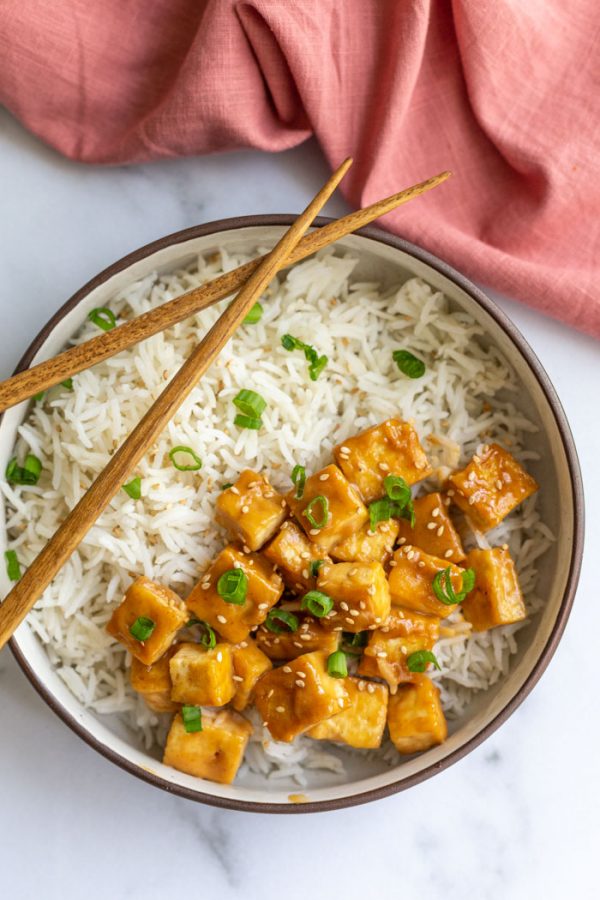 That's it for this Friday! I hope that you have a very lovely weekend, friends!
More Tofu recipes you'll love:
See how to make this tofu recipe here:
Print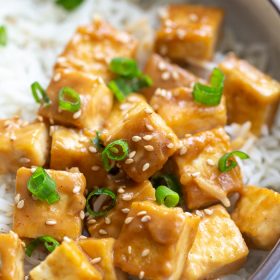 Easy Sautéed Tofu with Creamy Tahini Sauce
---
Author:
Prep Time: 15 minutes
Cook Time: 15 minutes
Total Time: 30 minutes
Yield: 2 large servings 1x
Description
PERFECT sautéed tofu with a delicious creamy tahini sauce!
---
Scale
Ingredients
14 ounce block of tofu
1 1/2 tablespoons of oil (I usually use olive oil)
salt and pepper to taste if not tossing in a sauce
optional other spices of choice
For the creamy tahini sauce:
1/4 cup of tahini
1 tablespoon of soy sauce
1 tablespoon of sriracha or other hot sauce
1 tablespoon of rice wine vinegar
1 tablespoon of maple syrup or agave
1 clove of garlic, finely minced
1/2 an inch of ginger root, freshly grated
3 tablespoons of water
---
Instructions
Start by prepping the tofu. If you have a tofu press, you can use that. Otherwise, wrap the tofu in a dish towel and place it on a rimmed plate or baking sheet. balance a large skillet or pan on top of the tofu block and weigh it down with something heavy (I usually use a couple of cans). Make sure that it's evenly pressing down on the tofu and not lop sided. Press for 15 minutes.
Pat the tofu dry and cut it into 1/2-1 inch cubes. Mine usually end up about 2/3 of an inch thick on all sides. If you're not planning to toss this in the sauce, you can now toss the tofu with a bit of salt and pepper and any other spices that will go well with your dish.
In a large skillet, heat the oil over medium-high heat. Once hot, add in the tofu in a single layer. Watch the tofu but do not touch it for at least 5 minutes. The bottom will form a nice crust after about 5 minutes at which time you can flip it and continue to cook it on all sides, about 10 more minutes. In my skillet a few pieces on the edges stuck a little but most turned out perfect. Continue to cook until you reach your desired level of crispiness.
While the tofu cooks, whisk together all of the sauce ingredients. Toss the sauce into the skillet with the tofu and cook for a couple of additional minutes until thickened a bit and heated through.
Serve and ENJOY!
---
Category: Dinner
Method: Saute
Cuisine: American
Keywords: vegan dinner, tofu recipe, vegan recipes